Team Building Company Singapore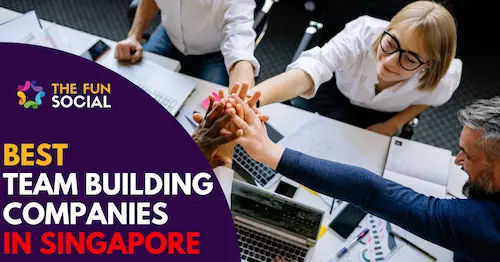 Getting your team to work together in sync can be difficult and that is why team building activities in Singapore are so important.
The Best Team Building Company in Singapore includes names like FunEmpire, Laser Tag Singapore, Team Building Singapore, and Terrarium Singapore.
When choosing a team building company, it is crucial to assess factors such as its location, pricing, range of services provided, and the experience of its professional facilitators.
FunEmpire is renowned as the best team building company in Singapore, boasting an impressive track record of over 50,000 successful events to date. With 8,000+ 5-Star client reviews, they truly stand out from the competition.
There are many companies specialising in team building in Singapore, but finding the right team building company can be a daunting task. So, here is a list of some of the best team building companies in Singapore!
Key Consideration Factors When Choosing Team Building Companies Singapore
Here are some things to remember when finding the best team building company in Singapore:
Experience: The company should have a proven track record of successful event.
Services: Check what types of team building services they offer, such as games, icebreakers, and more.
Affordability: Ensure that the cost of the team building activities is within your budget.
Location: Choose a company with multiple locations to ensure that the team building ideas can be conducted near your office.
Benefits of Corporate Team Building Activities
Corporate team building activities offer a multitude of benefits, including:
Improved Communication: These activities encourage open communication among employees, promoting a better understanding and smoothing relationships.
Increased Teamwork: By working together to achieve common goals in team building exercises, employees can better understand each other's strengths, weaknesses, and interests. This understanding enables them to work better together in the actual workplace.
Problem-Solving Skills: Team bonding events often involve problem-solving tasks which help employees improve their strategic and analytical skills.
Boosted Morale: Successfully completing tasks together as a team boosts morale and self-confidence among employees. They feel a sense of accomplishment and are more motivated to take on work challenges.
Better Productivity: Through improved morale and better understanding of each other, team bonding events enhance productivity. Employees can work more efficiently and effectively together after engaging in team bonding events.
Best Team Building Company Singapore
1) FunEmpire
At FunEmpire, turning relationships into lasting friendships and fostering collaboration is their goal.
Their staff are constantly crafting innovative team bonding games, action-packed virtual activities, and unique initiatives that motivate the entire team in the workplace to interact on another whole new level!
With such entertaining challenges available for your organization's use through their exceptional team building ideas – you will benefit from an increased sense of morale and unmistakable unity!
2) Team Building Games Singapore
Make your next team building event unforgettable with Team Building Games Singapore! They offer the best selection of budget-friendly team building and ice breaker activities in Asia.
Whether you're planning a corporate fitness gathering or an afternoon of bonding, these experts based in Singapore guarantee it'll be an occasion to remember.
From birthdays to family gatherings, carnivals to NS Cohesion team building programs and beyond – Team Building Games offers a wide range of captivating services that will wow the entire team.
With our expert help throughout the entire event planning process, you can be confident your experience with us is truly remarkable!
3) Team Building Singapore
Team Building Singapore is the foremost team building provider in Singapore and has hosted over 30,000 team building programs for more than one million participants. Transform your next corporate event with our wide variety of sixty-plus exciting activities that are perfect for birthday parties or any other celebration!
4) Candle Workshop Singapore
Candle Workshop Singapore knows that making candles can be a captivating and memorable team building experience for a dedicated team.
As such, they have an extensive array of candle-making packages suitable for corporate team bonding activities, school functions, birthdays, carnivals and other special occasions!
With our various team building ideas available in both Singapore and overseas countries, now you can make your own gorgeous candles with utmost ease and maximum enjoyment!
5) Terrarium Singapore
Unleash your inner artist and create a stunning miniature glass garden! Bond with friends and families through this award-winning Terrarium Workshop.
Their professional instructors will be on hand to provide expert guidance throughout the entire workshop, so you can have an exceptional terrarium experience – after all, they proudly hold the title of Best Terrarium Provider in Singapore!
6) Poolball Singapore
Are you looking for a team building activity that's suitable for all ages and abilities? Look no further than Poolball Singapore! Whether you're a beginner or a professional, their friendly staff will be there to help make your experience enjoyable.
Soccer fanatics can also show off their skills by mastering backspin and topspin shots with the ball! So come join in on the fun – they guarantee it'll be an unforgettable time!
7) Combat Archery Tag Singapore
Are you craving an unforgettable experience that'll bring your birthday celebration, team bonding event, or corporate bonding day to the next level?
If so, look no further than Combat Archery Singapore! Their exciting and action-packed archery tag missions will provide a thrilling adventure like no other. So what are you waiting for? Get ready to be thrilled with us today!
Rev up your energy and make the most of every moment with Combat Archery Tag – a thrilling mix of paintball, dodgeball, and archery! An inclusive activity that is ideal for families who relish physical activities.
Create long-lasting memories in this exhilarating game appropriate for anyone aged 10+. Have an unforgettable journey with Combat Archery Tag Singapore today!
8) Laser Tag Singapore
If you're searching for the best experience in Outdoor Laser Tag, then look no further than Laser Tag Singapore! We offer only the most advanced technology and camouflaged tents.
Host your event at home or outdoors with ease – even indoor team building if necessary – since we provide on-the-go equipment that can be set up anywhere!
No matter how small or difficult a space may seem, the team here at Laser Tag Singapore is always prepared to travel wherever it's needed!
9) Bubble Bump Singapore
Are you searching for a unique, safe game? Look no further than Bubble Soccer – an action-packed team bonding activity originating from Norway that has since traveled to the United States, Europe and Australia.
Now Singapore can join in on all the fun too! With bubbles over your head and torso like a suit of armor, anyone aged 7 or above is able to jump into this thrilling experience. Don't miss out on why Bubble Soccer is taking the world by storm – come give it a go today!
10) Escape Room Singapore
Embark on a remarkable journey with us! Their expert game designers have designed captivating scenarios and intricate puzzles that will keep you guessing until the very end.
Gather your companions, family members or colleagues for an extraordinary outing at our escape game – ideal for team building activities, spending quality time with loved ones and having fun with friends.
Start unraveling mind-boggling mysteries today in this unique experience – secure your booking now to begin your amazing adventure!
11) Art Jamming Singapore
At Art Jamming Singapore, let yourself drift into a tranquil and therapeutic art jam session that will relieve all your stress, rejuvenate the mind, and spark creativity.
Their uplifting ambience helps each individual express their own uniqueness through crafting breathtaking personal artwork with flair!
Transform stress into creativity by joining their exhilarating Art Jamming workshops today! All of the equipment you need to create your masterpiece is included, such as canvases, acrylic paints and brushes, plus specialty tools – all with unlimited usage.
So come on over and experience a calm environment while creating something extraordinary.
12) Leather Workshop Singapore
Join your colleagues and create a unique office card holder with Leather Workshop Singapore! Not only will you form meaningful connections, develop employee engagement, leadership development, work in harmony as a team, release creativity – but the best part is that anyone of any age can join in on the fun.
No knowledge or background needed – just bring some enthusiasm and an eagerness to learn something new. Team building has never been so inspiring – don't miss out; sign up now!
13) Team Building Activities Singapore
Make your team-building event extraordinary and indelible with Team Building Activities Singapore – the leading source of superb corporate team building activities in Singapore and beyond!
With over 40 exhilarating activities to pick from, you'll be certain to find one that's perfect for your team. Get ready for an unforgettable outing they won't soon forget – join them today!
14) Virtual Team Building Singapore
Virtual Team Building Singapore is thrilled to offer you the chance to bond with your remote colleagues through their extensive selection of 15+ virtual team building activities and workshops in Singapore!
Their entertaining and exciting team building experiences are a superb way for corporate teams to have fun together, regardless of objectives, size or budget.
Not only will these virtual team building events stand out from other types available today – they'll bring everyone closer as well.
15) Archery Tag Singapore
Get ready for the ultimate adrenaline-pumping Archery Tag Singapore experience! Immerse every team member in the thrill of the game as you navigate through the thoughtfully designed arena, strategically shooting foam-tipped arrows at your opponents.
Safety and comfort are our top priorities, which is why we meticulously ensure that all equipment is of the highest quality and maintained to the highest standards. You can enjoy the game without any worry of injury, thanks to our specially designed foam-tipped arrows.
Whether you prefer the excitement of an indoor team building or the natural beauty of an outdoor arena, the team will create the perfect atmosphere just for your team dynamics! They take pride in providing a memorable and exhilarating experience that will leave you wanting more.
So gather your friends, unleash your competitive spirit, and prepare for an unforgettable adventure in the world of Archery Tag Singapore!
Tips for a Successful Team Building Event
Clear Objectives: Before organizing a team-building event, it's essential to define clear objectives. These objectives should be related to the improvements you want to see within your team, such as improved communication, increased trust, or enhanced problem-solving skills.
Engage Everyone: Ensure all activities planned are inclusive and consider the diversity within your team. The activities should cater to different skills, abilities, and interests to ensure everyone participates and feels valued.
Facilitate Communication: Design activities that encourage open communication. This will foster understanding among team members, and improve their ability to collaborate effectively.
Follow-up: After the event, follow up with your team. Discuss what they learned from the activities and how they can apply these lessons in their day-to-day work. This helps to ensure the long-term effectiveness of the team building event.
Choose the Right Team Bonding Company: Choose a reputable team bonding company in Singapore that offers a variety of activities. A good provider will be able to customize their services to meet your specific objectives, ensuring a successful and impactful event.
Team Building Company Singapore
Team building activities in Singapore are an excellent way for colleagues to bond, develop leadership skills, employee engagement, and increase creativity adhering to your company culture.
Whether you're looking for a unique experience or something more interactive like art jamming or archery tag, Singapore has plenty of options that will make your corporate team building event truly unforgettable.
With the help of these best team building companies in Singapore – from virtual team building experiences to outdoor adventures – your team members will be sure to find one that suits your Team Building Singapore needs perfectly!
So don't wait any longer; get ready to unleash some creative energy with your friends, family members or coworkers today!
Looking for other articles about team building? Check out our recommendations:
Frequently Asked Questions (FAQs)
If you have any questions about Team Building Companies in Singapore, you can refer to the frequently asked questions (FAQ) about the Best Team Building Companies in Singapore below:
Additional Useful Links
If you are looking for other useful guides and articles about Team Building Companies in Singapore, check them out below: