Birthday Celebration Singapore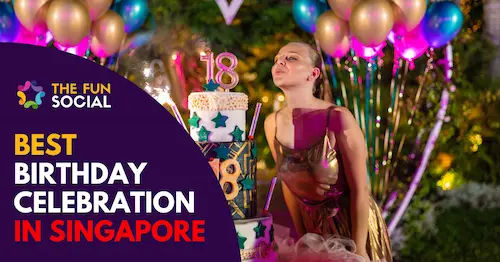 Birthday Celebration in Singapore offers numerous memorable experiences without the need to splurge. In the city, there are a multitude of affordable and unforgettable options to ensure your special day is unique and enjoyable.
The Best Birthday Celebration Singapore experiences include Giant Board Games, Laser Tag, Amazing Race, Escape Rooms, Archery Tag, Poolball, Bubble Soccer, Art Jamming Workshops, and Candle Making Workshops.
When planning a birthday celebration, it's important to consider factors that strike a balance between affordability and the ability to cultivate happiness, forge lasting memories, and build stronger connections.
FunEmpire is the one of the top providers of birthday celebration activities in Singapore, with over 8,000 5-Star client reviews and a remarkable track record of more than 50,000 successful events to date, they are the go-to choice for a memorable birthday experience.
Parents looking for a memorable place to hold their kid's birthday party can consider venues such as FunEmpire HQ, which provides a range of fun and engaging activities.
Without further ado, here are the best birthday celebration experiences in Singapore – indulge yourself and enjoy every minute of it!
Best Birthday Celebration Experiences in Singapore
Adventure Activities
1) Poolball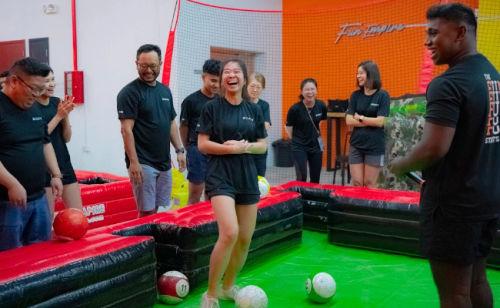 Strengthen relationships, and cultivate collaboration among your group with Poolball Classic and Sabotage on the world's largest pool table. This unique experience will create an unforgettable memory for groups of any size or age range or even for a kid's birthday party in the big event space.
As you work together to navigate strategies in these strategic games, your collective potential can be unlocked as you come out of your shell! So don't miss this opportunity to have a truly unforgettable bonding session – choose Poolball today for your next birthday party celebration or team building in Singapore!
2) Giant Whack-A-Mole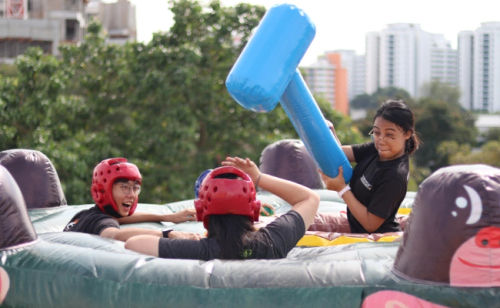 Prepare for an exhilarating and exciting journey of merriment with Giant Whack-A-Mole – a game that is inspired by the beloved arcade classic! This is perfect for a child's birthday celebration and will bring everyone together as you strive to guard your colored balls from competition. Revel in an unforgettable Singaporean amusement experience that cannot be discovered anywhere else – it's simply too thrilling not to try out for a birthday bash!
3) Combat Archery Tag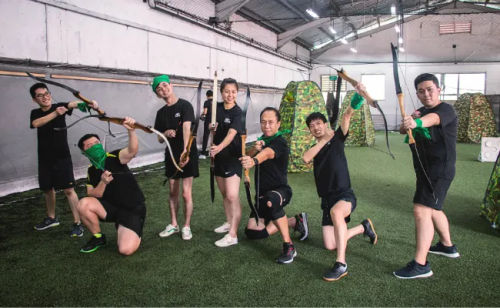 Ready to explore an exhilarating journey mixing dodgeball and archery for a special day? Archery Tag is the perfect game for anyone looking to ignite their adrenaline – eliminate your foes with foam-tipped arrows in a fast-paced skirmish! We prioritize safety by outfitting all of our players with face masks, so nobody gets hurt. Stop waiting around and come join us for some heartpounding fun that only comes from Archery Tag!
4) Laser Tag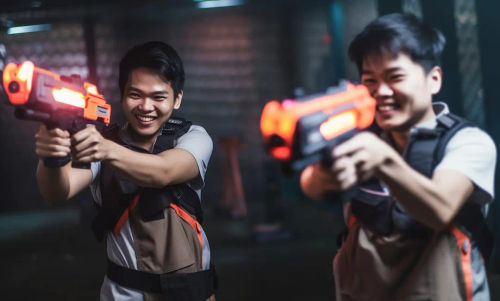 Ready to take your adrenaline up a notch? Laser tag or the neon laser tag is the perfect, unique solution. No matter if you prefer indoor or outdoor action, laser tag boasts engaging missions that are suitable for any age group – and it's easy to grasp why this game has become a go-to activity during successful events!
With a variety of exhilarating missions, such as Capture the Flag and Domination, each one offers its own unique set of rules to encourage team spirit.
Whether you're planning a birthday party or just looking for team building activities in Singapore, this is sure to be an exciting event that everyone will love!
5) Bubble Soccer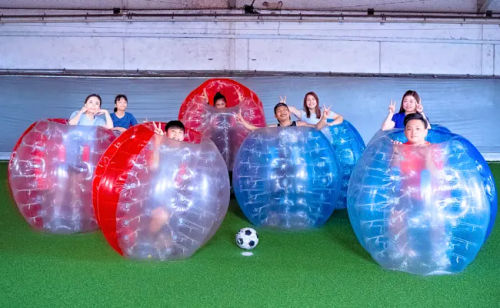 Instantly elevate the vibes in your office by organizing an entertaining round of Bubble Soccer – a popular pastime that everyone in Singapore loves. You and your colleagues or friends can have fun jumping around while uniting to emerge victorious!
This is not only a great way to relax, but it also offers incredible benefits for strengthening relationships even fir a child's birthday party. Have some exciting moments with each other, foster stronger bonds together, and reach success as one unified unit!
Creative Workshops
6) Terrarium Workshop
Looking for a fun and invigorating birthday parties in Singapore or team building in Singapore experience? Our vibrant terrarium workshop offers the perfect solution! Not only will your group get to connect with one another, but they'll also be able to proudly show off their amazing creations at home. It's no surprise that our terrarium workshops are so popular in Singapore -they consistently deliver extraordinary results that make everyone happy!
7) Tote Bag Art Jamming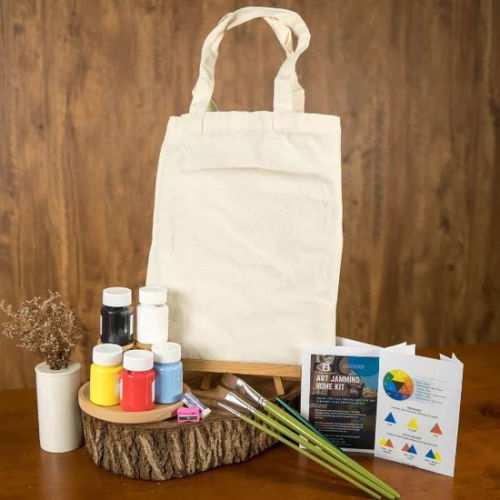 Unleash your creativity at FunEmpire's one-of-a kind Art Jamming experience! Create a totally unique and customized tote bag – you may even find it perfect for gifting someone else. We provide all the materials, so don't feel like you need any painting skills; just show up as you are and let your creative juices start flowing to celebrate birthdays!
8) Canvas Art Jamming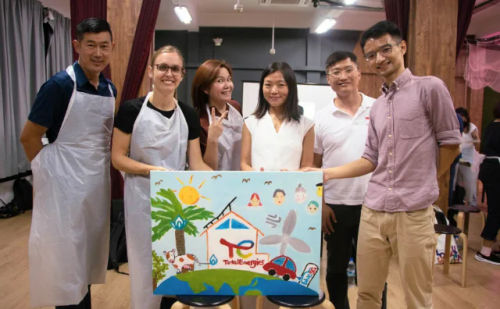 Unleash your creative side with FunEmpire and take part in our unforgettable Art Jamming session – the perfect opportunity to bond, relax and have fun with friends, family or colleagues. Our comprehensive supply kit eliminates the need for any artistic experience when painting; we provide all you need! Escape into a world of artistry at FunEmpire today.
9) Soy Candle Making Workshop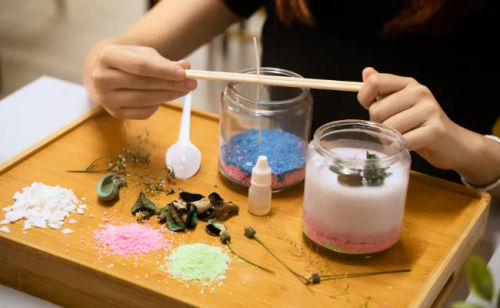 From novice to expert, our tailored packages are designed to help you bring your candle-crafting vision into reality for your next birthday celebration. Whether you're wanting an easy soy candle or one layered with colored sands and decorative figurines, we have the supplies and party bags for your birthday party in Singapore!
10) Non-Stitched Leather Workshop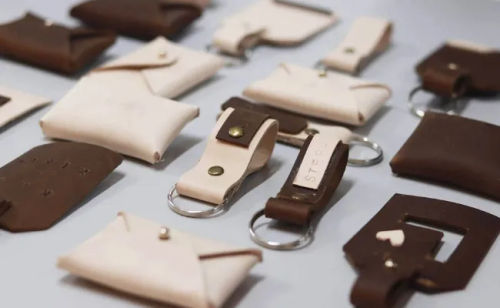 Unleash your team's inner creativity and bond through a unique craft experience in Singapore with Leather Workshop! Here, you'll learn the fundamentals of leather crafting and design personalized pieces like coin purses, key FOBs or even luggage tags. As an added bonus, everyone gets to keep what they make – plus it makes for a great gift too! So don't miss out on this one-of-a-kind opportunity: join us at Leather Workshop today to create something truly remarkable with your colleagues!
11) Perfume Workshop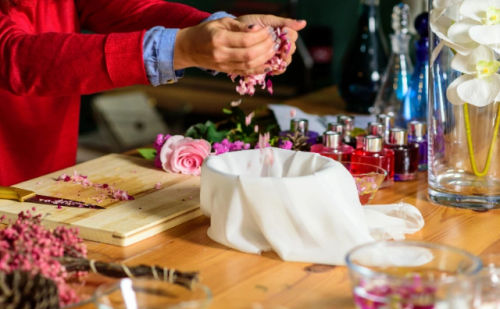 Let your team bond during a unique workshop that allows you to get to know each other through the world of scents. After participating, every individual will receive their own tailored scent bottles that are guaranteed to be unforgettable! Don't miss out on this remarkable opportunity for an unforgettable experience with your colleagues.
12) Clay Making Workshop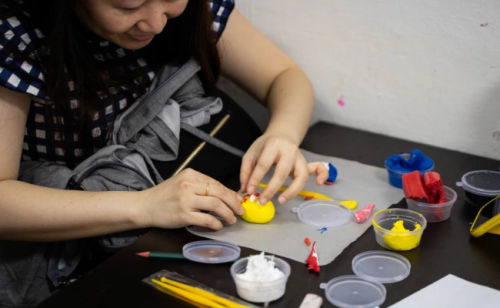 Unleash your imagination with FunEmpire! Our charming, intimate workshops are the perfect way to explore a new pastime. Everything you need for crafting adorable mini clay figurines is supplied and ready to go, so you can have all the fun, including creative kids, of making without any stress or bother. Come along today and make something special side-by-side with our team for your birthday party in Singapore!
13) Balloon Sculpting Workshop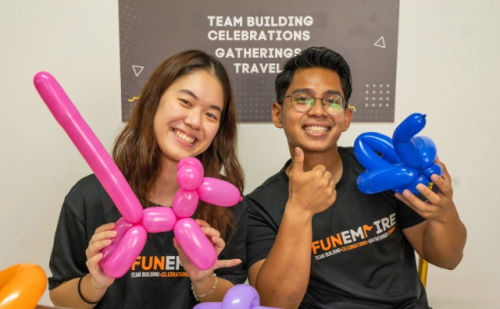 Unlock your creative potential and discover how you can quickly create balloon sculptures, like a pirate sword, butterfly, rainbow or flower without ever leaving the house! This could also be the best activity for a kid's birthday party in Singapore!
14) Cooking Class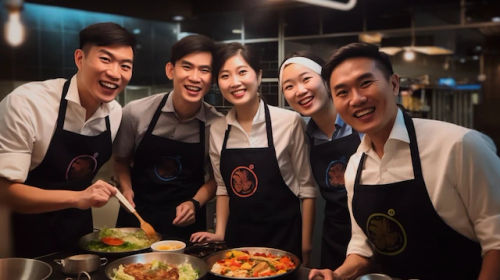 Let your co-workers experience the unparalleled tastes of Singapore! Excite their senses and take them on an unforgettable culinary journey as you all partake in one of our cooking classes. You'll be amazed at how quickly they become amateur master chefs with just a few lessons. Unforgettable memories will be made when everyone can come together to create delectable, locally inspired dishes or own cake that are sure to tantalize the taste buds! So why not make your next corporate team building activity even more memorable by bringing along the vibrant flavours of Singapore?
Quest Activities
15) Amazing Race
Embark on an incredible adventure as you and your squad solve thought-provoking puzzles, partake in engrossing challenges, and uncover Singapore's hidden gems. This one-of-a-kind experience will have everyone collaborating to achieve success for a memorable birthday party in Singapore!
16) Escape Room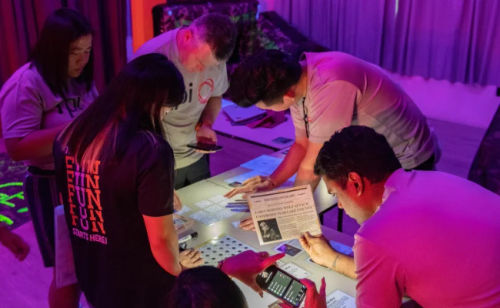 Ready to cultivate a strong sense of teamwork and unity amongst your friends? Escape Rooms in Singapore are the perfect solution! Your team will work together to solve tricky puzzles while battling against time for your unforgettable birthday parties. With various birthday party themes and mysteries available, you can guarantee an exceptional bonding experience with your associates. Unleash everyone's inner detective as they embark on a stimulating adventure that is sure to be remembered for many years ahead!
Leisure Activities
17) Yacht Rental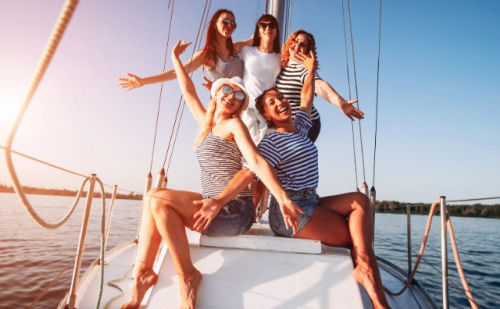 Take a break from the hustle and bustle of city life with yacht rental in Singapore! It is ideal for celebrating milestones like engagements, anniversaries or birthdays with your nearest and dearest. Furthermore, you can make fun activities successful by utilizing this luxurious service with great food and your own birthday cake. An unforgettable experience awaits when you opt to rent a yacht – it will certainly leave an enduring impression on all who join!
18) Giant Board Games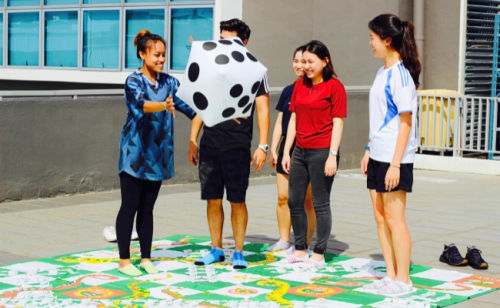 Ready to relive your childhood fondest memories? Make a regular gathering truly remarkable with life-sized versions of Giant Jenga, Pick Up Sticks, Connect Four or Snakes & Ladders! These interactive board games are the perfect icebreakers in Singapore. Whether it's for an unforgettable birthday party, family reunion or corporate event – transport yourself back in time and make them even more unforgettable than before!
19) Cosmic Bowling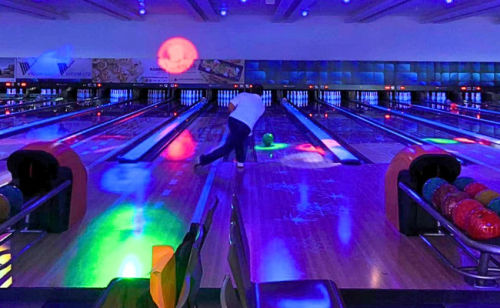 Ditch the mundane team bonding activities like bowling and try something new! Team building games are a great way to cultivate communication, collaboration, and trust among your employees. Singapore events provide an unparalleled experience for these types of exercises; not only will it be unforgettable but also further strengthen the bonds between family members and friends as they progress in their careers.
Virtual Games
20) Hybrid Amazing Race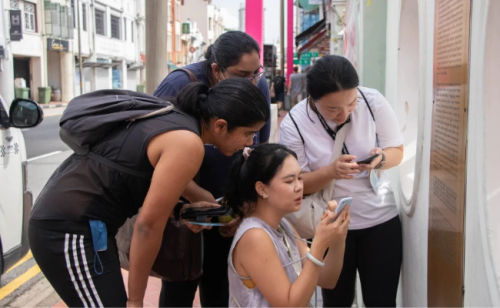 Get ready for an unforgettable experience with one of FunEmpire's virtual games – Hybrid Amazing Race! Our hybrid race gives you the perfect combination of physical tasks, online puzzles, and exploration at some of Singapore's most renowned spots. On this thrilling journey, you'll find out about Chinatown's rich history and savour delicious cuisine from its distinguished landmarks – all while taking in the gorgeous views firsthand! So don't delay any longer – immerse yourself into a world filled with entertainment right now in your own home!
21) Virtual Squid Escape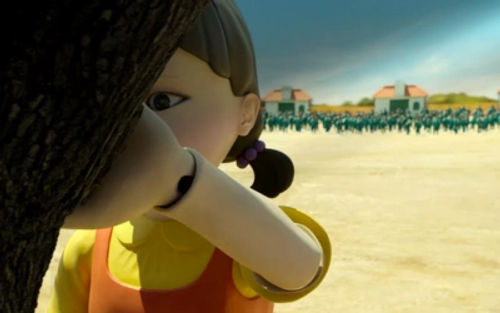 Are you and your team up for thrilling adventure? The Squid Game Escape Room is sure to get hearts pounding as you attempt to beat the masterminds behind the game. Crack perplexing puzzles, figure out tricky riddles, and uncover concealed secrets that will eventually set you on a path of freedom! Will your squad have enough brainpower before time runs out?
22) Virtual Escape Room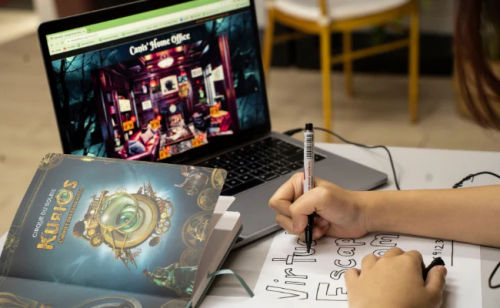 Are you looking for an enjoyable and educative activity that can be enjoyed by your family, friends, or colleagues? FunEmpire has the perfect solution – a highly interactive virtual game ideal for any group size! Whether it's just two people or hundreds of participants, our award-winning event experience is sure to create lasting memories. Furthermore, with all events available online there's no need to move from the comfort of your home. Don't let this opportunity pass you by – join us today!
23) Virtual Time Travel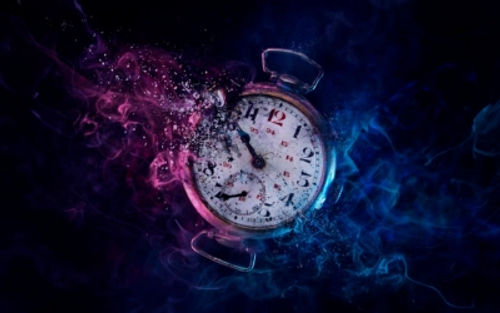 Ready to experience the most electrifying team-building and problem-solving challenge ever? Grab some friends or colleagues, as there is no cap on how many people can partake in this extraordinary journey. Time's ticking away – be one of the select group who have had the chance to do something so remarkable! Get ready for success now!
24) Virtual Travel Experience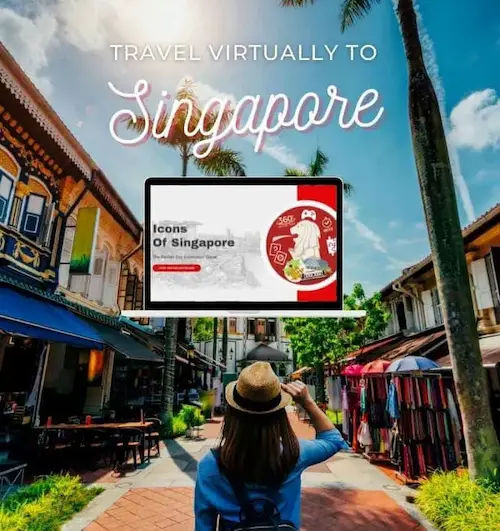 Ready for an extraordinary virtual experience? Look no further! FunEmpire's Virtual Travel Experience will take you on a riveting journey through Singapore's past with its Treasure Hunt, Amazing Race and Escape Room Experiences. Test your exploration skills today and embark on this enjoyable voyage now!
25) Virtual Amazing Race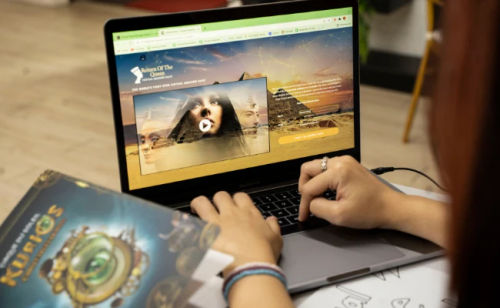 Embark on an incomparable journey that will leave your group energized, captivated, and thrilled! Compete with each other to discover hidden treasures as you explore the world together. Don't pass up this thrilling opportunity – launch into this thrilling adventure now!
Virtual Workshops
26) Virtual Terrarium Workshop
For a unique and imaginative indoor activity with your friends or coworker, FunEmpire has the perfect solution! Our award-winning workshops are now available online for everyone to enjoy. Plus, we provide Terrarium Home Kits that will be sent directly to each participant's house – it doesn't get any better than this! Let's have fun at home today and make something special.
27) Virtual Soy Candle Making Workshop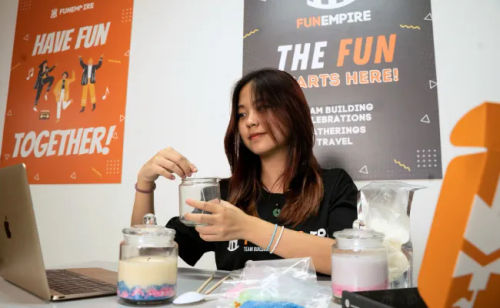 Gather your closest friends and bring out the creative genius within you at FunEmpire's Virtual Candle Making Workshop! Make a delightfully fragrant soy candle of your own with an exquisite figurine, supplied in our home kit. Don't miss this extraordinary opportunity to strengthen bonds; join us for one of Singapore's most outstanding team building activities right away!
28) Virtual Tote Bag Art Jamming
Unleash your creativity and join us for a unique Virtual Art Jamming experience to make a custom-made tote bag! With FunEmpire, it's easy and stress-free – we supply all the essential materials you'll need. No artistry skills are necessary; just come with an open mind, ready to get those little sparks of inspiration moving. Make something extraordinary – maybe as a present or simply something fun that you made yourself!
29) Virtual Canvas Art Jamming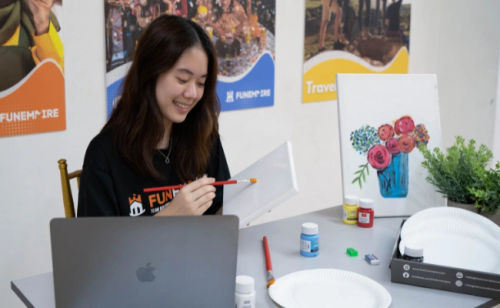 Uncover your hidden artistic genius with FunEmpire's Virtual Art Jamming experience! Whether you're connecting with friends, family or colleagues, our art jam session provides the perfect platform to foster meaningful relationships and have a blast while painting. Plus, no prior knowledge of art is needed as we provide all necessary tools for an enjoyable painting journey. Allow yourself to be liberated from any inhibitions and unleash your creativity through this virtual workshops!
30) Virtual Non-Stitched Leather Workshop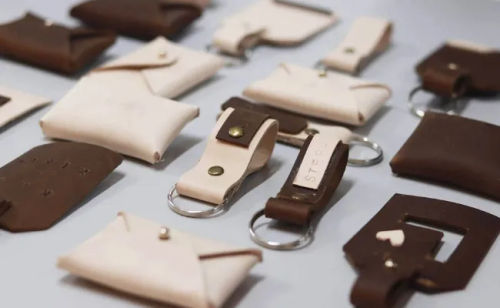 Take the plunge into your leather crafting journey with our Virtual Leather Making Workshop! Our expert tutors will guide you in mastering the fundamentals of crafting and, by its ending, you'll have all that is needed to create stunning bespoke items right from home – ideal for novices or those wanting to enhance their knowledge through virtual workshops!
Tips for Organizing A Successful Birthday Celebration
Decide On a Theme: The theme of the birthday party can shape the entire direction of the event and give your guests something to look forward to.
Set A Date: Make sure you choose a date that is convenient for everyone who will be attending, such as a weekend or holiday.
Choose Venue & Supplies: Think about how many people will be attending, and select a venue that can accommodate them as well as the supplies necessary to make the event run smoothly.
Invite Guests: Get the word out by sending invitations by mail or email. You can also create a Facebook event or create an online RSVP service.
Plan Activities & Games: Choose games and activities that will fit the theme of the event. Make sure to plan ahead to make sure you have enough supplies.
Decorate: Use decorations that follow the theme of your party and think about how they will add to the atmosphere, such as balloons or other festive items.
Food & Drinks: Select food and beverages that are appropriate for the age of your guests and that will fit the theme.
Take Pictures: Ask guests to take pictures so you can remember this special day. You can also hire a professional photographer, if desired.
Give Gifts & Favors: Think about giving out favors or gifts as a way to thank your guests for attending.
Clean Up: Make sure to clean up the venue after the party is over, and ensure that all supplies are returned to their original locations.
Birthday Celebration Singapore
Ready to make your birthday party in Singapore one you'll never forget? Singapore is the perfect place for an unforgettable experience! From creative workshops like Canvas Art Jamming and Tote Bag Art Jamming, to thrilling activities such as Laser Tag and Combat Archery Tag – there are endless ways to create lasting memories.
Celebrate with friends or family today by choosing from these incredible experiences in Singapore! So what's stopping you from party planning a fantastic day full of fun? Get ready for the ultimate birthday bash now!
Interested in related articles? Do check out the links below!
Frequently Asked Questions
If you have any questions about birthday celebrations in Singapore, you can refer to the frequently asked questions (FAQ) about the Best Birthday Celebrations in Singapore below:
Additional Useful Links
If you are looking for other useful guides and articles about Birthday Celebrations in Singapore, check them out below: