Workshops in Singapore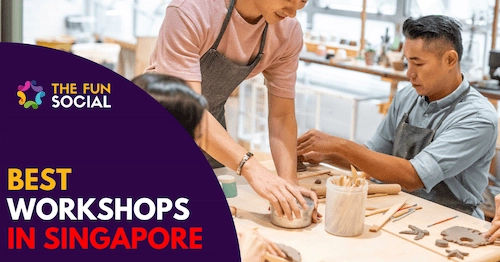 Workshops in Singapore offer a wealth of opportunities for learning and creative expression.
The best workshops in Singapore include Perfume Workshop, Balloon Sculpting Workshop, Clay Making Workshop, Terrarium Workshop, and Gel Candle Making Workshop, and a lot more!
When booking a workshop, it's crucial to consider factors like cost, location, duration, and the instructor's experience.
Among the top choices, FunEmpire's workshops shine with their outstanding reputation, boasting over 8,000 5-star client reviews and a remarkable track record of thousands of successful events.
Discover the best workshops in Singapore and unlock your potential in a vibrant and fun experience now!
Benefits of Workshops in Singapore
The benefits of workshops are many. They provide educational, engaging, and fun activities that encourage creativity, collaboration, and problem-solving skills. These workshops also promote active learning and allow participants to actively participate in discussions.
Additionally, many workshops are great team building activities in Singapore that help build teamwork skills while inspiring people to go beyond their comfort zones and take on new challenges. Also, the projects that are done during these workshops can lead to tangible results or artifacts that remind everyone of a fun time.
Lastly, there is also an opportunity for networking with like-minded individuals from different backgrounds who share similar interests or goals.
Key Consideration Factors
Location: Consider where the workshop is located and make sure there's easy access to transportation.
Cost: Check out the price of the workshops, determine which ones fit your budget best, and make sure you're getting value for your money.
Duration: Find out how long each workshop runs for in order to manage your time effectively and get the maximum benefit from it.
Materials Needed: See if any special materials are required such as books or other supplies that need to be purchased before attending the workshop
Target Group: Determine whether this particular event caters to a specific age group, gender or skill level so as to ensure that you attend something suitable for you personally
Instructor/Facilitator Qualifications: Confirm who will be leading the event and what their qualifications or expertise are when it comes to teaching about a certain topic
Registration Process & Deadlines: Figure out how much lead-time is needed in order to secure a spot at certain events i.e., registration deadlines
Now that you know what to look for, here are the Workshops In Singapore.
Top Recommended Workshops In Singapore
1. Balloon Sculpting Workshop
Want to have some lighthearted educational fun? Why not join Fun Empire's Balloon Sculpting Workshop if you're in Singapore? In this entertaining class, you'll be encouraged to use your creativity and given the opportunity to work through some real-world challenges.
With the guidance of knowledgeable experts, you can learn to construct incredible balloon masterpieces, and then everyone can take home a memento to remind them of how much fun they had. Sign up today to attend this exclusive event in Singapore!
2. Perfume Workshop
Is your team looking for a one-of-a-kind Singapore team-building activity? You should seek out the Perfume Workshop at FunEmpire. During this fun and interactive session, each team will learn theall the basics of making scents.
Each participant will take home their own perfume produced from natural essential oils and other smells. This excursion will not only encourage employee collaboration but will also be a pleasant and thrilling event for all participants. Visit FunEmpire right now to sign up for a perfume creation lesson.
3. Cooking Class
Do you want to do something new with your Singapore team? The cooking class from FunEmpire is everything you need. This entertaining and informative program is ideal for workers of all skill levels who want to have fun while learning to cook together.
Participants will learn the fundamentals of cooking, from preparing materials to plating cuisine. This is a once-in-a-lifetime event, with step-by-step instructions and plenty of opportunities to collaborate and come up with innovative ideas. Register for this hands on cooking classes at FunEmpire right now.
4. Clay Making Workshop
Do you want to participate in a fun and inspiring course while visiting Singapore? The Fun Empire Clay Studio is where you need to be! Participants will learn how to work with clay and have a chance to show how creative they can be.
Everyone may learn how to make works of art that are truly their own with the help of detailed instructions from seasoned professionals. Join this art workshop for a stimulating educational opportunity that will stimulate your imagination.
5. Soy Candle Making Workshop
Do you want to attend a workshop in Singapore that will both entertain and educate you? This workshop is just what you're looking for! During this fun session, you'll get to make your own soy candles from scratch and leave with one to enjoy at home.
The teachers provide us with expert direction and advice on how to make the most of the procedure the entire time. In addition, we provide everything you'll need for the workshop, so there's nothing holding you back from signing up right now!
6. Non-Stitched Leather Workshop
Want to attend a stimulating and instructive course in Singapore? FunEmpire's leather making workshop is the only option you need. In this enjoyable session, participants will learn how to design their own leather products from scratch.
The knowledgeable teachers give step-by-step lessons and assistance on how to work with leather and create a magnificent work of art. Throughout the session, there are also several possibilities for cooperation and innovation. Join up now for an adventure you will never forget!
7. Gel Candle Workshop
Are you looking for a memorable and enjoyable team-building experience in Singapore? Check out the FunEmpire Gel Candle Making Class! In this fun and informative workshop, teams will learn the basics of making gel candles from scratch.
Teams will work together to create candles with their own unique designs, scents, and color combinations. Participants will also learn how to solve problems by being forced to think creatively about hard tasks. Sign up for our gel candle making workshop at FunEmpire now!
8. Stitched Leather Workshop
Is your Singapore team looking for a new and exciting way to bond? Look no farther than FunEmpire's Stitched Leather Workshop! This lively and informative workshop will teach teams the basics of leatherworking.
In this activity, group members will use leather and other materials to create one-of-a-kind finished products. This program is great for developing teamwork abilities and creative problem-solving skills due to its emphasis on encouraging participants to think outside the box. Come join us at FunEmpire for our Leather Workshop!
9. Terrarium Workshop
Is your Singapore team looking for a new and exciting way to bond? The Terrarium Workshop at FunEmpire is your best craft workshops in Singapore. In this fun and interesting activity, teams will learn how to design and build terrariums.
Participants will learn about different kinds of plants and soil via collaborative problem-solving. This interactive training will help staff members improve their problem-solving skills and sense of teamwork. Register now for the FunEmpire Terrarium Class.
10. Tote Bag Art Jamming Workshop
Are you visiting Singapore and hoping to take part in any kind of stimulating and imaginative workshop? Check out the FunEmpire-sponsored Tote Bag Art Jam Workshop. In this creative and energizing workshop, students will learn to paint their own designs on canvas tote bags.
So that each student leaves class with an original, personal piece of art, our experienced teachers will give clear, step-by-step instructions and advice throughout the session.
We invite you to join one of the best craft workshops for a thought-provoking educational experience and make your very own masterpiece.
11. Canvas Art Jamming Workshop
Are you seeking an innovative and enjoyable team-building activity in Singapore? Look no farther than FunEmpire's Canvas Art Jam Workshop! Participants will learn how to paint their own creations on canvas during this engaging program.
Our qualified instructors will give each student the help and training they need to make a unique piece of art before they leave the workshop. Join us today for an invigorating event that will bring out the artist in everyone!
12. Candle Workshop Singapore
Creating candles together is a great way to bond with coworkers. Candle Workshop Singapore is an unforgettable experience for team development.
In addition to teaching participants how to manufacture candles, the goals of fun craft workshops are to foster growth in self-confidence, initiative, teamwork, and imagination.
Professional instructors will lead participants through the steps of creating their own one-of-a-kind candles using either our gel candle making workshop or our virtual soy candle making workshop. Everyone who attends the course will take home their own uniquely created candle. Everyone can have a good time with this creative exercise.
13. Terrarium Singapore
Put your imagination to work and create a little glass landscape. The award-winning Terrarium Workshop is a great way to spend quality time with your loved ones or team. Experience the best of Singapore's terrarium scene with the help of our expert teachers at the best terrarium workshop in Singapore.
Experience terrarium building with all of us, and take home a miniature garden you created using only the finest ingredients and practices for plant care. Get in touch with us right now if you're looking for a one-of-a-kind venue in Singapore to celebrate your next special event at Terrarium.
14. Basic Silversmithing Workshop
Do you like tinkering and want to try something different? Learning the basics of silversmithing is a great way to get started making one-of-a-kind jewelry. You'll learn the basics of polymer clay jewelry workshop using 925 silver to create anything from pendants and rings to earrings, all of which you'll get to take home at the conclusion of the course.
15. Pottery Workshop
Tiff's lesson is great whether you're an experienced potter or just starting out. Her glazing is so stunning that you may find her work in some of Singapore's most exclusive hotels. In addition, anybody interested in learning about clay pottery classes is welcome to stop by her lovely rooftop studio and take a beginner's session from her.
You'll leave the entire workshop with not one, but two gorgeous clay objects in your very own cup or vase, each made by one of Singapore's top ceramists and finished with their signature glazes.
16. Embroidery Workshop
It's okay if you've never used a sewing machine or threaded a needle. Sage Artelier's tutors will spend two hours with you as you explore the intriguing world of hand stitching. You'll gain knowledge of several simple stitches that'll come in handy when you work on your own creation through these sewing classes. You might bring a photo or drawing of anything significant to use as a starting point for your creativity.
Best Virtual Workshops in Singapore
17. Virtual Canvas Art Jamming
Virtual Canvas Art Jam is an innovative and fun online team-building game developed by Singapore's FunEmpire. It's a studio where teams of artists collaborate on huge canvases. This course will teach the basics of painting, including color theory, brushwork, and composition.
After getting familiar with the tools at their disposal, each group will be able to build a canvas that is really their own. In order to create something really unique, groups may choose from a broad variety of media and art techniques.
It's a pleasurable way to put one's imagination to work in a collaborative context where everyone's opinion counts.
18. Virtual Tote Bag Art Jamming
FunEmpire's Virtual Tote Bag Art Jam in Singapore provides engaging virtual team development. It's a class where groups learn to create works of art on canvas tote bags and the techniques. We'll start with the basics of painting on canvas, such as color mixing, brush selection, and arranging shapes and lines.
Teams may start conceiving concepts when they have learned how to utilize the available tools and resources. Each team is free to express its own identity via the use of whatever combination of colors and materials they want.
Participants will next be instructed on how to properly transfer their designs on canvas tote bags. Every finished artwork and souvenirs created by the teams will be returned to them. Artistic collaboration may be a great way for groups to connect.
19. Virtual Terrarium Workshop
With FunEmpire's Virtual Terrarium Workshop, it's simpler than ever for a group to create something really unique. Attendees of this course will leave knowing all they need to know to create a beautiful terrarium of their very own cup, jar, or vase.
After a short introduction to the materials and methods used, each group will be led through the process of choosing plants, soil, stones, and other decorative items for their own terrariums.
Teams may improve their manufacturing abilities by learning more about the interdependencies between plants and their environs. During the semester, participants will work in teams to make a variety of creative goods, such as terrariums.
20. Virtual Non-Stitched Leather Workshop
FunEmpire, based in Singapore, offers a virtual team-building exercise called the Virtual Non-Stitched Leather Workshop. The unique curriculum teaches students how to work with leather from beginning to end, including the design and development of finished goods.
In this course, students will learn how to use a variety of leathers and professional equipment, including needles, rivets, and waxed linen thread.
During the semester, students will improve their leatherworking skills and work together to make unique, high-quality items. Participants are welcome to keep their finished products when the workshop is done.
21. Virtual Clay Making Workshop
Teams may bond and express their creativity with FunEmpire's clay making workshop. This epic workshop guarantees users the chance to mold their own clay creations virtually, this workshop is a fan favorite among Fun Empire's virtual team-building activities.
Teams may either take their finished sculptures home with them or arrange to have them sent directly to their addresses. This eliminates the hassle of transporting items to and from the workshop. An online clay workshop is a fantastic way for groups to bond and develop their talents together in creating miniature clay art.
22. Virtual Soy Candle Making Workshop
The Soy Candle Making Workshop on FunEmpire in Singapore is an interesting and fun way to build teamwork online. Each group may create their own scented and colored soy candle. Participants will get an understanding of the various options available to them when it comes to candle wax, wicks, and fragrances.
The wick placement, safety measures, and aftercare of your candles, as well as their preparation and pouring, are all covered in this course. They may also choose to add colored wax or dried flowers to their candle for decoration. Teams may keep their finished candles as a memento of their time together.
23. Virtual Balloon Sculpting Workshop
FunEmpire's Balloon Sculpting Workshop may be used as a fun and interactive online team-building activity. Balloons may be used to make fantastic, personalized sculptures that groups can use as house decor.
In this course, students will learn the fundamentals of balloon sculpting, such as how to properly handle the balloons, consider safety, and generate creative ideas.
Participants not only get the chance to show their work at the end of the course but also to interact with one another while learning the basic techniques and expanding their creativity!
24. Virtual Stitched Leather Workshop
FunEmpire's Virtual Stitched Leather Workshop is a great place for groups to interact while working on a common project. All the basics of dealing with leather, from proper handling to brainstorming design options, are covered in this course.
Participants will get an understanding of the many leathers on the market and get some practice making leather items like wallets and straps during this session. They will get to use professional tools, including needles, rivets, and waxed linen thread.
Participants may refine their leatherworking skills and bond as a group while making something beautiful they can take home at the end of the program.
25. Virtual Art Jamming
Join us for a fun painting lesson and give your creative side through one of the best art workshops in the country. Choose from a wide range of mediums, including canvas or tote bags, acrylic paints, pencils, and erasers, to create a work of art worthy of being exhibited anywhere.
During the online meeting, you may also get help with basic color mixing theory from our knowledgeable facilitators. Painting is just the first step! We offer a wide range of team-building activities in Singapore that are certain to be enjoyable for everyone. Explore fresh venues where you may express your creative side; the possibilities are vast to create your own masterpiece.
Workshops in Singapore
All in all, there are a variety of creative workshops in Singapore that are perfect for team building activities. From virtual clay making to balloon sculpting and art jam, there is something for everyone.
These best craft workshops give you a chance to get to know your teammates better while learning new skills or improving ones you already have.
Not only will you gain knowledge but also have the chance to take home finished products as mementos of the fun experience! So why not give some of these unique art workshop in Singapore a try? You won't be disappointed!
If you're looking for other articles about activities in Singapore, check out our recommendations:
Frequently Asked Questions (FAQ)
If you have any questions about Workshops in Singapore, you can refer to the frequently asked questions (FAQ) about the best Workshops in Singapore below:
Additional Useful Articles
If you are looking for other useful guides and articles about Workshops in Singapore, check them out below: