Team Building Activities Singapore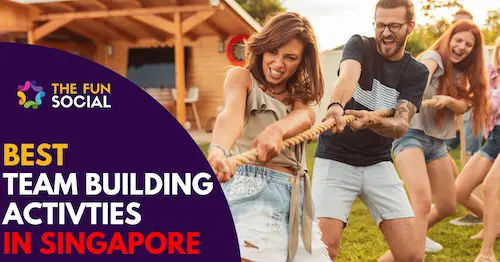 Team building activities in Singapore play a pivotal role in fostering camaraderie, enhancing communication, and nurturing morale among colleagues.
The best team building activities in Singapore are Bubble Soccer, Amazing Race, Art Jamming Workshops, Laser Tag, Escape Rooms, Archery Tag, Poolball, Giant Board Games, and Candle Making Workshops.
From thrilling Adventure Activities to Creative Workshops, the best team building activities in Singapore encompass a diverse range of options.
When planning team building activities in Singapore, it's important to tailor the choices to participants' preferences, taking into account their physical abilities and aligning with the objectives of the endeavor.
We've shortlisted the best team building activities in Singapore that will be perfect for you and your team to participate in!
Key Consideration Factors When Choosing a Fun Team Building Activity For Your Team Building Event
When looking for team building activities in Singapore, it's important to consider the following factors:
Group Size: Consider the size of your team when looking for an excellent team building activity. Some activities may be too strenuous or chaotic for smaller groups, while larger teams may require more physical challenges and team-building exercises.
Cost: The cost of each activity should also be kept in mind, as well as any additional costs associated with travel and accommodation needs.
Location: Consider the location of the activities, as various locations may be more suitable for particular groups depending on their interests and availability.
Type of Activities: Think about the type of team building activities that would be most effective for your group. Some may prefer outdoor challenges, while others may benefit from engaging in intellectual seminars and workshops.
Best Team Building Activities Singapore
Adventure Activities
1) Poolball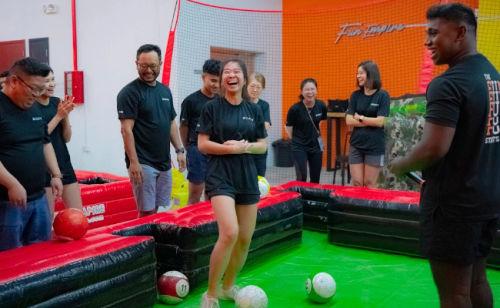 Ready for a thrilling experience? Our giant pool table provides an array of invigorating games, such as Poolball Classic and Poolball Sabotage that is bound to get your adrenaline pumping! Not only are these games perfect for engaging strategic thinking and team communication between participants regardless of age group or size of corporate event, but they also provide the ideal atmosphere to encourage healthy competition and strengthen bonds amongst groups. With its inclusive nature suitable for both intimate parties and large groups alike, come test your luck at conquering our incredible pool table today!
2) Giant Whack-A-Mole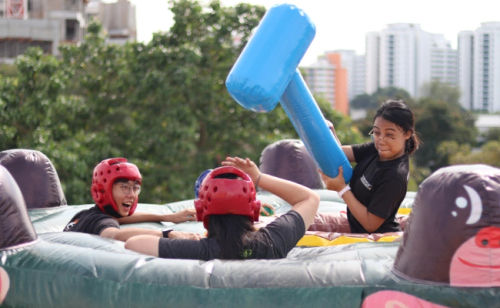 Experience the ultimate journey of fun and excitement with Singapore's beloved Giant Whack-A-Mole game, now adapted for team building! Don't miss this opportunity to "whack" your way through as you try to grab various colored balls – a once in a lifetime experience. Hurry and don't let this chance slip away!
3) Laser Tag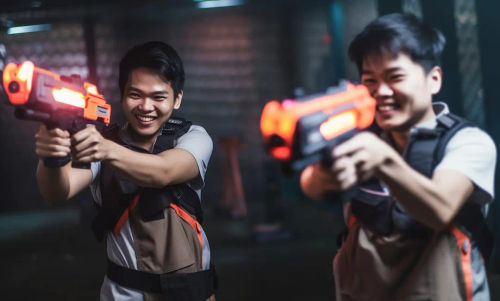 Laser tag is the perfect indoor team building activity to bring any group together, no matter their age. Participants can immerse themselves in thrilling missions that will cultivate a strong bond and unforgettable memories! The game itself provides plenty of flexibility as it can be played as an outdoor activity or indoors so there's something for everyone. With its inclusive nature and diverse possibilities, laser tag should absolutely be included on your next team building event agenda!
4) Saber Tag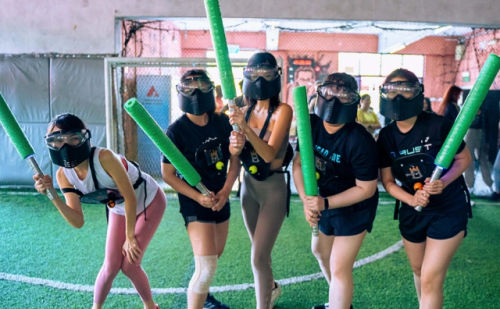 Sharpen your skills with a combat saber and face off against competitors to complete unique game missions. Take on exhilarating quests such as Saber Wars or Defenders of The Galaxy, while honing your team's communication and cooperation abilities!
Looking for a way to spruce up your corporate team-building event or birthday party? Saber Tag® is here to save the day! This unique, exciting experience will bring co-workers together like never before and can undoubtedly be the highlight of any celebration. In Singapore, it's one of the coolest games around – come join us at Saber Tag® today for an unforgettable adventure!
5) Combat Archery Tag
Get ready for an adrenaline rush with Archery Tag – the exhilarating combination of archery and dodgeball played by teams. You'll wear protective face masks as you shoot foam-tipped arrows at your opponents to eliminate them, all while playing in a dynamic game atmosphere! This fast-paced activity is sure to be fun for people of all ages – so don't miss out on this unique experience!
Are you on the hunt for an invigorating activity that will bring your team closer together? Look no further than The Revival and The Last King missions! With their intense focus on collaboration, communication and resourcefulness, these games offer a unique opportunity to develop those skills in an electrifying environment. Ever dreamt of feeling like Katniss Everdeen from The Hunger Games? Now's your moment! Use this remarkable experience as the ideal way for your group to grow stronger within a thrilling atmosphere.
6) Bullet Strike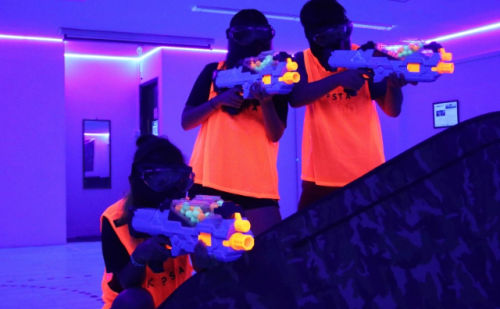 Get ready for an exhilarating team-building experience with Nerf Gun! Armed with foam balls as your ammunition, you and others will use Nerf blasters to strike and compete against one another. With its soft bullets that are guaranteed safe, additional security is provided through protective masks worn by participants during the game. Make sure not to miss out on this thrilling activity!
7) Saber Fit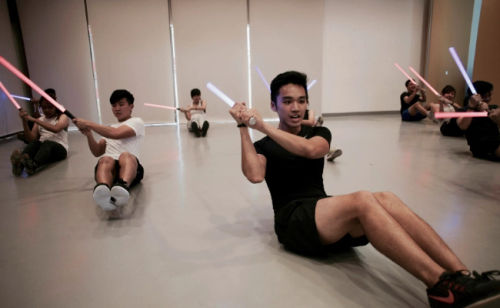 Ignite your upcoming Singaporean team bonding event with a unique and high-energy saber fitness workout unlike any other. Our course blends combat techniques, pair-work duelling and offers the only group exercise available on Earth that includes team building elements! Step outside the box with this unforgettable experience – it's sure to be an original challenge full of sweat but also plenty of fun for all involved in creating camaraderie among colleagues.
8) Bullet Ball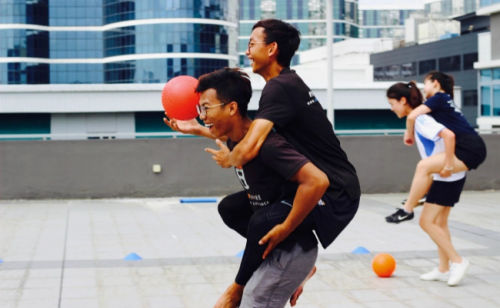 Get ready to experience a thrilling and fast-paced version of Dodgeball with Bullet Ball! Created by FunEmpire, this amazing team building game is ideal for your upcoming Singapore session. Not only does it offer maximum fun, but it's also available at an affordable price – so no need to worry about breaking the bank. Come join in on the action today!
9) Ninja Tag
Ready to push yourself to the limit and verify your ninja skills? Ninja Tag has arrived, granting a thrilling team-building experience with its foam Ninja Daggers, scoring vests, and exciting missions! Join with your colleagues in this indoor or outdoor activity to take part in insane close combat battles for an unforgettable adventure. From exhilarating game modes that keep you on your toes to hours of fun – now's the time to unleash your inner warrior!
10) Bubble Soccer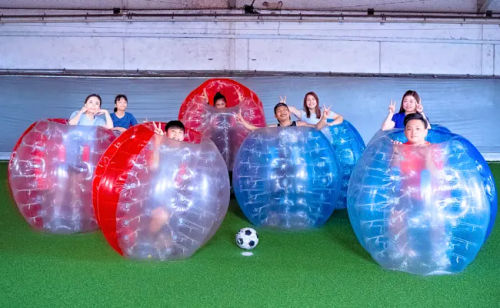 Are you seeking an exhilarating and entertaining team building activity in Singapore? Bubble Soccer is the perfect option! Not only can your colleagues and friends bump around safely together, but also come up with collective strategies in this outdoor activity. This thrilling game has more to offer than just fun; it helps reduce stress while reinforcing teamwork – what better way to bond as a group?
Creative Activities
11) Canvas Art Jamming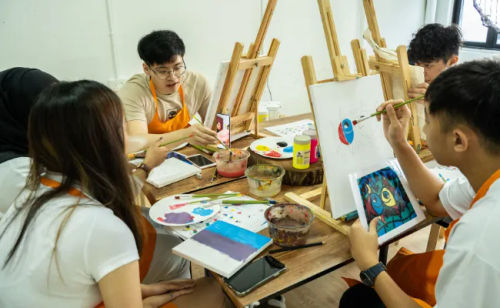 Canvas Art Jamming is the perfect activity for a team building session in Singapore! Turn your office space into an art studio as this unique form of art jamming allows your team to come together to collaborate and create their very own masterpieces. Participants can choose from a variety of materials such as acrylic paints, canvas boards and special markers to let their creative juices flow. With guidance from professional artists, you and your team are sure to have a fantastic time – and leave with a great piece of art!
12) Tote Bag Art Jamming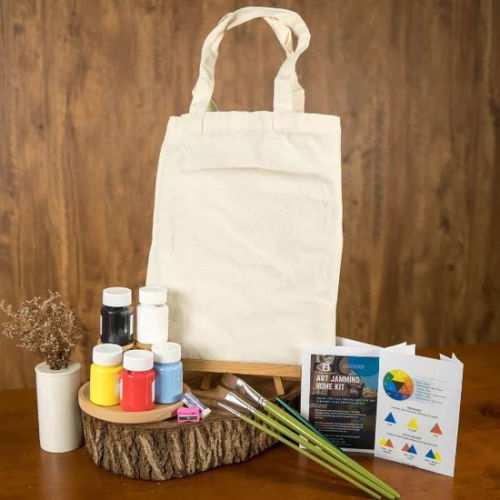 Tote Bag Art Jamming is a great way to foster team bonding and creativity among colleagues in Singapore. With this activity, all participants can come together to create one-of-a-kind works of art on specially designed tote bags. They have a wide selection of materials such as fabric paint, stencils, markers and buttons to choose from. With the help of professional artists, they are sure to come out with a masterpiece! So start your creative art jamming journey today!
13) Terrarium Workshop
Terrarium Workshop is a perfect way to bring your team together and foster collaboration in an engaging yet fun activity. This workshop allows teams to create their very own self-contained ecosystem in a glass container, complete with soil, natural elements, and live plants. Guided by professional facilitators, your team will learn about the importance of nature and how interconnected living things are. At the end of the session, everyone will have a beautiful terrarium to take home! So why not try this unique team building activity for your next Singapore session?
14) Stitched Leather Workshop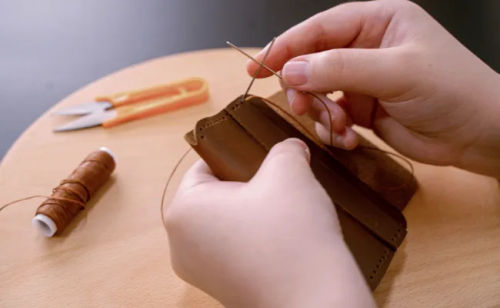 Stitched Leather Workshop is a unique team building activity perfect for any Singapore session as it allows your team to come together and explore their creative side. With guidance from professional leather craftsmen, participants can create amazing and useful products such as wallets, pouches, keychains and more. Not only does this activity provide hours of fun and help stimulate creativity, but it also helps to foster collaboration, communication and strengthen team bonds.
15) Non-Stitched Leather Workshop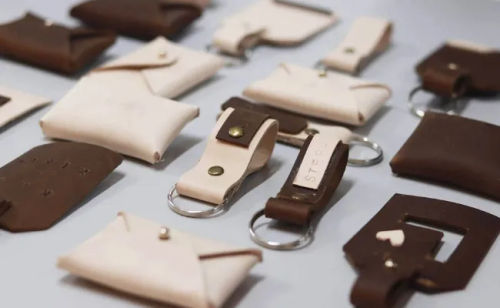 Non-Stitched Leather Workshop is a unique team building activity that allows team to explore their creative side working together to create amazing, leather products. This workshop teaches participants how to use basic tools and techniques like cutting folding and molding leather while creating wallets, keychains and other useful items. With the help of experienced craftsmen, your team will successfully create a one-of-a-kind item with their own hands. Not only that, but this activity can also promote collaboration and communication among team members, making it the perfect addition to a Singapore session!
16) Gel Candle Making Workshop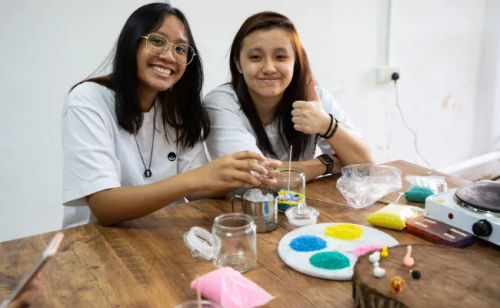 Gel Candle Making Workshop is the perfect team building activity for a Singapore session. In this workshop, participants can come together to create their own unique gel candles with a variety of materials such as scented wax, wicks, glass containers and decorative pieces. With guidance from experienced craftsmen, teams are sure to have a great time exploring their creative side and coming out with a stunning gel candle that they can take home!
17) Soy Candle Making Workshop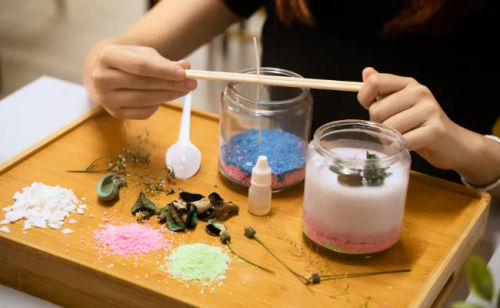 Soy Candle Making Workshop is a great team building activity for those looking to foster creativity and collaboration in Singapore. This workshop helps teams come together to create natural soy candles, using materials such as 100% natural soy wax, fragrances, and other decorative pieces. With the help of experienced professionals, teams can explore their creative side while learning the basics of candle making and creating beautiful, one-of-a-kind candles. At the end of the session, teams can take home their creations for a lovely reminder of their team building experience in Singapore!
18) Clay Making Workshop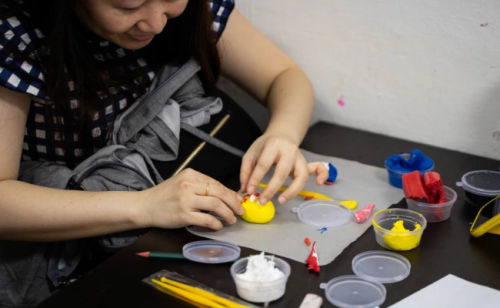 Clay Making Workshop is an ideal team building activity for any Singapore session as it allows teams to explore their creative side and create unique masterpieces. With guidance from experienced clay craftsmen, participants can learn how to design and make beautiful sculptures with air-dry clay. This workshop provides hours of fun and helps promote collaboration, communication and problem solving skills among team members. At the end of the session, participants can proudly take home their creations for a lasting reminder of a great team building experience!
19) Cooking Class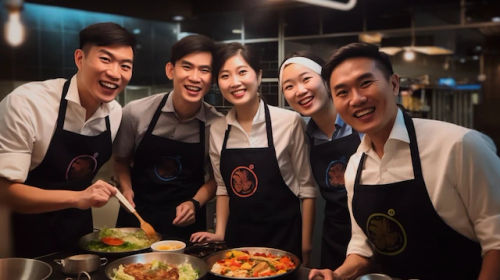 Cooking Class is an exciting team building activity that allows participants to explore their culinary skills in Singapore! With guidance from experienced chefs, teams can learn how to create delicious dishes using fresh, local ingredients. This activity provides a great opportunity for teams to come together and bond over the shared experience of preparing a meal from start to finish. Not only does it provide hours of fun, but it also promotes communication and collaboration as each team member work together to create something delicious!
20) Perfume Making Workshop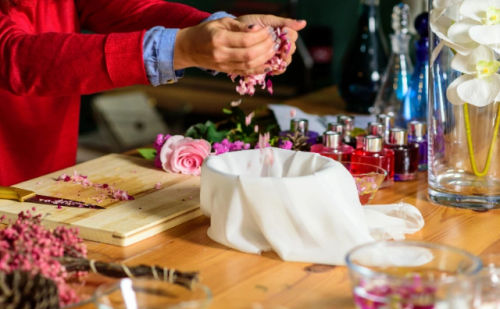 Perfume Making Workshop is the perfect team building activity for a Singapore session. This workshop allows participants to explore their creative side, as they learn how to make their own unique scents from essential oils and other fragrant materials. With guidance from experienced instructors, teams can mix and match different essential oils to create a one-of-a-kind scent that they can proudly take home. This perfume making activity encourages creativity and teamwork, making it a great addition to any team building session in Singapore!
21) Balloon Sculpting Workshop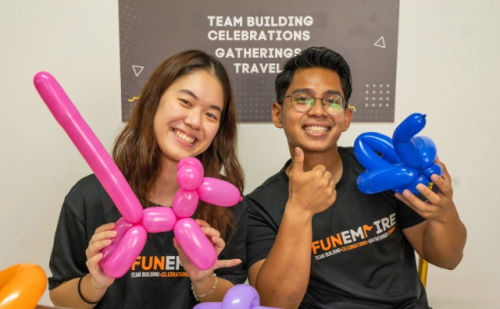 Balloon Sculpting Workshop is a fun and creative team building activity for Singapore sessions. With the help of experienced instructors, teams can come together to explore their creative side and create unique balloon sculptures in a variety of shapes and sizes. Participants will learn about the basics of balloon sculpting, from twisting and shaping to colouring and combining, while coming out with stunning sculptures that they can proudly show off. This activity promotes collaboration and enhances team bonding, making it a great addition to any team building session in Singapore!
Quest
22) Amazing Race
Gather your fellow colleagues and join us on an exhilarating journey through Singapore! Explore each checkpoint with complete camaraderie as you devise creative solutions to our captivating challenges and earn points. Only when all objectives are satisfied, will you move onto the next stage of this exciting team-building experience. This is guaranteed to bring out the best in your crew while having a lot of fun along the way!
23) Escape Room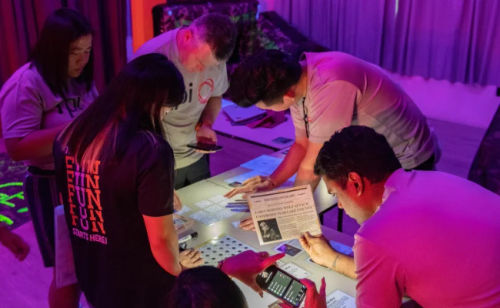 FunEmpire has taken their award-winning program and gone digital! Utilizing the newest technologies, participants can tackle challenges from anywhere in the world. Whether it be two people or hundreds, this virtual game is a fantastic way to test out your logical skills and communication with others – all while having an amazing time. Why not take part? It's an ideal team bonding activity for any upcoming event! Give it a try today; you won't regret it!
Leisure
24) Yacht Rental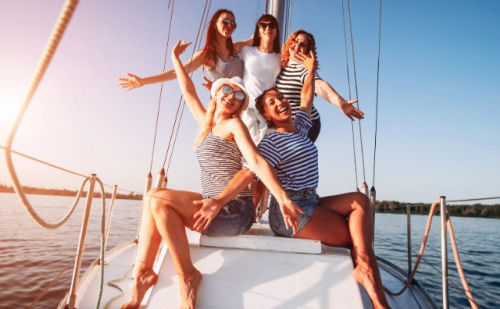 Are you seeking a remarkable destination for life's major occasions? Singapore yacht rentals offer an unparalleled experience! Escape the hustle and bustle of city living as you set sail in pursuit of your romantic proposal night or anniversary. Yacht rental has emerged as the go-to option to create truly unforgettable memories with your partner that will be cherished for years to come.
25) Giant Board Games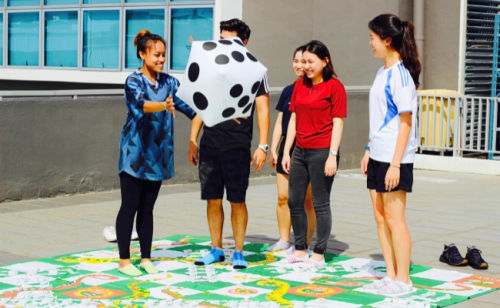 Are you yearning to relive your treasured childhood games on a grander scale? Giant Board Games SG has just the right thing for you! Our magnificent assortment contains life-sized variants of classic board games such as Jenga, Pick Up Sticks, Connect Four and Snakes & Ladders that guarantee an enthralling interactive activity with peers or colleagues. Never again be concerned about how to break the ice – Giant Board Games SG has got it covered.
26) Bowling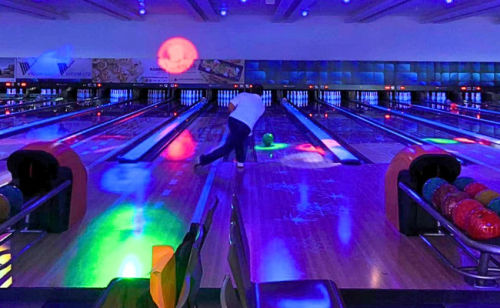 Bowling is an age-old game, but Neon Bowling gives it a fresh and exciting edge! Every spin of the ball sends pins spinning into an array of vivid colors, creating a captivatingly luminous atmosphere. Knock down as many pins as you to score points – all while being entranced by this cosmic bowling experience!
Ready to take your corporate team bonding in Singapore up a notch? Look no further than adding some creative, interactive games! Not only will you have an unforgettable experience that everyone can enjoy, but these activities are also the perfect opportunity for colleagues to build trust and strengthen communication. Planning something truly special is guaranteed with different types of team-bonding games – so gather your coworkers and get ready for a day filled with fun!
Virtual Games
27) Virtual Escape Room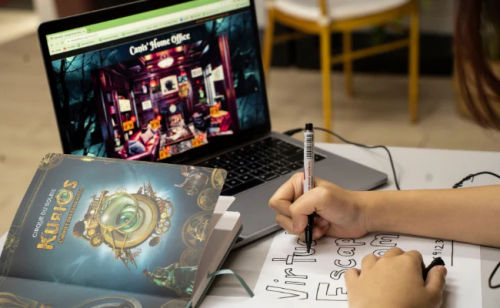 Get ready to test your skills and bond with those around you from the comfort of your own home by participating in FunEmpire's award-winning virtual event experience! This interactive platform can host groups as small as two or up to hundreds, making it ideal for corporate team building activities. Don't miss out on this chance to challenge yourselves – join today!
28) Virtual Amazing Race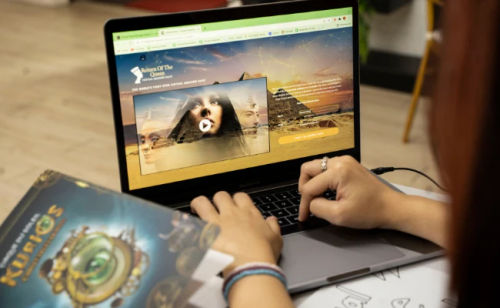 Are you looking for an enthralling journey across the globe? Challenge your associates as you travel through remarkable places; collaborate together to reveal exhilarating surprises! Don't hesitate – join us now and experience a once in a lifetime opportunity that will stimulate and motivate your team.
29) Virtual Travel Experience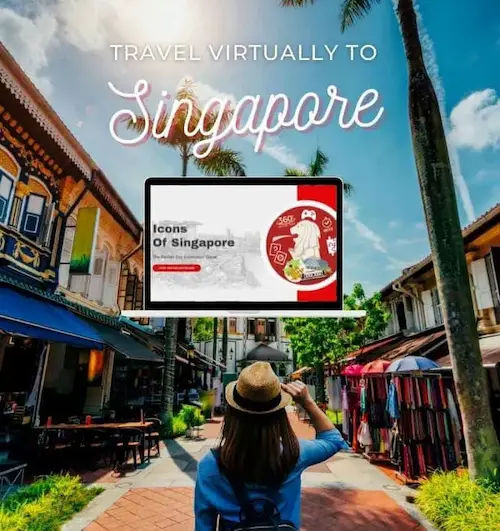 Ready for a unique and exciting adventure? Then look no further – FunEmpire's Virtual Travel Experience is the perfect way to escape! From an exhilarating Puzzle Hunt to engaging Virtual Amazing Race and Escape Room Experiences, you will be taken on a virtual reality journey through Singapore's captivating history. So what are you waiting for? Sign up now for this one-of-a-kind experience that promises thrills like never before!
30) Virtual Game Show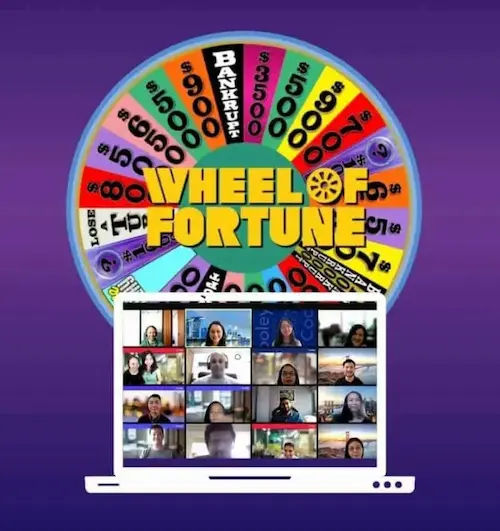 Are you in search of a thrilling, enjoyable and economical team building activity? Look no further than The Game Show Challenge! It's the ideal way to have teams compete against each other with trivia questions. From corporate office spaces to conference rooms, or even restaurants – this game can be played anywhere! Not only will it provide lots of giggling and shouting as participants join together in play, but also plenty of high-fives all around. So why not give your workmates an unparalleled bonding experience with The Game Show Challenge today?
31) Virtual Nightfall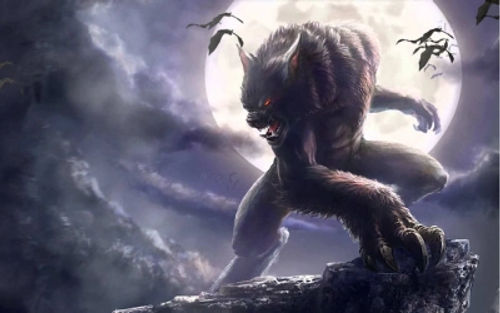 Rekindle the classic game of Murderer with this stimulating test that will require persuasive dialogue, an astute eye for body language, and a whole lot of teamwork! Everyone in your team can take up different roles ranging from killer to detective or even superhero – it's all up to you. Gear up for some thrilling action as good battles evil; see if you have what it takes to come out on top by trying out this invigorating challenge right now!
We make it easier for your group to have fun with a Virtual Nightfall session that you can book at any date and time. Our expert facilitator will take care of all the preparation as well as facilitation, so all you need is to relax and bond together! This entertaining mind game encourages everyone in the team to get acquainted while strengthening relationships; an ideal activity for team building. Let us provide an unforgettable experience where everyone can enjoy themselves without worrying about anything else.
32) Virtual Party Mania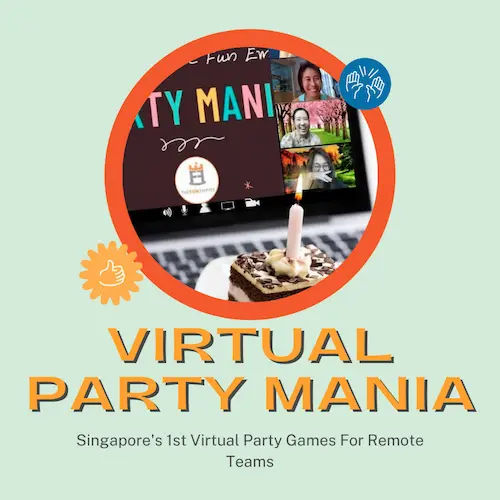 Level up your team morale with a night of party games designed to bring everyone together and foster strong relationships. Gather for virtual fun over video call, where you'll no doubt have many laughs throughout the hilariously enjoyable activities!
Our skilled facilitators will take you through this unique journey with ease. To make the virtual gathering even more exciting, we'll also be giving away an amazing prize to one fortunate participant! If you wish to bring togetherness within your team and create a memorable experience for everyone, then join us in this activity that guarantees plenty of laughs—the fun is just a few clicks away! Don't miss out on it; let the celebration begin now!
33) Hybrid Amazing Race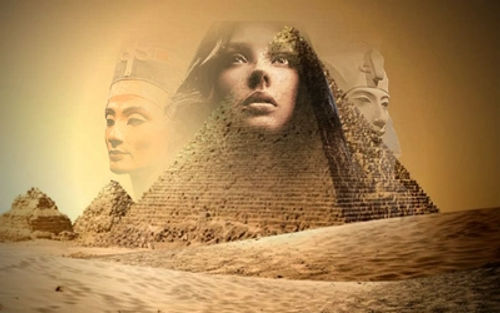 Embark on an incredible journey with FunEmpire's Hybrid Amazing Race! Combining physical tasks, digital puzzles and discovering Singapore's most famous attractions, this outdoor activity gives you the chance to explore Chinatown like never before. From uncovering hidden heritage sites down memory lane to tasting delicious cuisines from around the world and exploring a crime scene in a murder mystery – get ready for an extraordinary adventure full of fun and excitement that cannot be replicated anywhere else!
34) Virtual Time Travel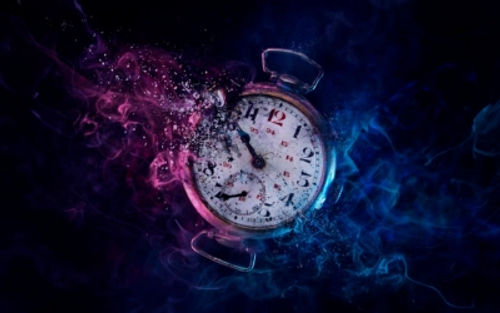 Get ready to embark on the unforgettable journey of virtual time travel! Are you daring enough to find out if time travel is truly possible? Invite your friends and colleagues along for this incredible experience where clues from a variety of eras await. Put all your skills to work as you race against the time limit – can you complete your mission before it's too late? Come prepared, because this unique opportunity may be gone in an instant!
35) Virtual Squid Escape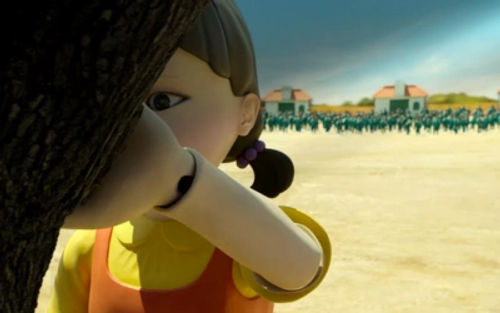 Are you and your friends prepared to embark on the journey of a lifetime? At Squid Game Escape Room, your adrenaline will be sure to skyrocket as you attempt to escape from the cunning creators behind this game. Test your brainpower by cracking codes, solve puzzles, and uncovering hidden clues that could help set you free! Will your group assemble enough wit before it's too late?
36) Virtual Food Quest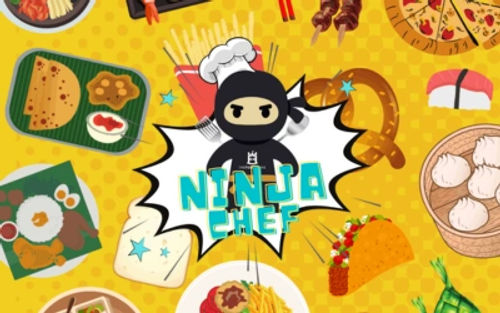 If you happen to feel like a gastronomic master, it's time for you to prove your expertise with Singapore's one-of-a-kind Virtual Food Quest from FunEmpire. Let us quench all of your culinary desires as we take you on an unrivaled journey to learn more about good food! Don't miss this captivating experience – it is sure to be epic!
Virtual Workshops
37) Virtual Tote Bag Art Jamming Workshop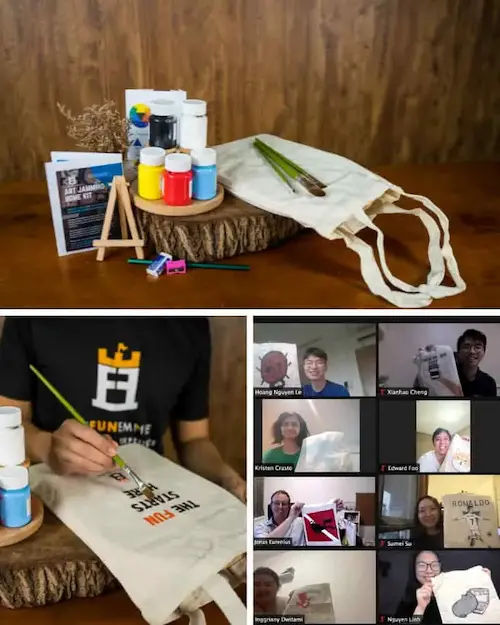 Tap into your creative side and attend our innovative virtual Art Jamming session! FunEmpire will be there to provide all the materials needed, and no prior art experience is necessary. With an open mind and some imagination, you can craft something unique – whether it's a gift or just for fun! So come on down to unleash those creative juices and make something special today!
38) Virtual Balloon Sculpting Workshop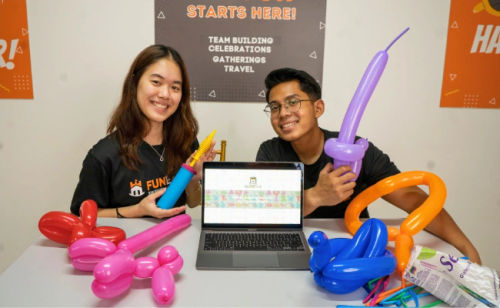 Let your imagination run free and learn how to make balloon sculptures, such as a pirate sword, butterfly, rainbow or flower right in the comfort of your own home! Our talented facilitators will guide you through the entire process, from design to completion. Learn valuable skills and create something to keep forever – all while having a great time with your friends or colleagues! Sign up now for a fun-filled virtual Balloon Sculpting Workshop experience!
39) Virtual Clay Making Workshop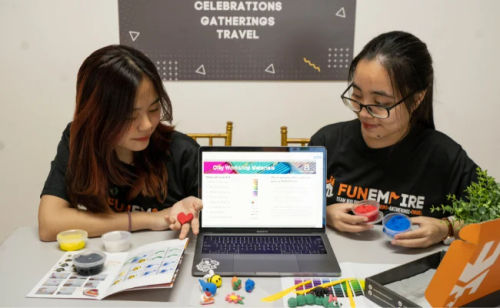 Are you looking for an enjoyable and unique team-building activity? Why not try creating your own clay figurines or charms with our lightweight and toxin-free air dry clay! Not only is this sure to be a fun experience, but it will also give the group something special that can later be given away as gifts. Everyone — including kids -–will have a blast while making memories they won't soon forget.
40) Virtual Candle Making Workshop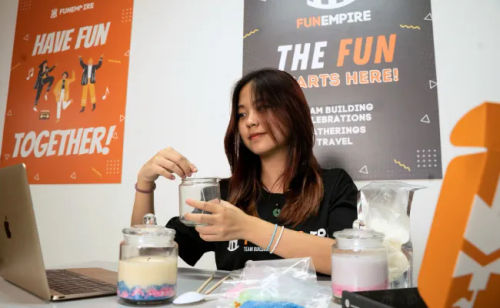 Unite with your team and unleash your creative potential at FunEmpire's Virtual Candle Making Workshop! Craft an exquisite, aromatic soy candle of your own – complete with a classy figurine – from the materials included in our home kit. Don't let this chance to come together as one pass you by; join us for one of Singapore's most engaging team building activities today! All materials provided!
41) Virtual Stitched Leather Workshop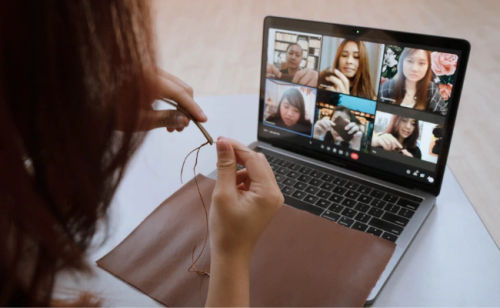 Awaken your creative potential and join us for a professional live facilitation on how to make an amazing stitched leather card holder! Our Virtual Stitched Leather Making workshop will give you the necessary skills required, so that you can saddle stitch right in the comfort of your home. With assistance from proficient facilitators, craft a unique product – all within one brief session! Make something entirely yours with this great opportunity.
42) Virtual Canvas Art Jamming Workshop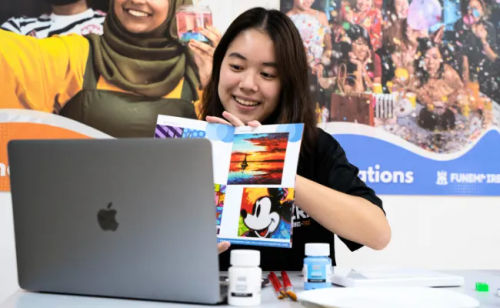 Let your creative juices flow with FunEmpire and join us for an incredible Virtual Art Jamming experience. Invite friends, family or coworkers to be part of this extraordinary journey with you! We've got all the equipment ready so that you can have a soothing canvas painting session without having any prior art knowledge. Come unlock your hidden artistic side at FunEmpire now!
43) Virtual Non-Stitched Leather Workshop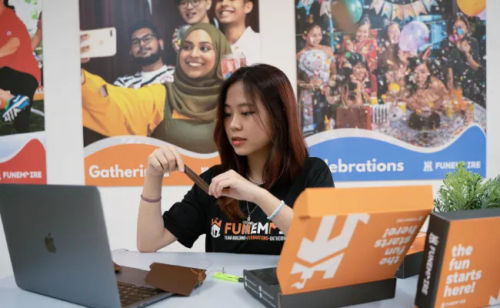 If you are looking to embark on a new leather-crafting journey, our Virtual Leather Making Workshop is the perfect place to start. Our skilled instructors will provide step-by-step guidance so that even novices can learn how to create amazing custom products from home! Regardless of your level of expertise, this workshop offers something for everyone – expanding your horizons and unlocking creative potential like never before.
44) Virtual Terrarium Workshop
Looking for a unique and creative way to bond with your friends or colleagues at home? Look no further than FunEmpire's award-winning digital workshops! Better yet, our Terrarium Home Kits containing all the raw materials will be sent directly to you – so all the fun of crafting together from any location is yours in an instant. Let's come together while staying apart with FunEmpire!
Team Building Activities Singapore
Team building activities in Singapore provide an opportunity for colleagues to grow closer and work together better. From exhilarating kart racing experiences, thrilling paintball battles, informative wine appreciation workshops, creative flower arrangement classes, exciting dragon boat races, interactive human foosball games and gravity-defying trampoline adventures – the options are endless!
With these team activities in Singapore available throughout the country, you'll be sure to find something that will help your team reach new heights of collaboration and success through team building Singapore. So get ready to create unforgettable memories with your coworkers through this unique range of team building activities in Singapore!
Looking for more team building content? Check out our recommendations below:
Frequently Asked Questions (FAQ)
If you have any questions about team building activities Singapore, you can refer to the frequently asked questions (FAQ) about the best team building activities Singapore below:
Additional Useful Articles
If you are looking for other useful guides and articles about the best team building activities in Singapore, check them out below: