Indoor Team Building Activities Singapore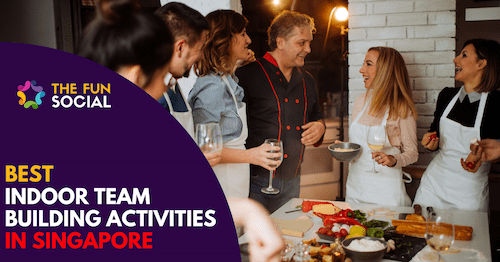 Team building activities in Singapore are critical for fostering friendship and teamwork among coworkers.
The best indoor team building activities in Singapore are Art Jamming Workshops, Escape Rooms, Poolball, Laser Tag, Bubble Soccer, Archery Tag, Amazing Race, Giant Board Games, and Candle Making Workshops.
To promote effective collaboration and communication among colleagues, consider group size, activity cost, location, and type when booking indoor team building activities.
FunEmpire, a top team building company in Singapore, boasts a remarkable track record of 50,000+ successful events and a stellar 5-star rating from 8,000+ satisfied clients.
Therefore, have a look at our list of the best Indoor Team Building activities in Singapore now and make your next corporate event a smashing success!
Key Consideration Factors
Participants: Make sure there are enough scheduled activities that can accommodate a big group size so that everyone may take part without feeling excluded or overpowered by smaller groups in the context of a larger group.
Expenses: When choosing an activity, be aware of any associated costs, such as renting equipment or hiring qualified facilitators or trainers, who may have additional costs associated with their services depending on their level of a fun experience and the qualifications they hold in various fields related to corporate training sessions and event planning services, etc.
Options for Team Building Activities: You may employ a variety of entertaining and original activities to fortify the relationships within your team, like virtual reality escape rooms, laser tag, interactive games (like scavenger hunts), culinary lessons, icebreaker exercises, and more!
Recognize Your Team's Needs: It's critical to take your team's requirements into account while selecting an indoor team building activity. Consider what information and abilities must be gained in order for them to collaborate more successfully.
Type of Activity: Consider the type of activity that would best suit the goals you are looking to achieve with this exercise, such as problem-solving activities, creative exercises, or leadership development programs.
Venue Availability: When selecting a venue for your fun team building event, make sure there is enough space available for all participants, and if necessary, additional equipment can be brought in if needed.
Best Indoor Team Building Activities Singapore
Creative Activities
1. Terrarium Workshop
The FunEmpire Terrarium Workshop makes it easier than ever for a group to produce something really original. After taking this session, participants will be able to create a lovely terrarium on their own. Each group will be taught how to choose plants, soil, stones, and other objects to design their own terrariums after a brief introduction of the tools and techniques utilized. If teams have a better understanding of the relationships between plants and their surroundings, they could be able to produce more. Participants will collaborate in groups to make terrariums and other artistic items during the semester.
2. Non-Stitched Leather Workshop
The Non-Stitched Leather Workshop is a team building exercise provided by Singapore-based FunEmpire. The one-of-a-kind course material teaches students how to work with leather from start to finish, including product design and production. Students will learn how to work with a range of leathers and professional tools, like as needles, rivets, and waxed linen thread, in this course. The semester-long course will teach students how to work with leather and cooperate to produce one-of-a-kind, superior products. Participants are encouraged to retain their leftover items when the session is over.
3. Clay Making Workshop
Teams may communicate while expressing their ideas at the FunEmpire clay-making class. Due to the opportunity for participants to make digital clay sculptures, this workshop is one of the most well-liked team building activities. Teams may choose to send their final sculptures immediately to their designated locations or take them home with them. As a result, there is no longer a need to transport items to and from the office. A fantastic opportunity for groups to connect and grow their skills together is via an online clay workshop.
4. Gel Candle Making Workshop
Another fun team building activity for forming teams is the FunEmpire Gel Candle Making Workshop. While learning the principles of creating gel candles, this workshop provides a special method for participants to interact with one another. The fundamentals of making, designing, and embellishing their own customized gel candles will be covered for participants. Teams will also get the chance to study the most recent methods and trends in the craft of candlemaking during this course. Teams will leave with a unique item to remember the session by. FunEmpire always prioritizes participant safety, thus appropriate safety measures are implemented while using materials like wax, fumes, and lit candles.
5. Cooking Class
The FunEmpire cooking class is intended to bring the kitchen into the office. Students learn how to make a broad range of foods in this course, from appetizers to desserts. Teams will gain knowledge of various culinary methods and have the opportunity to exercise their abilities by making meals together. This activity not only fosters a special atmosphere for team development but also fosters the acquisition of useful culinary skills for your next upcoming event. The company may benefit greatly from taking cooking lessons to promote collaboration and togetherness. The whole team may savor their delectable dishes after the session is over!
6. Perfume Workshop
Teams may explore their sense of smell with the Perfume Workshop on FunEmpire, a creative and entertaining activity. Participants will gain knowledge about developing original scents, designing perfumes, and producing perfume. By blending different oils and essences, teams may create their own distinctive smells. With the help of this interactive game, corporate teams are encouraged to cooperate in order to produce the desired fragrance. Participants get a better understanding of how various components combine to produce a lovely aroma. After this course, participants will have a memorable experience!
7. Canvas Art Jamming
"Canvas Painting Jamming," a creative team building activity, was devised by FunEmpire in Singapore. In this workshop, participants work together on canvases of various sizes. This workshop will teach the fundamentals of painting, such as brush technique, color theory, and composition. Each person will be able to create a canvas that really reflects them once they are acquainted with the tools that are accessible to them. To create something really original, groups might use a range of tools and methods. It's a great method to use creativity in a setting where everyone's input matters.
8. Tote Bag Art Jamming
With their Tote Bag Art Jamming event, FunEmpire in Singapore promotes efficient team development and enhance hidden talents. This workshop teaches groups how to produce works of art on canvas tote bags. We'll start with the fundamentals of painting on canvas, such color mixing, brush technique, and structuring shapes and lines. Teams may begin to generate ideas if they have mastered the use of the tools and approaches at their disposal. Each team is free to express its own individuality by using any combinations of color and material. After that, guests will learn how to properly transfer their artwork into canvas tote bags. The final artwork and mementos from each team will be given to them. Relationships may be strengthened greatly by working productively together.
9. Soy Candle Making Workshop
The Soy Candle Making Workshop on FunEmpire in Singapore is an intriguing and enjoyable method of fostering online collaboration. Each club will be able to produce its own flavored and colored soy candles. The many candle wax, wick, and fragrance choices will be thoroughly explained to participants. In this course, you will learn how to create and pour candles, as well as how to keep them in top shape. You will also learn where to set the wick. Children might opt to add colored wax or dried flowers to their candles as decorations. The final candles made by the teams may be used as a souvenir of their time together.
10. Balloon Sculpting Workshop
Online team building may be entertaining and intriguing with FunEmpire's Balloon Sculpting Workshop. A group home may be decorated with stunning, one-of-a-kind sculptures made out of balloons. Students will learn the fundamentals of balloon sculpting in this session, including safe handling techniques, safety considerations, and imaginative concept generation. Participants get the ability to engage with one another while learning new skills and developing their creativity, in addition to having the opportunity to display their work after the course's conclusion.
11. Stitched Leather Workshop
On FunEmpire, the Stitched Leather Workshop is a fantastic location for groups to work together on a single project. The fundamentals of working with leather are covered in this course, including how to handle it and choose a design. Participants will gain knowledge about the many types of leather that are sold as well as practical experience making leather accessories like belts and wallets during this class. The use of professional tools including rivets, needles, and waxed linen thread will be available to students. While creating something lovely to take home, participants will have the opportunity to hone their leatherworking skills and form a close-knit community.
Leisure Activities
12. Giant Board Games
If you want to play your favorite childhood games in a larger, flashier setting, Giant Board Games Singapore is the solution. With our unique selection of life-sized replicas of well-known board games like Jenga, Pick Up Sticks, Connect Four, and Snakes & Ladders, you can be sure that you'll have engaging fun with friends and coworkers! Huge Board Games SG has you covered for any icebreaker ideas you could have, so stop worrying!
Adventure Activities
13. Ninja Tag
In search of an intriguing and enjoyable pastime in Singapore? The Ninja Tag game from FunEmpire is everything you need! Teams must depend on their fast brains, physical capabilities, and problem-solving abilities to win this high-stakes tournament. The goal is to navigate through a maze without being tagged by the other team. To raise the stakes, each player is outfitted with sensors that will alert them if they are tagged. This action-packed game encourages cooperation and imparts critical communication skills. Play Ninja Tag with FunEmpire right now by signing up!
14. Poolball
In Singapore, FunEmpire provides the exciting and fun game of pool. It is perfect for kids who wish to improve their communication and problem-solving skills in a fun and competitive environment. In poolball, teams must use strategy and foster teamwork to both attack and protect their own goals. The winning team will combine tactical knowledge, individual talent, and strategic planning. Many ages and skill levels may enjoy pool, making it a great way for coworkers to connect over common interests.
15. Combat Archery Tag
On FunEmpire, there is a unique game called Combat Archery Tag that allows participants to engage in bloody combat while also honing their archery abilities. This game, which combines paintball, dodgeball, and archery, has grown in popularity among Singaporeans of all ages. Teams that work well together and use sound judgment will win this activity. The goal of this archery session is for each team member to use their bow and arrow set to tag opponents on the other team. Players must master the art of firing arrows correctly and learning when and where to aim in order to be as successful as possible. Teams must effectively coordinate their efforts if they want to win this fierce battle!
16. Laser Tag
One of FunEmpire's unique offerings is laser tag. It is an excellent technique to facilitate team communication and cooperation as members attempt to accomplish their event objectives. Modern laser guns, vests, and other items of gear are necessary for playing laser tag. Afterwards, players are instructed to travel across the designated space or location, dodging enemy fire and creeping up on other teams. The setting is perfect for fostering connections between parents and kids while having fun together.
17. SaberFit
You may be able to unlock your inner warrior with the help of SaberFit, the first high-intensity group workout program ever created. It's not only a fun game for everyone to connect socially and physically, but it's also distinctive in that it includes fantastic team building exercises like battling in pairs. This is ideal if you want to do something unique and memorable for your next business event or activity in Singapore.
18. Bullet Ball
Do you ever make an effort to try something new? For your next Singapore team building event, try FunEmpire's Bullet Ball, an exhilarating and competitive twist on the time-honored game of dodgeball. Due to the fact that it offers a high-octane rush at an affordable price, it is a product that will appeal to all customers.
19. Bullet Strike (Nerf Gun)
In the fun cooperative game Nerf Gun, players attempt to accomplish a variety of mission-based objectives while shooting soft foam projectiles at their opponents. The projectiles used in this unique sport to foster collaboration are composed of a soft substance that cannot harm anybody, and participants are also obliged to wear face protection.
20. Saber Tag®
By engaging in battle with players on the other team while wielding combat sabers to achieve various game objectives, you may increase the stakes of the game. Participate in missions like Defenders of the Galaxy and Saber Wars. This exhilarating game is ideal for birthday party entertainment and office workout. One of the most thrilling team building exercises in Singapore is Saber Tag®, which will provide you a once-in-a-lifetime opportunity to connect. This chance comes around just once in a lifetime.
21. Giant Whack-A-Mole
The Giant Whack-A-Mole from FunEmpire is a fantastic team building exercise. Giant foam moles that protrude from the ground are used in the game, which requires participants to crush them with a large foam hammer. You may have fun playing this game with your friends or family. This game is a fantastic way to get people together and have a good time. It will be well received at your next Singapore team building activity.
Quest Activities
22. Escape Room
FunEmpire, an award-winning game, is now popular! Participants may now complete assignments from the comfort of their homes thanks to cutting-edge technology. Playing this online game with your friends, family, or coworkers is a great opportunity to put your communication and problem-solving abilities to the test while having fun. So why not give it a shot? It is a terrific team building exercise for your next team building event!
Virtual Games
23. Virtual Time Travel
The Virtual Time Travel Virtual Escape Room offers everyone the chance to have fun and learn something new. With the help of this virtual escape room, you may study several historical eras. You and your team will go on an exciting trip by traveling back in time to solve puzzles and uncover secrets. You'll need creative problem-solving skills, coordination, and communication as well as problem-solving skills to go through the game's many rooms and levels. As you go through each level, you'll come across strange creatures, challenging puzzles, interactive locks, puzzling secrets, and much more. You may now create a team and go on a time-traveling adventure in the Virtual Time Travel Virtual Escape Room!
24. Virtual Mayday
Singapore's FunEmpire offers online team building activities. One of them goes by the moniker "Virtual Mayday." Teams engage in this great team building activity by working together to interpret hints and unravel puzzles. The goal is to have a better understanding of one another's cultures, beliefs, and professions. Louis, a naturalist, is abandoned at sea on an island by himself. Captain Roger needs your squad's assistance in this rescue mission so that Louis may return home with his crucial study safely. Time is running out as a hurricane strikes the island and Louis and I are unable to communicate.
25. Virtual Amazing Race
The Amazing Race has a digital equivalent on FunEmpire that might be utilized to unite Singaporeans. In this group activity, teams cooperate to identify hints and discover the solutions. It's a terrific way for employees to learn about one another's cultures, worldviews, and viewpoints while also becoming acquainted with the organization's regulations and processes. Each group needs a laptop or smartphone that can access the internet for this virtual team building activity. Teams must prepare ahead of time to guarantee that every assignment is completed on schedule.
26. Virtual Escape Room
Singaporeans may use FunEmpire's virtual escape rooms for team building activities. When people play online games that need interaction to advance, this kind of activity takes place. As a result, team members may have a greater knowledge of one another, their roles within the organization, as well as the viewpoints, values, and perspectives of other team members. To participate in this event, people will need equipment like Computers or phones with an internet connection. Teams must prepare a strategy in advance to guarantee that their job is completed on time.
Virtual Workshops
27. Virtual Stitched Leather Workshop
For teams to work together on a project, FunEmpire's Virtual Stitched Leather Workshop is fantastic. Students learn how to work with leather in this subject, from handling it to coming up with original ideas. Students will learn about the many types of leather throughout the course and get practical experience making leather goods like straps and wallets. The skilled tools at their disposal will include needles, rivets, and waxed linen thread. By the end of the program, team members will have the chance to produce beautiful items to take home while honing their leatherworking skills.
28. Virtual Balloon Sculpting Workshop
The Virtual Balloon Sculpting Workshop on FunEmpire is an entertaining online activity. Incredible customized balloon sculptures for home décor may be made by groups. People will learn the fundamentals of balloon sculpting throughout the class, including how to handle the balloons properly, consider safety, and generate ideas. Participants will also learn how to choose the best balloons and other materials to create an amazing work of art. Students will have the opportunity to develop their problem-solving and creative skills as they work in teams on the project. Participants not only get to display their finished products at the course's conclusion, but they also get to interact with one another, pick up new skills, and exercise their imaginations.
29. Virtual Terrarium Workshop
A group may construct something spectacular with more ease than ever thanks to FunEmpire's Virtual Terrarium Workshop. Participants in this course will learn how to create a mini garden, including how to choose suitable plants and arrange them attractively. After a quick overview of the tools and procedures, we will help each group choose the plants, soil, stones, and other accents for their terrariums. If the entire team study how plants interact with their environment, they may be able to create better products.
30. Virtual Tote Bag Art Jamming
Canvas bag paintings in a virtual reality setting! FunEmpire in Singapore offers the engaging virtual team development activity of jamming. In this practical session, groups create works of art on canvas totes. We'll start by discussing the fundamentals of painting on canvas, such as how to blend colors, utilize various brushes, and create appealing compositions. Teams may start to develop their ideas after they have learned how to use the resources and tools at their disposal. Teams are allowed to utilize any combination of color and material to show their originality and innovation. The process of properly placing the participants' artwork into canvas tote bags will next be shown.
Indoor Team Building Activities Singapore
A broad range of indoor team building activities are available in Singapore to promote connections, trust, and open communication amongst teams.
There are several enjoyable and thrilling team building activities that will challenge your group as they cooperate to achieve success, ranging from Virtual Food Hunt to Virtual Time Travel Escape Rooms.
The objective of every team building exercise is to foster cooperation, creativity, and problem-solving as well as to strengthen relationships among participants.
You're likely to discover an indoor team bonding event in Singapore that's ideal for your team if you keep these suggestions in mind!
Check out some of our other relevant articles and guides below:
Frequently Asked Questions (FAQ)
If you have any questions about Indoor Team Building Activities in Singapore, you can refer to the frequently asked questions (FAQ) about the best Indoor Team Building Activities in Singapore below:
Additional Useful Articles
If you are looking for other useful guides and articles about Indoor Team Building Activities in Singapore, check them out below: