Massage Johor Bahru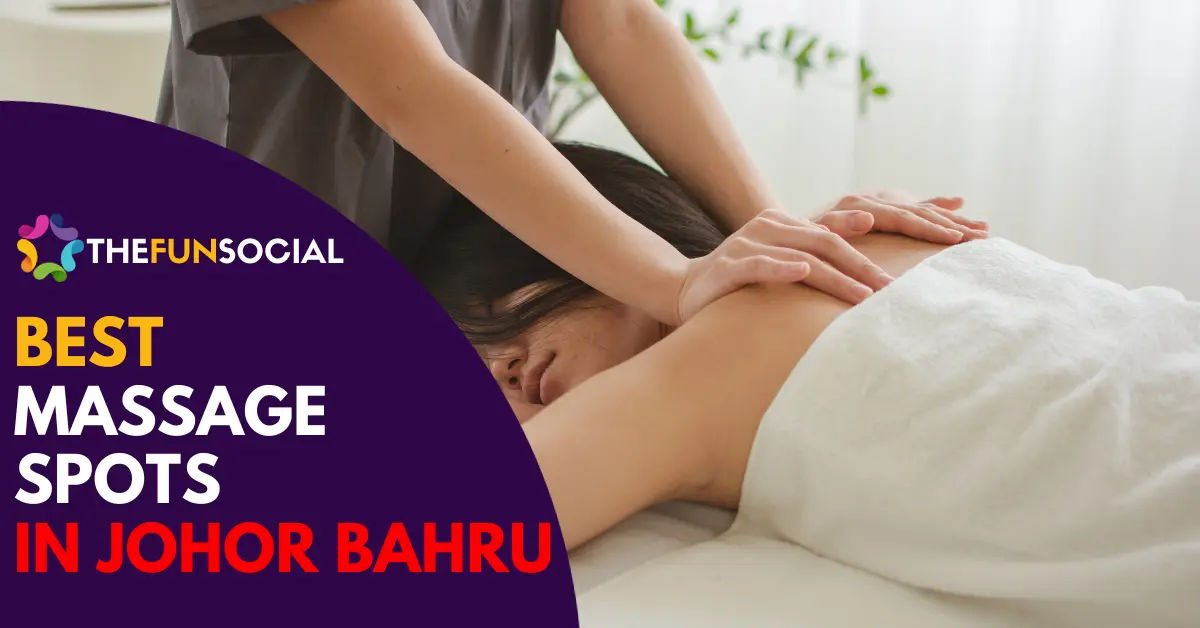 Amidst the city's energetic rhythm, there are numerous spots offering top-notch massage services that not only revitalize your body but also soothe your mind.
The best massage spots in Johor Bahru are Breeze Spa, Le Pure Beauty & Spa, Urban Escape Day Spa & Beauty Lounge, and Bangkok Spa.
When selecting a massage and spa, it is important to consider factors such as the location, pricing, ambiance, range of services, and the quality of customer service and reviews.
Discover the renowned massage spots of Johor Bahru, where exceptional services blend traditional methods with modern techniques. Immerse yourself in serene settings, indulging in a unique relaxation experience that caters to the wellness needs of both locals and tourists alike.
Whether you're a local or a traveler seeking some much-needed tranquility, here is a curated list of the best massage spots in Johor Bahru.
Key Consideration Factors
Before trying out a massage service, make sure to check out these important factors:
Location: Choose a massage spot that is conveniently located in your accommodation.
Benefits Of Body Massage In Johor Bahru
Massage therapy can provide a wide range of physical and mental benefits, such as:
Improved circulation – Massage therapy promotes better blood flow, allowing oxygen and nutrients to reach the cells more efficiently. This enhanced circulation aids in cell regeneration, helping to speed up the healing process and improve overall health.
Reduced stress & anxiety – Through the use of relaxation techniques, massage sessions create a calming environment that helps to lower stress levels. As a result, individuals experience reduced anxiety, improved mood, and an overall sense of well-being.
Improved sleep quality – By inducing relaxation and reducing stress, massage therapy can positively impact sleep quality. The soothing and therapeutic effects of massage help individuals achieve a state of deep relaxation, leading to improved sleep duration and better overall sleep quality.
Relief from muscle pain & tension – Massage techniques, such as kneading and stretching, target tight muscles and release tension. This helps to alleviate muscle soreness, stiffness, and discomfort, improving flexibility and range of motion.
Reduced inflammation – Massage stimulates the lymphatic system, which plays a crucial role in reducing inflammation in the body. By increasing lymphatic circulation, massage therapy helps to remove toxins and waste products, promoting a healthier and less inflamed body.
Best Massage Johor Bahru
1) Le Pure Beauty & Spa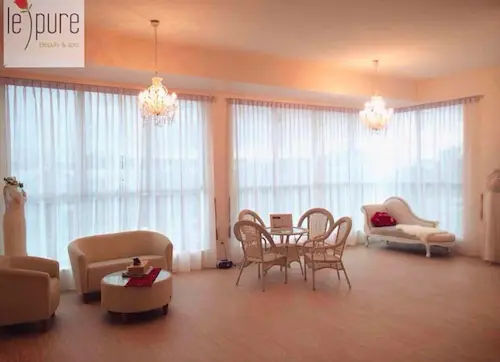 At Le Pure Beauty and Spa, you can enjoy a range of services to enhance your beauty and well-being. Treatments include facial massages, masks, eyelash perms, spa therapies, Swedish detox treatments, whitening body masks, body scrubs, hot spring treatments, body waxing (for both men and women), body wraps, and nail services.
Each room at Le Pure Beauty & Spa is equipped with premium Parisian products to ensure the utmost comfort and satisfaction for our customers. Additionally, you have the option to purchase the natural and Paris-produced products used during our services, such as anti-wrinkle lotion, brightening extracts, and protective creams.
2) Walea Spa and Retreat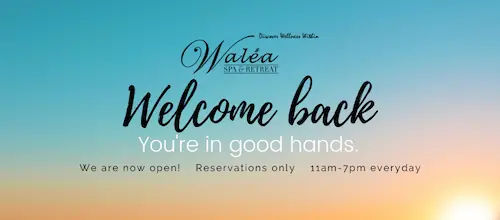 At Walea Spa & Retreat, you can start with a foot wash of your choice, followed by indulging in one of their signature massage treatments, such as the Walea Transcendental Massage or Armona Tension Relief Massage. After that, you can enjoy a body scrub and relax in the jacuzzi.
If you're looking for a charming haven to escape from it all while still being able to enjoy everything they have to offer, Walea Spa & Retreat might be the perfect choice. Additionally, they offer packages for couples traveling together, which is a great perk.
3) Breeze Spa
Offering a pampering and luxurious experience in itself, Breeze Spa – Amari Johor Bahru brings the indulgence to you. Among the services available at Amari Hotel, the Signature Packages are truly adored.
One of the favorites is the Johor Bahru Energy Boost Package, which draws inspiration from the local coffee industry and is based in the city. It begins with a coffee and citrus body scrub to invigorate the skin, followed by a blend of Thai and Ayurvedic massage techniques.
The experience concludes with a rejuvenating Crystal Fresh Facial, providing remarkable restorative power.
4) Urban Escape Day Spa & Beauty Lounge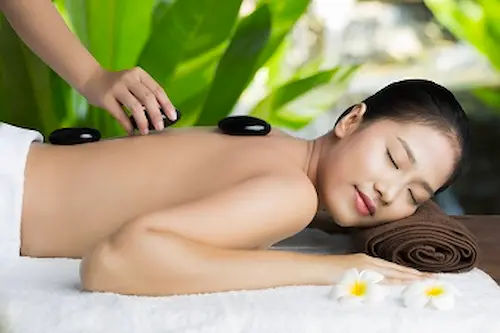 Urban Escape Day Spa & Beauty Lounge offers a sanctuary from the hustle and bustle of city life. We appreciate having two outlets in Johor, allowing us to choose the one that's most convenient.
While they specialize in individual services, the Escape Spa Packages are definitely worth a try. You can enjoy private treatments with friends or indulge in a romantic spa session with your partner.
One of the standout options among the Escape Spa Packages is the Luxury Indulgence Package. Treat yourself to approximately two hours of pampering, starting with a body polish and aromatherapy massage to rejuvenate your senses.
This is followed by a deep cleaning facial and a relaxing steam bath to conclude your blissful experience.
5) Kaki-Kaki Reflexology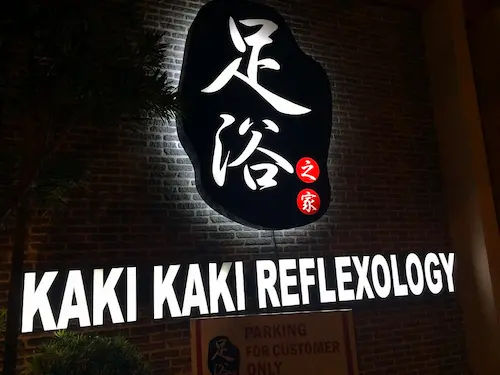 Kaki-Kaki, situated in Johor Bahru on the west coast of Malaysia, is a prominent wellness facility. Their mission is to cultivate personal growth through service, consistently striving to deliver exceptional experiences to each client.
Their services encompass traditional Chinese and Thai massage, aromatherapy, foot treatments, traditional Chinese medicine therapy and massage, acupuncture, as well as a range of spa services.
Upon availing a treatment, guests have the opportunity to enjoy the sauna, Jacuzzi, and steam room facilities.
6) Dr. SoHo Massage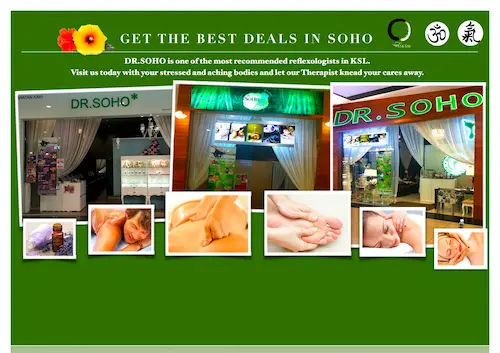 Dr. SoHo Massage, in operation for over ten years, specializes in reflexology massage. You have the option to enhance any package with massage, hot stone massage, back massage, or foot massage. The therapists always wear gloves and remove all jewelry before providing their expert touch.
Additionally, you can purchase massage vouchers and gift certificates for your loved ones. These will be delivered directly to them along with a personalized message.
7) SQ Reflexology and Therapy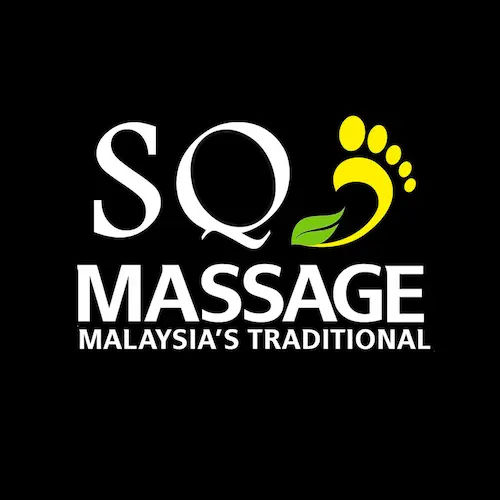 Located in the heart of Johor Bahru's massage zone, QS Reflexology and Therapy offers a wide range of massage services to cater to different needs. With affordable prices, you can treat yourself without breaking the bank.
This massage center is highly regarded as one of the best in Johor Bahru, known for their quality treatments including massage, reflexology, and massage therapy. We recommend their massage packages, which provide discounts on multiple treatments when booked together.
Additionally, they often have ongoing promotions that can be found on their Facebook page. Services offered include full-body massages, basic scraping, head and shoulder massages, foot massage, ear candling, and various other therapies.
8) Wang Zu Bu Luo Spa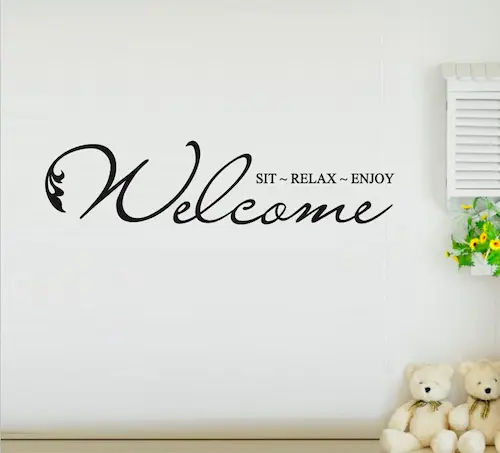 Wang Zu Bu Luo Spa is a sophisticated and elegant spa that aims to promote a positive image of the massage industry. This spa, adorned with natural, earthy colors, provides an ideal setting for rejuvenating your mind, body, and spirit.
They offer complimentary driving and valet services from the Malaysian customs office and various locations in Johor Bahru, ensuring convenient transportation. With a wide range of services including shiatsu, aromatherapy, meridian massage, neck and shoulder massages, health care foot massages, ear candling, and more, it caters to diverse preferences.
Customers have praised this high-end facility for its reasonable prices, frequent discounts, and special offers. Unlike some other places, their sauna offers a comfortable temperature, perfect for relaxation and detoxification.
9) Sabai Jai Thai Spa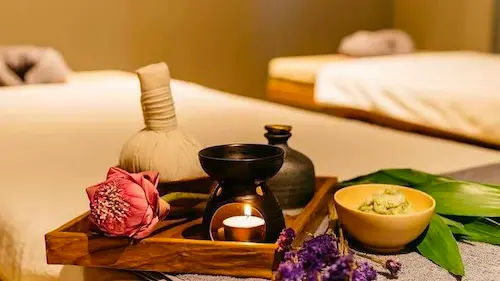 Sabai Jai Thai Spa is an authentic massage parlor that provides personalized massages to meet your specific needs. If you're seeking a massage experience that embraces culture and tradition, this spa is the perfect choice.
They specialize in traditional Thai massage, which utilizes deep pressure to restore spiritual balance. This type of massage is particularly beneficial for those recovering from injuries or digestive disorders.
The duration of the massage is one hour and you can select your preferred massage oils. They also offer organic oil blends in case you're unsure which type of massage you'd prefer.
10) Bangkok Spa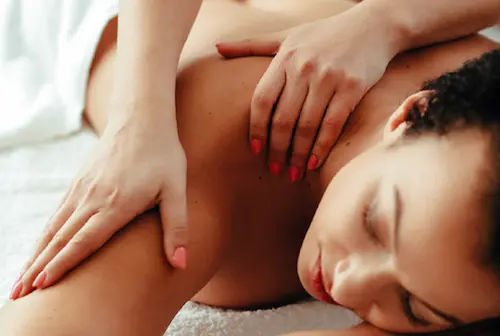 Bangkok Spa is a massive establishment with a multitude of skilled masseuses and expansive space, all available free of charge. They offer a diverse range of services, including foot massages, traditional Thai aromatherapy, body scrubbing, and sauna and Jacuzzi treatments.
With their extensive selection of treatments, it's no wonder they are highly sought after. Operating 18 hours a day, they are the perfect destination for a massage at any time, day or night!
The Bangkok Spa is a popular destination for both foot and full body massages, offering traditional Thai massage techniques. Indulging in a massage here guarantees a truly relaxing experience. The full body treatment is designed to release any knots or tension in your body, providing relief and relaxation.
11) Soul Asia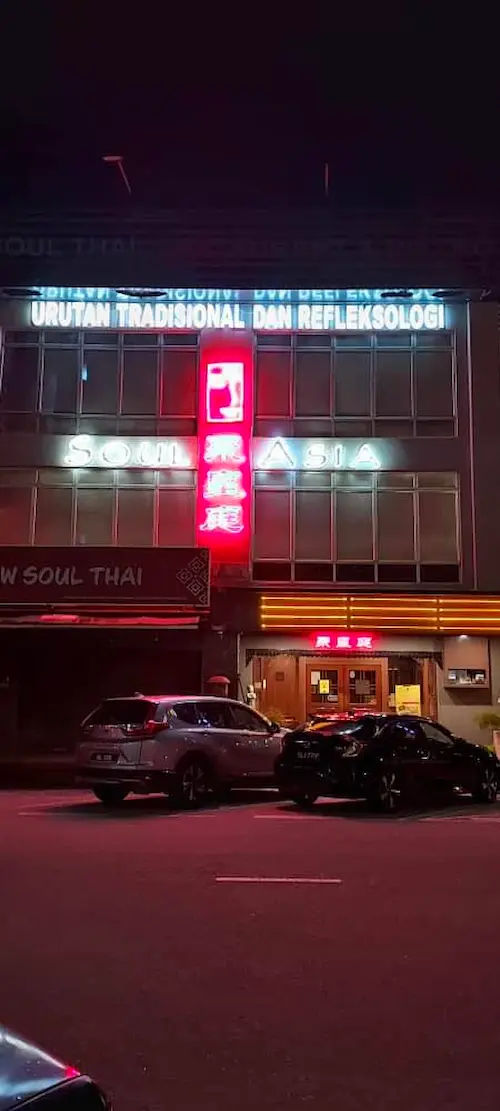 Soul Asia, located in Johor Bahru, Malaysia, is a massage and spa center that offers a range of massage services. These services include massages for both men and women, with options such as aromatherapy and foot, half-body, and full-body massages.
If you work long hours or have trouble sleeping, you can benefit from their late operating hours. Additionally, Soul Asia provides traditional Thai and Thai aroma massages, both lasting 90 minutes. They also offer memberships with exclusive perks and discounts, including birthday gifts, free extra massages, and restaurant coupons.
Clients have given Soul Asia excellent feedback, and the spa has been honored by the Johor Tourism Association with a plaque.
12) Thai Imperial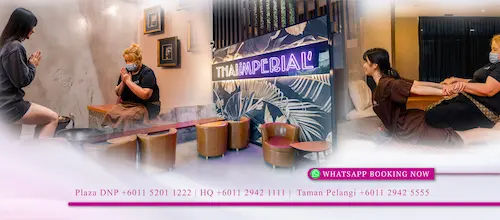 Thai Imperial, with two locations in Johor Bahru, exudes an elegant and Bali-like ambiance. Upon arrival, you will be treated to a soothing feet washing experience at their beautiful station.
The delicate yet exotic decor, along with the soft lighting and music, creates a serene atmosphere. Renowned for their exceptional massage treatments, Thai Imperial offers a wide range of services including traditional Thai massages, relaxing oil massages, invigorating Thai foot massages, indulgent body scrubs, and herbal ball treatments.
13) Khatulistiwa Spa
As soon as you step into Khatulistiwa Spa, you'll notice its incredibly serene and peaceful ambiance. Relaxing music softly plays in the background, further enhancing the tranquil atmosphere.
Treat yourself to a 60-minute back relaxation treatment package. The aromatherapy techniques used at Khatulistiwa Spa aim to promote easier breathing and overall well-being. If you require an appointment outside of their regular business hours, simply give them a call at least 8 hours in advance to schedule one.
14) Sabye Sabye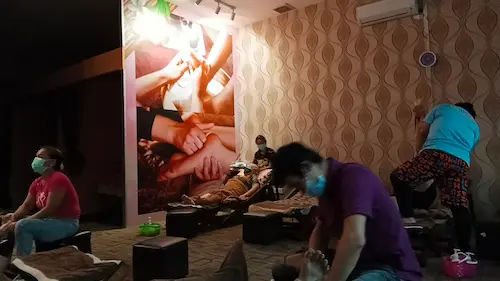 Sabye Sabye is widely recognized as the ultimate destination for indulging in extraordinary massages, meticulously performed by a team of highly skilled and reliable masseurs. With their years of expertise and unwavering commitment to excellence, you can be assured of a truly exceptional massage experience like no other.
Located in a serene and tranquil setting, Sabye Sabye provides a haven of relaxation and rejuvenation. From the moment you step through their doors, you will be greeted by a warm and inviting atmosphere, designed to whisk you away from the stresses of everyday life.
In addition to their impeccable service, Sabye Sabye is currently running a special promotion for their massages, making it the perfect opportunity to pamper yourself with a truly blissful and rejuvenating session. Don't miss out on this incredible offer to indulge in a moment of pure luxury and well-deserved self-care.
15) Spa Manja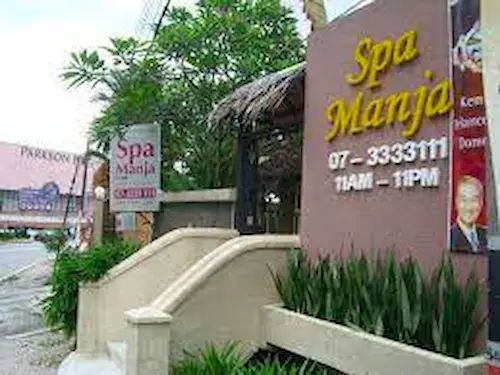 Spa Manja stands out among the top massage places in Johor Bahru for several reasons. Firstly, it is endorsed by Tourism Malaysia and is a proud member of the Association of Malaysia Spas. At Spa Manja, you can indulge in a wide range of treatments for the body, face, and eyes, including scrubs and wraps.
However, our personal favorite is the Signature Detox Massage. This unique massage is highly recommended, especially if you're experiencing muscle soreness or seeking relief from chronic pain, rheumatism, or other bodily discomforts. The experience begins with lying on a heated bamboo mat while the therapist expertly uses detoxifying oils to massage your body with both hands.
The session concludes with a soothing hot compress and a refreshing herbal tea. Treat yourself to this exceptional massage at Spa Manja, an experience you won't find anywhere else.
16) Family Thai Spa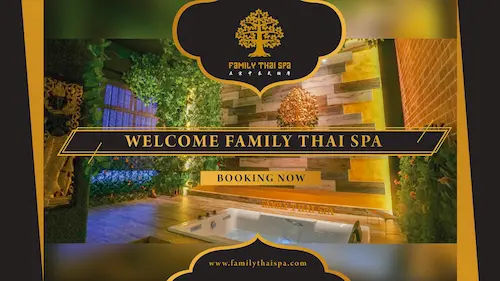 Family Thai Spa tops our list as one of the pricier options (at least when compared to massage costs in Singapore!). However, their 60-minute full-body aromatherapy treatment still falls within a reasonable price range at S$28.97.
In fact, they even have a special deal for two people, where a two-hour massage will cost S$78.54 (RM244). This means only S$39.27 per person, compared to the regular rate of S$38! So, if you're looking for a great massage experience, Family Thai Spa is definitely worth considering.
17) Bangkok Family Spa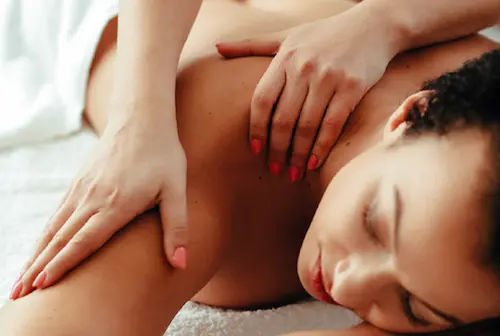 Greet your favorite Thai massage once again, Sawasdeeka. Bangkok Family Spa offers a clean, cozy, and beautifully decorated ambiance with warm Thai touches that instantly make you feel at home.
The prices are reasonable and definitely worth it, with a traditional Thai massage priced at $18.67 (RM58) for 60 minutes, and a Thai massage with oil at S$28.33 (RM88) for the same duration. The skilled masseurs provide top-notch massages, making it a great value for money.
18) Rebung Wellness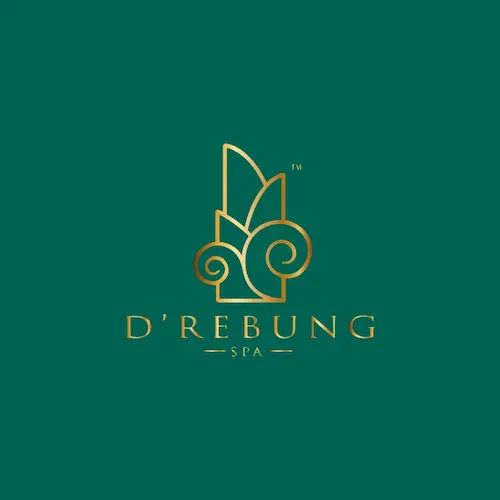 When it comes to a massage business in JB, we value exceptional service and welcoming hospitality. The Rebung Spa exceeds these expectations and offers much more. If you're in need of a relaxing day off, The Rebung Spa is the perfect destination, providing top-notch service.
Upon arrival, you will be greeted with a steaming cup of tea, marking the beginning of your relaxation journey. We highly recommend trying the Lost in Package, which includes a scrub, massage, facial, and steam bath.
19) JB Thai Spa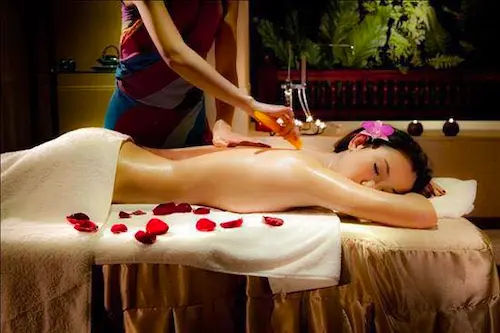 Fortunately, JB Thai Spa continues to operate and is undeniably renowned as one of the most exceptional massage establishments in JB (even for me). Each visit to this haven of relaxation and serenity feels like a blissful escape from the daily hustle and bustle.
The prices at JB Thai Spa are quite reasonable, with options such as a 60-minute full-body Thai aromatherapy massage priced at approximately S$27.36 (RM85), a 90-minute session for S$37.66 (RM117), and a two-hour indulgence for S$51.18 (RM159).
Immerse yourself in the tranquil ambiance and let the skilled therapists at JB Thai Spa transport you to a world of ultimate pampering and rejuvenation.
20) Zie Reflexology Centre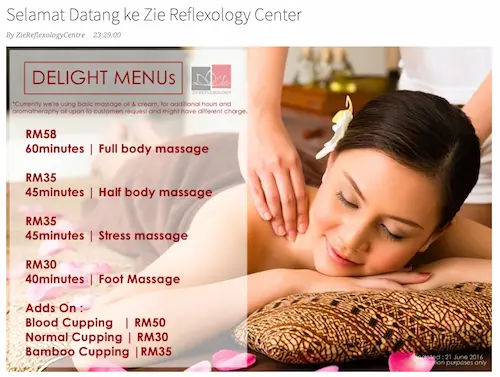 Zie Reflexology Centre is a specialized center that offers Malay traditional massage, cupping, and Thai massage services. If you're looking for a unique Thai massage experience, consider visiting Zie Reflexology Centre.
For just S$20.92 (RM65), you can enjoy a comprehensive Malay traditional massage that includes foot reflexology, stress massage, and head and shoulder treatment, all provided by experienced therapists. Visit Zie Reflexology Centre for more information about this therapy.
Massage Johor Bahru
In conclusion, Johor Bahru is a city that offers a wealth of massage and spa options suitable for various needs and preferences. From traditional family Thai spa, massages, and aromatherapy to specialized detox treatments, there's something for everyone.
Whether you're looking for a quick relaxer after a long day at work, a rejuvenating treatment to ease chronic pain, or a tranquil spa experience, you're bound to find the perfect place in this remarkable city.
Don't miss out on these exceptional services the next time you visit Johor Bahru!
Frequently Asked Questions (FAQ)
If you have any questions about Massage in Johor Bahru, you can refer to the frequently asked questions (FAQ) about the best massage in Johor Bahru below:
Additional Useful Articles
If you are looking for other useful guides and articles about massage in Johor Bahru, check them out below: