Virtual Team Building Activities Singapore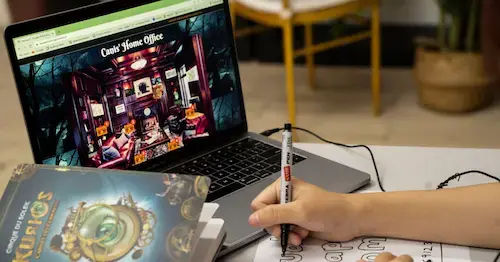 Engage in creative team building activities in Singapore to foster a positive work environment, even amidst Covid-19 restrictions.
The best Virtual Team Building Activities in Singapore include Virtual Leather Workshop, Virtual Art Jamming, Virtual Balloon Sculpting, Virtual Candle Making Workshop, Virtual Escape Room, and Virtual Terrarium Workshop.
When you are looking to book Virtual Team Building Activities in Singapore, it is important to take into account factors such as the number of participants, budget, and interests.
Experience the best virtual team building in Singapore with FunEmpire, offering a wide range of engaging activities that foster cohesion and teamwork among colleagues.
Excited yet? Read on to find out what the Best Virtual Team Building Activities In Singapore are!
Key Consideration Factors
When planning virtual team building exercises for your office, there are several factors to keep in mind:
Relevance and Engagement of Activities: Relevance and engagement of activities are two key considerations when planning a virtual team building exercise. To ensure that your virtual team building experience is both enjoyable and meaningful, make sure to select activities that are relevant to the current situation and remain engaging throughout.
Tech Capabilities Required: Demonstrated knowledge of virtual team building activities by successfully researching and executing activities that require technological capabilities such as video conferencing, online platforms, and game playing.
Budget for Team Building: Virtual team building is typically much more cost-efficient than traditional in-person activities due to not having to rent physical spaces or purchase additional materials. It is also much easier to scale up and down on the number of participants with virtual team building.
Duration of event: Depending on the activity, the length of the online team building session can be as short as 15 minutes or as long as two hours. Generally speaking, shorter activities are more suitable for larger groups and longer activities are better suited for smaller teams. It is also beneficial to include breaks in between activities to give teams an opportunity to re-energise.
Benefits of Virtual Team Building Activities Singapore
Benefits of Virtual Team Building Activities Singapore include:
Increased collaboration: Increased collaboration is at the heart of virtual team building events, as it helps to strengthen relationships between members of the team and increases productivity. By engaging in virtual activities, teams can communicate more effectively, create stronger bonds, and work together towards a common goal. Furthermore, it also allows members of the team to interact with each other more frequently.
Improved Communication: With the current pandemic restrictions, organising a meaningful and engaging team building activity can be challenging. FunEmpire's Virtual Team Building Singapore offers an array of online activities that are suitable for social distancing guidelines while allowing teams to remain connected and motivated!
Tips for Planning a Virtual Team Building Event
When planning a virtual team building event, it is important to ensure that the activities are relevant, engaging, and age-appropriate. To get the most out of the experience, it is important to create an environment where all participants feel comfortable and included in the activities. Here are some tips for planning a successful virtual team building event:
Choose activities that promote collaboration: Look for activities that promote collaboration, communication and problem-solving skills. Activities should be fun and engaging for all participants, regardless of their experience level or age.
Create a comfortable environment: Create a safe and comfortable environment where teams can interact with each other freely. Establish ground rules before the start of the event, such as not speaking over each other or using inappropriate language.
Best Virtual Team Building Activities Singapore
Recommended Virtual Games
1) Virtual Escape Room
In this interactive Virtual Team Building game, players will collaborate within teams to conquer stimulating tasks and unravel captivating riddles. As they race against the clock to complete the thrilling narrative, communication and teamwork are absolutely essential!
No matter if you work from home or in a remote location, involving yourself with this Virtual Team Building Singapore experience will be easy. It is undeniably one of the Top Virtual Team Building Activities Singapore has to offer!
2) Virtual Travel Experience
Get ready to explore the vibrant city of Singapore with Icons of Singapore, an incredible virtual travel experience! Uncover thrilling storylines and challenging puzzles that will teach you all about this stunning island's culture, history, and delicious cuisine. For those looking to learn more about Singapore or plan a future visit, Virtual Travel Experience is the perfect virtual team building activity! Get ready for an interactive and immersive adventure that will leave you feeling like you've already been there. You won't find another experience quite like it!
3) Virtual Time Travel
If you're a science fiction enthusiast dreaming of journeying through time, the Virtual Time Travel game is your perfect virtual team bonding experience. A revolutionary concept that can't be found anywhere else, this innovative activity will give you an unforgettable adventure!
In this Virtual Team Building event, players will embark on a thrilling journey across time and space as they race to beat the clock. With mind-boggling puzzles along the way, teams must rely on their communication and problem-solving skills in order to complete all objectives before time's up!
4) Virtual Food Quest
Join us as we embark on a light-hearted journey to become the Ultimate Ninja Chef! Our Virtual Food Quest will challenge you and your friends, family, or colleagues with interactive tasks related to food. As you progress through each stage of the game, you'll learn about different types of cuisines while striving to collect all the necessary ingredients. Get ready for an exciting virtual adventure that blends fun and learning!
5) Virtual Amazing Race
FunEmpire offers a one-of-a-kind Virtual Amazing Race experience, allowing teams to travel virtually around the world solving clues and completing tasks as they embark on an incredible journey. Learn more about this captivating story with thrilling missions spread out in different locations!
6) Virtual Nightfall
Put your team's problem-solving skills to the test with Virtual Team Building Singapore game – a reimagined version of the classic Murderer game. In this thrilling adventure, players will take on various roles such as killer, superheroes and detectives while utilising communication, nonverbal cues and persuasion tactics to succeed in their mission. Strengthen those bonds between you and your teammates during virtual Nightfall!
7) Virtual Time's Ticking
More than just a standard escape room experience, the story starts when the police receive a phone call from someone threatening to blow up the city. Now, you and your team, as excellent detectives, will have to investigate the threat and do your best to stop it from destroying the city.
8) Hybrid Amazing Race
FunEmpire's Hybrid Amazing Race offers a unique opportunity for participants to explore Singapore's heritage, cuisines and charming landmarks. As it allows for an unlimited number of players, this game is the ideal solution for friends, colleagues or family members who wish to bond in an interactive physical setting while still maintaining social distancing protocols. Join us today on the exciting journey as we race through Singapore together!
9) Virtual Party Mania
Are you looking for a way to have an enjoyable time with your friends without having to leave the comfort of home? Look no further than FunEmpire's Virtual Party Mania! Here, you can join in on all kinds of wacky and wild party games that are sure to make any gathering one-of-a-kind.
Strengthen connections with those closest to you through a selection of entertaining and witty virtual team building games provided by Virtual Party Mania! Not only is it an amazing way to create memories, but it's also one of the leading virtual bonding activities in Singapore. It's an ideal opportunity for teams to socialise while having fun and strengthening their camaraderie.
10) Virtual Ben's Big Heist
There is no question that Virtual Escape Room: Ben's Big Heist, presented by FunEmpire, will be one of your most beloved virtual team building workshops and activities in Singapore! You and your group must decipher a bank's plan with all its secrets to break into the vaults and fill up the loot bag before time runs out or else you risk getting caught. Put on your thinking caps and get ready for an adrenaline rush as you take on this thrilling challenge!
11) Virtual Super Planet
Are you looking for an online fun experience that's friendly for kids? If yes, FunEmpire's Super Planet virtual educational escape room will be a perfect choice! This escape room will excitingly involve the kids joining the forces and learning essential topics like sustainability and many more. Taking a break from electrical devices and video games and role-playing a superhero does sound like a fantastic plan for the weekend, doesn't it?
12) Virtual Jack's Hangover
Your friend Jack had too many drinks last night that he woke up with a terrible hangover and can't recall anything about what happened during the night. It's time to help your friend find out by checking out all the venues he was at last night, from the hotel room to the casino. And hurry up! His flight is only a few hours away.
13) Virtual Squid Escape Game
Dare to enter FunEmpire's Virtual Squid Escape Game, and you'll find yourself immersed in the world of your favourite survival show. With the game master looming over you and your friends like a grim reaper, it is time to take action. If only there was an escape route! Alas, that requires solving mysterious puzzles – can your team make it out alive? It all depends on how swift their thinking is under pressure – come put yourselves to the test now!
14) Virtual Mayday
As part of Captain Roger's crew, it is your responsibility to work together with your friends and assist the captain in saving a stranded botanist. You must all collaborate to solve numerous clues and riddles before an upcoming cyclone ravages everything on this isolated island. Working together as a collective will ensure you can accomplish the mission and bring everyone home safely.
15) Virtual Game Show
Are you in search of an exciting, enjoyable and budget-friendly team building activity? Look no further than The Game Show Challenge! This amazing game puts teams to the test with its thrilling trivia challenges. Whether it's at board rooms or even restaurants – this entertaining event can be held almost anywhere. Your colleagues will surely have a blast as they join forces to compete against each other – filled with laughter, cheers and plenty of high-fives! So give them a one-of-a kind bonding experience now by booking The Game Show Challenge today!
Recommended Virtual Workshops
16) Virtual Art Jamming Workshop
Ignite your imagination and join us for our extraordinary Virtual Art Jamming session – making a custom tote bag! FunEmpire will direct you through the stress-free process, supplying all of the necessary items. No art expertise is required; just come with an open mind and tap into those creative juices! Create something special – either as a present or simply something fun for yourself.
17) Virtual Clay Making Workshop
Are you searching for an exciting team-building exercise? Look no further than creating one of a kind clay figurines or charms! Our toxin-free, lightweight air dry clay is not only versatile but safe to use — even with kids. Not only will this experience be loads of fun; it'll also provide special gifts to your family and friends.
18) Virtual Terrarium Workshop
For those with a passion for gardening, the Virtual Terrarium Workshop presented by FunEmpire is an ideal choice. Expert facilitators will teach participants both the technical and practical elements of creating their own terrariums. Everything required to get started – from plants to containers – will be delivered straight to your home before you know it!
19) Virtual Non-Stitched Leather Making Workshop
If you and your colleagues are passionate about leather products, then the Virtual Leather Making Workshop is a perfect opportunity for you to learn anything and everything related to them. You'll gain knowledge on all types of leathers as well as how best to maintain it along with crafting two stunning creations out of these materials at an incredibly affordable cost!
Strengthen your team spirit in a unique way with the Virtual Leather Making Workshop! Each member of the group can craft their own custom leather products from home, and then proudly share what they have made at the conclusion of this thoroughly enjoyable virtual gathering.
20) Virtual Candle Making Workshop
At FunEmpire's Virtual Candle Making Workshop, you won't have to be worried about preparing all the necessary materials yourself since they will be provided in the candle-making home kit, which will be delivered right to your doorstep. What could make this Virtual Candle Making Workshop even more delightful? The level of guidance from our expert instructor during the whole session – all you need to do is take a backseat and have a wonderful time with your friends, colleagues or family.
21) Virtual Tote Bag Art Jamming Workshop
Let your imagination run wild and join us for a fun-filled Virtual Art Jamming experience – create your very own tote bag! With the guidance of FunEmpire, you'll have all the materials needed for this stress-free activity. No art background is required; come with an open heart and mind ready to explore your creative potential! Make something special that can serve as a present or just as something enjoyable for yourself.
22) Virtual Stitched Leather Workshop
Unleash your artistic flare and acquire the know-how for saddle stitching by joining our professional, live facilitation! Our Virtual Stitched Leather Making workshop offers you the opportunity to build something truly remarkable from the comfort of home. Through a short yet comprehensive session led by experienced facilitators, create an original product that is completely unique – only with us!
Other Virtual Team Building Activities
23) Virtual Picnic Party
Virtual Picnic Party is the ideal virtual team-building activity for any group looking to enjoy a relaxed and laid back atmosphere. With the use of videoconferencing tools, participants can connect from anywhere in the world, bringing the outdoor picnic experience virtually into their homes. Whether it's a family gathering, an office party or just a group of friends looking for something different, this virtual picnic party experience is sure to bring everyone together.
24) Remote Wine Tasting Workshop
Remote Wine Tasting Workshop is the perfect virtual team-building activity for anyone who loves good wine and food! With this workshop, participants can join an expert sommelier from their own homes to explore a variety of different wines and learn the basics of wine tasting. You will be guided through a series of tastings focusing on the nuances of each of the wines, discovering hidden flavours and aromas. The workshop can also be tailored to the group's particular preferences and interests.
25) Remote Scavenger Hunt
Remote Scavenger Hunt is the perfect team-building activity for those looking to have a fun and creative time. With this activity, teams can compete against each other from the comfort of their own homes. Each player will be given a list of challenges and tasks to complete in order to gain points. The team with the most points after a certain time period will be declared the winner. This is an excellent way to bring everyone together for some friendly competition and have a great time in the process!
26) Online Trivia Night
Online Trivia Night is the perfect virtual team-building activity for any group looking to have a fun and engaging time together. Through a series of interactive quizzes and challenges, hosted by a live facilitator, participants will be able to test their knowledge while competing against each other in real-time. Every team will be given an equal chance to answer questions correctly and gain points. The team with the most points at the end of the evening will be declared the winner!
27) Online Puzzle Challenge
Online Puzzle Challenge is an engaging virtual team-building activity that allows participants to test their problem-solving and analytical skills in a fun and competitive environment. With this challenge, teams must work together to solve a series of puzzles, ranging from picture puzzles to word puzzles, all within a time limit.
28) Remote Karaoke Session
Remote Karaoke Session is the perfect virtual team-building activity for anyone looking to bring out their inner singing sensation! With this activity, participants can join a live karaoke session with an experienced facilitator from the comfort of their own homes. Through a series of fun and exciting vocal exercises and challenges, participants will be able to unleash their inner diva and have a great time with their friends!
29) Virtual Cooking Class
Virtual Cooking Class is an excellent virtual team-building activity for anyone looking to learn some new culinary skills. With this class, participants can join an experienced chef from their own homes in order to learn how to make a variety of dishes. This is the perfect way to bring everyone together for some delicious food and laughter!
30) Zoom Art Gallery Tour
Zoom Art Gallery Tour is a virtual team building activity that provides a unique and engaging way to explore the world of art. Participants will be guided through an interactive tour, hosted by a professional art historian, of some of the most famous galleries in the world. During this tour, participants will be able to view artwork up close and learn about the history and significance of each piece. This is an excellent way to bring everyone together for some enjoyable education and appreciation of art!
This activity can be tailored to your group's specific interests, ensuring that everyone gets the most out of their virtual tour experience. With this activity, teams will not only learn something new but also create lasting memories together. So, what are you waiting for? Gather your team and get ready to explore the world's most famous art galleries!
Virtual Team Building Activities Singapore
The key to a successful virtual team building Singapore event is to find the right activity for your group's specific needs and interests. With the wide selection of virtual events available in Singapore, you can easily find something that will bring everyone together while also allowing them to learn new skills or explore their creative sides.
From online scavenger hunts and trivia nights to remote karaoke sessions and art gallery tours, there are plenty of options out there that will make sure your team has a great time bonding with each other from the comfort of their homes! So take some time today to research what kind of virtual team-building activity would be best suited for your group – we guarantee it'll be an experience they won't forget anytime soon!
Looking for more articles about team building? Check out these recommended articles:
Frequently Asked Questions
If you have any questions about virtual team building activities in Singapore, you can refer to the frequently asked questions (FAQ) about the Best Virtual Team Building Activities in Singapore below:
Additional Useful Links
If you are looking for other useful guides and articles about Virtual Team Building Activities in Singapore, check them out below: