Urologist Singapore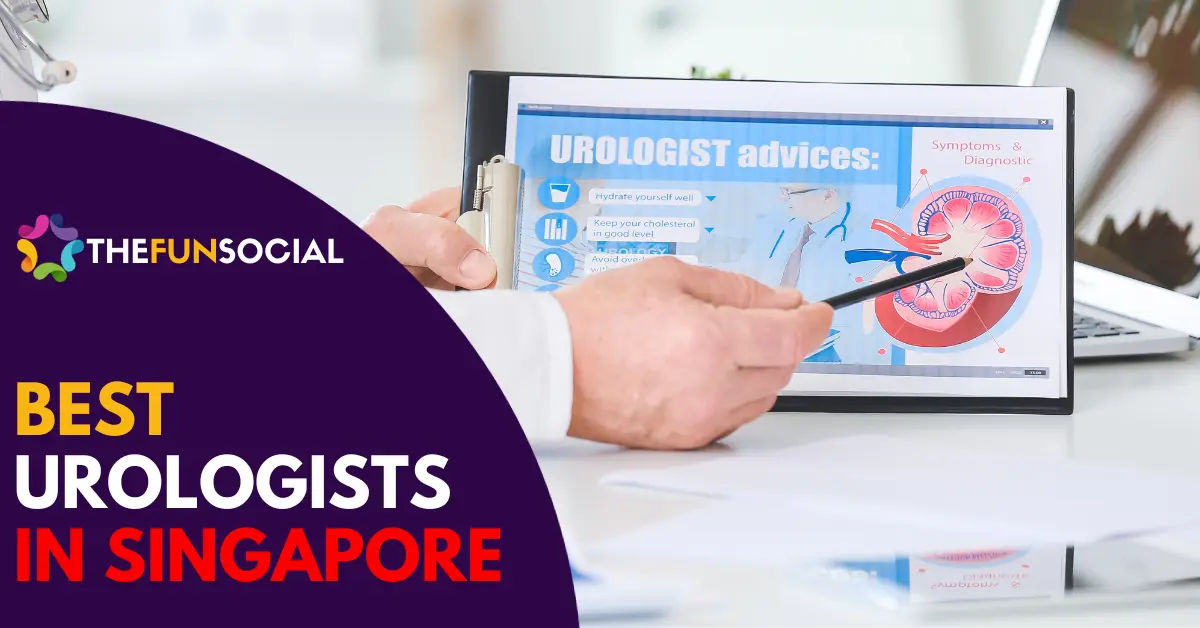 When it comes to urological health in Singapore, one would naturally want the best care possible.
The best urologists in Singapore include Dr. Tricia Kuo, Dr. Ronny Tan, Dr. Pearllyn Quek, and Dr. Lincoln Tan.
When selecting a urologist in Singapore, take into account their area of expertise, level of experience, feedback from patients, and location.
In Singapore, urologists are renowned for their exceptional expertise and patient-centered approach, delivering high-quality healthcare services in the field of urology.
This guide is designed to help you make an informed decision and find the right specialist for your specific needs.
Quick Summary
Best urologists in Singapore include Dr. Tricia Kuo, Dr. Ronny Tan, Dr. Pearllyn Quek, and Dr. Lincoln Tan.
When choosing a urologist in Singapore, consider factors such as their specialization, experience, patient reviews, and location.
Urologists in Singapore are highly skilled professionals, providing exceptional healthcare in the field of urology with a patient-centric approach.
Key Consideration Factors
When looking for a urologist in Singapore, make sure to consider these important factors:
Specialization: Urology is a broad field that covers various conditions related to the urinary tract and male reproductive organs. Some urologists may specialize in specific areas, such as pediatric urology or urologic oncology. Choose a specialist who has experience in treating your condition.
Experience: It's important to choose a urologist with extensive experience in their specialty. This will give you confidence in their abilities and increase the likelihood of successful treatment.
Patient Reviews: Feedback from previous patients is a valuable resource in determining the quality of care provided by a urologist. Look for reviews online or ask for recommendations from friends and family.
Location: Consider the location of the urologist's clinic or hospital, as this can greatly impact your convenience and accessibility to appointments, procedures, and follow-ups.
Best Urologist Singapore
1) Dr. Colin Teo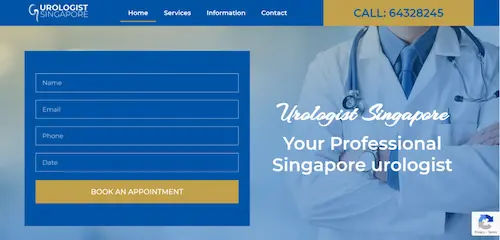 Key Service
Laparoscopic and robotic surgery
Website
https://www.urologistsingapore.com/
Address
Gleneagles Hospital Annexe Block 6A, Napier Road, #05-36D, Singapore 258500
Phone
+65 6432 8245
Operating Hours
Mon to Fri: 8:30 am to 5:00 pm

Sat: 8:30 am to 12:30 pm
If you're dealing with a urological condition, Dr. Colin Teo is here to lend a helping hand. With expertise in laparoscopic and robotic surgery, he offers safer alternatives to traditional approaches, greatly valued by patients.
While specializing in men's health, Dr. Teo warmly welcomes Singaporeans of all ages seeking assistance for kidney or bladder conditions. So, if your little one, especially a boy, needs a check-up at this clinic, feel free to schedule an appointment. Rest assured, you're in good hands!
Dr. Teo's work is commendable because he accepts a range of medical insurance plans, including Fullerton Health, Alliance Healthcare, and others. This ensures that urological care is accessible to all patients, regardless of their financial circumstances.
If you are not covered by any of the clinic's plans, it does not mean you will be denied care. Just reach out to them, and they will collaborate with you to address the issue.
2) Dr. Lee Fang Jann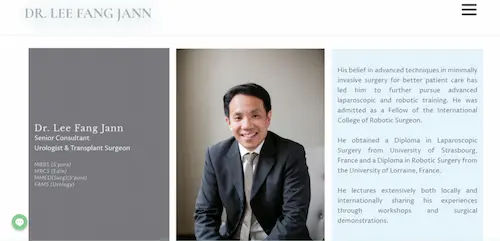 Key Services
Men's health, particularly male infertility and prostate conditions
Website
https://drleefangjann.com/
Address
12 Farrer Park Station Road, #05-01, Singapore 217565
Phone
+65 8800 3633
Email
hello@urodoc.sg
Operating Hours
Mon to Fri: 8:30 am to 6:00 pm

Sat: 8:30 am to 1:00 pm
You can consider including Dr. Lee Fang Jann in your roster of reliable urologists who can provide treatment for bladder problems. While his practice welcomes female patients, Dr. Lee's expertise lies in men's health, particularly male infertility and prostate conditions.
He is highly regarded in the medical community for his specialization in advanced laparoscopic and robotic surgeries. Patients can expect reduced blood loss and discomfort compared to traditional surgical procedures due to the utilization of smaller incisions.
Rest assured that he is a proficient in these techniques as he is a member of the International College of Robotic Surgeons. Additionally, Dr. Lee's clinic offers extended operating hours to accommodate working individuals who may prefer to schedule consultations after work.
Conversely, for those who prefer early morning appointments, his practice opens early in the morning.
3) Dr. Tricia Kuo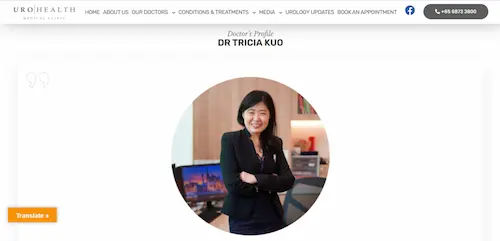 Key Services
Adolescent urology
Website
https://www.urologysingapore.com/dr-tricia-kuo/
Address
Mount Elizabeth Novena Hospital
38 Irrawaddy Road, #05-26, Singapore 329563

Mount Alvernia Medical Centre
820 Thomson Road, #06-67, Singapore 574623
Phone
Mount Elizabeth Novena Hospital
+65 6873 3800

Mount Alvernia Medical Centre
+65 6264 7588
Email
info@urohealth.sg
Operating Hours
Mon to Fri: 9:00 am to 5:00 pm

Sat: 8:30 am to 12:30 pm
Dr. Tricia Kuo, a urologist at Urohealth Medical Clinic, is a notable choice for women seeking treatment for urinary incontinence or overactive bladders. Not only is she one of the few female urologists in Singapore, but she also specializes in adolescent urology.
Furthermore, Dr. Kuo is among the limited number of pediatric urologists in the city-state, making her the go-to physician for children with urinary or genital issues.
The clinic's excellence is further enhanced by the availability of tele-consultations for those who prefer staying at home. Additionally, if needed, an interpreter can be requested, making it an excellent option for travelers too.
While you can visit her at either of Urohealth Medical Clinic's two locations, it's important to contact the clinic first to inquire about her hours.
4) Dr. Fiona Wu – Aare Urocare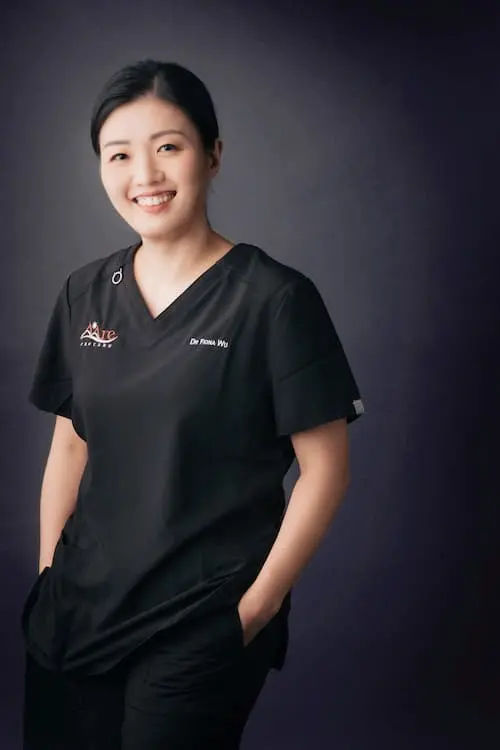 | | |
| --- | --- |
| Key Services | Female urinary system, Neuro-urology, Urinary Incontinence, Reconstructive Urology, Voiding Dysfunction (Urination Disorders), Bladder Health, Kidney Stones Treatment, Kidney Health, Prostate Health, Pelvic Floor, Men's Health |
| Website | aareurology.sg |
| Address | 6 Napier Road #10-06 Gleneagles Medical Centre Singapore 258499 |
| Phone | (65) 6252 4681 |
| Email | info@aareurology.sg |
| Operating Hours | 9am-5pm Monday to Friday, 9am-12:30pm Saturday, Closed on Sunday & Public Holiday |
Dr. Fiona Wu founded Aare Urocare, which serves as a comprehensive incontinence center. They provide a variety of diagnostic tests and minimally invasive treatments for urinary incontinence. Aare Urocare is committed to offering timely appointments, thorough diagnostic tests, and personalized treatment options.
Their services range from managing conditions to performing minimally invasive procedures and surgeries for the bladder, kidney, and prostate. The name Aare originates from the Aare River, a picturesque river that runs through Bern, Switzerland.
This connection reminds us of Dr. Fiona Wu's fellowship training in Female and Reconstructive Urology at the University of Bern, Switzerland, where she trained under the guidance of renowned reconstructive surgeons.
Throughout her time there, she encountered demanding surgeries and intricate cases, which deepened her dedication and expertise in the field of urology.
5) Singapore General Hospital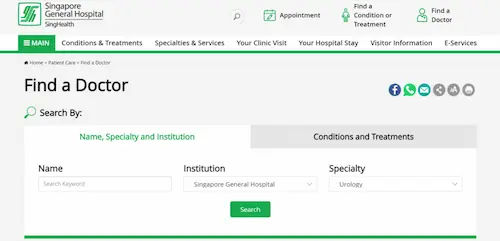 If your budget doesn't allow for hiring a specialist, Singapore General Hospital (SGH) might be able to assist you with urinary tract issues. With a team of 14 specialists, you'll have a range of options to choose from.
SGH has two female urologists who both practice at the same hospital, which could be inconvenient for clients seeking a woman physician.
If you're determined to book liposuction surgery, it's recommended to make an appointment at least a week in advance, if not earlier.
Rest assured, SGH has strict criteria for selecting physicians through their vetting procedure. You can trust that you'll be in excellent hands regardless of your choice.
As a public institution, SGH provides medical treatment at no cost to eligible individuals. There are a few conditions to meet, which you can learn more about on their website.
6) Dr. Ronny Tan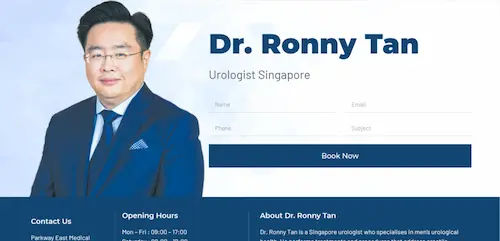 Key Services
Andrology
Website
https://www.drronnytan.com/
Address
Parkway East Medical Centre, 319 Joo Chiat Place, Suite 02-05, Singapore 427989
Phone
+65 6432 8239
Operating Hours
Mon to Fri: 9:00 am to 5:00 pm

Sat: 9:00 am to 12:00 pm
If you have concerns regarding your urological or sexual health, consider Dr. Ronny Tan as an excellent choice for men. He specializes in andrology, which focuses on studying disorders and abnormalities of the male reproductive system.
Dr. Tan's clinic is well-equipped to perform various procedures, including vasectomy and testosterone therapy. Notably, Dr. Tan holds the distinction of being the first Singaporean trained in urological prosthetic surgery in the United States. This represents a significant advancement for men dealing with stress urinary incontinence or erectile dysfunction.
If you're interested in learning more about Lifestyle Enhanced Sexual Treatment, Dr. Tan is the best choice for you. In addition to offering LiESWT, a non-invasive technique for treating erectile dysfunction and chronic pelvic pain, he stays updated on the latest urology treatments.
Dr. Tan utilizes modern techniques and cutting-edge technology, making him a valuable addition to this list. Feel free to reach out to his clinic if you're in search of a top urologist in Singapore.
7) Dr. Ho Siew Hong
At SH Ho Urology and Laparoscopy Centre, you will find a wide range of urology treatments available for men, women, and children. However, the main focus of resident urologist Dr. Ho Siew Hong is men's health.
Dr. Ho provides various minimally-invasive treatments to address reproductive health concerns, such as erectile dysfunction and low sperm count. Additionally, Dr. Ho is a highly respected surgeon specializing in laparoscopic surgery. It is important to note that this surgical approach utilizes small incisions to facilitate faster recovery.
Dr. Ho has provided care for numerous expats and European visitors from Southeast Asia and similar regions, which is noteworthy. He is proficient in English, Chinese (Mandarin, Cantonese, Hokkien), Malay, and Bahasa, enabling him to cater to a diverse clientele. If you need an interpreter, the clinic can also arrange for one.
8) Dr. Pearllyn Quek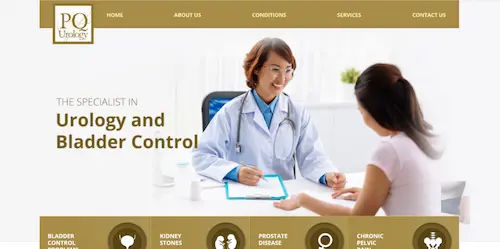 Dr. Pearllyn Quek is an excellent choice for women seeking urological care. As one of the first two female urologists in Singapore accredited by the Royal College of Surgeons, she possesses extensive knowledge in the field. While her expertise lies in general urology, she is particularly skilled in addressing bladder and pelvic floor issues.
Dr. Quek's clinic specializes in treating postpartum pelvic floor problems, offering a private area where patients can receive guidance on a variety of pelvic floor exercises from their female staff.
Dr. Quek carries out a multitude of surgeries across various hospitals and medical centers in Singapore, such as Mount E, Gleneagles, and other locations. What's great is that patients have the freedom to choose the medical facility that suits them best.
These are just a few examples of Dr. Quek's many skills, and to truly grasp why other patients highly recommend her services, you'll have to meet her in person.
9) Dr. Lincoln Tan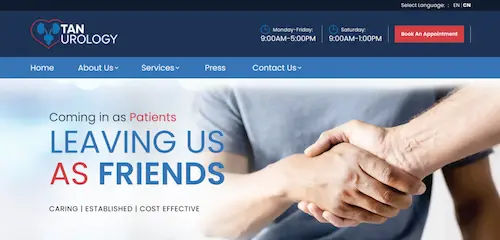 Key Service
Prostate, urinary, and kidney issues.
Website
https://www.tanurology.com.sg/
Address
6 Napier Road #05-03, Gleneagles Medical Centre, 258499, Singapore
Phone
+65 6732 6503
Email
info@tanurology.com.sg
Operating Hours
Mon to Fri: 9:00 am to 5:00 pm

Sat: 9:00 am to 1:00 pm
Dr. Lincoln Tan and Dr. Robert Tan co-own Tan Urology, a clinic operated by a father and son duo. With a combined experience of over 45 years, these urologists specialize in treating men with prostate, urinary, and kidney issues.
At the clinic, Dr. Lincoln, the son, is primarily responsible for attending to both new and returning patients. Based on our observations, Dr. Lincoln has built a reputation for being meticulous, professional, and compassionate – qualities that are highly valued in a doctor!
Alternatively, if you prefer to be examined by Dr. Robert (the father), one of the original founders of the Singapore Urological Association, you have the option to do so. However, please note that he is not available at the clinic frequently, therefore you will need to schedule an appointment in advance to see him.
What sets this clinic apart is its convenient tele-consultation service, which is offered at the same rate as in-clinic consultations. Additionally, if you opt for the tele-consultation service, any required medication can be delivered to your home the following day.
It is important to consider that utilizing this service comes with the main drawback of expensive delivery costs, starting at $19.26, regardless of your location within Singapore.
10) Dr. Ong Chin Hu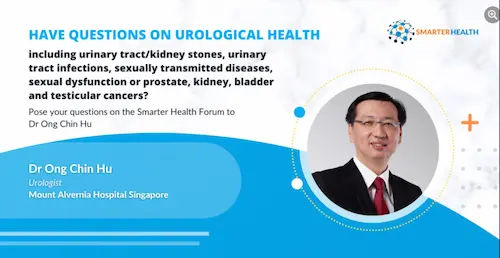 You should also consider exploring Dr. Ong Chin Hu from Ace Urology Clinic & Surgery in Singapore. Like several other renowned urologists in Singapore, he has undergone comprehensive training in the United Kingdom, acquiring global and local fellowships along the way.
What sets Dr. Ong apart is his specialization in uro-oncology, which involves the diagnosis and treatment of urinary tract cancers in both men and women.
Dr. Ong's practice offers comprehensive screening procedures for prostate, kidney, bladder, and testicular cancer. Fluent in English, Bahasa Malaysia (Malay), Mandarin, and Hokkien, Dr. Ong is able to cater to a diverse range of patients. Whether you require assistance personally or know someone who does, Dr. Ong is here to provide the support you need.
Urologist Singapore
In conclusion, Singapore provides a plethora of highly skilled and specialized urologists, each with their own unique areas of expertise and patient approach.
From general urology to specific treatments for both men and women, these professionals use modern techniques and state-of-the-art technology in their practices. Their diverse language skills from NTUC Income Languages Cantonese further ensure that patient needs are met, regardless of linguistic diversity.
The right urologist for you depends on your specific health needs and personal preferences. It is recommended to reach out to them directly or visit their clinics to learn more about their services and how they can best assist you with your urological concerns.
Frequently Asked Questions (FAQ)
If you have any questions about uroglogists in Singapore, you can refer to the frequently asked questions (FAQ) about the best Urologists in Singapore below:
Who are the best urologists in Singapore?
The best urologists in Singapore include Dr Fiona Wu, Dr. Ronny Tan, Mount Elizabeth Medical Centre, Dr. Ho Siew Hong, Dr. Pearllyn Quek, and Dr. Lincoln Tan.
How much does a urologist cost in Singapore?
The cost of seeing a urologist in Singapore varies depending on the specific doctor and their services. On average, consultations can range from $100 to $300, while surgeries may cost anywhere from $5,000 to $20,000 or more. It is best to inquire directly with the urologist or their clinic for accurate pricing information.
Who is the top urologist in Singapore?
As each patient's needs and preferences may vary, it is difficult to determine a "top" urologist in Singapore. It is recommended to research and consult with different doctors to find the one that best suits your specific needs.
How many urologists are there in Singapore?
According to a Singapore Medical Council report, there were 91 registered urologists in Singapore as of December 2020. However, this number may have fluctuated since then due to various factors such as retirements and new registrations. It is always best to check with the specific clinic or hospital for an updated list of practicing urologists in Singapore.
Which problem is treated by a urologist?
Urologists specialize in treating issues related to the urinary tract and male reproductive system. This can include conditions such as urinary tract infections, kidney stones, prostate problems, erectile dysfunction, and bladder cancer. They also perform surgeries for these conditions if necessary.
What is minimally invasive surgery?
Minimally invasive surgery refers to surgical procedures that are performed using advanced techniques and small incisions, resulting in less trauma to the body compared to traditional open surgeries. In the field of urology, it has revolutionized the treatment of urologic conditions such as benign prostatic hyperplasia and prostate cancer, allowing for faster recovery times and reduced post-operative pain.
What are some common urological conditions that urologists in Singapore treat?
Urologists in Singapore treat a wide range of urological conditions, including but not limited to benign prostatic hyperplasia, prostate cancer, urological cancers, and other urologic problems. They also specialize in addressing men's health issues related to the prostate gland and provide comprehensive urology services tailored to individual needs.
What is the importance of choosing an accredited robotic surgeon for urological procedures?
When it comes to urological surgeries, especially those involving minimally invasive techniques such as robotic-assisted surgery, choosing an accredited robotic surgeon is crucial. Accredited surgeons have undergone specialized training and have demonstrated proficiency in performing robotic-assisted procedures. This ensures a higher level of expertise and precision, leading to better outcomes for patients undergoing urologic surgeries.
What are some key benefits of minimally invasive surgery for urological conditions?
Minimally invasive surgery offers several benefits for urological conditions. These include smaller incisions, reduced post-operative pain, shorter hospital stays, quicker recovery times, and minimal scarring. Additionally, minimally invasive techniques are associated with lower risks of complications and infections compared to traditional open surgeries.
Do urology specialists in Singapore offer comprehensive care for men's health issues?
Yes, urology specialists in Singapore provide comprehensive care for men's health issues. They specialize in addressing conditions related to the prostate gland, such as benign prostatic hyperplasia and prostate cancer. Additionally, they offer a range of services related to urologic conditions, including regular check-ups, blood tests, and personalized treatment plans.
Can women also seek urology services in Singapore?
Absolutely! Urology services in Singapore are not limited to any specific gender. Both males and females can avail themselves of urology services for the diagnosis and treatment of urologic conditions. Urologists are trained to address a wide range of urological problems in individuals of all genders.
Additional Useful Articles
If you are looking for other useful guides and articles about the best urologists in Singapore, check them out below: