Team Bonding Singapore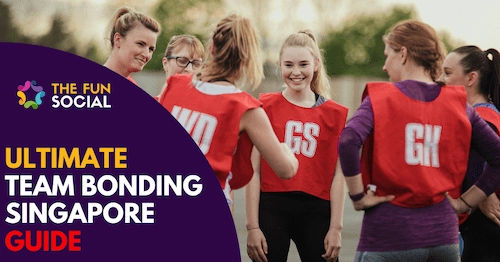 Team bonding (also known as team building in Singapore) has become quite popular as a way to improve communication, camaraderie, trust, and collaboration.
The best team bonding Singapore ideas are Laser Tag, Cosmic Bowling, Giant Board Games, Bullet Strike, SaberFit, Balloon Sculpting Workshop, Terrarium Workshop, and Clay Making Workshop.
When booking an activity, remember to consider important factors such as the team objective, duration of the activity, cost, venue, and type of activity.
FunEmpire's team building ideas guarantee an unforgettable experience for your team, backed by their remarkable track record of organizing over 50,000 successful events and receiving 8,000 outstanding reviews.
Start planning your unforgettable team bonding experience today, and let's work together to strengthen your team's communication, trust, and collaboration.
What is Team Bonding?
Team bonding is a strategy used to boost cooperation and communication within a team and enhance performance. It entails setting up a setting where participants may collaborate and get to know one another better so they can better grasp how to function as a cohesive team.
Team bonding exercises, corporate scavenger hunts, escape rooms, and creative hobbies like culinary lessons and art jams are just one of the best team building activities in Singapore. There are a variety of indoor and outdoor alternatives depending on the kind of fun team building event you're searching for.
Top 5 Tips For Organizing A Successful Team Bonding Event
Encourage participation
Make sure everyone feels involved by encouraging collaboration, communication and healthy competition.
Focus on team goals
Set clear objectives for your Team Bonding event and ensure that your activities are all geared towards achieving these goals.
Choose the right venue
Ensure the venue you choose is suitable for the type of activities you plan to do. Consider factors like location, budget and facilities required when selecting a venue in Singapore.
Create a positive atmosphere
Make sure everyone's having fun and creating a positive atmosphere that encourages constructive feedback.
Select activities that meet your objectives
Choose activities that are tailored to your team's needs, such as problem solving sessions, brain teasers and group challenges.
By following these tips, you can ensure your team building games and event is a success! With the right activities, venue, and objectives in place, you'll be able to foster collaboration among your team and foster an environment of trust and support.
5 Benefits Of Team Bonding
1. Enhanced problem-solving skills
By engaging in activities like problem-solving challenges, team members can improve their skills and learn new techniques.
2. Increased trust
Trust is essential in any successful team environment, and Team Bonding activities help to foster mutual understanding and strengthen relationships within the team.
3. Better performance
Through increased communication, collaboration, and trust, highly energetic teams are more likely to perform better and achieve their goals.
4. Improved communication
Team Bonding encourages members to express their thoughts and opinions openly, fostering improved communication.
5. Boosted morale
Activities that promote collaboration and resilience can help build a sense of camaraderie and boost overall morale within the team.
Recommended Team Building Activities For Team Bonding in Singapore
Listed below are some of our top recommended activities for Team Bonding in Singapore. Looking for more options? Check out our curated list of the Best Team Building Activities in Singapore as well!
Adventure Activities
1. Giant Whack-A-Mole
Don't pass up this exclusive opportunity to experience Giant Whack-A-Mole, the world-renowned arcade game that has made its way to Singapore and is sure to be an entertaining and hilarious time for all. Rally your friends or coworkers together for fun team building games – try outwitting each other by "hitting" them when they make attempts at grabbing coloured balls! Seize this rare chance before it's gone too soon – get ready for a one of a kind adventure!
2. Poolball
Get ready to be astounded by the plentiful thrilling games offered on our oversized pool table. It includes Poolball Classic and Poolball Sabotage, perfect for honing strategic thinking and practicing teamwork. This unique experience is ideal for any event size as it encourages inclusivity among groups while creating a sense of fellowship during the fun team building activity! Come try your hand at this massive pool game today – we double dare you to master it!
3. Bullet Strike
Looking for an exciting and safe way to bring your group together? Look no further than Bullet Strike! Through foam bullets, participants will use their weapons against each other while completing adventurous tasks. Offering face masks that guarantee safety and soft ammunition harmless enough for team-building activities, nothing quite brings the entire team together like the thrilling sport of Bullet Strike.
4. Combat Archery Tag
Ready for an electrifying dose of adrenaline? Archery Tag is the ultimate combination of dodgeball and archery, making it a surefire hit with audiences of all ages! Teams face off in an exhilarating arena as they try to eliminate opponents by shooting foam-tipped arrows at them while wearing protective masks. So don't wait – join us now to experience this fast paced game with your friends!
5. Ninja Tag
Test your ninja aptitude and accept the greatest challenge of all – Ninja Tag! Round up your friends for a unique team-building experience that will leave everyone in awe. With foam daggers, scoring vests, and mission settings at hand, this action packed journey promises to be one you won't forget. Step into battle mode today – it's guaranteed to be an invigorating thrill like no other!
6. Laser Tag
If you are searching for the perfect team-building game that is great for any age group, then look no further than laser tag! With its inclusionary nature and versatility, everyone can join in on an adventure they won't soon forget. Whether indoors or outdoors – take advantage of your natural surroundings while creating a bond with your teammates by including laser tag during the next event day agenda! Don't miss out – book now and get ready to unite as one through thrilling missions today.
7. Bullet Ball
Get ready to experience the ultimate action-packed adventure of your life with Bullet Ball! Created by FunEmpire, this thrilling Team Bonding activity is perfect for a memorable session in Singapore. And don't worry—it won't break your budget while still providing hours of fun and entertainment! Dodgeball has nothing on the excitement you'll get out of playing Bullet Ball.
8. SaberFit
Get ready for an intense saber fitness workout that will test the mettle and bring out the grit of your team! Our unique class offers a combination of combat techniques, pair fighting, and teamwork – perfect for any upcoming Singaporean bonding event. Participants are sure to face new challenges while strengthening camaraderie among colleagues in this unforgettable experience. Blood, sweat…and lots of fun awaits!
9. Saber Tag
Gather your courage, sharpen your sword and face off against adversaries to conquer thrilling missions such as Saber Wars and Defenders of the Galaxy! Gauge your team's communication, coordination, and collaboration abilities while you fight for supremacy. Challenge yourself with a completely unique saber combat experience that will take gaming to an entirely new level!
10. Bubble Soccer
Are you on the hunt for an exciting and entertaining team-building activity in Singapore? Look no further than Bubble Soccer! Get your colleagues or friends together for a hilarious, bumping match that also encourages productive teamwork. Not to mention, safety is of no concern with this fun-filled bonding experience as each person will be completely encased in a bubble!
Creative Activities
11. Stitched Leather Workshop
If you're passionate about learning the art of hand-stitching leather, then the Stitched Leather Workshop is a perfect destination for you! We provide straightforward step-by-step instructions to help you craft your own card holder quickly and easily. All materials are provided – all that we require from our participants is enthusiasm and an eagerness to learn. Plus, due to limited seating capacity in our intimate workshop setting, don't miss out on this once in a lifetime opportunity! Join us today so that we can show you how to acquire skills for life!
12. Terrarium Workshop
Looking for an exciting and rewarding team-building experience? Our thrilling terrarium workshop is the ideal indoor activity to bring your group together, strengthen relationships, and have fun! Plus, each participant gets a take-home version of their carefully crafted terrariums – one of Singapore's most popular go-to activities that never fails to impress. Don't miss out on this unique opportunity to bond with your coworkers!
13. Clay Making Workshop
Capture unforgettable moments and hone your talents with FunEmpire! Our workshops are intimate, inviting, and always brimming with fun. Everything you need is supplied – each participant will craft their very own mini clay figurines to take home as a memento of the special day!
14. Canvas Art Jamming
Are you bursting with creative energy? Let your imagination run wild! Our Art Jamming session is the perfect way to relax, connect and bond with friends, family or colleagues. We provide all of the essential supplies plus a helping hand from our experts – no skills required! So come on down for an unforgettable painting experience that will leave you feeling refreshed and inspired.
15. Non-Stitched Leather Workshop
Looking for a unique bonding experience in Singapore? Then Leather Workshop is the perfect spot! Let your team come together and craft one-of-a kind pieces, such as coin pouches, key FOBs or luggage tags that can be kept as souvenirs. Come join us at Leather Workshop to create something extraordinary with your coworkers today!
16. Tote Bag Art Jamming
If you're eager to embark on an unforgettable Art Jamming journey, FunEmpire is where it's at! Here, you can effortlessly unlock your artistic potential and fashion a singularly beautiful handbag – perfect for yourself or as a present. Plus, we provide all the supplies needed so that even those with no painting experience can join in the fun. Just show up and let your creativity flow!
17. Soy Candle Making Workshop
Begin your candle-making journey with one of our beginner packages and let the creativity flow! Set yourself apart from others by adding vibrant sands, intricately crafted figurines or upgrading to an expert package; these are just some ways you can make any vision come alive. What dream will you create?
18. Gel Candle Making Workshop
Ignite your corporate team's imagination with a Candle Making Workshop in Singapore! Every attendee will be able to craft their own beautiful candle, whether it is for personal use or as part of the company's remembrance. There is no better way to connect and learn together while having an enjoyable time creating something special – aromatic candles that can be treasured forever!
19. Cooking Class
Embark on an unforgettable culinary journey with us and become a master chef in our cooking classes! Experience the unique flavours of Singapore right during your Team Bonding activity and tantalize your colleagues' taste buds by crafting exquisite local delights taught by professional chefs. This experience will surely leave them inspired to join you in creating exceptional dishes!
20. Perfume Workshop
Through this team-building exercise, you can deepen your understanding of each team member on the team by exploring scent. To commemorate an unforgettable experience at the end of the workshop, every individual will obtain a bottle bearing their own handcrafted aroma!
21. Balloon Sculpting Workshop
Unchain your inner artist and learn how to craft magnificent balloon sculptures, like a pirate sword, butterfly, rainbow or flower – all from the coziness of home!
Quest Activities
22. Escape Room
Ready to foster meaningful connections and strengthen bonds with your team? Why not consider Escape Rooms – the ultimate group activity! Gather round as you work together to unlock a range of intricate riddles, puzzles, and mysteries. Singapore is home to an array of captivating themes that will tantalize all ages – young or old. So come on down for an unforgettable adventure which is sure to bring out your inner detective in no time at all!
23. Amazing Race
Embark on an incredible journey with FunEmpire's Hybrid Amazing Race and explore Singapore's captivating culture like never before. Our one-of-a-kind experience combines real world exploration along with virtual activities, allowing you to uncover Chinatown from your own home! Uncover historical landmarks in a remarkable voyage through our nation's past – start your adventure today for the journey of a lifetime with the whole team!
Leisure Activities
24. Yacht Rental
Create an unforgettable day that you and your loved ones will treasure forever with a Yacht Rental in Singapore! Step away from the buzz of city life, and bask in serenity onboard one of our luxurious vessels. Whether it's for anniversaries or engagements, birthdays surprises or corporate events – don't miss out on this opportunity to create unforgettable memories at sea!
25. Cosmic Bowling
Revamp your usual bowling night with neon bowling! Enjoy a glowing, mesmerizing game of pins and strikes as you aim to get the highest score. The rules remain the same but an exhilarating twist awaits – so don't hesitate any longer! Get ready for a scintillating experience that will make you come back again and again.
26. Giant Board Games
Ready to inject a bit of vitality and originality into your next event? Why not throw in some life-sized, classic childhood games and have fun with jumbo Jenga, Pick Up Sticks, Connect Four or Snakes & Ladders! These interactive board games make the perfect icebreakers in Singapore – they let you relive those golden memories while working together to solve challenges that are bigger than ever before. So go ahead – bring back those dearly remembered pastimes!
Virtual Games
27. Virtual Mayday
Set sail with Captain Rogers on a riveting mission to rescue the botanist. You and your crew will help bring back our beloved hero, deciphering devious puzzles and clues as you go forward. This game emphasizes collaboration between teams – an essential factor for success! With the island's cyclone coming closer every minute, who knows what surprises await? Don't miss out on this unique Team Bonding experience that has taken over today's trends!
28. Virtual Party Mania
Ready to bring your team closer together with some unforgettable laughs? Look no further than our online party and group games! Experienced facilitators will guide you through the competition, giving everyone a chance to win awesome prizes. Not only is this an excellent Singapore-based Team Bonding activity, but it's guaranteed to give lasting memories of joy and camaraderie. So don't wait – let the fun commence now!
29. Virtual Jack's Hangover
Come together with your team and join the mission to help Jack, who is experiencing a severe case of amnesia! Rush around the hotel room and explore the casino in order to find out what happened during his wild night. But don't dawdle — time is running out for Jack's flight! Join this thrilling investigation now and make memories that won't be overlooked!
30. Virtual Game Show
Are you on the hunt for a low-cost, entertaining Team Bonding activity? The Game Show Challenge has got you covered! It's an ideal opportunity to test teams in trivia games. Whether played in restaurants, an office space or conference halls – this game is accessible and enjoyable everywhere by anyone. With its joyous atmosphere full of laughter and cheering among the players – your colleagues are guaranteed to have an exclusive bonding experience with The Game Show Challenge right now!
31. Virtual Time Travel
Dare to take the unprecedented journey through time and space, where you can prove that virtual travel is possible! Round up your friends for this mission of intrigue as you race against the clock to solve puzzles from across all eras. Show off your puzzle-solving skills under pressure – don't miss out on history's one-time offering before it passes by!
32. Virtual Squid Escape
Are you and your friends prepared for an unforgettable escapade? The Squid Game Escape Room offers a once-in-a-lifetime experience as you attempt to escape from the game's inventors. To make it out alive, solve perplexing puzzles, decode enigmas – all while uncovering secrets that might just be your saving grace! Will your squad gather their wits quickly enough before time is up?
33. Virtual Amazing Race
Are you ready to embark on an extraordinary journey around the globe? Rally your family, friends and colleagues for a thrilling race as you venture through picturesque destinations. By joining forces, uncover amazing rewards! Don't miss out – join us now for a captivating adventure that will keep everyone enthralled and energized!
34. Virtual Escape Room
Are you prepared for an extraordinary adventure? FunEmpire has crafted a remarkable, award-winning platform that can accommodate parties from two to hundreds. Exercise your problem solving and cooperative skills with friends, relatives or colleagues in the comfort of your own house! Whether it's Team Bonding activity or merely something new and fascinating – this is it. Seize the chance to stimulate yourselves differently now!
35. Hybrid Amazing Race
Gather your nearest and dearest friends or colleagues for an exhilarating team-building experience in Singapore! There is no limit to the number of people who may join you, so bring as many participants as desired. Compete fiercely against other teams at your next event for a truly remarkable time – don't miss out on this unforgettable opportunity! Enjoy strengthening relationships while adhering to social distancing rules; try this game today and take part in an engaging activity that combines emotional and physical aspects.
36. Virtual Food Quest
Are you a true food connoisseur? Prove your expertise with FunEmpire's immersive Virtual Food Quest and explore the delectable flavors of Singapore! Venture on this incredible expedition; it promises to be an immense success. Bon Appétit!
37. Virtual Travel Experience
Get ready for the trip of a lifetime – embark on FunEmpire's Virtual Travel Experience! From Treasure Hunt and Amazing Race to Escape Room Experiences, this electrifying adventure will take you through Singapore's remarkable history. Don't miss out – join in on the fun now!
38. Virtual Time's Ticking
Put your detective skills to the ultimate test and experience an adrenaline rush with an Escape Room challenge online! A dangerous force is targeting a city, so you have no time to lose – it's up to you and your team of mystery solvers from all across the world (no limit on participants.to save everyone. Work together, solve mind-bending puzzles as quickly as possible, and put a stop to this terrible threat before it's too late!
39. Virtual Nightfall
Dare to enter the timeless interactive game of Murderer and compete with your peers! This exciting experience encourages engagement through dialogue, body language, and persuasion. Everyone will be assigned a unique character ranging from killer or detective to superheroes – now is the time to find out if you have what it takes to succeed in this battle between good versus evil. Take on this thrilling challenge today!
40. Virtual Super Planet
Are you prepared to take on the role of a Superhero and save our planet? Showcase your incredible talents in this exciting Escape Room for Kids, uncovering fascinating puzzles. This escape room is the ideal way for kids to work together while obtaining essential knowledge — like sustainability! We need an inspiring leader such as yourself, Superhero; Earth requires saving now! Adorn yourself with heroic garb and be the savior of today's crisis!
Virtual Workshops
41. Virtual Candle Making Workshop
Take your creativity to the next level and cultivate unity among your squad with FunEmpire's Virtual Candle Making Workshop! Construct a beautiful, aromatic soy candle that includes an exquisite figurine crafted from the materials in our home kit. Now is the perfect time to boost team morale and bring everyone closer; join us for Singapore's highest-rated collaborative event today!
42. Virtual Balloon Sculpting Workshop
Releasing your artistic potential is easy and exciting with balloon sculpting! From the safety of home, you can construct amazing pirate swords, butterflies, rainbows or even flowers. With a few balloons and some imagination, transforming simple materials into remarkable works of art couldn't be easier – join us in unlocking the hidden artist within!
43. Virtual Stitched Leather Workshop
Unleash your creative prowess and join us for an immersive live experience to learn how to masterfully craft a leather card holder! Our Virtual Leather Stitching Workshop will provide you with the necessary tools, resources, and instruction from experienced professionals so that you can bring your custom creation into existence in no time. With only one session required, there's nothing stopping you from creating something totally unique – all it takes is some imagination and skillful artistry. Don't wait any longer: take part in this workshop today for a handmade item that is exclusively yours!
44. Virtual Terrarium Workshop
Let's get creative together from the comfort of our own homes with FunEmpire's award-winning digital workshops! Their Terrarium Home Kits are conveniently delivered straight to each participant, so you and your friends can have a fun time while staying safe. Don't miss out on this amazing opportunity – start crafting today!
45. Virtual Non-Stitched Leather Workshop
Embark on your thrilling adventure into leather crafting with our Virtual Leather Making Workshop! Our experienced instructors will guide you through the basics of craftsmanship, and when it's over, you'll be able to create beautiful handmade items right in the comfort of your own home – ideal for beginners or experts who want to unlock a world full of possibilities.
46. Virtual Canvas Art Jamming
Unleash your creative potential with FunEmpire! Gather up friends, family or coworkers to share in some quality time of painting and drawing. We provide you with all the materials needed for a successful art jamming session – no artistic skill required! This is a one-of-a-kind chance to express yourself through captivating art experiences from home. Don't miss out on this special journey and join us today!
47. Virtual Tote Bag Art Jamming
Join us for an extraordinary Virtual Art Jamming session to create your own unique tote bag! FunEmpire will be with you every step of the way, providing all required materials. It doesn't matter if art is not your thing; this event presents a fantastic chance to unleash creativity and cultivate something special – whether it's as a gift or just because! All that's needed is an open mind and you're good-to-go.
48. Virtual Clay Making Workshop
Unleash the potential of Team Bonding and collaboration by crafting clay figurines or charms! Our air-dry clay is lightweight, toxin-free, and offers immense versatility so everyone can submerge themselves into a world of creativity. Plus, with our unique product line you can even create special gifts for your friends and family! Don't miss this fantastic opportunity to explore your creative side – come join us today!
Top Venues For Team Bonding In Singapore
Listed below are some of our top recommended venues. Looking for more options? Check out our curated list of the Best Team Bonding Venues in Singapore as well!
1. FunEmpire HQ
Would you like to host your upcoming event in a private venue? Then, this special event space near Mattar MRT is ideal for all of your needs! Make it an even more memorable experience by adding some team bonding activities from FunEmpire. Whether it's Gel Candle Making or Poolball – this hidden spot in Singapore can bring your teamwork objectives to new heights without any onlookers distracting the attendees. Ensure that everyone has complete privacy and relish every moment at our inviting location.
2. CharisTurf @ Eunos
In search of the ideal location to host your next team-building event in Singapore? We have good news: look no further than CharisTurf @ Eunos! This venue provides ample space and parking, making it an optimal choice for large groups. Here, you and your crew can enjoy a variety of exciting activities including dodgeball, soccer, volleyball – and more!
3. FutsalArena @ Yishun
Put an end to mundane workdays and allow yourself the opportunity to embrace Futsal Arena @ Yishun! Here, you can get away from it all while taking in a stunning view of Yishun Park. In addition, this is your chance to sharpen teamwork skills through exciting activities like Bubble Soccer or Laser Tag with FunEmpire. Rally together until someone earns the title of champion – come see who will reign supreme among these "funtastic" games!
4. The Cage @ Kallang
Kallang is the perfect spot for your upcoming corporate event! Take advantage of the abundant and complimentary parking, private pitches with ample seating that provide shelter from any inclement weather. Moreover, we have teamed up with experienced event planners to ensure all of your needs are fulfilled – don't let this wonderful opportunity pass you by – reserve now!
Outdoor Venues Suitable For A Fun Team Building Activity
1. East Coast Park
Singapore's iconic East Coast Park is a much-loved destination for locals and tourists alike, featuring an abundance of scrumptious cuisine options and exciting activities. It isn't any surprise that corporate events are typically held there too—though with its popularity comes the downside of overcrowding. With it being a public space, it may not always be feasible to secure an area exclusively for your group if you don't arrive early enough; thus requiring more privacy can become quite difficult when organizing these sorts of events here.
2. Labrador Park
Step into Singapore's nature escape at Labrador Park, located on the city's southern tip! Within a few minutes walking distance from the brand new MRT station, this stunning park offers something for everyone. From playgrounds suitable for toddlers to historic tunnels and picturesque coastal views – explore it all when you visit Labrador Park!
3. Sentosa
If you are seeking a tranquil escape from the hustle and bustle of city life, Sentosa Island is your perfect solution. Here, in this splendid paradise surrounded by sun-kissed beaches and sparkling seas, you can take time away to relax with friends or colleagues while indulging in corporate team building activities or corporate events. It's an oasis like no other that will make it seem as if home has never been so far away!
4. West Coast Park
If you're searching for a peaceful, secluded area far from the city's hustle and bustle, West Coast Park is your perfect destination! This 50-hectare park in Singapore's southwest corner offers BBQ pits, camping sites, and various family friendly activities — making it easier to secure a spot if planned thrilling team building activities are outdoors. Don't forget electricity needs when selecting an outdoor location here; with fewer visitors than other parks this could be that special place for everyone to enjoy!
5. Pasir Ris Park
Treat your family or colleagues to an unforgettable adventure with a day at Pasir Ris Park! Located on the eastern coast of Singapore, this park boasts 6km worth of picturesque trails and mangrove forests. Not only that, you can also explore watersports options or hire barbecues for outdoor dining experiences with friends and co-workers. But wait – there's more! For team bonding activities, why not set up games in one of the open fields within Pasir Ris Park? With so much to do here, it'll be hard not to have fun!
Top 5 Team Bonding Companies In Singapore
Listed below are some of our top recommended companies for Team Bonding in Singapore. Looking for more options? Check out our curated list of the Best Team Bonding Companies in Singapore as well!
1. FunEmpire
Transform your gatherings, celebrations, travels and Team Bonding events into remarkably exciting experiences with FunEmpire – the ultimate source for quality entertainment! Experience thrills and cool team building activities like never before with FunEmpire!
2. Combat Archery Tag Singapore
Ready for a rush of adrenaline? Combat Archery Tag is the perfect great team building activity that merges aspects from paintball, dodgeball and archery. This exciting outing can be enjoyed by your whole family – anyone ten years or older! With Archery Tag Singapore you're sure to have an unforgettable time with loved ones. Get out there today and experience it yourself!
3. Poolball Singapore
Prepare for a completely unique experience with Poolball Singapore – the amalgamation of two classic games! You won't need any pool cues; instead, you'll be using soccer balls to aim and shoot into pockets on an oversized pool table. It's certain to provide hours of entertainment and enjoyment!
4. Terrarium Singapore
Ignite your creativity and craft an extraordinary glass garden. Build up relationships with the people close to you or at work, by joining our award-winning Terrarium Workshop in Singapore. Our experienced teachers will accompany you during every step of the journey – from start to finish – ensuring a mesmerizing experience! As one of the most renowned terrarium workshop organizers, we guarantee that it'll be nothing short than magical when attending our workshops!
5. Laser Tag Singapore
For a truly extraordinary Outdoor Laser Tag experience, look no further! Our sophisticated laser tag equipment is paired with camouflage tents to provide you an unforgettable encounter while enhancing team development. We are totally mobile and will bring all of our gear straight to your doorstep for maximum convenience! Even if space is limited or does not exist outdoors, fear not – we can even set up indoors as well!
Team Bonding Singapore
Team bonding is essential for any firm looking to improve the comradery, communication, and problem-solving skills among its employees. For your benefit, Singapore provides a ton of resources that may be precisely adapted to your group's requirements, including both indoor and outdoor favourite team building activities.
Do you want to be creative or are you looking for excitement? Look nowhere else! The best event planners include FunEmpire, Laser Tag Singapore, Combat Archery Tag Singapore, and Terrarium Singapore. You'll have a memorable occasion with their help that will ensure your team's objectives are met!
If you're looking for more recommendations, you can check out our other posts below:
Frequently Asked Questions
If you have any questions about Team Bonding in Singapore, you can refer to the frequently asked questions (FAQ) about Team Bonding in Singapore below:
Additional Useful Links
If you are looking for other useful guides and articles about Team Bonding in Singapore, check them out below: