Nail Salon Singapore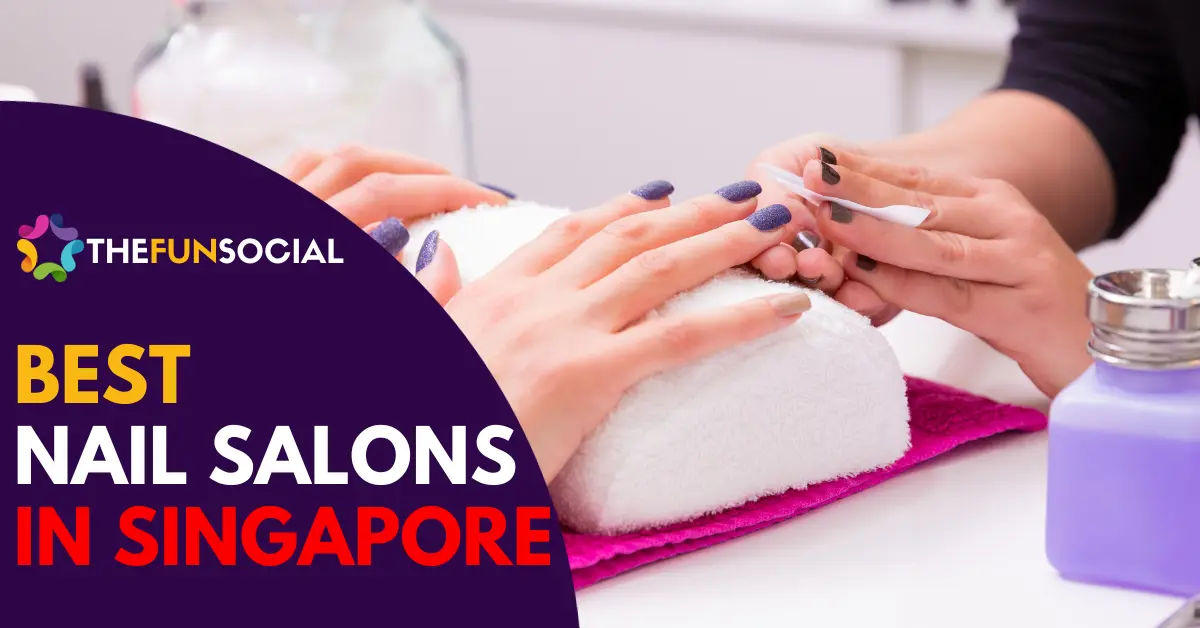 In the bustling city-state of Singapore, a place where beauty and self-care hold a significant place in the daily routine, top-notch nail salons offer a retreat from the urban frenzy.
The best nail salons in Singapore are Eileen Nails, Project Nails, Nail County, and The Nail Status.
When selecting a salon, take into account elements such as customer service, cleanliness, offered amenities, pricing, and location.
Nail salons in Singapore are well-known for their outstanding service, strict hygiene practices, wide range of services, competitive pricing, and convenient locations. They are a popular choice for both locals and tourists, seeking top-notch manicure and nail art services.
Whether you're searching for a quick manicure or a lavish nail spa experience, our list of the best nail salons in Singapore will guide you to the perfect spot for your nail care needs.
Quick Summary
Best nail salons in Singapore are Eileen Nails, Project Nails, Nail County, and The Nail Status.
When choosing a nail salon, consider factors such as the customer service, hygiene, available services, price, and location.
Nail salons in Singapore are renowned for their exceptional service, high hygiene standards, diverse service offerings, competitive prices, and convenient locations, making them a go-to choice for both local residents and international visitors wanting to indulge in top-tier manicure and nail art services.
Key Consideration Factors
When selecting a nail salon in Singapore, there are several key factors to consider:
Quality of Products and Services: The salon should use high-quality, safe nail products. In addition, the range of services offered should be diverse, catering to basic care, advanced nail art, and specialized treatments.
Hygiene and Safety practices: The salon must uphold rigorous hygiene standards. Tools should be properly sterilized, and the premises should be clean and tidy.
Skilled Technicians: The expertise and professionalism of the nail technicians greatly impact the overall experience. They should be well-trained, experienced, and stay updated on the latest trends and techniques.
Customer Service: Good customer service is a must. From booking appointments to service fulfilment, the process should be seamless, and staff should be courteous and responsive.
Price: The pricing should be competitive, offering good value for the services provided.
Location: A convenient location, easily accessible by public transportation or with ample parking, adds to the overall appeal of the salon.
Best Nail Salon Singapore
1) The Nail Artistry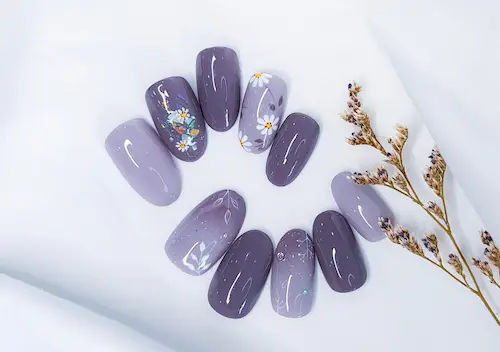 Key Services
For variety
Website
https://www.thenailartistry.com/
Address
Serangoon Gardens, 2 Maju Avenue, Singapore 556680
27 East Coast Road, Singapore 428749
Phone
+65 6966 1919
+65 6386 2722
Email
thenailartistry@gmail.com
Operating Hours
Open Mon-Fri 11am-9pm, Sat-Sun and Public Holidays 10am-9pm.
The Nail Artistry has a team of talented designers who offer a variety of modern designs. From adorable anime characters to soft feminine shades and vibrant color accents, there's something for everyone.
Sit back and relax in their comfortable seating while you enjoy a Classic Gel Manicure and catch a movie on their large TV screen. For a unique and adventurous look, try the Safari Eco Gel manicure, which features meticulous attention to detail and precise product application inspired by the wild jungle.
Alternatively, pamper yourself with a Deluxe Spa Manicure, a comprehensive treatment that includes cuticle care, hand massage, and nail shaping. These promotions are available at all The Nail Artistry outlets, while supplies last.
2) Nail Lodge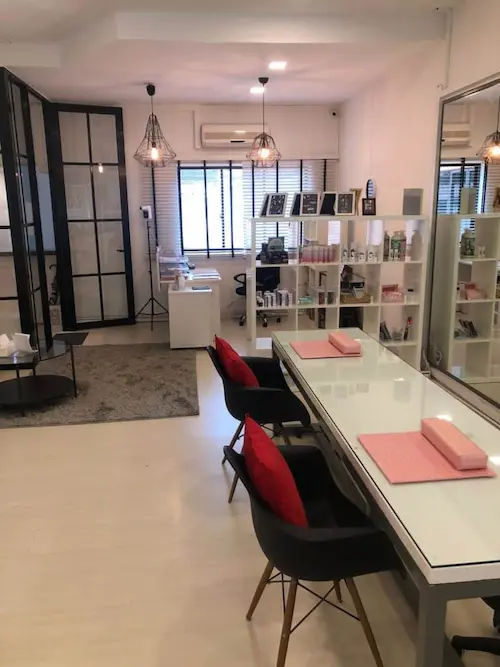 Key Services
Nail Salons Singapore: Manicure, Pedicure, Nail arts, Lash extensions
Website
http://www.naillodge.com/
Address
14A Maju Ave S556691
Phone
63830380 & 83236369
Email
enquiry@naillodge.com
Operating Hours
Mon-Sat: 10am-8pm
Sun and PH: 10am-7pm
Nail Lodge, nestled in the heart of Serangoon Gardens, is a cozy nail care salon located on the second floor of a shophouse across from MyVillage mall.
Committed to customer satisfaction and adopting a no-hard-selling approach, they provide a serene atmosphere where you can relax and indulge in a wide array of services, including nail care, eyelash extensions, SHR hair removal, and LED teeth whitening.
Whether you're a loyal patron or a first-time visitor, you'll receive exclusive discounts and exceptional service. Treat yourself to a well-deserved pampering session at Nail Lodge today!
3) The Nail Status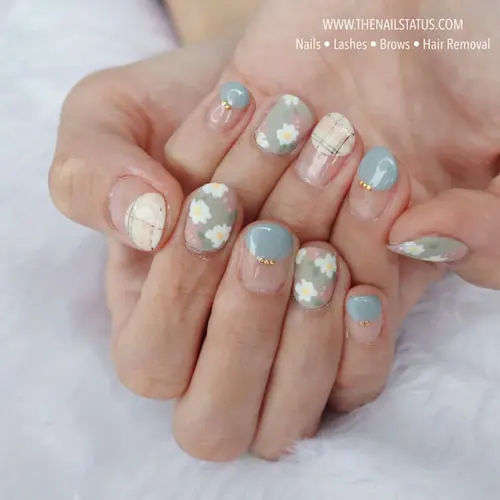 Key Services
Nail Salons Singapore: Nails, Lashes, Brows Embroidery, IPL
Website
http://www.thenailstatus.com/
Address
Far East Plaza #04-83
Wisteria Mall #01-14
The Seletar Mall #03-13
Phone
68362005, 63390735, 67027077
Email
thenailstatus@yahoo.com
Operating Hours
Far East Plaza: Mon-Sat 11 am – 930pm, Sun & Public Holiday 11 am -7 pm
Wisteria Mall: Mon-Sat 11 am – 930pm, Sun & Public Holiday 11 am -8 pm
The Seletar Mall: Mon-Sat 10 am – 9 pm, Sun & Public Holiday 10-8 pm
Founded in 2004, The Nail Status started its journey with a modest beginning – a single nail station and a commitment to delivering unmatched nail pampering experiences to everyone.
Over the years, The Nail Status has undergone an incredible transformation, expanding into a unique chain salon in Singapore that goes beyond just nails. Now, it offers a wide range of beauty services to fulfill the diverse needs and desires of its cherished customers.
4) Kiyone+LIM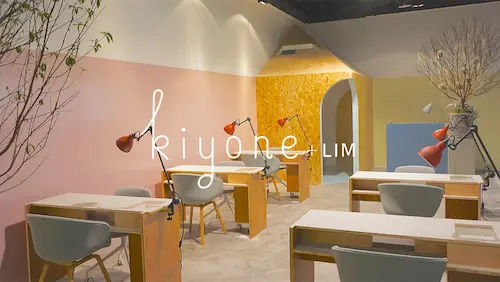 | | |
| --- | --- |
| Key Services | For the best Japanese-inspired nail art |
| Website | https://www.lessismore.co.jp/kiyone/ |
| Address | 325 New Bridge Road, #03-00, Singapore 088760 |
| Phone | +65 6834 3193 |
| Operating Hours | Open Tues-Sat 10am-9pm, Sun and Public Holidays 10am-6pm |
Kiyone+LIM sets the standard for elegance with their minimalist approach, beautifully captured by the phrase "Less Is More." While their color palette consists of a single hue, their designs are meticulously crafted by talented Japanese manicurists, showcasing their exquisite artistry.
With prices starting at S$80, their manicures may be higher compared to other establishments. However, the additional indulgence of a hand and forearm massage makes it a truly worthwhile investment, promising an unmatched experience for just $80.
5) Project Nails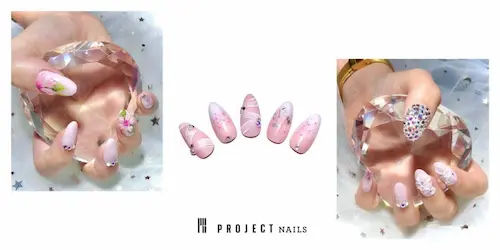 Key Services
Nail Salons Singapore:

Cuccio Paradiso spa manicure / pedicure
classic manicure / pedicure
men's manicure / pedicure
classic gel manicure / pedicure
ingrown toenail removal
Cuccio DetoXsoak treatment
nail art
nail extensions
eyelash extensions
waxing
Website
http://www.projectnails.sg/
Address
KATONG ADDRESS: 83 East Coast Road Singapore 428786
JURONG ADDRESS: Vision Exchange, 2 Venture Drive
02-36 Singapore 608526
Phone
KATONG: (65) 6344 1636 | ​​(65) 9626 9138
JURONG: ​​(65) 6250 9522 | (65) 8123 0989
Email
info@projectnails.sg
Operating Hours
11 am to 8 pm daily (Jurong branch is closed on all Wednesdays)
Project Nails is a nail salon that offers a cozy and stylish atmosphere. With locations in Katong and Jurong, they provide a wide range of services including manicures, pedicures, Cuccio Paradiso hand & feet spa, nail art, eyelash extensions, waxing, and hair services.
Indulge yourself in their massage chair, while savoring complimentary premium tea and homemade cookies baked by the salon's founder. Feel confident knowing that their skilled manicurists will take care of you.
Come and explore the unique experience of Project Nails. You might just discover a new favorite or even fall in love with it.
6) Exquisite Nails Spa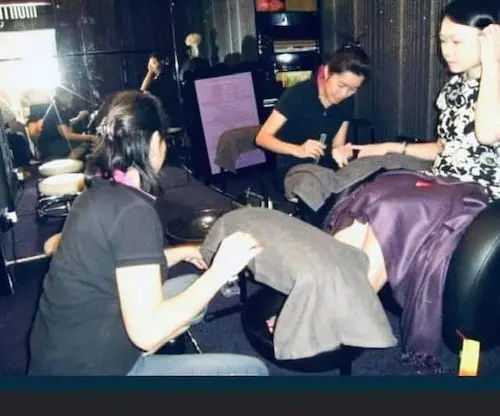 Key Services
Nail Salons Singapore
Website
https://exquisitenailsspa.com.sg/
Address
2 first street, Siglap v 01-03, Singspore 458278
Phone
62432837
Email
exquisitenail@singnet.com.sg
Operating Hours
Monday 10 am–9 am
Tuesday 10 am–9 pm
Wednesday 10 am–9 pm
Thursday 10 am–9 pm
Friday 10 am–9 pm
Saturday 10 am–9 pm
Sunday 10 am–12 am
For almost 18 years, Exquisite Nail Spa has been situated in the vibrant heart of Siglap, establishing a reputation for reliability and dedication to their loyal clientele. Their team of skilled and positive professionals consistently strives to provide efficient, professional, and customized experiences to valued clients.
Over the years, their commitment to enhancing techniques, fostering creativity, and offering imaginative nail art services has garnered the trust and loyalty of their customers.
Exquisite Nail Spa expresses heartfelt gratitude to their customers, friends, and family for nurturing exceptional relationships and trust.
7) Eileen Nails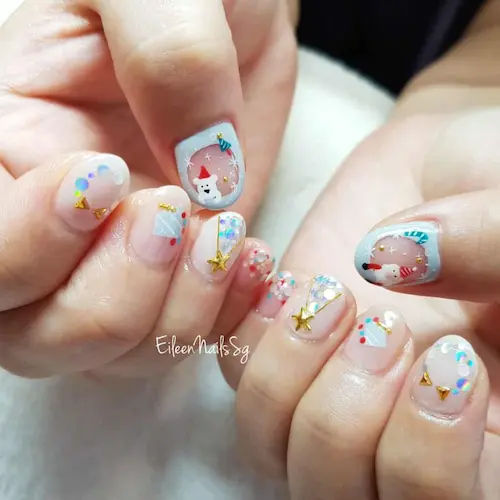 With over 6 years of experience in the nail industry, Eileen Nails is a private, appointment-only nail studio located just a 5-minute walk away from Woodleigh MRT station.
Offering a wide range of services including manicures, pedicures, nail art, and extensions, Eileen is committed to delivering a delightful and satisfying experience to customers.
Using high-quality products sourced from Japan and Korea, Eileen's passion for the arts and connecting with new people shines through in every appointment.
8) AgnesG.Nails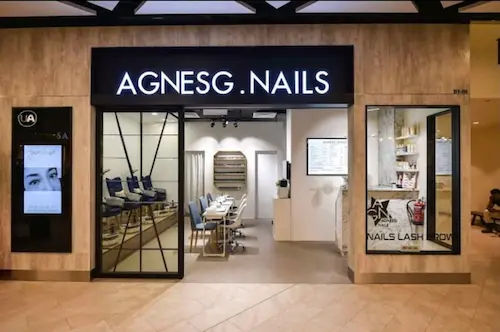 Key Services
Nail Salons Singapore: Customized nails, lash extension and brow embroidery
Website
http://agnesgnails.com/
Address
1 Maju Ave My Village #01-03 S556679
PLQ Mall 10 Paya Lebar Road #B1-06 S409057
Phone
6636 9887 / 6962 6887
Email
Agnesg.nails@gmail.com
Operating Hours
11am – 9pm
AgnesG.Nails is your one-stop-shop for all your nail, lash, and brow grooming desires. The salon caters to fashion-forward individuals who value both style and functionality. With a team of talented and seasoned therapists, they are committed to delivering personalized masterpieces for nails, lashes, and brows that go beyond customer expectations and ensure satisfaction.
9) Nail County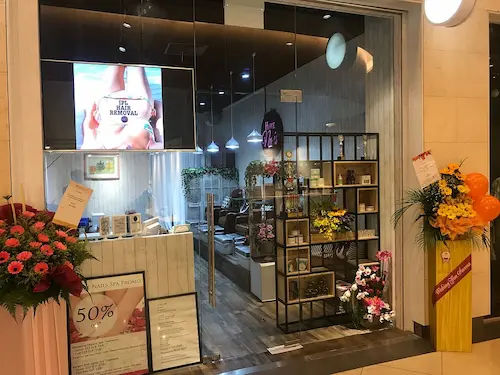 | | |
| --- | --- |
| Key Services | It offers various pedicure and manicure services ranging from a classic gel manicure and manicure plus, which many Singaporeans love |
| Website | http://www.nailcounty.com/ |
| Address | 9 Raffles Boulevard #02-20 Singapore 039596 |
| Phone | +65 6779 0014 |
| Email | singapore@nailcounty.com |
| Operating Hours | Mon – Sun, 11AM – 9PM |
Nail County is recognized as one of the premier nail salons in Singapore, known for its exceptional services and unparalleled expertise. Specializing in Korean nail art, the salon offers a wide range of treatments, including nail repair, pedicures, and manicures.
Nail County's mission is to provide a truly satisfying experience to every client, ensuring maximum comfort and contentment.
Their team of skilled professionals guarantees top-quality services at competitive prices, leaving you feeling nothing but pure delight and satisfaction.
10) Home Nails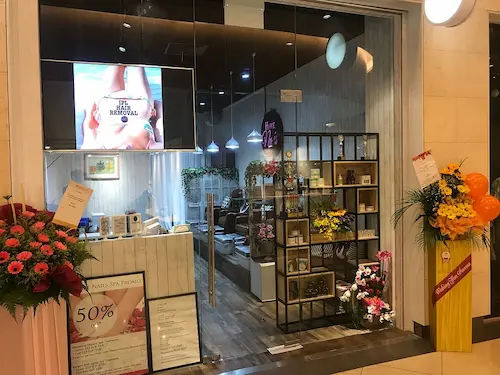 Home Nails, a manicure specialist with over four years of experience, offers the ideal solution for all your nail requirements. Conveniently located in the heart of Singapore, Home Nails provides affordable options.
Their team of skilled and amiable nail artists can bring to life any nail design you can envision. The salon offers a diverse range of services, including 3-D acrylic nails, matte dry nail extensions, gel polish, and much more.
11) Hanah Nails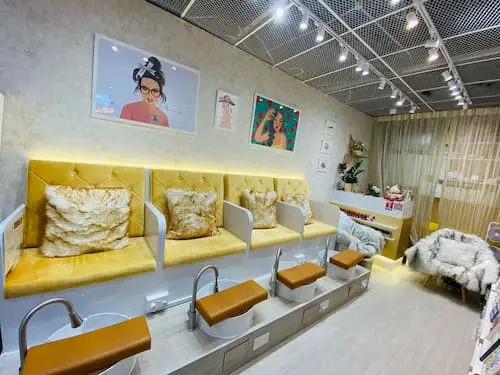 Located in the bustling heart of Bugis Street, Hanah Nails is conveniently situated on the 3rd floor. Offering a diverse selection of top-notch nail services, their team of skilled manicurists with over 10 years of combined experience can expertly handle everything from basic manicures and pedicures to intricate customized nail art.
Hanah Nails takes great pride in sourcing products directly from authorized distributors and manufacturers, ensuring the highest quality and integrity. Experience their affordable prices starting at just $13 for a classic manicure!
12) Manicurious
Manicurious is a well-known manicure service that provides a diverse selection of outstanding designs, encompassing glossy, matte, elegant, and basic styles. If you have a passion for nail art, this is the ideal destination.
The salon offers a comfortable and inviting ambiance, allowing you to unwind as you have your nails expertly done in vintage-inspired chairs. Although the prices may be slightly higher compared to other nail salons, the exceptional quality you'll receive unquestionably justifies the investment.
Nail Salon Singapore
Singapore's nail salon scene is brimming with a variety of options, each offering a distinctive experience catered to diverse tastes, needs, and budgets. From minimalist, elegant designs at Kiyone+LIM to intricate Korean nail art at Nail County, the city-state proves to be a paradise for nail art enthusiasts.
Whether you seek a luxurious treatment with a relaxing massage or a quick manicure session, there's a salon out there perfectly tuned to your preferences.
As you journey through these establishments, remember to enjoy the process and, most importantly, let your nails do the talking!
Frequently Asked Questions (FAQ)
If you have any questions about Nail Salon in Singapore, you can refer to the frequently asked questions (FAQ) about the best Nail Salons in Singapore below:
What are the best nail salons in Singapore?
The best places for dessert in Singapore are Nail Artistry, Nail Haven, Eileen Nails, Fancy Nails Paradise, and Nailgasm.
Is it expensive to get your nails done in Singapore?
Getting your nails done in Singapore is actually quite affordable. Manicures and pedicures typically start at around $15 at most salons, depending on the specific place.
How much does a mani pedi cost in Singapore?
In Singapore, the price for a mani pedi usually begins at approximately $15, varying based on the salon. For more elaborate designs like nail art or gel extensions, the cost can go up to $100 or more.
How much do gel nails cost in Singapore?
In Singapore, the cost of gel nail extensions usually ranges from $40 to $80, depending on the salon. For more elaborate designs like nail art or 3D sculptures, prices can go as high as $100.
What are the top nail salons in Singapore known for their quality services?
When it comes to top nail salons in Singapore, Nail Social is a highly recommended choice. They are renowned for their exceptional nail treatments, including gel manicures, gel extensions, and nail repair treatments.
Which nail salons in Singapore provide a range of pedicure services and foot massages?
If you're looking for a comprehensive nail salon experience that includes pedicure services and foot massages, consider visiting Nail Social. They offer a variety of pedicure options accompanied by soothing foot massages to enhance relaxation.
Where can I find a socially conscious salon that offers environmentally friendly nail treatments in Singapore?
For an environmentally conscious nail salon experience, Nail Social is the place to be. They prioritize sustainability and use eco-friendly products, making them a socially conscious choice for your nail treatments and spa services.
Are there any nail salons in Singapore specializing in gel extensions?
If you're interested in getting gel extensions, look no further than Nail Social. They have skilled technicians who specialize in providing high-quality gel extensions, ensuring long-lasting and beautiful results.
Do nail salons in Singapore offer other beauty services besides nail treatments?
Absolutely! Nail Social, being a full-service beauty salon, offers a wide range of beauty services in addition to nail treatments. Treat yourself to luxurious spa treatments, coat nail lacquers, and various other beauty services to indulge in a complete pampering experience.
Where can I get a classic pedicure and gel pedicure for healthy nails in Singapore?
To maintain healthy nails while enjoying a classic nail polish, gel extension, or gel pedicure, visit Nail Social. Their skilled technicians prioritize nail health and use high-quality products to ensure your nails are well taken care of during the treatment process.
Additional Useful Articles
If you are looking for other useful guides and articles about Nail Salons in Singapore, check them out below: