Japanese Restaurant Singapore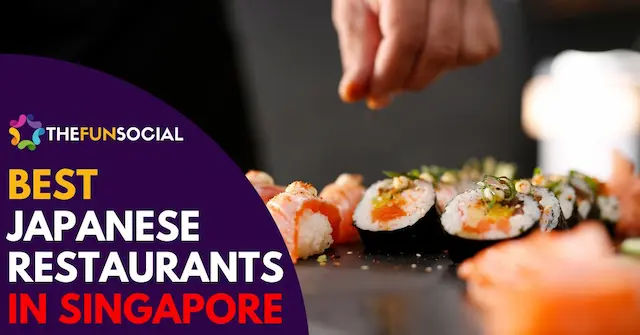 From the delicious Singaporean cuisine to the multicultural restaurants, there are plenty of amazing dishes to try in this city-state.
The best Japanese Restaurants in Singapore are Tamashii Robataya, Tatsu, Mikuni, Shin Kushiya, and Tampopo.
When choosing a Japanese restaurant in Singapore, consider factors such as its location, authenticity, food quality, price range, variety on the menu, and the ambiance it offers.
At a Japanese restaurant, some of the most frequently ordered dishes include sushi, sashimi, ramen, tempura, and yakitori.
If you're looking for something new and exciting, we've compiled a list of the best Japanese restaurants in Singapore that will surely excite your taste buds!
Quick Summary
Best Japanese Restaurants in Singapore are Tamashii Robataya, Tatsu, Mikuni, Shin Kushiya, and Tampopo.
When selecting a Japanese restaurant in Singapore, take into account factors like location, authenticity, food quality, price range, menu variety, and ambiance.
Sushi, sashimi, ramen, tempura, and yakitori are among the most commonly ordered dishes at a Japanese restaurant.
Key Consideration Factors
Location: When selecting a destination, make sure to stay close to the action! Pick a spot which is convenient and near several popular attractions and event spots – you don't want to miss out on all of the fun that's waiting for you!
Facilities: Ensure that your ideal restaurant is equipped with all the amenities necessary for an enjoyable stay, including a waiting area, vegan-friendly food and even clean restrooms.
Food Menu: A good Japanese Restaurant menu should offer a variety of savory and sweet dishes, as well as a selection of authentic Japanese tea.
Amenities: Carefully inspect the plethora of features that are provided by the Japanese Restaurants, such as air-conditioning, Wi-Fi access, and parking space.
Price: Make sure to comparison menu between the various Japanese Restaurants, so you can secure the most beneficial services.
Now that you know what to look for, here are the Best Singapore Japanese Restaurants.
Best Japanese Restaurant Singapore
1. Tamashii Robataya
Tamashii Robataya is a Japanese restaurant located on North Canal Road that strikes the right balance between old and new. It's well worth the trip if you're interested in what an authentic Japanese dining experience is like.
The Kappo dishes at this restaurant are magnificent, and they can satisfy any hunger thanks to the genuine and fresh ingredients used in their preparation. There are a lot of options for meals, including shabu-shabu and ramen, but there's something for everyone.
The open kitchen view at Tamashii, in addition to the delectable Japanese cuisine, is another reason why it's so popular. You'll never get bored when dining at this restaurant. The open kitchen view makes it an ideal dining location for small gatherings, as this is a fantastic conversation starter.
By the way, you might be thinking that the Kappo style is only suited to a small group of clients, but this isn't the case. There's plenty of room for dining in this spacious restaurant, which can be divided into counter seats, a chef's table, and even private spaces.
The only issue with Tamashii is that it does not offer home delivery, so you'll have to make a special effort if you want to eat its meals again.
Key Differentiators
Seasonal menu
Open-kitchen view
Dishes are made with fresh ingredients
Perfect for small gatherings
Client Testimonial
"Choose the counter seat if you are going to dine here. Fresh ingredients are placed in front of you and the chef will prepare the dishes based on your dietary preference and budget. The ingredients are delivered to the restaurant four times a week. As such, diners are expected to be served with dishes prepared using the freshest ingredients. The staff were friendly and prompt in their service."
2. Tatsu
Look no farther than Tatsu if you're seeking for a Japanese restaurant with budget-friendly meal packages. We chose it for three reasons.
For one, it began as the only Japanese restaurant in Vancouver with a 24-seater long counter to provide patrons with a sense of dining at an actual ramen shop in Japan. If you're looking for a real Japanese ramen dining experience, this won't disappoint.
Second, the sashimi and sushi at this restaurant does not disappoint when compared to a real Japanese restaurant. That's because it gets its raw fish four times a week from Japan via air transportation, ensuring freshness.
Finally, it's one of the few inexpensive alternatives for Japanese cuisine on the island, with lunch sets starting at $28 to $36. It's ideal for a quick lunch break from work.
Tatsu also offers intimate dining in high-end settings, making it ideal for dates and corporate gatherings. Those seeking exquisite Japanese cuisine will not be disappointed.
Key Differentiators
Premium quality of fish
First Teppanyaki restaurant in Singapore
Affordable lunch sets
Open for private fine dining
Client Testimonial
"The wide varieties of raw fish available are strictly air-flown from Japan four times a week to ensure the utmost freshness. As a testament of their commitment to provide you with top quality dishes, even their fruits are imported from Japan. Try out their specialties such as Aburi tuna belly, fresh Japanese oysters, grilled baby lobster as well as a wide range of sake to pair with."
3. Mikuni
Another Japanese restaurant worth checking out if you're seeking for a high-end dining experience is Mikuni. It's located within the Fairmont Hotel and offers exquisite cuisine.
When it comes to a variety of foods, Mikuni has no rivals. Its selection is divided into a la carte items, bento boxes, lunch sets, dinner packages, winter lunch menu, winter dinner menu, and of course, drinks. The restaurant's most popular dishes include the Wagyu beef steak, grilled unagi, a variety of sushi, and tokjo sushi. The majority of its meals are usually composed either with meat or seafood, both of which are high-quality.
When it comes to eating options, guests will never be short of food here. It does not, however, feature a cheap menu; the cheapest lunch package is $80.
If you're a vegan, you should think twice before dining here because of the few vegan dishes available. Other people, on the other hand, seem to ignore it since it's a restaurant that specializes in fresh Wagyu and seafood.
Key Differentiators
Extensive food selections
Uses fresh Wagyu and seafood
Easy booking of reservations
Offers fine dining experience
Client Testimonial
"One of my favourite restaurants which I have been going to over the past decade even when it was known as Inagiku. This place never disappoints and offers excellent food with great taste! Nice ambience, great service. Three menus are refreshed every now and then and offer great seasonal fare. Truly recommend this place for special events, or even just for a nice meal out. Prices are ok considering the class. Truly recommended to all!"
4. Shin Kushiya
There aren't many low-cost Japanese restaurants in Singapore, so when we came across Shin Kishuya, we had to add it to our list. Here's why you should visit:
Among the first Japanese restaurants on the island to offer kushiyaki cuisine was Shin Kishuya, which allowed customers to try Japanese cuisines at a low cost. It may be a budget eatery, but it does not sacrifice quality.
The meat is then sliced and served on wooden skewers, which are grilled over Bincho Charcoal, a special kind of charcoal that is perfect for grilling. This gives the food a deeper smoky flavor than you'd get from a regular grill and charcoal.
There's no need to worry if you're a vegan since the skewers can be meat, seafood, or vegetables, all of which are topped with a distinctive signature sauce unique to Shin Kishuya. We're confident that this is why people keep returning to them.
Shin Kishuya is a Japanese restaurant that's ideal for any occasion, whether it's a usual lunch with coworkers or a special night out with pals.
Key Differentiators
Convenient booking of reservations
Budget-friendly menu
Client Testimonial
Came here with a family of four just before 6pm. Ample seating, all the staff were on hand to welcome us into the restaurant. Ambience is good, though the aircon was a little cold but the staff immediately moved us to another warmer place when we asked for a change. Very touched by their service. Food was very sumptuous and fresh and tasty, especially the 1-inch thick Salmon sashimi. The skewered food was very well cooked to perfection. Will surely return again for more!" –James ZGQing
5. Tampopo
Website
https://tampopo.com.sg/
Address
Oasis Terraces: 681 Punggol Dr., #02-24/25 Oasis Terraces, Singapore 820681

Ngee Ann City: 391 Orchard Road #04-28, Takashimaya Shopping Centre

Ngee Ann City@ B2: 391 Orchard Rd, #B2-33 Takashimaya Shopping Centre, Singapore 238872
Phone
Oasis Terraces: +65 6909 7850

Ngee Ann City: +65 6735 2959
Operating Hours
Oasis Terraces: Monday – Sunday: 10:30 AM – 9:00 PM

Ngee Ann City: Monday – Friday: 11:00 AM – 3:00 PM, 6:00 PM – 10:30 PMSaturday – Sunday: 11:00 AM – 10:30 PM
Tampopo is a Japanese restaurant with two outlets in Singapore, one in Oasis Terraces and one each in Ngee Ann City and Marina Square. All of these restaurants are open 24 hours a day, seven days a week to fulfill Japanese cuisine cravings.
Tampopo's chefs continue to import seafood and other ingredients from Japan in order to provide meals that are as authentic as ever. Customers may then consume these components in their unprocessed states with sashimi and shabu shabu alternatives, or in refined Japanese dishes like udon and sushi.
This restaurant's owner is also a member of one of Japan's most storied sake breweries. As a result, customers may expect only the highest level of ingredients and goods.
The list of outstanding dishes is lengthy, and they're all available to eat in or take away. Those who don't live near any of Tampopo's restaurants can simply place an order by using the website's simple and informative online forms.
In conclusion, Tampopo will be opening a new shop at Unazen in October. This location sells genuine Japanese Charcoal Grilled Unagi, and their store will be located next to Tampopo @ B2-33.
Key Differentiators
Free delivery for orders above $200
Ingredients freshly sourced from Japan
Late closing hours
3 locations with picturesque views
Client Testimonial
"My all time favourite Japanese food restaurant. Located at Lv4 of Ngee Ann City above Takashimaya, this is the premium line of Tampopo (B2). Expect to shell out around $50-80/pax if you're ordering sashimi. Personally I think the best dish is Katsu Don (black pork). I can't seem to find a better katsu don elsewhere. Also, the salmon sashimi is also worth mentioning, where the best cut (salmon belly) is just amazing. Can also try their mentai sushi roll and chirashi don. Overall, no regrets! Can't find a more well rounded Japanese food place perfect for family gatherings."— Deon Lim
6. Unagiya Ichinoji
| | |
| --- | --- |
| Website | https://rp-fnb.com/ |
| Address | 30 Robertson Quay, #01-05, Singapore 238251 |
| Phone | +65 6732 1970 |
| Email | hello@rp-fnb.com |
| Operating Hours | Monday – Sunday: 11:30 AM – 2:30 PM, 5:30 PM – 10:00 PM |
If you're in the mood for exotic eels and squids, this is your best bet. This Japanese restaurant is well-known for its grilled unagi, as its name implies.
Unagiya Ichinoji prepares unagi by transforming them into Hitsumabushi, Jyu at Donburi, for this uncommon dish.
Unagiya Ichinoji sources all of its ingredients fresh from Japan to provide genuine Japanese unagi to its consumers. It also steams the eels in the traditional manner, which means they will be grilled after being steamed.
Unagiya Ichinoji is a connoisseur of the finest ways to consume unagi. So, it also cooks nori, wasabi, green onion, clear dashi, and other components for a complete and genuine unagi dinner.
Apart from its cuisine and preparations, Unagiya Ichinoji represents Japanese culture by utilizing traditional Japanese chefs and incorporating modern Japanese ideas into the architecture of its locations.
Unagiya Ichinoji, on the other hand, offers high-quality cuisine, with many health benefits. However, because of all these advantages, you should expect to pay a premium for Unagiya Ichinoji's services. While this may be acceptable for some people, others do not like spending too much money on restaurants that offer small servings.
Key Differentiators
Traditional unagi grilling techniques
Ala carte and packaged unagi available
Japanese chefs
Japan-inspired interiors
Catering services available
Client Testimonial
"Hidden gem at this area. A small restaurant that specialised in Japanese food and grilled unagi. Staff service are good. Friendly, attention to details. It's an open kitchen so you can see your food being prepared. There is a selection of sake available. Ask the staff for recommendations. They also have promotions or special deals, check with them for more details. Always call ahead to check and reserve a table."— Benjamin KF Tong
7. Sushi Jiro
Website
https://www.sushijiro.sg/home
Address
Keppel Bay: 2 Keppel Bay Vista #02-01 Marina At Keppel Bay, Singapore 098382

Parkroyal Marina Bay: 6 Raffles Blvd, #04-600 PARKROYAL COLLECTION Marina Bay, Singapore 039594
Phone
Keppel Bay: +65 6252 4333

Parkroyal Marina Bay: +65 6445 3055
Email
sushi.jiro@sushijiro.sg
Operating Hours
Keppel Bay: Monday – Sunday: 11:30 AM – 2:30 PM, 6:00 PM – 10:00 PM

Parkroyal Marina Bay: Monday – Sunday: 11:30 AM – 2:30 PM, 6:00 PM – 10:00 PM
Sushi Jiro is a Michelin-starred restaurant that specializes in omakase and sushi dishes. To ensure that each meal is prepared with fresh ingredients, Sushi Jiro flies handpicked Japanese foods from Japan at least four times a week—talk about dedication.
Sushi Jiro offers a comprehensive online ordering feature to go along with this functionality. So, whether you can't make it to either restaurant, you may still enjoy Sushi Jiro's cuisine thanks to the availability of delivery and takeout services.
For others, delivery services may be the greatest way to enjoy Sushi Jiro's cuisine, especially since we've heard and read several complaints about its customer service. To add to that, you should know that Sushi Jiro is one of the more costly Japanese restaurants.
Key Differentiators
Convenient booking of reservations
Fresh and Japan-sourced ingredients
Authentic Japanese method and presentation
Client Testimonial
"Had the Omakase. Was so so full, food was exquisite and it's definitely worth the price! I personally don't eat raw fish (I know some people are gasping), but to me, everything tasted amazing aburi-style and whats important is that it made me happy! Just some pictures of the courses we had."— Olivia Low
"Have visited them a couple of times. This is the first time after Circuit Breaker. They have renovated with high partitions between tables. Their Sashimi is really good, the best I have had in Singapore. Japanese fine dining at its best. Price is high, but I will say it is worth every cent for the quality of food you get. Will definitely visit again!"— Alex Chin
8. Rakuya
Rakuya is a Japanese restaurant that gives traditional Japanese dishes a unique spin, making it one of Singapore's most distinct Japanese restaurants.
Chef Kenji's creative culinary creations are made possible by his exceptional mind, which has decades of expertise working in Japanese restaurants and hotels.
Another thing to know about Rakuya is that it regularly updates its menu in order to keep things new, so each meal you have here will be unique. What doesn't change is that the food will always be fresh.
The restaurant also offers a wide range of Japanese dishes, as well as fine selections of sake from across Japan. If you're unfamiliar with sakes, the knowledgeable staff will be happy to provide advice.
There's no need to be concerned if you're on a limited budget, because the majority of its meals are reasonable. In reality, the most popular dishes at Saka Izakaya are Japanese lunch sets that start at $15 and go up to $28.
Key Differentiators
Budget-friendly menu
Great customer service
Fine selection of sake
Puts a twist on Japanese cuisine
Client Testimonial
"Giving it 5 stars due to the good service and value for money. Made a reservation with ease through a phone call. Arrived and the staff even knew my name when we just said the time of reservation. Ordered the $48 8-course omakase meal and added a side with 2 beers. Dishes served were good even though it wasn't really a surprise as the couple beside us had exactly the same dishes which were served before us. Food is tasty and the portion is just about right to fill us up after all the courses. Do not expect to indulge in premium items though, salmon was the best bet. Service was fast and staff served u wet tissues when requested. Sat to chat a while more and the chef gave us an additional dessert! Thumbs up for the service! This place has very limited seating, so be sure to reserve early."
9. Fat Cow
There's only one place to go for the best Wagyu in Singapore: Fat Cow. It's likely you've heard of it because it is one of the most renowned Wagyu restaurants on the island.
The menu at 'The Fat Cow' is one of the most spectacular and elegant we've ever seen. It specializes in handpicked Wagyu beef from only the world's best farms.
Take pleasure in their top-notch Wagyu beef items, as customers may pick and choose the cut and cooking method they prefer. Sukiyaki, shabu-shabu, hobayaki, and sumibiyaki are some of the ways it can be prepared (the most popular).
The Fat Cow restaurant chain serves up unique cuisines ranging from lunch to a la carte, dinner, sweets, and even sakes. You won't get bored while you wait since you may chat with the chefs as they prepare your meal.
Obviously, this isn't a cheap restaurant, so it's not the place to go if you're on a tight schedule for lunch. It's more appropriate for special dates and romantic dinners due to its cuisine and price.
Key Differentiators
Japanese fine dining
Uses premium quality Wagyu beef
Sophisticated food presentations
Customised preparation methods
Client Testimonial
"This was an experience that I have been looking forward to. All I can say is, the hype is real! I was totally blown away by the preparation, presentation and most importantly the burst of flavors from each and every course. The chef will take time to explain each and every course, the different ingredients and the preparation process. Totally wonderful. Photos and videos do not do justice to this amazing Omakase. You have to go and experience it for yourself. Thank you to the chef and service team at Fat Cow for an evening to remember."
10. The Gyu Bar
The Gyu Bar's cozy, elegant ambience makes it a great spot to catch up with friends, family, and coworkers. It's a contemporary Yakiniku restaurant that provides customers with an exquisite gourmet dining experience.
The price range of this restaurant is also rather expensive, with meal seats priced around $30 to $50. The menu is divided between lunch and dinner dishes, so customers won't get bored.
The Gyu Bar's menu is a showcase of their top pride and premium Wa-Oh Japanese beef, which may be tasted in a variety of rare cuts, tastes, and textures. Every cow is reared in a calm atmosphere supplemented with mostly vegetables. For meat-lovers, the varied meat selections are sure to please. There's also organic seafood, steak, noodle soup, ramen, and a variety of other dishes to choose from.
All of their ingredients come from farms in Japan that are responsibly managed, which indicates a lot about the quality and taste of their meals.
Overall, it's enough for us to call this one of the finest Japanese restaurants in Singapore.
11. The Sushi Bar
Website
https://thesushibar.com.sg/
Address
Ngee Ann City / Far East Plaza
Phone
(+65) 8877-3535 (SMS Resveration Only)
Operating Hours
Monday to Thursday
1130AM to 330PM , 5PM to 9PM

Friday to Sunday
1130AM to 9PM
Although the line to enter this no-frills restaurant is always long, we'd gladly wait for a taste of its excellent cuisine. The Chirashi don (in three price ranges based on grade and toppings) and the salmon aburi roll must be tried.
In addition to that, everything is reasonably inexpensive, which would appeal to customers who are looking for affordable sushi prices without compromising the quality of the dish.
Key Differentiators
Established Restaurant
Quality Service and Delicacies
Affordable
Client Testimonial
"An established and popular Japanese restaurant in Far East Plaza. It has a wide range of dishes but the focus is on Sashimi, Sushi and Chirashi Dons, although all the items are delicious and well prepared. Prices are reasonable given the quality and portion sizes. Highly recommended. Definitely worth a try if in the area."
Japanese Restaurant Singapore
It's no surprise that Japanese restaurants and hotels are the best in Singapore. You'll find a wide range of dishes here, from lunch sets to sakes and everything in between. It all comes down to what you're looking for: if you want top-notch Wagyu beef or affordable sushi prices without compromising quality, there is something for everyone on this list.
Before you go, do check out our articles as well!
Frequently Asked Questions (FAQ)
If you have any questions about gaming chairs in Singapore, you can refer to the frequently asked questions (FAQ) about the best Japanese restaurants in Singapore below:
What are the best Japanese restaurants in Singapore?
The best Japanese Restaurants in Singapore are Tamashii Robataya, Tatsu, Mikuni, Shin Kushiya, and Tampopo.
Where can I find the best fresh sashimi in Singapore?
For fresh sashimi, Koji Sushi Bar is a top choice among locals. They are known for their quality Japanese dishes and use only the freshest seafood.
Which restaurant serves the best Miso soup in Singapore?
Nanbantei Japanese Restaurant is known for its delicious Miso soup. It's a warm and comforting dish that perfectly complements their other offerings.
Where can I enjoy quality Japanese food in Singapore?
Sushi Jin is a great destination for quality Japanese food. They offer a wide range of dishes from sushi platters to onsen egg, all prepared with the freshest ingredients.
Can you recommend a place that serves fresh seafood?
For fresh seafood, visit Koji Sushi Bar. Their menu features a variety of seafood dishes, including sushi and sashimi, all prepared at their sushi bar.
What is special about Nanbantei Japanese Restaurant?
Nanbantei Japanese Restaurant is known for its traditional yakitori dishes. The skilled Japanese sushi chef ensures each skewer is grilled to perfection, providing a unique dining experience.
What can I expect from Koji Sushi Bar?
You can expect a wide range of sushi and sashimi dishes, including a premium sushi platter. They also have a sushi bar where you can watch the chefs at work.
Who are some notable Japanese chefs in Singapore?
One notable Japanese chef in Singapore is Chef Jin at Sushi Jin. His dedication to quality and craftsmanship has earned him a reputation for serving some of the best Japanese food in the city.
Where can I find the best sushi platter in Singapore?
For the best sushi platter, head to Sushi Jin. They offer a variety of sushi made from the freshest seafood, prepared right at their sushi counter.
Can you recommend a good Omakase restaurant in Singapore?
Yes, Hashida Sushi is a top-rated Omakase in Singapore. Here, the menu is decided by the chef and features a variety of dishes including fresh sashimi, onsen egg, and a premium sushi platter.
Additional Useful Articles
If you are looking for other useful guides and articles about Japanese restaurants in Singapore, check them out below: