Wagyu Buffet Singapore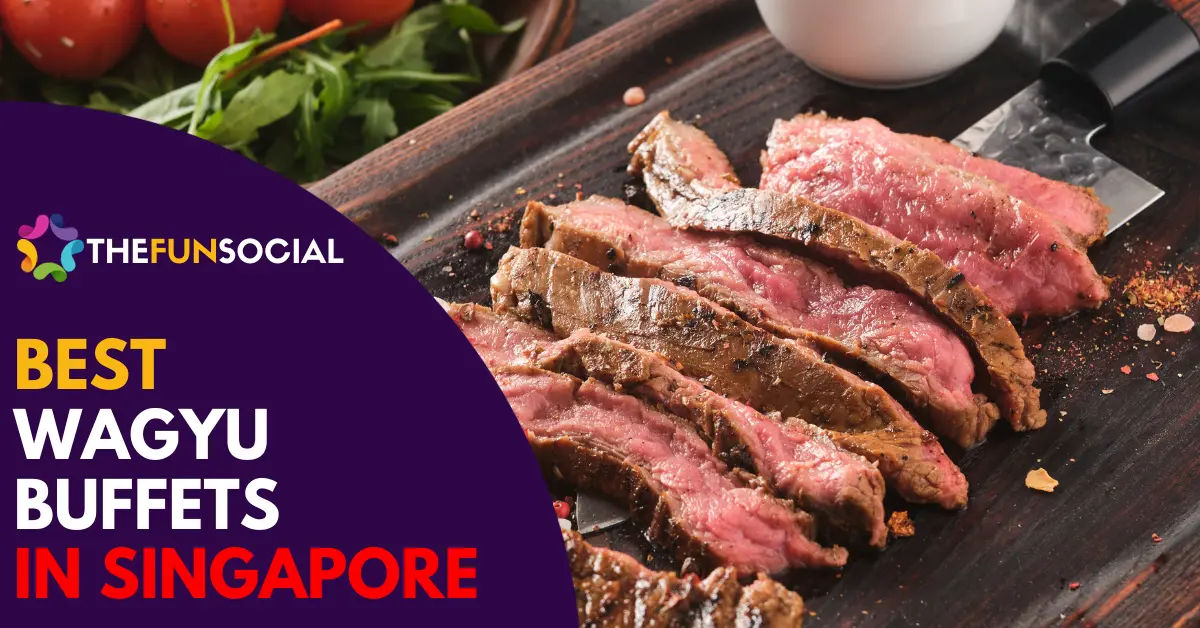 Wagyu beef, renowned for its exquisite marbling and melt-in-the-mouth tenderness, has carved its niche in the culinary world.
The best Wagyu Buffets in Singapore are Yakiniku Ohji, Gyu-Kaku, Suki-ya Kin, and Hitoyoshi Yakiniku.
When selecting a buffet, it is important to consider factors such as the range of food options, feedback from customers, quality of customer service, location, and pricing.
In Singapore, Wagyu buffets showcase the city-state's passion for top-notch cuisine. These buffets provide a limitless spread of exquisitely marbled, melt-in-the-mouth premium beef, delighting diners with its unparalleled tenderness.
This article will take you through the top Wagyu buffets in Singapore, where you can indulge in an unlimited feast of this luxurious delicacy.
Quick Summary
Best Wagyu Buffets in Singapore are Yakiniku Ohji, Gyu-Kaku, Suki-ya Kin, and Hitoyoshi Yakiniku.
When choosing a buffet, make sure to check out the food variety, customer reviews, customer service, location, and price.
In Singapore, Wagyu buffets stand as a testament to the city-state's love for high-quality Japanese food, offering diners an unlimited feast of exquisitely marbled, melt-in-the-mouth tenderness that is a hallmark of this premium beef.
Key Consideration Factors
Before going to a wagyu buffet restaurant, make sure you have checked out these important factors:
Food variety: A good Wagyu buffet should offer a wide range of food options, including different cuts and grades of Wagyu beef, as well as other types of meat like pork and chicken.
Customer reviews: It's always helpful to check out what others have to say about their dining experience at the buffet. Look for reviews from trusted sources or ask your friends for recommendations.
Customer service: The customer service at a Wagyu buffet should be top-notch, with attentive staff and prompt responses to any requests or issues.
Location: Consider the location of the buffet, whether it is easily accessible by public transport or if there is ample parking available nearby.
Price: Wagyu beef is a luxury item, so expect to pay a premium for a good wagyu buffet. However, make sure to do some research and compare prices between different buffets to get the best value for money.
Best Wagyu Buffet Singapore
1) Japanese Yakiniku Heijoen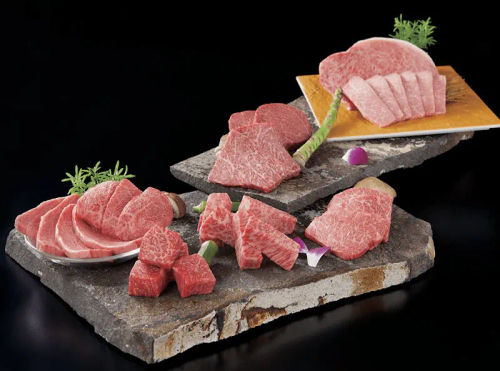 Key Services
Premium A5 Japanese Wagyu beef
Address
100 Tras St, #03 – 11, Singapore 079027
Website
https://www.parcoitadakimasu.com/heijoen
Phone
6538 2981
Operating Hours
11am-3pm, 6-10pm (Mon-Fri)
11am-3pm, 5.30-10pm (Sat&Sun)
If you're searching for more options when it comes to premium A5 Japanese Wagyu beef, Heijoen at 100 a.m. is the place to go. With their direct import from Japan, you can indulge in an authentic Yakiniku buffet experience.
Starting from 6 pm, you can enjoy their premium buffet option priced at S$90. Feast on a variety of wagyu and standard meats, along with seafood and other delicious sides for 90 minutes.
Don't miss out on their menu offerings like black pork, prawns, and even unique dishes like intestine and stomach!
2) Hitoyoshi Yakiniku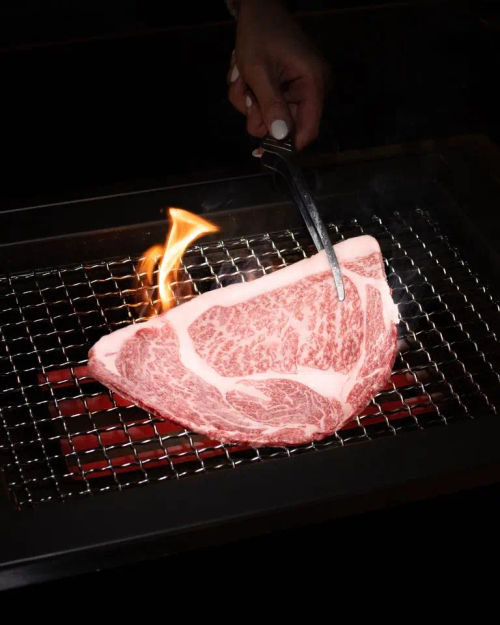 Located within The Rail Mall, Hitoyoshi Yakiniku offers a buffet featuring a variety of mouthwatering A5 Miyazaki wagyu cuts, including VIP karubi, garlic butter steak, and premium steak.
In addition to the wagyu beef, you can also indulge in US black Angus beef and Iberico pork.
Both lunch and dinner Yakiniku buffets are priced at approximately S$98.80 per person, with a dining duration of 90 minutes. While it may be the priciest option on this list, the exceptional quality of the meat guarantees an unforgettable dining experience!
3) Suki-ya Kin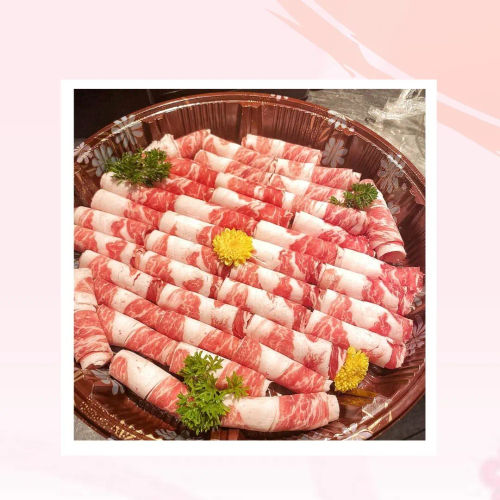 Suki-Ya, a name synonymous with affordable shabu-shabu and sukiyaki buffets, holds a hidden gem at Vivocity – Suki-Ya Kin.
Prepare to be pleasantly surprised as this outlet takes things up a notch, offering higher-grade options that will tantalize your taste buds like never before.
With six delectable soup bases to choose from, you'll be spoilt for choice as you savor premium Australian wagyu alongside the usual meat selections.
Whether you join for lunch and savor one cut or indulge in dinner with two cuts, this is an irresistible opportunity to relish the exquisite flavors of Wagyu at an affordable price. Don't miss out on this extraordinary culinary experience!
4) Gyu-Kaku

Key Services
Australian Wagyu buffet
Address
Multiple locations
Website
https://www.gyu-kaku.com.sg/
Email
sales@gyu-kaku.com.sg
Operating Hours
Monday to Friday:
Lunch 12.00pm – 3.00pm (Last order 2.30pm)
Dinner 5.30pm – 10.00pm (Last order 9.30pm)
Saturday, Sunday & PH:
12.00pm – 10.00pm (Last order 9.30pm)
Looking for an authentic dining experience? You don't have to look any further! Gyu-Kaku has ten outlets all across Singapore, offering a renowned wagyu buffet that guarantees great value for your money.
Indulge in the Australia Wagyu buffet for just S$69.80, which includes four tantalizing cuts like Wagyu karubi and brisket, along with a variety of other mouthwatering meats and delicious side dishes.
If you're craving something extraordinary, you can upgrade to the famous Japanese Wagyu beef and choose from five additional options like steak, tomosankaku, and chuck cuts.
With a 90-minute dine-in time limit, make every bite count and savor the flavors to your heart's content!
5) Wagyu More
Experience an exceptional shabu-shabu delight at Wagyu More in Hong Kong! Elevate your beef cravings with a variety of 10 mouthwatering soup bases, ranging from comforting collagen chicken to fiery mala.
Starting at just S$49.80, enjoy unlimited servings of premium Australian wagyu beef, complemented by delectable seafood dishes like succulent fish and juicy prawns.
For those seeking a touch of luxury, indulge in the ultimate experience with the unlimited premium A5 Japanese Wagyu beef buffet, starting at S$148.80.
Please note that the dine-in time limit for both options is set at 90 minutes. Prepare to relish every moment of this sensational dining adventure!
6) Syohachi Yakiniku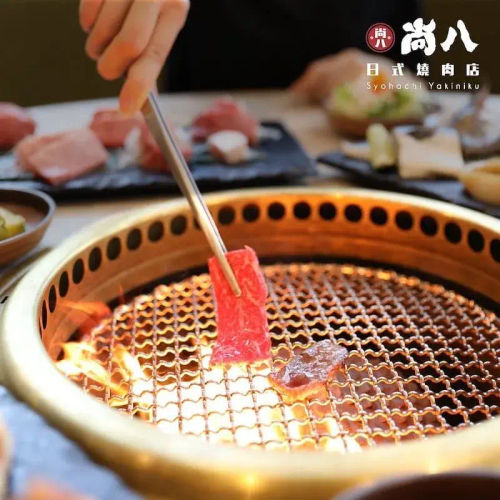 For those seeking a culinary adventure, Syohachi Yakiniku is the ultimate destination. Renowned for its A5 wagyu, this specialty restaurant offers curated platters of succulent wagyu cuts, perfect for larger groups.
Unlike your typical Yakiniku buffet, Syohachi Yakiniku allows you to savor a diverse menu within a generous two-hour dining limit. Don't miss the early bird price of S$70 when you indulge in the buffet between 5-7pm on weekdays.
7) Rocku Yakiniku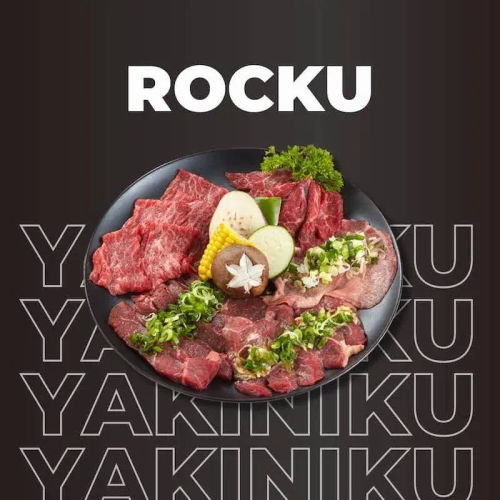 Key Services
Australian and Japanese Wagyu
Address
201 Victoria St, #04-06, Singapore 188067
Website
https://www.rocku.com.sg/
Phone
6634 3313
Email
mail@createries.com
Operating Hours
Sun – Thu: 11.30am – 10pm (Last Order 9:30pm)
Fri – Sat, PH, eve of PH: 11.30am – 10.30pm (Last Order 10pm)
Lunch is priced at S$49.90 for a 100-minute dine-in session, while dinner is slightly higher at S$59.90. There is an additional surcharge of S$3 on Fridays to Sundays, eve of public holidays, and public holidays.
Despite the remarkably low price for a wagyu beef buffet, please take note that you can enjoy unlimited servings of two different Australian wagyu cuts, but only one order per table of the premium Japanese meats. All things considered, it's still an incredible deal!
8) Yakiniku Ohji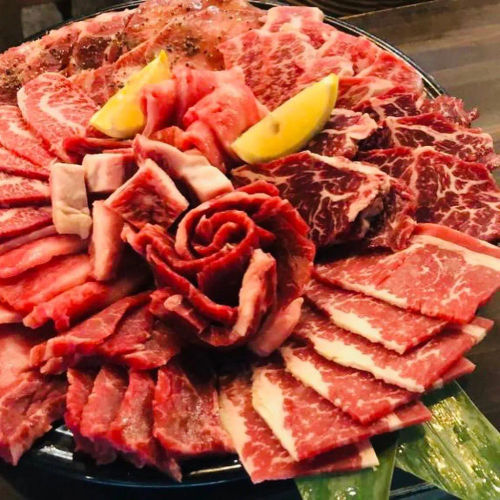 Attention all Westie dog lovers! This one's exclusively for you! Located at 321 Clementi, Yakiniku Ohji offers a variety of irresistible side dishes like salmon sashimi and takoyaki, alongside unlimited servings of A4 wagyu beef.
You can choose from six mouthwatering cuts including sirloin and kalbi, all at buffet prices starting from S$54.80.
Don't miss this amazing opportunity to indulge in 90 minutes of Yakiniku buffet with perfectly marbled meats at such an incredible deal. Just a heads up, there's an additional S$2.50 charcoal charge per person.
Wagyu Buffet Singapore
In conclusion, Singapore's culinary scene offers an array of Wagyu buffet to satisfy every palate and budget. Whether you're seeking the rich, buttery flavors of Japanese A5 Wagyu or the robust, meaty goodness of Australian Wagyu, there's a buffet out there for you.
Remember, while price is an essential factor, what truly matters is the quality of the meat and the overall dining experience. Happy feasting!
Frequently Asked Questions
If you have any questions about the Wagyu buffet in Singapore, you can refer to the frequently asked questions (FAQ) about the best Wagyu buffet in Singapore below:
What are the best Wagyu buffets in Singapore?
The best Wagyu Buffet restaurants in Singapore are Gyu-Kaku, Suki-ya Kin, Hitoyoshi Yakiniku, and Yakiniku Ohji.
What is yakiniku wagyu?
Yakiniku is a traditional Japanese grilling method that involves cooking meat, while wagyu specifically refers to the type of beef used. Yakiniku wagyu, in essence, encompasses grilled wagyu beef dishes typically found in Japanese restaurants. Therefore, if you encounter yakiniku wagyu on a menu, it indicates that the dish showcases grilled cuts of wagyu beef.
What is the difference between A4 and A5 Wagyu?
In Japan, A4 and A5 are grading standards utilized to categorize the quality of Wagyu beef. A4 is a grade lower than A5, which is regarded as the highest grade for Wagyu beef. A5 Wagyu boasts a higher marbling score, resulting in meat that is more tender and bursting with flavor.
How much does Wagyu cost in Singapore?
The price of Wagyu in Singapore can differ based on the restaurant and the specific buffet or dish. On average, a wagyu beef buffet in Singapore can cost anywhere between S$50 to S$150 per person.
How much is Japanese meat Wagyu?
Japanese wagyu meat can come with a hefty price tag, ranging from S$150 to S$400 per kilogram. However, the cost can vary based on the cut and grade.
What makes a premium wagyu buffet stand out from the rest?
A premium wagyu buffet offers an exquisite dining experience with top-quality cuts of wagyu beef, such as wagyu steak and wagyu beef sashimi. These buffets prioritize high-grade ingredients and exceptional flavors to satisfy your wagyu beef cravings.
Are there any Japanese BBQ options available at these buffets?
Yes, many of the featured buffets provide a Japanese BBQ experience, allowing you to grill thickly sliced wagyu and indulge in the mouthwatering flavors of perfectly cooked meat.
Can I expect a variety of seafood options at these buffets?
Absolutely! Alongside the sumptuous wagyu offerings, these buffets often include fresh seafood selections, such as tiger prawns, to complement your meal and add a touch of surf-and-turf delight.
What is the premium wagyu buffet course all about?
The premium wagyu buffet course is designed to cater to discerning wagyu enthusiasts. It showcases the finest Australian wagyu and Japanese wagyu, allowing you to savor the rich marbling and melt-in-your-mouth texture of these exceptional beef varieties.
Which restaurant is known for serving the best Japanese wagyu buffet in Singapore?
Tenkaichi Yakiniku Restaurant is renowned for its exceptional Japanese wagyu buffet. With a menu featuring premium wagyu cuts like wagyu tataki and wagyu steak, it is a must-visit for every wagyu lover.
Can I enjoy the taste of Aussie wagyu at these buffets?
Absolutely! Many of the featured wagyu buffets take pride in offering top-quality Aussie wagyu. The marbling and flavor of Australian wagyu make it a perfect choice for those seeking a delicious and satisfying wagyu experience.
Additional Useful Articles
If you are looking for other useful guides and articles about Wagyu Buffets in Singapore, check them out below:
Can't spot your brand on our list? It's time to turn the spotlight on your company! Don't miss this incredible opportunity to gain visibility. Send us an email at advertise@funempire.com and we'll share how you can skyrocket your brand presence by getting listed!