Vegetarian Restaurants Singapore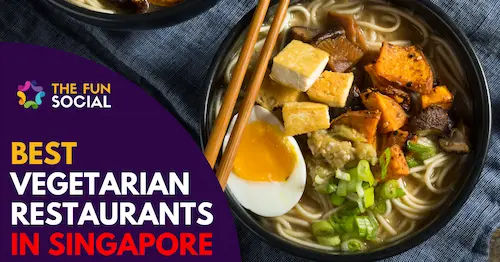 Singapore offers a rich culinary landscape, boasting numerous vegetarian restaurants that are sure to tantalize your taste buds.
The best vegetarian restaurants in Singapore are NomVnom, Afterglow, Herbivore, Original Sin, and VeganBurg.
When selecting a vegetarian restaurant in Singapore, take into account elements like the restaurant's location, pricing, menu options, ambiance, and level of service.
In Singapore, you'll find a variety of popular vegan dishes, such as Rojak, a traditional salad made with fruits and vegetables, and the delicious vegan Laksa, a spicy noodle soup bursting with flavor.
Uncover the top vegan restaurants in Singapore that are well-known for their dedication to providing clean and healthy dining choices.
Key Consideration Factors
Best vegetarian restaurants in Singapore are NomVnom, Afterglow, Herbivore, Original Sin, and VeganBurg.
When selecting a vegetarian restaurant in Singapore, take into account elements like the restaurant's location, pricing, menu options, ambiance, and level of service.
In Singapore, popular vegan dishes include Rojak, a traditional fruit and vegetable salad, and delicious vegan Laksa, a flavorful spicy noodle soup.
Best Vegetarian Restaurants Singapore
1) NomVnom
NomVnom is another vegetarian fast food restaurant that specialises in burgers. Not your ordinary burger bun stuffed with fillings though. This restaurant stays winning with their aesthetically pleasing yet mouth-watering burgers that are nutritious too! It serves you the most uncommon burger also known as Vora Flora Burger that's made of potato croquettes, topped with hummus and electric blue pea flowers. The pea flowers are (surprise, surprise) edible! Also, they're known to improve your memory and helps to relieve stress. I bet neither your KFC nor BK burgers look this appetising. Besides, all of the food on the menu is 100% vegan, with no garlic and onions involved!
Key Differentiators:
Mouth-watering burgers
Modern vegan fast food like burgers, pizzas, pastas, udon and rice dishes
In-house handmade patties
Customer's Review:
The vegan food is great! Lots of varieties! Many vegan burgers choices including pasta. Must try are the fried banana balls and croquette potato balls so soft crispy and yummy! I love the spicy kimchi soup too!

Pau Tan
2) Afterglow
Afterglow definitely is living up to its name of bringing sexy back to vegetables. The Raw Masala Pizza is a combination of raw curry, assorted vegetables and a crispy raw crust made of almond butter. The crust is actually made of finely-ground almonds which make it firm yet crispy, but still breakable with a little bit of force. They're really generous with the vegetables such as tomatoes, peppers, pea sprouts, cucumbers and so much more! Lastly, a dash of creamy raw macadamia 'cheese' is spread on the vegetables to give the perfect overall taste.
Key Differentiators:
Organic, plant-based and raw food
High-quality ingredients
Creative dishes like kale carbonara and macadamia nut cheese pizza
Customer's Review:
Such a nice ambience in the café! It was definitely one of the best vegetarian restaurant Singapore. Everything on their menu is really fresh and delicious. The vegan pizza was particularly nice and the raw macadamia cheese was so creamy! Definitely would recommend this place.

Ahmad Rizal
3) Herbivore
Herbivore is the first vegetarian restaurant Singapore to serve everything Japanese and Western style. Vegan eaters would love this place as they have a wide spread of Japanese food and not the usual ramen or sushi with avocado roll. Try the Chirashi Bowl where you're served with mock salmon sashimi, Japanese rice, and other side dishes. The chefs have done a fantastic job at creating the mock salmon sashimi as it looks and feels similar to the original one. Furthermore, they even offer mock tuna sashimi, mock grilled chicken and mock unagi. All of these dishes contain no eggs, onions and garlic as well. You know where to go to when you're craving for Japanese food!
Key Differentiators:
Pure vegetarian cuisine
Japanese and Western-style food
Offer a wide variety of choice
Customer's Review:
This was my first time dining in a Japanese restaurant. Amazing vegetarian restaurant Singapore! It's located in Fortune Center and it gets full very quickly on the weekends.

Gaurav Sachdeva
4) Original Sin
Original Sin is one of the pioneer vegetarian food chains in Singapore and has withstood the test of time. It offers the best Mediterranean vegetarian cuisines you could ever find on this tiny island. This vegetarian restaurant Singapore has 2 modes for you to dine in such as the alfresco under the stars or candlelit interior. The quality of the food is top notch and further enhanced with spices at just the right amount. One of the all-time favourite dishes includes the Mezze Platter. It comes with hummus, aromatic pumpkin and carrot dip, beetroot and almond dip, served with a side of falafel balls, tzatziki and pita bread. In addition, you can also choose for your dish to be prepared vegan and gluten-free. Have a dippin' good time!
Key Differentiators:
Alfresco dining or candlelit interior
Vegan and gluten-free options available
Mezze platter, hummus and falafel balls
Customer's Review:
Food is good for sharing. Serving is very fast. They make vegan food appetising in a different way.

MaxDeGiraffe
5) VeganBurg
Located in the East of Singapore is the famous vegan fast food chain, VeganBurg. It serves the best vegan burgers in town with its unique flavours that will whet your appetite. Since Singapore is famous for its chilli crab dish, VeganBurg has infused that flavour and made it into a chili krab burger. The thick krab plant-protein patty and homemade chilli crab sauce sandwiched in a bun goes so well together that you would've forgotten that no crabs are in the equation. Wait no more and head down to VeganBurg now, even if it means to travel to the other end of Singapore.
Key Differentiators:
100% plant-based menu
Plant-based burger joint
Friendly staff
Customer's Review:
This is quite the polished vegetarian restaurant Singapore, I can see why it's so popular!

Jalitha Vishika
6) The Kind Bowl
Experience the taste of authentic Vietnamese cuisine with The Kind Bowl's green vegetarian restaurant Singapore! With three locations throughout Singapore, you can indulge in delicious plant-based meals that are both ethical and affordable. Not only does The Kind Bowl have an inviting atmosphere for dining-in but they also provide island-wide delivery, so you can enjoy their flavorful dishes from home!
Key Differentiators:
3 locations in Singapore
Island-wide delivery available
Affordable and delicious plant-based food
Customer's Review:
The Pho here is amazing. It's vegan but you won't even know the difference – super authentic and flavourful.

Raymond Tan
7) Cultivate Café
The Cultivate Café is the perfect destination for health-conscious individuals looking to treat themselves. Their food menu features indulgent, GMO-free and 100% gluten-free vegan dishes that are freshly made with organic ingredients sourced from local farms. Complimenting their scrumptious entrees are beverages crafted precisely to bring out every flavour in every bite of your meal!
Key Differentiators:
GMO-free and gluten-free options
Organic ingredients sourced from local farms
Extensive menu of beverages
Customer's Review:
I've been here several times, and I love it. The food is amazing, the drinks are great and the atmosphere is really nice. Highly recommended!

James Yap
8) Joie by Dozo
Ascend to the rooftop of Orchard Central and treat yourself to a delicious meat-free dining experience with Joie. Boasting an impressive view, their modern vegetarian food is made from fresh ingredients, plated artfully, and flavoured with innovative techniques. With packages ranging from six-course lunches through to five or seven course dinners – all surprisingly affordable – you won't be disappointed!
Key Differentiators:
Contemporary indoor-outdoor rooftop eatery
Adventurous vegetarian cuisine
Fine-dining meat-free restaurant
Customer's Review:
Delightful and flavourful vegetarian food. Great presentation and amazing ambience – top notch service! ​

Ting Ngai
9) Warung Ijo
Warung Ijo is the best vegetarian restaurant Singapore for traditional Indonesian dishes. You can choose your spiciness level for certain dishes, while still enjoying an authentic Indonesian taste. For dishes using fish, pork, beef and other proteins, mock meat is used. This warung has a warm and welcoming charm as a smaller restaurant. Their meals are very affordable, with most dishes around the price of SGD $10. Warung Ijo do use eggs in some dishes. Simply request no egg to enjoy completely vegetarian dishes.
Key Differentiators:
Varying spice levels
Mock meat used for dishes with proteins
Affordable meals around SGD $10
Customer's Review:
The food was DELICIOUS! We had the Ayam Goreng and Sayur Lodeh – both were excellent. The staff were friendly, helpful and the atmosphere was cozy and welcoming. Highly recommend!

Randy Lim ​
10) Analogue
Not only is Analogue a great cocktail bar, but its menu also offers an array of delicious plant-based dishes. From jackfruit tacos bursting with flavourful rempah spices to creamy pumpkin dumplings that have the texture of mochi – it's the perfect spot for you and your friends to enjoy some tasty bites accompanied by refreshing drinks!
Key Differentiators:
Flavourful meatless plates
Vibrant atmosphere
Wide selection of drinks
Customer's Review:
The menu is entirely vegan (I confirmed with them several times because plant-based isn't necessarily vegan but they assured me that there are no animal products) and they allowed us to taste test the wine before ordering them. The food was really nice with the jackfruit tacos being our favourite. The other dishes were nice and interesting too.

CM T
11) Sufood
Visit Sufood, located at the Raffles City Shopping Centre for a fine-dining experience and taste their creative, wholesome, and tasty dishes from 11:30 am to 3:00 pm or 5:30 pm to 10:00 pm. Choose between 4-course, 6-course or 8-course meal options that are designed with nutrition in mind; adding kale and spinach for protein! Enjoy this delicious vegetarian feast without breaking the bank as prices range from $23.80 to $38.80 – so go on indulge yourself today!
Key Differentiators:
Modern and creative vegetarian cuisine
Affordable yet fine-dining experience
Highly nutritious dishes
Customer's Review:
Must try. Be prepared to discard your preformed notions of vegetarian food. Good quality food, service and atmosphere. Almost like fine dining but affordable. I ate well, and didn't miss the fact that there was no meat in it.

EC
12) The Boneless Kitchen
Established in 2014, The Boneless Kitchen has proudly become a leader in Singapore when it comes to vegetarian and vegan Korean cuisine. All their dishes are produced from scratch with organic ingredients obtained straight from Korea. Plus, they never use any alliums like onions, garlic or shallots nor do they add MSG for extra flavor – making sure you get only the healthiest food!
Key Differentiators:
No alliums or MSG used
All ingredients are sourced from Korea
All food is made from scratch
Customer's Review:
It is unique delicacy for Korean and vegetarian. I couldn't find the same at other place. Ordered bimbibap, I am not vegetarian, but it was good. The egg omelette rolls were very good. Recommended to order.

William Lou
13) Project Acai
Project Acai has elevated their acai bowls to the next level, creating almost artisan-style products at each of their 5 locations in Singapore. If you're looking for variety and something new on your plate, then Project Acai is a great choice – every location offers an exclusive menu so that you can experience unique items no matter where you go!
Key Differentiators:
Artisan acai bowls
Five locations in Singapore
Unique menu items at each location
Customer's Review:
I had the Acai Bowl. It was delicious! So creamy, tasty and full of fruits. The hummus and chips were also really good – great crunchy texture. The staff was friendly and attentive. Will definitely be coming back soon!

Nikki Y.
14) Gokul – Raas Vegetarian Restaurant
Founded in 2003, Gokul – Raas Vegetarian Restaurant was created with the vision that vegetarian cuisine could be just as full of flavour and excitement. Offering a mixture of traditional North Indian and South Indian dishes along with some Chinese options, they strive to provide something for everyone looking for delicious yet meat-free dishes.
Key Differentiators:
Traditional North and South Indian dishes
Chinese vegetarian dishes
Excellent reviews
Customer's Review:
The best Indian vegetarian cuisine I had. Hyderabad Dum Biryani taste exactly like the mutton ones when eaten with the gravy. The vegetarian mutton soup is a rare find in Singapore. No presence of onion or garlic tasted is another plus point for me.

Marc TT
15) The Spice ADDA
A culinary experience awaits you at the Spice ADDA, a modern Indian vegetarian restaurant Singapore run by award-winning Michelin starred chef Manjunath Mural. Here, local flavours are infused with traditional Indian dishes to tantalize your taste buds and create an unforgettable dining experience. Our expert mixologists also provide delicious beverages that will complete your meal!
Key Differentiators:
Run by Michelin-starred chef, Manjunath Mural
Local flavours mixed into traditional Indian dishes
Expert mixologists create amazing drinks and cocktails
Customer's Review:
Great experience. Lovely food. The staff is super friendly. They did everything they could to help us enjoy ourselves. Owner and chef came to meet us personally.

Chetan Mehra Photography
16) Love Handle Deli
Love Handle is an extraordinary butchery and deli with an impressive selection of meat alternatives! It is widely renowned as one of the most delicious vegan and vegetarian restaurant Singapore, offering a multitude of classic dishes that are transformed into appetizing vegetarian meals. Their menu consists mainly of burgers, Western main courses, along with scrumptious sides– just reading through it will make your mouth water!
Key Differentiators:
A range of burgers, Western main dishes, and healthy side dishes
Focuses on meat-free options inspired by classic meat dishes.
Customer's Review:
Really good plant-based food! The vegan burgers are really yummy and look and taste like meat. The calamari rings also taste like the real thing. Brought my non-vegetarian friend here and they said it's hard to tell the difference.

Valerie Pang
17) Whole Earth
As a leader in plant-based perfection, Whole Earth stands out from the competition; they have not only been graced with Michelin Bib Gourmand status for 2016 – 2022, but also partnered up with Green Monday and OmniMeat to offer Asian delicacies that are both vegetarian as well as vegan. Now guests can enjoy traditional dishes without worrying about meat while still having their taste buds tantalized!
Key Differentiators:
First Michelin Bib Gourmand award winner in Singapore
Vegetarian and vegan versions of traditional Asian cuisine
Green Monday and OmniMeat partners
Customer's Review:
One of the luxurious vegetarian restaurant Singapore. Strongly recommended by a friend. The dishes are really good and I have no regrets. Love their signature dishes. We can park opposite public car park with ease. Quite crowded on weekdays though. Need reservations.

Whole Earth
18) Lotus Vegetarian Restaurant
If you're in Singapore and looking to savor an exquisite meat-free Asian feast, Lotus Vegetarian Restaurant is the place for you! With a grand selection of sharing platters, single meals, dim sum dishes and plenty more available for delivery all over the city – your taste buds will be on cloud nine.
Key Differentiators:
Delivers islandwide
Variety of options including sharing platters, single meals, and dim sum
Customer's Review:
Have been patronising this vegetaran restaurant Singapore for years. The food is always consistent in quality and taste. My family loves their dim sum as well as the sharing platters. Prices are reasonable and the service is great. Highly recommend to all!

Terence Ong
19) Komala Vilas
Established in 1947, Komala Vilas celebrates traditional Indian vegetarian cuisine from the founder's home village of Tamil Nadu. Whether you're looking for flavorful North or South Indian dishes without meat, they have it all – island-wide delivery services, catering options and an extensive dine-in menu with plenty of vegan and vegetarian choices available!
Key Differentiators:
Island-wide delivery
Catering services available
Variety of flavours
Customer's Review:
Amazing Marathas, Dosas etc. The Sambar is amazing. Love the Rasa Vadai. Very crowded during peak hours so better to come early or take away instead. Great value for money!

MM Kin
20) Genesis Vegan Restaurant
At Genesis Vegan Restaurant, we offer a wide variety of Western and Eastern dishes made with wholesome ingredients that are free from salt, sugar, and MSG. Our menu consists mainly of pasta, rice, noodles in sauces or broths. We are committed to making our community better by being generous towards those who need it most – the elderly population in Singapore; this is why we provide flavourful yet nutritious lunch boxes at no cost!
Key Differentiators:
Vegan versions of popular Singaporean, Korean & Italian dishes
Western and Eastern dishes, mostly pasta, rice and noodles
Low salt, sugar and MSG content
Customer's Review:
Keep in mind that the menu is vegan, so having an entire menu from pasta to laksa is awesome. We ordered the dumplings, lasagna, and bakuteh rice. All were on the healthy end. If you eat healthy and eat vegan, come here. This place deserves more love than it gets. They also accept QR payment so use Grab. Look forward to coming again sometime.

Jack
Vegetarian Restaurants Singapore
Singapore is home to some of the best vegetarian and vegan restaurants in the world. Whether you're looking for traditional dishes, fusion cuisine or something completely unique, there's a vegetarian restaurant Singapore out there that will cater to your dietary needs. With options from Michelin-awarded establishments to small family run eateries, Singapore offers quality vegetarian food for all tastes and budgets. If you want an exquisite meat-free feast without having to leave your house then look no further than one of these 20 top ranked vegetarian restaurant Singapore!
Looking for other services or things to do in Singapore? Check out our other articles below!
Frequently Asked Questions (FAQ)
If you have any questions about vegetarian restaurants in Singapore, you can refer to the frequently asked questions (FAQ) about the best vegetarian restaurants in Singapore below:
Additional Useful Articles
If you are looking for other useful guides and articles about vegetarian restaurants in Singapore, check them out below: