Taiwan Food Singapore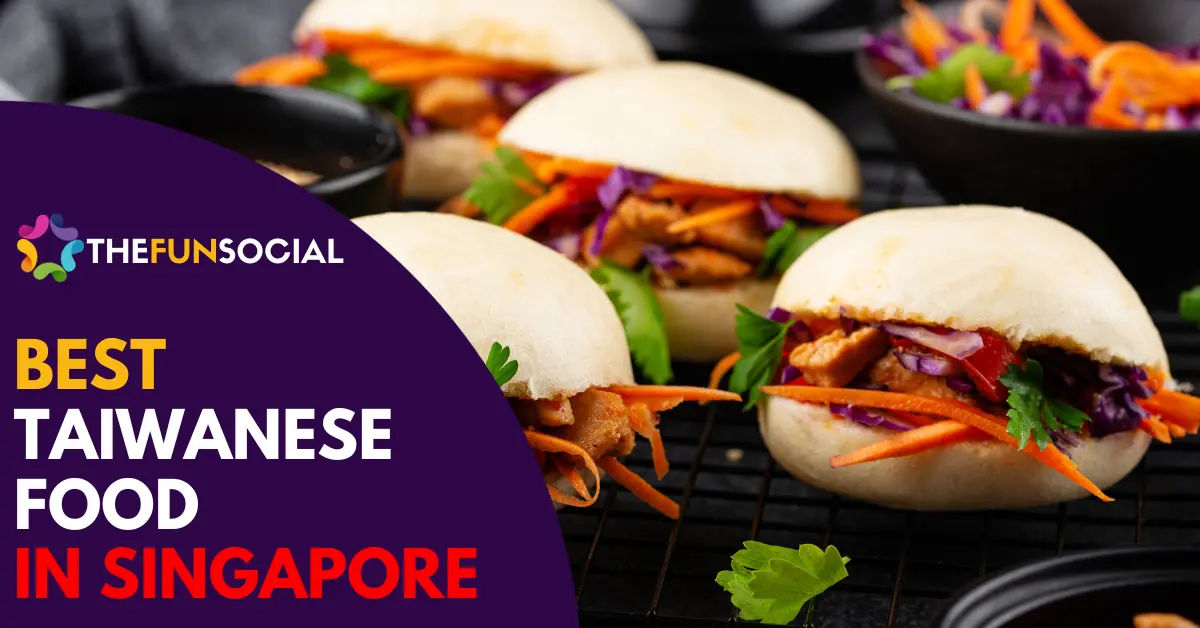 If you are on the quest to satiate your craving for Taiwan's gastronomic delights right here in Singapore, look no further.
The best places for Taiwan food in Singapore include Isshin Machi, Str Tao Taiwan Cuisine, Feng Food, Eat 3 Bowls, and 5 Little Bears.
When deciding on a restaurant for Taiwanese cuisine in Singapore, take into account aspects like customer reviews, pricing, atmosphere, and location.
In Singapore, Taiwanese cuisine offers a delightful adventure of both traditional and inventive dishes. It captures the vibrant food culture and authentic flavors of Taiwan right in the heart of the city-state.
From sizzling street food to fine dining, let's embark on a culinary journey through Taiwan without leaving Singapore.
Quick Summary
Best places for Taiwan food in Singapore include Isshin Machi, Str Tao Taiwan Cuisine, Feng Food, Eat 3 Bowls, and 5 Little Bears.
When choosing a place for Taiwan food in Singapore, consider factors such as reviews, price range, ambience, and location.
Taiwanese food in Singapore is a delicious exploration of authentic and innovative dishes, offering a taste of Taiwan's vibrant street food culture and traditional cuisine in the heart of the city-state.
Key Consideration Factors
When choosing which restaurant to go to for Taiwanese food, make sure you have considered these important factors:
Customer reviews: Check out what other diners have to say about their experience at the restaurant. Look for consistency in reviews and pay attention to any specific dishes that receive high praise.
Price range: Taiwanese cuisine can range from affordable street food to higher-end dining options. Consider your budget before making a decision.
Ambience: Whether you prefer a casual or upscale atmosphere, make sure the restaurant's ambience aligns with your dining preferences.
Location: With Taiwan food options scattered across Singapore, choose a location that is convenient for you to get to.
Best Taiwan Food Singapore
1) Really Something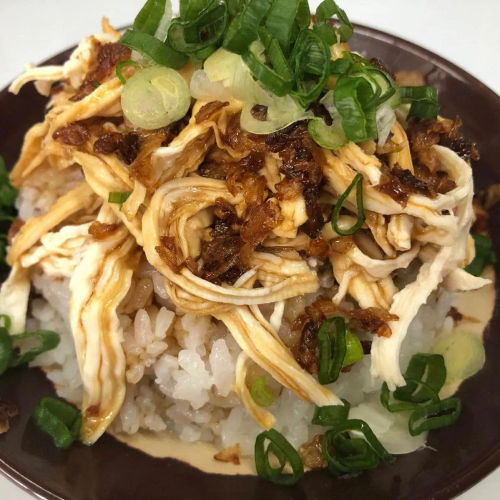 | | |
| --- | --- |
| Key Services | Hawker stall with Taiwanese cuisine at affordable prices |
| Address | 335 Smith St, #02-207, Singapore 050335 |
| Website | Facebook |
| Phone | +65 9437 2449 |
| Operating Hours | Tues to Sun 11 AM–4 PM |
Really Something is a popular hawker stall located in Chinatown Complex Food Centre. They specialize in serving delicious Taiwanese cuisine at affordable prices. One of their must-try dishes is the braised minced pork rice, also known as lu rou fan, which is priced at only $3.
Additionally, you can also indulge in their flavorful Shrimp Egg Fried Rice, which is said to have a similar taste to Din Tai Fung's version.
Don't miss the opportunity to savor the delectable flavors offered by Really Something!
2) Isshin Machi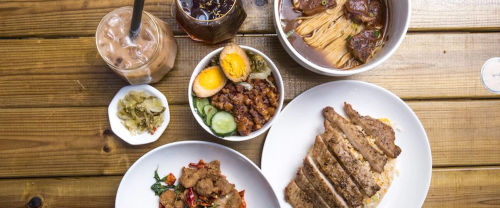 Isshin Machi, although its name may seem like the Japanese phrase for "one heart one village," is actually a Taiwanese restaurant that showcases strong Taiwanese influences.
The charmingly decorated 70-seater area features wooden furnishings and a beautiful mural painting in white and blue, depicting various iconic sites in Taiwan, including the Jiemei Lakes in Alishan. One of their signature dishes is a bowl filled with braised pork, pickled veggies, sliced cucumber, and a whole braised egg on top.
Another popular option is their Taiwanese Braised Beef Noodles, which can be substituted with Tainan Guan Miao Noodles for a similar texture. You can find Isshin Machi on East Coast Road.
3) Eat 3 Bowls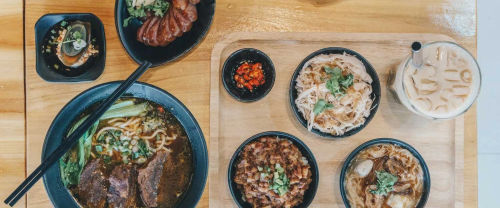 Key Services
Taiwanese restaurant
Address
103 Pasir Panjang Road, , Singapore, 118531
Website
https://eat3bowls.oddle.me/en_SG/
Phone
+65 9154 8191
Operating Hours
Mon, Wed – Sun
12:00 PM – 08:00 PM
You might find enjoyment at Eat 3 Bowls located at Crawford Lane, where the ambiance resembles a Taiwanese drama-style classroom or a vibrant train station on Pasir Panjang Road.
The restaurant derives its name from the three signature bowls it offers: Braised Pork Rice, Chicken Rice, and Oyster Intestine Mee Sua.
The lu rou fan, a dish of sticky short-grain rice, is moistened with a generous serving of flavorful gravy and topped with a satisfyingly fatty meat. The Chicken Rice consists of shredded chicken and caramelized shallots, providing a delicious and irresistible taste.
We particularly appreciate the garlicky and vinegary aroma of the umami-rich broth.
4) Fong Sheng Hao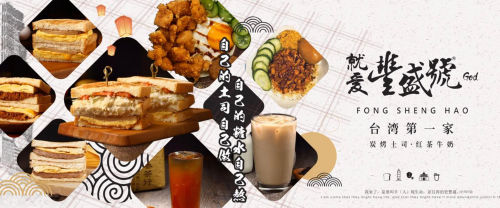 Key Services
Extensive array of delectable Taiwanese toasts
Address
10 Paya Lebar Rd, #B2-04, Singapore 409057
Website
https://fongshenghaosg.oddle.me/en_SG/
Phone
+65 9757 8550
Operating Hours
Weekends: 8AM–9PM
Weekdays: 7:30AM–9PM
Fong Sheng Hao, a renowned Taiwanese toast chain, is situated in the vibrant Shilin Night Market in Taipei.
Boasting two bustling shops, one in NEX and the other in PLQ Mall, Fong Sheng Hao offers an extensive array of delectable Taiwanese toasts that are sure to tantalize your taste buds. Among their wide selection, one of the most sought-after choices is the Pork, Egg & Cheese toast.
This mouthwatering delight features succulent marinated pork loin, rich cheddar cheese, and a fluffy omelet, all nestled between two slices of perfectly toasted bread. Prepare to relish the harmonious blend of flavors and textures that make Fong Sheng Hao a true gem in the world of toast aficionados.
5) Abundance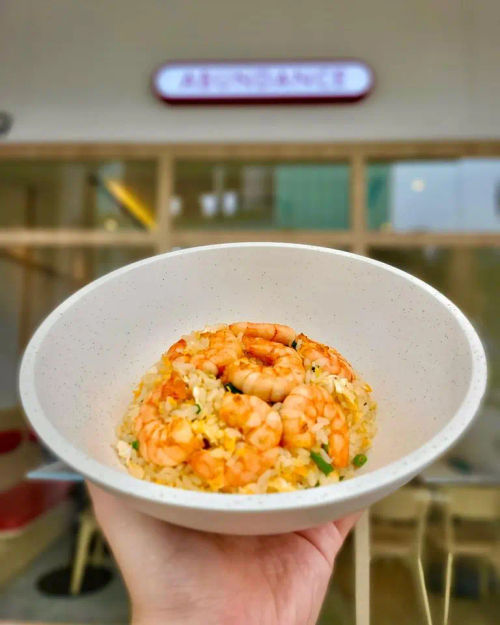 Abundance, a newly opened Taiwanese restaurant-cafe, can be found in an HDB estate just a stone's throw away from the Redhill MRT station. This hidden gem has been making waves on social media, capturing the attention of food enthusiasts with its extensive selection of bao.
Among their offerings, the Gua Bao stands out, boasting a succulent slab of pork belly adorned with tantalizing roasted peanuts and pickled veggies.
But that's not all. Abundance has a plethora of other must-try dishes that will tantalize your taste buds. Take, for instance, their Niu Yolk Fried Rice, a mouthwatering creation that combines fragrant rice cooked in flavorsome beef fat with tender slices of short rib, all topped with a luscious onsen egg.
And let's not forget the Peanut Ice Cream Roll, a delightful treat reminiscent of the bustling streets of Jiufen in Taiwan.
With its diverse menu and delectable offerings, Abundance is sure to transport you on a culinary journey, leaving you craving for more of their authentic Taiwanese flavors.
6) 5 Little Bears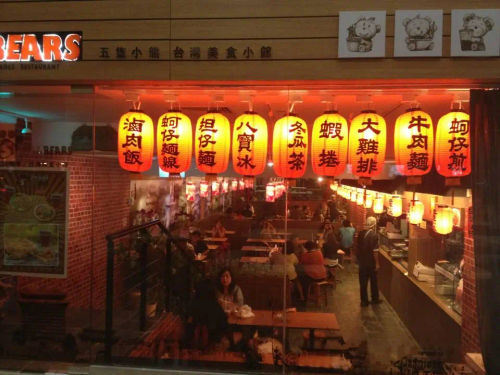 | | |
| --- | --- |
| Key Services | Taiwanese restaurant |
| Address | 60 Paya Lebar Rd, #B1-09 Paya Lebar Square, Singapore 409051 |
| Website | https://www.facebook.com/5littlebears/ |
| Phone | +65 6702 1098 |
| Operating Hours | Daily: 11:30AM–8:30PM |
5 Little Bears is a popular Taiwanese chain restaurant situated in the basement of Paya Lebar Square. The owner named the establishment after his five children, and it is a favorite spot for grabbing takeaway lunches during the lunch hour.
Indulge in a delicious Taiwanese supper featuring an array of delectable street snacks, including Beef Noodles, X-Large Chicken Chop, and Crispy Sweet Potato. And of course, the braised minced pork rice is a must-try, with its perfect blend of meat and fat infused with flavorful spices from the sauce.
The dish is well-rounded with crisp bok choy, pickled vegetables, and a braised egg atop a bed of pearl rice. The Salted Crispy Chicken is coated in a crispy batter, but it's even more delightful when paired with a side of chili powder, instantly transporting you to the vibrant streets of Taiwan.
7) Str Tao Taiwan Cuisine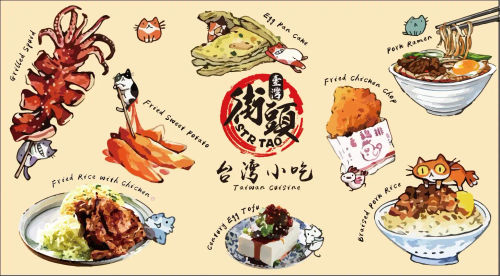 Str Tao Taiwan Cuisine in Jurong East, Singapore is a must-visit spot with an extensive menu offering over 30 delectable items, ranging from mains to street foods.
Indulge in a variety of sweet and savory Taiwanese favorites, including Taiwan Mee Sua, Street Bombing Chicken Cutlet, and four distinct varieties of Taiwan scallion pancakes like Egg with Cheese and Cheese with Pork Floss. Don't miss out on the nibbles like XXL Crispy Fried Cuttlefish and Fried Enoki Mushroom.
The marinated pork belly chunks are infused with light herbal flavors, while the Taiwan Braised Beef Ramen Soup is a definite winner with its flavorful noodles topped with generous portions of beef shank and veggies.
8) Monki Cafe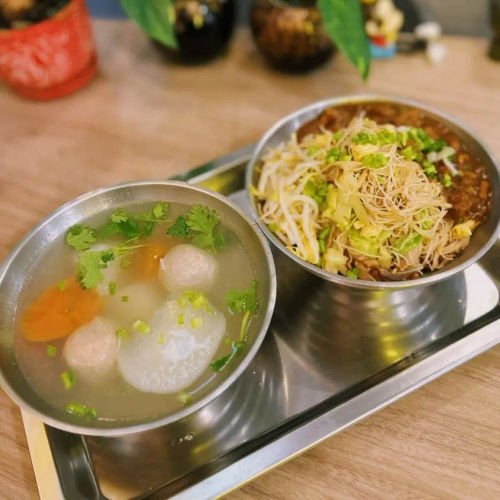 Located on Holland Drive, the Monki Cafe is a charming and highly photogenic establishment that will surely catch your eye. With its vibrant yellow seats and walls, it offers the perfect backdrop for your Instagram posts. Not only does the cafe boast a visually appealing ambiance, but it also serves delectable Taiwanese cuisine that will satisfy your taste buds. And if that's not enough, their array of desserts is sure to tempt even the most indecisive among us.
On the other hand, if you're a true dessert lover, a visit to Caffe Viennese is an absolute must. Prepare to be spoiled for choice with their extensive selection of sweet treats. One standout item is their snowflake dessert, which comes in over six delightful varieties such as matcha azuki and chocolate banana.
But here's the best part: if you find it impossible to settle on just one flavor, fear not! The Double Flavour Snowflake Dessert has got you covered with not one, but two incredible flavors in a single serving.
Indulge yourself in the delightful offerings of these two establishments and treat yourself to a culinary experience like no other.
9) Typhoon Cafe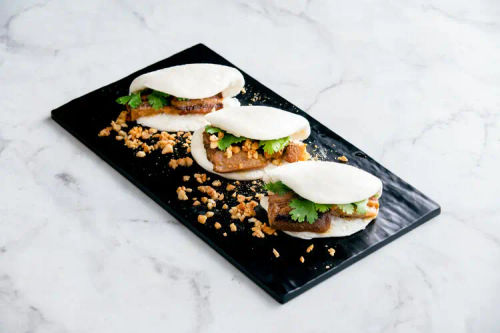 At Typhoon Cafe, you can indulge in a wide array of mouthwatering dishes, and one that stands out is the Taiwan Lu Rou Noodles. These noodles are simply irresistible, with their springy texture perfectly complementing the tender pork chunks, creating a delightful contrast of flavors and textures.
If you're looking to hype up your culinary experience, don't miss out on their Egg Fried Rice with Panko Canadian Pork Chop, drizzled with delectable Tonkatsu sauce. The crispy, battered pork is a flavor explosion that will leave you wanting more.
And let's not forget about the desserts that are not only delicious but also Instagram-worthy. Don't forget to capture a photo of the Hell Valley Chocolate Volcano, a dessert that features a decadent chocolate lava eruption that will surely impress your followers.
10) Feng Food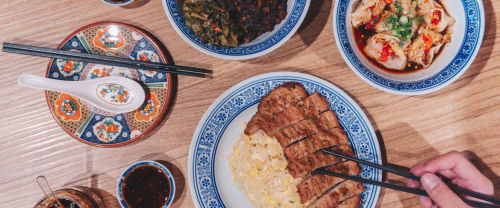 Key Services
Taiwanese wonton
Address
930 Yishun Ave 2, #B1 – 156, Singapore 769098
Website
https://www.fengfood.sg/en_SG/
Phone
+65 6481 8556
Operating Hours
Mon to Fri: 11am to 9.30pm
(Last order)
Sat & Sun: 11am to 9.30pm
(Last order)
After experiencing a delightful meal at Feng Food in Yishun, you might find yourself contemplating your allegiance to Din Tai Fung.
The Fried Rice with Specialty Marinated Pork Chop is a culinary masterpiece that bears a striking resemblance in both appearance and flavor to its Din Tai Fung counterpart, albeit missing that distinct wok hei essence that adds an extra layer of aromatic goodness.
For a true taste of Taiwan that will tantalize your taste buds, don't miss out on their delectable Shrimp and Pork Wontons with Fiery Chilli Oil. Each succulent wonton is generously filled with a delightful combination of shrimp and braised pork, perfectly balanced with a spicy and tangy sauce that will leave your palate craving for more.
Indulge in this culinary adventure and let the flavors transport you to the vibrant streets of Taiwan.
Taiwan Food Singapore
In conclusion, Singapore offers a wealth of Taiwanese dining options that allow you to experience the vibrant and diverse flavors of Taiwan without having to leave the city.
Whether it's the comforting bowl of Lu Rou noodles at Typhoon Cafe, the irresistible bao braised pork rice with Specialty Marinated Pork Chop at Feng Food, or the Instagrammable desserts at Monki Cafe, there's certainly something to satisfy every palate.
These establishments not only serve delectable Taiwanese cuisine but also create a dining experience that truly encapsulates the spirit of Taiwan. So, embark on this culinary journey and let the rich, authentic tastes of Taiwan enthrall your senses.
Frequently Asked Questions (FAQ)
If you have any questions about Taiwan food restaurants in Singapore, you can refer to the frequently asked questions (FAQ) about the best Taiwan Food Restaurants in Singapore below:
What are the best places for Taiwan food in Singapore?
The best places for Taiwan food in Singapore include Isshin Machi, Wen Li Taiwanese Food, Str Tao Taiwan Cuisine, Feng Food, Eat 3 Bowls, and 5 Little Bears.
Where can I find the best Taiwanese braised pork rice in Singapore?
For the best Taiwanese braised pork rice experience, head to one of the recommended restaurants. They serve delicious and authentic braised pork belly over fragrant rice, creating a satisfying meal.
Are there any must-try fried chicken dishes from Taiwan in Singapore?
Absolutely! Taiwan is famous for its mouthwatering fried chicken cutlet. Look out for the crispy chicken cutlet and honey glazed crispy chicken at the highlighted Taiwanese restaurants for a delightful treat.
What makes the signature braised pork bento stand out?
The signature style braised meat rice bento is a popular Taiwanese dish that features tender braised pork belly served with superior soy sauce. It is often accompanied by other side dishes for a fulfilling and flavorsome meal.
Can I find oyster mee sua, a classic Taiwanese street food, in Singapore?
Yes, some of the featured Taiwanese restaurants in Singapore offer oyster mee sua, a flavorful noodle dish that combines succulent oysters with silky noodles in a savory broth. It's a must-try for fans of Taiwanese dishes.
Where can I find delicious pan-fried dumplings, a favorite Taiwanese snack?
Look no further than the recommended Taiwanese restaurants for delectable dumplings. These dumplings have a crispy bottom and juicy filling, offering a delightful combination of textures and flavors.
Is beef noodle soup available at the highlighted Taiwanese restaurants?
Yes, beef noodle soup is a staple in authentic Taiwanese food, and you can savor its authentic flavors at the recommended Taiwanese restaurants. The dish features tender beef and flavorful broth, making it a satisfying choice.
Can I find crispy egg tofu on the menu of these Taiwanese restaurants?
Absolutely! It is a popular appetizer in Taiwanese food Look out for this delicious dish at the recommended restaurants, where the tofu is deep-fried to perfection for a crunchy exterior and soft interior.
Do these Taiwanese restaurants offer a variety of chicken dishes?
Yes, you can find a range of chicken dishes at the highlighted Taiwanese restaurants, including the famous Taiwanese salty crispy chicken and comforting chicken soup. These dishes showcase succulent meat and authentic flavors.
Can I find authentic Taiwanese street food, such as Taiwanese sausage, in Singapore?
Certainly! Experience the vibrant flavors like Taiwanese sausage at the recommended restaurants in Singapore. These establishments bring the essence of Taiwan's food scene to your plate.
What are some popular Taiwan food in Singapore?
You can try out some popular delicious Taiwanese dishes like braised pork rice, chicken rice, imperial pork chop, fried chicken skin, minced pork rice, savoury pork belly, mee sua, ah bao braised pork, hakka style braised meat, crispy fried oyster, and more!
Additional Useful Articles
If you are looking for other useful guides and articles about Taiwan food in Singapore, check them out below:
Can't spot your brand on our list? It's time to turn the spotlight on your company! Don't miss this incredible opportunity to gain visibility. Send us an email at advertise@funempire.com and we'll share how you can skyrocket your brand presence by getting listed!