Set Lunch Singapore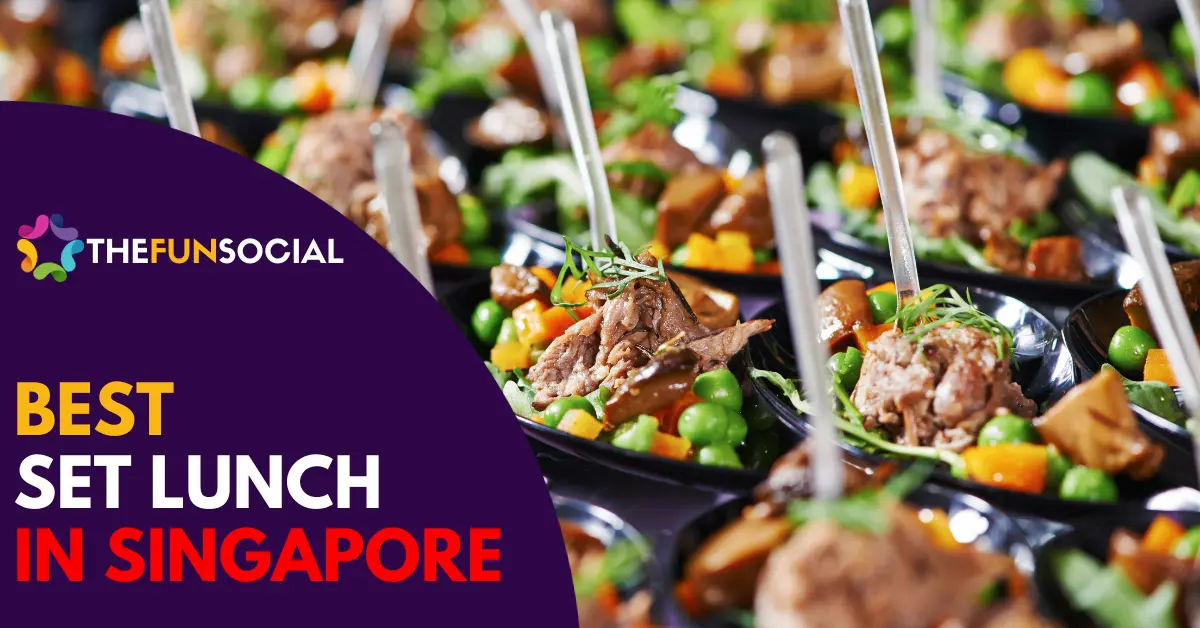 In the bustling culinary landscape of Singapore, finding a quality set lunch that pleases the palate and the pocket can be a delightful adventure.
The best set lunches in Singapore include Collin's Grille, Wolfgang's Steakhouse, Zafferano, and Artemis Grill & Sky Bar.
When deciding on a lunch set in Singapore, take into account elements like the type of cuisine, the location, the option for delivery, and the price.
In Singapore, set lunches provide an exceptional gastronomic journey, blending a variety of flavors with top-notch service, all at a reasonable cost.
Whether you're a local food enthusiast or a discerning traveler, the following curated list of the best set lunch selections in Singapore.
Quick Summary
Best set lunches in Singapore include Collin's Grille, Wolfgang's Steakhouse, Zafferano, and Artemis Grill & Sky Bar.
When choosing a set lunch in Singapore, consider factors such as cuisine, location, delivery, and price.
Set lunches in Singapore offer an exquisite culinary experience, combining diverse flavors and world-class service at an affordable price.
Key Consideration Factors
When choosing a place to go for a set lunch, make sure to check out these important consideration factors:
Cuisine: Singapore is known for its diverse culinary offerings, so it's essential to choose a restaurant that serves your preferred cuisine. Whether you're craving Asian delicacies or Western favorites, there's a set lunch option for everyone.
Location: From the bustling city center to quiet suburban areas, Singapore has numerous dining destinations to choose from. Consider the proximity of the restaurant to your workplace or home to make the most of your lunch break.
Delivery: With the rise of food delivery services, many restaurants in Singapore now offer set lunch options for delivery. This is a convenient option for those who want to enjoy a delicious meal in the comfort of their own homes or offices.
Price: Set lunches are known for their affordability, but prices can still vary depending on the restaurant and its location. It's always a good idea to check the prices beforehand to avoid any surprises.
Best Set Lunch Singapore
1) Collin's Grille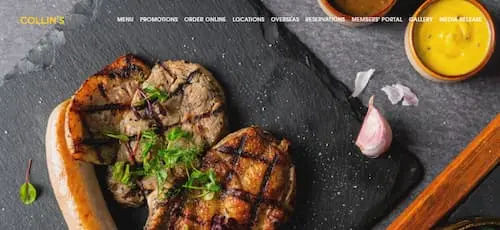 Key Service
Free deliver
With vegan choices
Address
6 RAFFLES BOULEVARD, #01-204/205 SINGAPORE 039594
Website
https://www.collins.sg/
Phone
6254 2502
Delivery
Yes
Operating Hours
Daily: 11 a.m. – 10.30 p.m. (Last order 9.30 p.m.)
With over 23 locations sprawled across the island, Collin's Grille stands as one of Singapore's most easily accessible restaurants. No need to venture to another metropolis; chances are, there's an outlet just around the corner, waiting to tantalize your taste buds.
One of the reasons we included it on our list is because of its extensive and diverse range of nutritious dishes. Their menu features salads, pastas, fresh seafood, burgers, pizza, and other popular Western cuisine options.
While Collin's Grille is often associated with meat-based meals, they have also introduced plant-based options in collaboration with The Vegetarian Butcher, a leading supplier of plant-based meats. This means that even vegans can enjoy their well-loved dishes.
Customers have the flexibility to choose anything from the restaurant's extensive menu for their set lunch. With a wide range of cuisine options, it can be challenging for some to decide.
Additionally, the generous serving portions are highly satisfying, capable of feeding up to three people according to some patrons. This abundance of food makes it perfect for team dinners and special gatherings.
2) Rhubarb Le Restaurant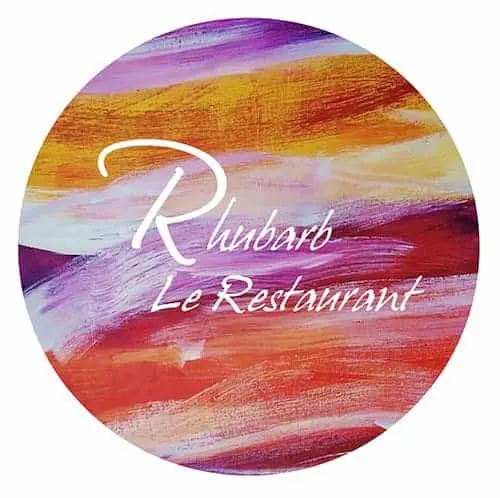 Key Service
Authentic French cuisine
Address
3 Duxton Hill Singapore 089589
Website
https://www.rhubarb.sg/
Phone
+65 8127 5001
Email
paul@rhubarb.sg
Operating Hours
Monday, Tuesday, Thursday, Friday: 12:00 PM – 9:30 PM
Saturday: 12:00 PM – 10:00 PM
If you're ready to indulge in an exquisite culinary experience of authentic French cuisine, look no further than Rhubarb Le Restaurant. Tucked away in the charming enclave of Duxton Hill, this hidden gem takes fine dining to new heights – albeit at a slightly higher price tag.
Now, when we say it's a tiny restaurant, we mean it quite literally. With just seven tables in its intimate dining area, Rhubarb offers a serene and tranquil ambiance, allowing you to savor every bite in a truly immersive and personal way.
One of the best things about having a small dining area is that each customer receives personalized service. With only a few meals being prepared by the chefs, there are no delays in service. At Rhubarb, customers can observe the chefs in action in the open-plan kitchen while waiting for their meals. Chef Paul, the head of Rhubarb's culinary team, brings a distinct French cuisine approach to the table.
For the set lunch, you can choose between a three- or four-course meal, both of which highlight fruits and vegetables. This is perfect if you're a vegetarian seeking some classic French cuisine.
Rhubarb is usually fully booked, so we recommend making a reservation for a peaceful dining experience. It's easy to make an appointment, but please note that confirmation may take some time.
3) Wolfgang's Steakhouse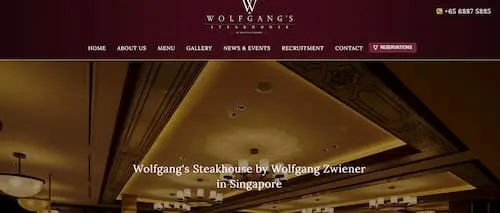 Key Service
High quality steak
More choices on set lunches
Address
1 Nanson Road #02-01 Intercontinental Singapore Robertson Quay Singapore 238909
Website
https://wolfgangssteakhouse.sg/
Phone
+65 6887 5885
Delivery
Yes
Operating Hours
Monday to Sunday: 11:30 AM – 11:30 PM
Indulge yourself with a mouthwatering steak for lunch at Wolfgang Steakhouse. This renowned restaurant, founded in 2004, is a haven for meat lovers. Their USDA Prime Black Angus steaks are dry-aged for 28 days on site, ensuring exceptional flavor and tenderness.
But Wolfgang Steakhouse offers more than just steaks. Explore their lunch menu, which features a delightful variety of salads, seafood dishes, pasta, burgers, sandwiches, and desserts. Whether you're a meat connoisseur or craving something different, this place has something for everyone.
Wolfgang Steakhouse presents a diverse range of lunch options, featuring the deli's exquisite entrees and an impressive wine bar collection with both contemporary and aged bottles. Because, let's face it, a steak is always better with a fine bottle of wine, right?
Come and experience the perfect blend of quality, taste, and variety at Wolfgang Steakhouse.
4) Zafferano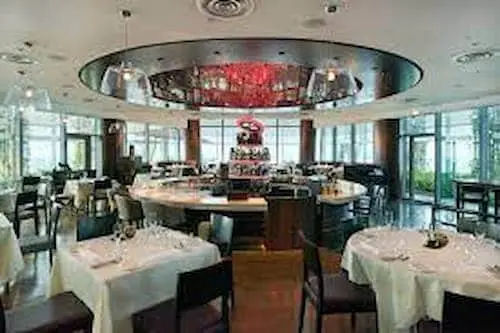 | | |
| --- | --- |
| Key Service | Contemporary Italian Cuisine |
| Address | Level 43 Ocean Financial Centre, 10 Collyer Quay, Singapore 049315 |
| Website | http://zafferano.sg/ |
| Phone | +65 6509 1488 |
| Operating Hours | Tuesday to Sunday: 12:00 PM – 3:00 PM, 6:00 PM – 11: 00 PM |
Perched 43 stories above bustling Collyer Quay, Zafferano, the Italian restaurant, beckons with a mesmerizing dining experience. Indulge in the tantalizing taste of authentic Italian hospitality amidst breathtaking views.
Immerse yourself in the allure of beautiful food, exceptional service, and mouthwatering meals, all savored on our inviting outdoor patio. Zafferano, where culinary excellence meets Singapore's finest Italian cuisine.
Indulge in Head Chef Andrea De Paola's contemporary Italian creations, where his distinctive accent shines through each signature dish. Experience a culinary journey that evolves with the seasons, featuring exquisite Kurobuta Pork Cheek Ravioli drizzled with pecorino sauce and heavenly Tagliatelle Pasta adorned with Butter Sauce and White Truffle.
Fall flavors never tasted so extraordinary!
5) Yantra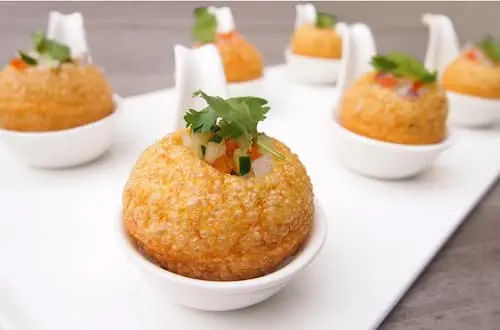 Key Service
Indian cuisine
Vegan options
Address
163 Tanglin Rd, #01-28/33, Si
Website
https://www.yantra.com.sg/
Phone
+65 6836 3088
Email
yantra@restobars.com.sg
Delivery
Yes
Operating Hours
Monday to Friday: 12:00 PM – 10:00 PM
Saturday to Sunday: 12:00 PM – 10:30 PM
In the vibrant culinary scene of Singapore, where Indian restaurants abound, Yantra stands out as a rare gem, offering a truly exquisite dining experience.
Step foot into Yantra and be transported to a realm where traditional Indian flavors harmoniously intertwine with contemporary tastes. The extensive restaurant menu caters not only to discerning palates but also to vegans and health-conscious individuals, making it a haven for all.
Whether you prefer to indulge in a delectable à la carte selection or opt for the tantalizing set meals, Yantra has you covered for both lunch and dinner. So, whether you're on a quest to maintain that perfect waistline or simply longing for a well-deserved treat, Yantra is the ultimate destination to satisfy your cravings.
Not only are all their dishes made using fresh and organic ingredients, but Yantra also offers a wide range of vegan options. However, it's important to note that vegan meals, like most others, tend to be pricier than traditional foods.
The interior of Yantra is equally impressive, featuring beautiful Indian fusion cuisine and stunning decor. You'll find art hangings on the walls that represent India's traditional cultures, and the restaurant itself is spacious, with large tables and comfortable velvet sofas.
6) Artemis Grill & Sky Bar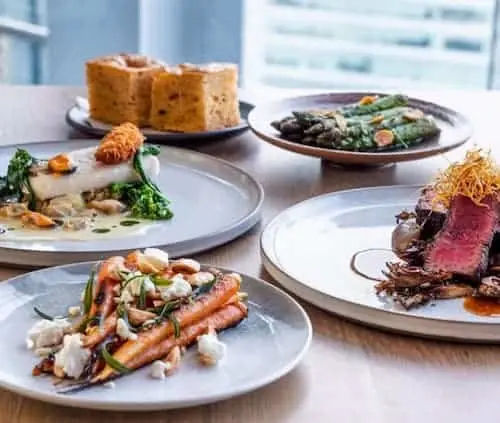 Key Service
Gluten-free and keto-friendly
Address
138 Market Street, CapitaGreen Rooftop (Level 40), Singapore 048946
Website
https://artemisgrill.com.sg/
Phone
+65 6635 8677
+65 9850 7954
Email
enquiries@artemisgrill.com.sg
Operating Hours
Monday to Friday: 11:30 AM – 9:00 PM
Saturday: 5:30 PM – 9:00 PM
Looking for a restaurant with a breathtaking view of the island? Look no further than Artemis Grill and Sky Bar! Nestled on CapitaGreen's roof, this Mediterranean gem comes highly recommended.
From delectable appetizers to irresistible desserts, Artemis Grill and Sky Bar offers a delightful range of meals prepared with the finest ingredients. But wait, it gets even better! Their executive set lunch menu, available as a two course lunch set or three-course meal, is a true crowd-pleaser.
Indulge in a culinary experience like no other, with stunning views and mouthwatering dishes at Artemis Grill and Sky Bar. Don't miss out on this unforgettable dining experience!
Meanwhile, the main dishes consist of avocado and artichokes, roasted rack of lamb, chicken breast, roasted salmon, pork secreto, and quinoa falafel. If you're vegan or prefer gluten-free meals, there's no need to worry because most of these options can be easily modified to fit your dietary preferences, including vegan, gluten-free, and keto-friendly variations.
7) Wooloomooloo Steakhouse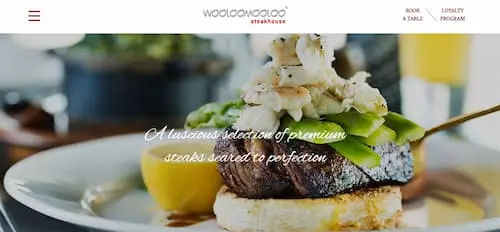 Situated within the Swissotel The Stamford, this classic Australian-influenced steakhouse offers delectable and reasonably priced meals accompanied by a stunning city skyline view.
The Weekday Set Lunch, consisting of a monthly changing assortment of dishes, features their renowned steaks alongside mouthwatering pasta and fish options like beer-battered fish. Additionally, you have the option to enhance your dining experience with one of their premium meat selections.
The dining room can accommodate up to 140 guests, while the semi-private room can seat 20 and the lounge can accommodate 70. With a wide selection of high-quality steaks, including world-famous Australian beef, complemented by an extensive wine list, you can indulge in a culinary experience while enjoying breathtaking city views through our floor-to-ceiling windows.
The restaurant also pays tribute to Australian heritage, featuring a prominent indigenous dot-painting mural. Just remember to adhere to the smart casual dress code!
8) Lerouy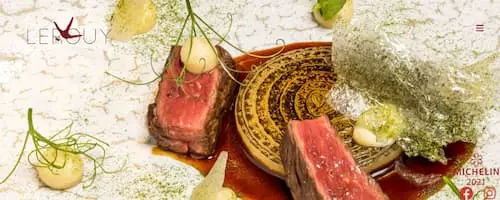 | | |
| --- | --- |
| Key Service | Authentic French cuisine relaxing ambience |
| Address | 104 Amoy St, Singapore 069924 |
| Website | https://lerouy.com/ |
| Phone | +65 6221 3639 |
| Email | contact@lerouy.com |
| Delivery | Yes |
| Operating Hours | Tuesday to Saturday: 12:00 PM – 8:45 PM |
Step into the world of Leroy, a Michelin-starred gem nestled in Singapore, where classic French cuisine takes on a modern twist. At the helm is the renowned chef Lerouy, hailing from Alsace, France, and boasting an impressive culinary journey spanning Abu Dhabi, Marrakech, Los Angeles, and Shanghai's finest establishments.
But there's more to Leroy than exquisite flavors. Picture an open-kitchen design, where anticipation intertwines with entertainment. As you await your order, marvel at the skill and artistry of our professional chefs, turning fresh ingredients into culinary masterpieces right before your eyes.
Leroy: a feast for the senses, where gastronomy meets theater.
The lunch and dinner options at Lerouy are constantly evolving, ensuring that each dining experience is distinct. By visiting once a month, you can indulge in a fresh selection of French cuisine every time.
9) VUE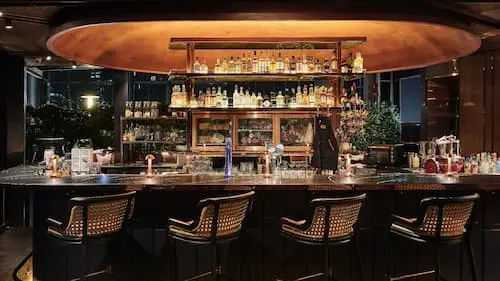 Key Service
Skilled chefs
Extensive wine list
Address
OUE Bay Front, 50 Collyer Quay Level 19, Singapore 049321
Website
https://www.vue.com.sg/
Phone
+65 8879 0923
Email
dining@vue.com.sg
Operating Hours
Monday to Friday: 12 pm to 2 pm, 5:30 pm to 10 pm
Saturday & Sunday: 12 pm to 2.30 pm, 5:30 pm to 10 pm
Indulge in a delightful midday feast with VUE's Executive Set Lunch! Treat your taste buds to a choice of mouthwatering mains like the succulent Baked Kühlbarra Barramundi and the flavorful Grilled Chicken Breast.
You can also go for the extra-luxurious options of Grilled New Zealand Ora King Salmon or the tantalizing 24hr Slow-Roast Brisket. Experience a lunch that will leave you craving for more!
Located atop OUE Bayfront on Collyer Quay, VUE offers a chef-driven cuisine that highlights binchōtan-grilled dishes, complemented by an extensive selection of wines. Setting itself apart from the rest, VUE is also home to Singapore's first rooftop spritz bar.
10) Candlenut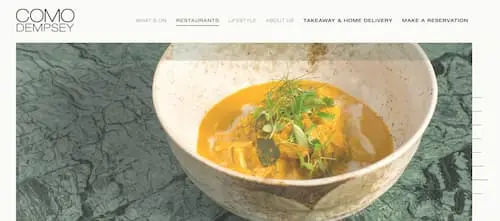 | | |
| --- | --- |
| Key Service | World's first Michelin-starred Peranakan restaurant |
| Address | Block 17A Dempsey Road, Singapore 249676 |
| Website | https://www.comodempsey.sg/restaurant/candlenut |
| Phone | +65 8121 0176 |
| Delivery | Yes |
| Operating Hours | Monday to Sunday: 12 PM – 3 PM, 6 PM — 10 PM |
The restaurant's 'Taste of Candlenut' Lunch Menu, curated by the owners, features a delightful three-course meal. Indulge in dishes like the Maori Lake's Lamp Satay and classic recipes such as Chef Malcolm Lee's mother's chicken curry and Aunt Caroline's Babi Buah Keluak.
Candlenut has made history by becoming the world's first Michelin-starred Peranakan restaurant, offering a truly unique dining experience. Their innovative approach to Peranakan cuisine enhances the flavors and complexity without compromising on taste.
Set Lunch Singapore
In conclusion, Singapore's culinary scene is a vibrant tapestry of flavors and cuisines, offering a plethora of options for enjoying a set lunch.
From the tantalizing Indian fusion at Yantra to the classic Australian-influenced steakhouse, Wooloomooloo, and the world's first Michelin-starred Peranakan restaurant, Candlenut, there's something to satisfy every palate.
Whether you're a local food enthusiast or a visiting gourmand, the city's gastronomic landscape promises a unique and unforgettable dining experience.
Frequently Asked Questions (FAQs)
If you have any questions about set lunches in Singapore, you can refer to the frequently asked questions (FAQ) about the best Set Lunches in Singapore below:
What are the best set lunches in Singapore?
The best set lunches in Singapore include Rhubarb Le Restaurant, Lerouy, Yantra, Club Street, Collin's Grille, and Artemis Grill & Sky Bar.
Where can I find the best set lunch menus in Singapore that serve delicious food?
Explore the top restaurants mentioned in the article for their delightful set of lunch menus. All of them offer a wide selection of delicious dishes to satisfy your cravings.
Are there any restaurants in Singapore that specialize in authentic French cuisine and offer a relaxing set lunch experience?
Yes, you can indulge in authentic French cuisine and enjoy a relaxing lunch at Rhubarb Le Restaurant. Their set lunch menu features beautifully crafted dishes that will transport you to the streets of Paris.
Which restaurants in Singapore serve fresh seafood dishes in their lunch sets?
If you're a seafood lover, head to Collin's Grille. Their lunch sets include fresh seafood options that are sure to tantalize your taste buds.
Where can I find affordable lunch sets in Singapore that offer a two-course meal?
For affordable lunch sets with a two-course meal, check out Collin's Grille and Wooloomooloo Steakhouse. They offer great value for money without compromising on taste.
Are there any Indian cuisine restaurants in Singapore that offer vegan options in their business lunch sets?
Yes, Yantra serves Indian cuisine vegan options available in their business lunch sets. It's a perfect choice for those looking for plant-based options.
Do the restaurants mentioned in the article offer both a la carte and dinner menus alongside their set lunch menu?
Absolutely! Yantra provides both a la carte and dinner menus in addition to its enticing set lunch menu. You can enjoy their perfectly cooked dishes throughout the day.
Additional Useful Articles
If you are looking for other useful guides and articles about Set Lunches in Singapore, check them out below: