Oyster Bar Singapore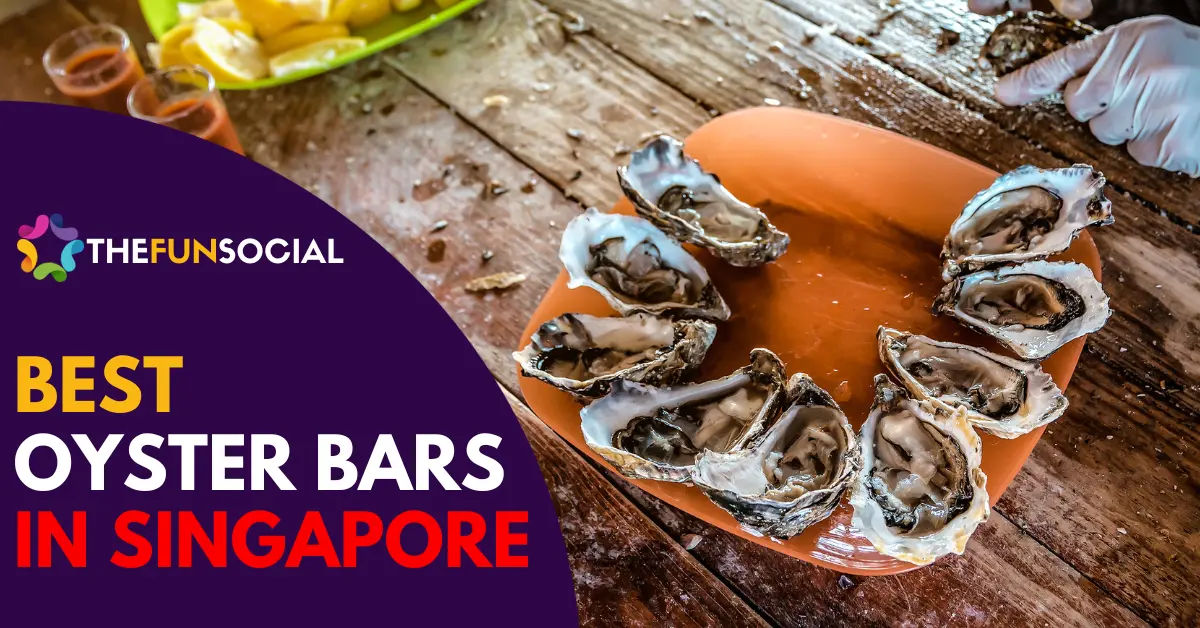 For seafood lovers and gourmet adventurers alike, Singapore is indeed a paradise, boasting an array of dining establishments that specialize in serving the creamy, briny delights that are oysters.
The best oyster bars in Singapore are Angie's Oyster Bar, Culina at Como Dempsey, The Secret Mermaid, Humpback, and Db Bistro & Oyster Bar.
When selecting an oyster bar in Singapore, take into account elements like pricing, menu options, atmosphere, and location.
Singapore's oyster bars provide a delightful gastronomic experience, serving the freshest catches with tantalizing flavors in diverse settings. Each visit guarantees a memorable culinary journey, ranging from upscale sophistication to relaxed charm.
Here, we'll be exploring the top oyster bars in Singapore, promising a sublime experience for your palate.
Quick Summary
Best oyster bars in Singapore are Angie's Oyster Bar, Culina at Como Dempsey, The Secret Mermaid, Humpback, and Db Bistro & Oyster Bar.
When choosing an oyster bar in Singapore, consider factors such as price range, menu, ambience, and location.
Oyster bars in Singapore offer a gastronomic extravaganza, delivering the freshest catches adorned with unique, mouth-watering flavors in an atmosphere that ranges from classy sophistication to laid-back charm, making each visit a memorable culinary journey.
Best Oyster Bar Singapore
1) The Secret Mermaid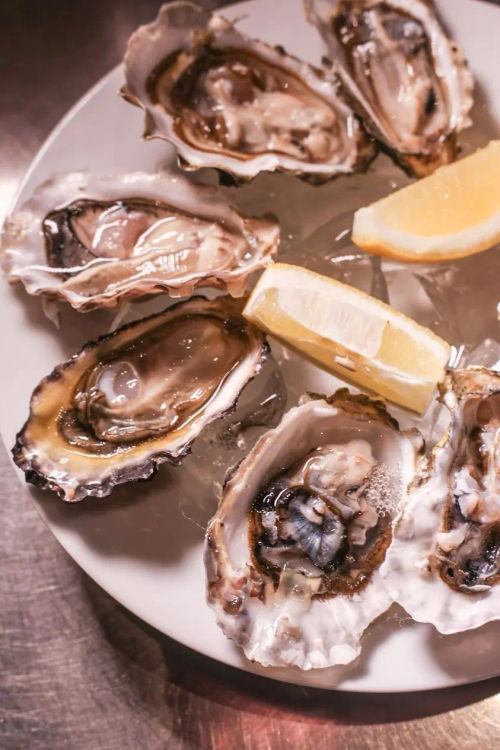 Key Service
Japanese restaurant
Address
Ocean Financial Centre #B1-09
10 Collyer Quay 049315
Website
https://www.thesecretmermaid.com/
Phone
6634 8593
Operating Hours
Monday – Friday: 17:00 – 22:30
Located in the heart of the CBD, this establishment is a true hidden gem. By day, it operates as a Japanese eatery, and by night, it transforms into a bar and liquor store. The Secret Mermaid proudly offers an impressive collection of over 45 spirits in its extensive library.
As you embark on an alcoholic adventure, indulge in freshly shucked oysters adorned with delightful toppings like ikura and mentaiko. And for those who prefer the natural flavors, the oysters can be enjoyed in their purest form, without any additional extras.
2) Angie's Oyster Bar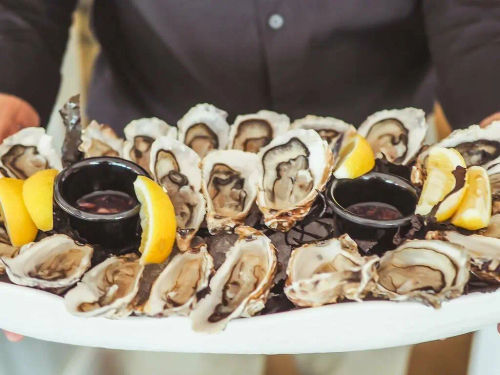 Key Service
Freshest oysters from around the world
Address
313A Outram Road, Tan Boon Liat Building,
Level 2, 169073 Singapore.
Website
https://www.angies.com.sg/
Phone
+65 6221 9555
Email
hello@angies.com.sg
Operating Hours
LUNCH: MON – FRI 12pm – 3pm
BRUNCH: SAT, SUN & PH 11am – 4pm
DINNER: MON- THURS 5.00pm – 11pm
DINNER: FRI-SAT 5.30pm – 12am
DINNER: SUN 5.30pm – 11pm
Le Bistro, a restaurant with French influences, offers a rotating selection of the freshest oysters from around the world. France boasts popular wines in the UK known for their briny and nutty flavor profiles. If you're looking for something more substantial and sweet, the Sunseeker oysters from Canada would be a perfect choice.
3) Humpback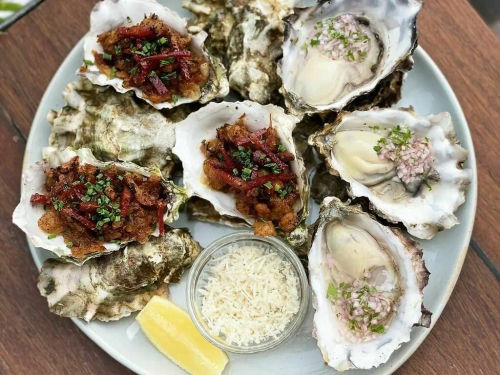 Key Service
Hama hama, blue pool, sun-seeker, and pickering passage oysters
Address
18-20 Bukit Pasoh Road
Singapore 089834
Website
https://www.humpback.sg/
Phone
+65 9772 9896
Email
info@humpback.sg
Operating Hours
Mon, Wed – Fri: 5pm to 11pm
Sat: 12pm – 11pm
Sun: 12pm – 9pm
*Tuesdays closed
After visiting the Hama Hama oyster farm in Washington State, the Humpback team was inspired to bring the experience to Singaporeans.
This seafood haven offers a range of oysters like hama hama, blue pool, sun-seeker, and pickering passage oysters. Pair them with your choice of drinks and don't miss out on the $3 oyster deal during happy hour.
4) Greenwood Fish Market and Bistro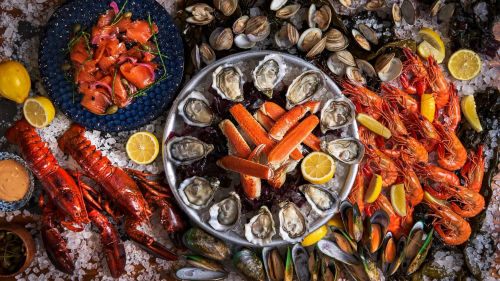 At the Blue Plate Oyster Bar, you can enjoy a variety of freshly shucked oysters from Canada, Australia, France, the United States, and Ireland, all at an affordable price.
To start your meal, tantalize your taste buds with unique options like the crisp and briny Coffin Bay oyster, the buttery and sweet Golden Mantle oyster with a melon finish, or the delightful blend of creaminess and salt in the Pink Moon oyster.
5) Southbridge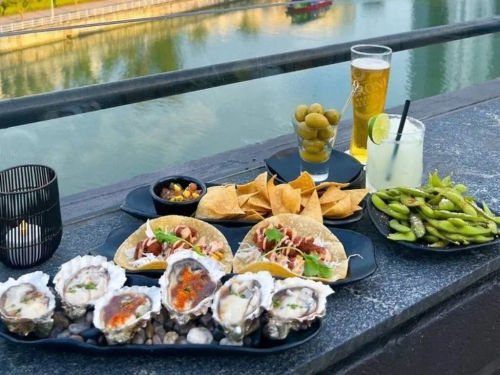 The possibilities are endless at Southbridge, where you can experience the best views of the Singapore skyline from a fully alfresco rooftop.
Located at 80 Boat Quay, this refurbished heritage shophouse offers panoramic sights, ranging from the historic Parliament House to the iconic Marina Bay Sands and Boat Quay Skyline.
Indulge in a variety of oysters served in half a dozen ways: Umami (ponzu and yuzu sauce), Nikkei (bulldog sauce with togarashi), Mignonette (banana shallot and sherry vinegar), and Natural (fresh lemon and Tobasco). Don't miss the happy hour, where you can enjoy a refreshing G&T or two from their extensive gin list.
6) Culina at Como Dempsey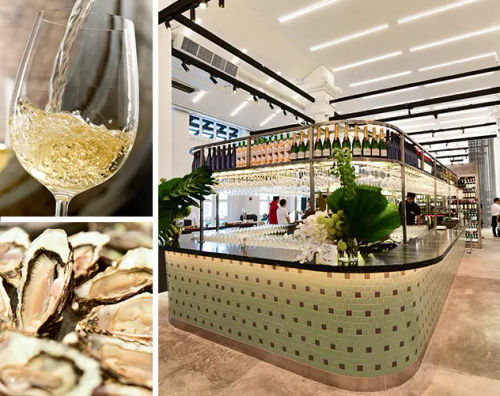 Dempsey Hill boasts a range of gourmet dining options, but when it comes to shellfish aficionados, Culina is the go-to bistro. Offering a changing assortment of air-flown oysters, their menu is always exciting and diverse.
If you're in the mood for oysters, don't miss out on the plump French Gillardeau, known for its delightful crunchiness and subtle hazelnut flavor. Another exceptional choice is the black pearl oyster, a variety sourced from the French coast, consistently ranked among France's top three premium oysters.
7) The Oyster Bank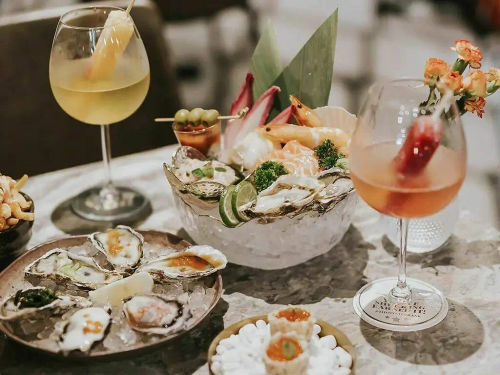 Key Service
Variety of oysters
Address
107 North Bridge Road #02-32, Funan, Singapore 179105
Website
https://www.theoysterbank.sg/
Phone
(+65) 6970 0487
Operating Hours
Mon to Thu | 11:30AM – 3PM & 4:30PM – 9:30PM
Fri | 11:30AM – 3PM & 4:30PM – 10PM
Sat | 11:30AM – 10PM
Sun | 11:30AM – 9:30PM
Indulge in a variety of oysters, such as serrano lime, classic mignonette, grapefruit ponzu, yuzu foam, and ikura with horseradish dill. Opt for the Oysters and a Pop set to savor all the flavors in pairs, accompanied by a bottle of wine. Additionally, you can choose from baked options like mentaiko, basil cream, garlic miso, and blue cheese.
Explore the Oyster Bank, located in Funan and Great World shopping malls, as well as other various locations.
8) Db Bistro & Oyster Bar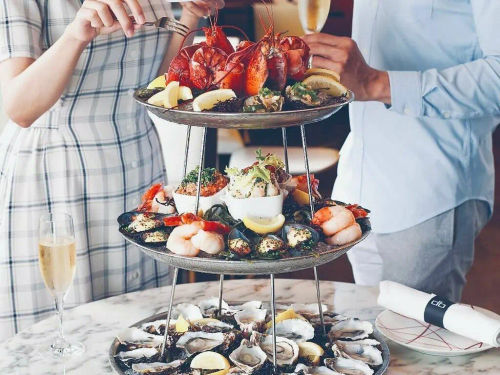 Key Service
Wide variety of oysters
Address
The Shoppes at Marina Bay Sands, B1-48, Galleria Level, 2 Bayfront Avenue,
Singapore 018956
Website
https://www.dbbistro.com/singapore
Phone
+65 6688 8525
Email
dbprivatedining@marinabaysands.com
Operating Hours
DINNER
Sun – Thurs/5:30pm – 9:00pm
Fri – Sat/5:30pm – 9:30pm
LUNCH
Mon – Fri/12pm – 4:00pm
BRUNCH
Sat & Sun/12pm – 4:00pm
At Daniel Boulud's famous establishment, there is an impressive oyster bar that catches the eye. It features a wide variety of the freshest treasures from the sea, including seasonal oysters and the chef's special Oysters Vanderbilt – oyster gratinée with a hazelnut and seaweed crust.
And while you're there, don't miss out on other delightful oceanic favorites like blue crab salad, tuna tartare, and the exquisite Kaluga caviar.
9) Tanuki Raw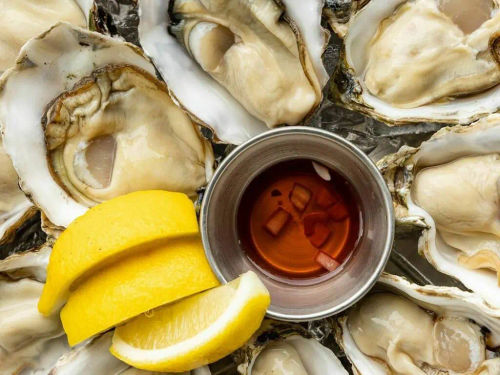 Key Service
Classic fresh raw oysters
Address
181 Orchard Road
04-01 Orchard Central
Singapore 238896
Website
https://tanukiraw.com/
Phone
+65 6636 5949
Operating Hours
11:30 AM – 10:00 PM daily
Indulge in the flavors of French, Canadian, and Japanese oysters at Tanuki Raw. This popular bar attracts a crowd of shellfish enthusiasts during its daily happy hour, offering oysters starting at just $2!
While the classic fresh raw oysters are a favorite, you can also try it with a touch of excitement. Choose from options like the truffle oyster with the restaurant's signature truffle soy sauce, the mentai oyster with torched mentaiko mayo, or the ikura oyster topped with salmon roe.
10) Luke's Oyster Bar & Chop House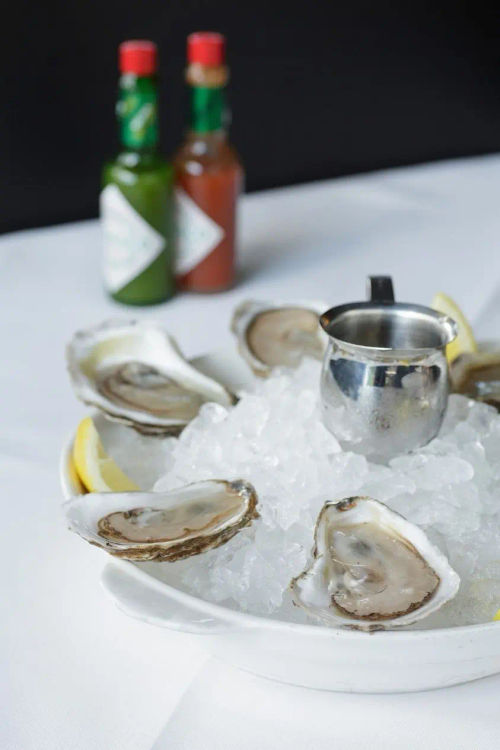 | | |
| --- | --- |
| Key Service | New York-style seafood restaurant |
| Address | 22 Gemmill Lane, Singapore 069257 |
| Website | https://lukes.com.sg/ |
| Phone | 6221 4468 |
| Email | info@lukes.com.sg |
| Operating Hours | Mondays to Sunday – 12pm – 10:30pm |
This New York-style seafood restaurant, led by Boston's culinary mastermind Travis Masiero, is the ultimate destination for an exceptional range of oysters. Carefully sourced from Travis' personal connections along America's eastern seaboard, these oysters in Singapore are among the finest you'll ever taste.
Prepare to indulge in a selection including Powder Point, Pleasant Bay, Beau Soleil, and Barnstable varieties.
Oyster Bar Singapore
In conclusion, Singapore offers an impressive selection of top-notch oyster bars for connoisseurs and enthusiasts alike. Whether you appreciate the natural flavor of freshly shucked mollusks or enjoy a creative twist with unique toppings, there's something to satisfy every palate.
From elegant rooftops with panoramic views to cozy bistros tucked away in the heart of the city, each venue promises a memorable dining experience.
So, take a gastronomic journey through these incredible establishments and savor the best oysters Singapore has to offer.
Frequently Asked Questions (FAQ)
If you have any questions about Oyster bars in Singapore, you can refer to the frequently asked questions (FAQ) about the best Oyster Bars in Singapore below:
What are the best oyster bars in Singapore?
The best oyster bars in Singapore include Angie's Oyster Bar, Humpback, Kakiin Oyster Bar, Db Bistro & Oyster Bar, Culina at Como Dempsey, and The Secret Mermaid.
Who is the owner of Oyster Bank?
The Oyster Bank is owned and operated by the Lo & Behold Group, a leading hospitality company in Singapore. Their portfolio includes other popular establishments such as The Black Swan, OverEasy, and Tanjong Beach Club. In addition to their focus on providing quality dining experiences, they also prioritize sustainability and responsible sourcing practices.
How does an oyster bar work?
An oyster bar typically offers a variety of freshly shucked oysters, as well as other seafood dishes. Customers can either order individual fresh oysters or choose from pre-set platters. Some oyster bars also offer baked oyster options and unique toppings for added flavor.
Customers can enjoy their oysters with a variety of accompaniments such as lemon, vinegar-based sauces, and mignonette. Oyster bars may also offer a selection of other seafood dishes and drinks to complement the oysters. During happy hours, oyster bars often have discounted prices for their oysters and drinks.
Where did the oyster bar come from?
The history of the oyster bar can be traced back to the 17th century in Paris, France. Oysters were a popular food choice among the working class, and street vendors would sell them freshly shucked on the streets.
Does Singapore have oysters?
Yes, Singapore has a wide variety of oysters available at various oyster restaurants and seafood restaurants. These oysters are sourced from different regions around the world and are known for their freshness and quality. Many reputable oyster bars in Singapore also have relationships with sustainable oyster farms to ensure responsible sourcing practices.
What are the top options for enjoying half a dozen oysters in Singapore?
A1: Some of the best places to indulge in half a dozen oysters in Singapore include Joo Chiat Oyster House, where you can savor their fresh seafood platter, and Butter Shoyu, known for their delectable baked oysters.
Where can I find delicious seafood platters along with a variety of oyster choices in Singapore?
If you're looking for a combination of mouthwatering seafood platters and a diverse oyster menu, be sure to visit Joo Chiat Oyster House. Their extensive selection showcases both naked oysters and creatively baked oysters.
Which oyster bars in Singapore specialize in serving raw oysters?
If you're a fan of raw oysters, head over to Joo Chiat Oyster House, one of the top oyster bars in Singapore. They offer a wide range of freshly shucked oysters that are sure to satisfy your cravings.
Can I expect a dozen oysters at the featured oyster bars in Singapore?
Absolutely! The top oyster bars on our list, including Joo Chiat Oyster House, offer a dozen oysters as part of their menu. You can enjoy a generous serving of these delectable treats.
Are there any recommended oyster bars in Singapore that also serve other types of fresh seafood?
Yes, Joo Chiat Oyster House not only specializes in oysters but also offers a delightful array of fresh seafood options. Their seafood platter is highly recommended for seafood enthusiasts.
Where can I find great food along with a fantastic oyster selection in Singapore?
Look no further than Joo Chiat Oyster House. Not only do they offer an impressive oyster menu, but their overall culinary experience is known for serving great food that will satisfy your taste buds.
Additional Useful Articles
If you are looking for other useful guides and articles about Oyster Bars in Singapore, check them out below: