Mooncake Singapore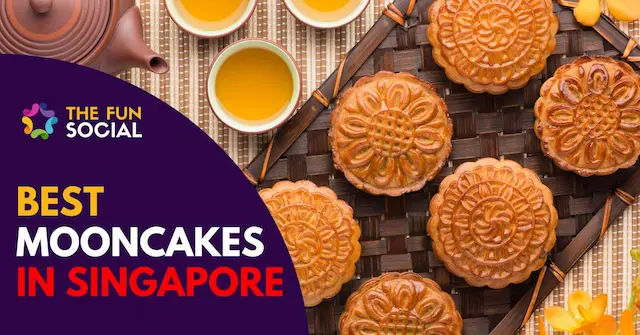 Known for its rich cultural heritage, Singapore is no stranger to the festive tradition of Mooncake Festival, celebrated with much fanfare across the city.
The best Mooncakes in Singapore are from Swensen's, The Marmalade Pantry, Fullerton Hotel, Laderach, and Tai Cheong Bakery.
When choosing a mooncake in Singapore, consider factors such as the mooncake's texture, flavor, filling, and size.
There are different flavors of mooncakes available, including snowskin, egg custard, white lotus paste, and baked mooncakes.
Uncover Singapore's finest mooncakes through this comprehensive guide, ensuring a delightful celebration for your Mid-Autumn Festival.
Understanding Mooncakes: Tradition and Types
Mooncakes are much more than just pastries; they carry a deep history that dates back to ancient times. Traditionally enjoyed during the Mid-Autumn Festival, these round delicacies symbolize unity and the fullness of life. Singaporeans have embraced mooncakes as a cherished part of their cultural heritage.
From traditional lotus seed paste mooncakes to contemporary renditions with innovative fillings, the variety of mooncakes available caters to diverse preferences. Whether you prefer the richness of classic flavors or the excitement of new taste experiences, there's a mooncake for everyone.
Factors to Consider When Selecting Mooncakes
Choosing the perfect mooncake involves more than just a casual selection. To ensure a delightful experience, here are key factors to keep in mind:
Flavor: Mooncakes come in an array of flavors, including lotus seed paste, red bean, and even durian. Select a flavor that resonates with your taste preferences.
Presentation: Mooncakes are often exquisitely designed, making them not only delicious but visually appealing. Consider mooncakes that are beautifully crafted.
Ingredients: Pay attention to the ingredients used in the mooncakes, especially if you have dietary restrictions or preferences.
Expert Opinions: Expert reviews provide valuable insights. Look for recommendations from experienced food critics or connoisseurs to guide your choices.
Reputation: Opt for mooncakes from reputable bakeries or brands known for their commitment to quality and authenticity.
Best Mooncake Singapore
1. Swensen's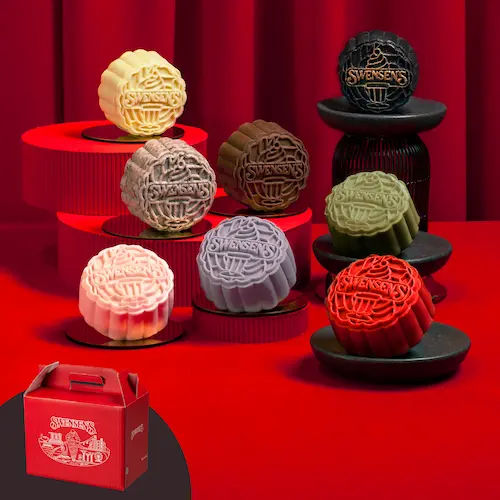 Swensen's mooncakes offer a delightful twist on traditional flavors. With a range of innovative fillings and meticulous craftsmanship, their mooncakes capture the essence of both nostalgia and contemporary tastes.
Key Differentiators
Joyful indulgence
Family-friendly flavors
Wide selection
Client Testimonial
Have free birthday sundae on actual birthday. Pricey but food is good and enjoyable to celebrate birthday here.

Frank Pang
2. The Marmalade Pantry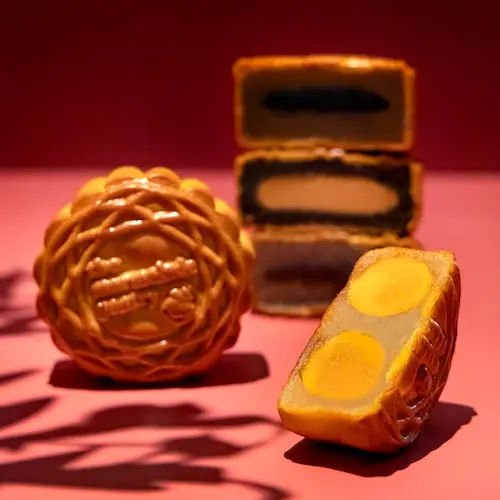 The Marmalade Pantry offers creatively crafted mooncakes that blend authenticity with a modern twist. These handcrafted treats feature premium ingredients and a symphony of flavors, capturing traditional charm while offering a delightful departure from convention. Indulge in rich fillings encased in beautifully designed pastries for an unforgettable experience.
Key Differentiators
Contemporary indulgence
Modern flair
Gourmet touch
Client Testimonial
Really loved the food here, the portions were quite large. The truffle field mushroom risotto was my favourite. Truffle taste was strong but not overpowering, paired very nicely with the portobello and creamy risotto. Service was excellent, waiting time was very short and staff were efficient, very friendly,and helpful. Ambience is not bad too. Would come back again 🙂

Rachel Yong
3. Fullerton Hotel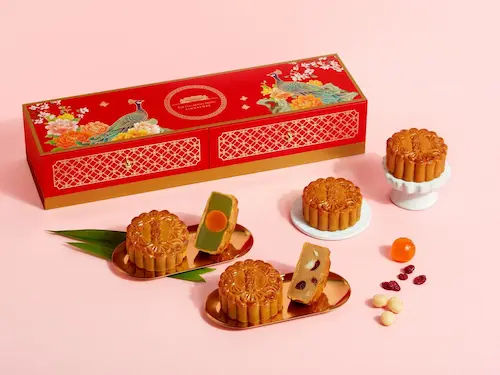 Indulge in the exquisite mooncakes from Fullerton Hotel. These luxurious treats are meticulously crafted with the finest ingredients, showcasing the hotel's commitment to quality. Symbolizing opulence, they are highly coveted gifts during the Mid-Autumn Festival, delighting recipients with their decadent flavors and impeccable presentation.
Key Differentiators
Grandeur and opulence
Legacy of excellence
Fine ingredients
4. Laderach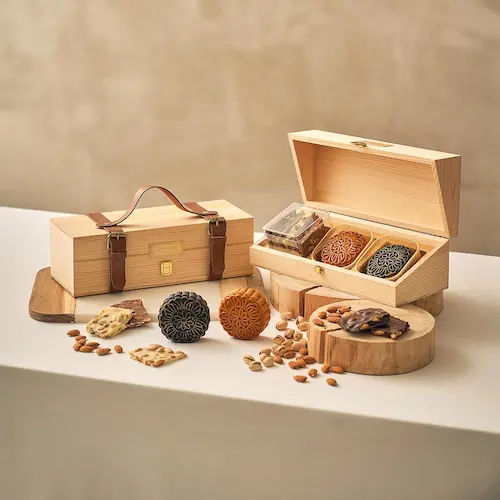 Laderach's mooncakes showcase the artistry of Swiss chocolate craftsmanship. Meticulously crafted with the finest quality chocolate, each mooncake offers a rich, velvety texture and a delightful array of flavors. Indulge in the magic of Laderach's mooncakes for a pure chocolate bliss experience.
Key Differentiators
Swiss chocolate mastery
Luxurious indulgence
Rich, quality chocolate
Client Testimonial
I cannot express in words how much delicious their chocolates are. They are prepared in Switzerland and oh my god they taste so good. Yes the chocolate sold is costly, but it is value for money.

n.deepak prasath
5. Tai Cheong Bakery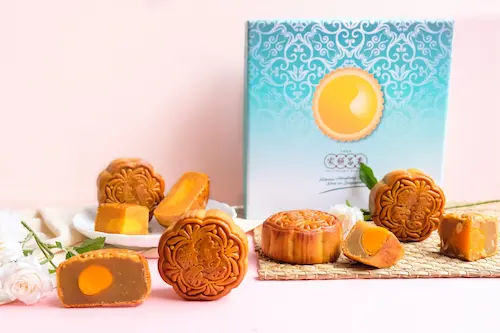 Tai Cheong Bakery's mooncakes, inspired by their famous egg tarts, are a delicious tribute. Crafted with care, these mooncakes embody the same quality that made their egg tarts legendary. With a perfect balance of traditional flavors and innovative elements, they offer an unforgettable experience for mooncake enthusiasts.
Key Differentiators
Egg tart legacy
Meticulous craftsmanship
Heritage flavors
Client Testimonial
A convenient place at Holland Village to have brunch. Their menu are generally more suitable breakfast and brunch given such as tarts and macaroni soup. Able to dine indoors and outdoors(suitable for cyclist).

Terry Sim
6. Conrad Singapore Orchard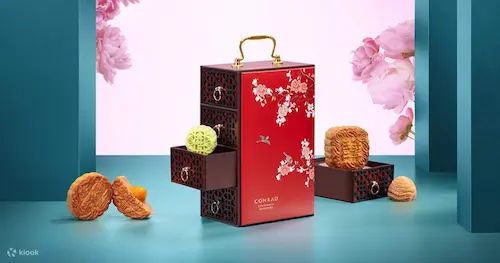 Conrad Singapore Orchard offers meticulously crafted mooncakes that embody elegance and sophistication. Each mooncake is a work of art, prepared with the finest ingredients and culinary mastery. With a commitment to excellence, Conrad Singapore Orchard creates mooncakes that tantalize taste buds and leave a lasting impression. Indulge in the harmonious blend of flavors and textures for an unforgettable culinary experience.
Key Differentiators
Gourmet excellence
Diverse flavors
Artisanal crafting
Client Testimonial
My partner and I had our wedding two days ago at CONRAD hotel and were pleased with the food and setup for our banquet. Special shoutout to Vicky, whom had been super prompt and efficient with her service for the past few months. Definitely recommend Conrad Orchard and would visit this place again!

MAX TAN
7. PS.Cafe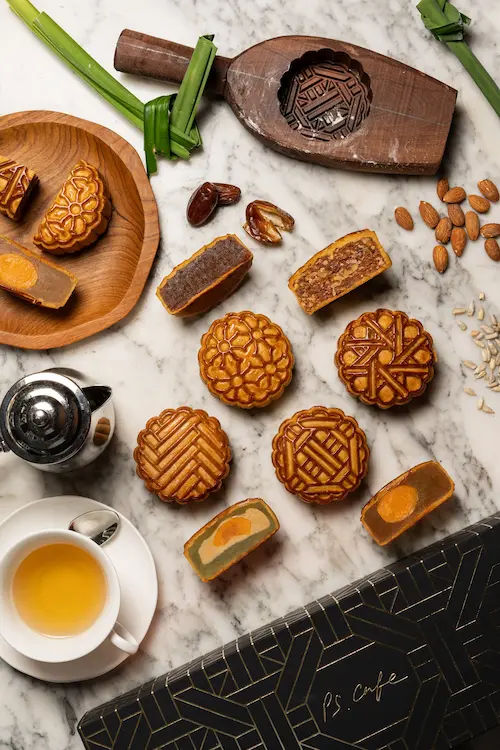 PS.Cafe's mooncakes are a perfect fusion of modern artistry and traditional flavors. Each bite takes you on a delightful journey of rich textures and harmonious flavors. From the exquisite designs to the meticulous attention to detail, these mooncakes are a true work of culinary art. Indulge in the ultimate blend of innovation and tradition with PS.Cafe's mooncakes.
Key Differentiators
Contemporary twists
Artful aesthetics
Innovative combinations
Client Testimonial
A very good place to hang out with friend, but honestly I might not want to order the salad again, it's quite boring, should have try the steak sandwich, will do it next time.
The outdoor view is definitely the best, staff is so nice to give a birthday decor on the orange cake. Love the experience.
Best place to skate.

Mao Heng Sun
8. Shangri-La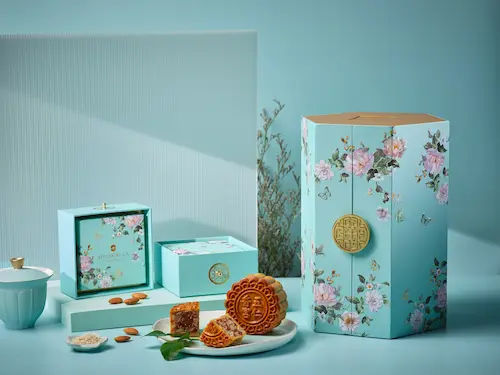 Experience the essence of Asian culinary tradition with Shangri-La's exquisite mooncakes. Crafted with precision and care, these delectable treats offer a diverse range of flavors to suit every palate. Indulge in the spirit of sharing and delight as you savor each harmonious bite, bringing joy to every moment of enjoyment.
Key Differentiators
Asian hospitality
Culinary diversity
Premium presentations
9. Mdm Ling Bakery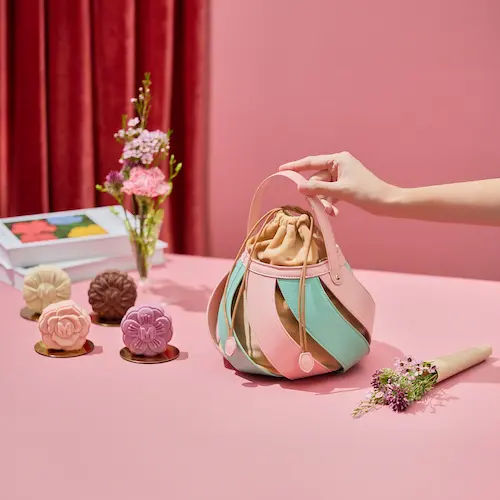 Experience the enchantment of the Mid-Autumn Festival with Mdm Ling Bakery's meticulously handcrafted mooncakes. These culinary masterpieces not only pay homage to tradition but also take you on a nostalgic journey, immersing you in the rich cultural heritage of this festive occasion. Indulge in the flavors, textures, and aromas of Mdm Ling Bakery's mooncakes and let the magic of the Mid-Autumn Festival come alive in every bite.
Key Differentiators
Time-honored techniques
Authentic craftsmanship
Handmade artistry
Client Testimonial
I bought three boxes of Season's Colours (4 in 1) cookies as gifts to some friends and relatives. They consist of cookies in flavours of Cranberry Pineapple, Wholemeal Raisin, Salted Caramel Almond and Red Velvet Cheese. Tried the Salted Caramel Almond one so far and you can really taste the quality. Cookie is the hard kind, not the soft chewy type. Their customer service is just as excellent as their goodies. I emailed them about a missing packet of cookies and got a phone call within minutes and received four packets within an hour. Amazing!

Vincent Leow
10. Feng Shui Inn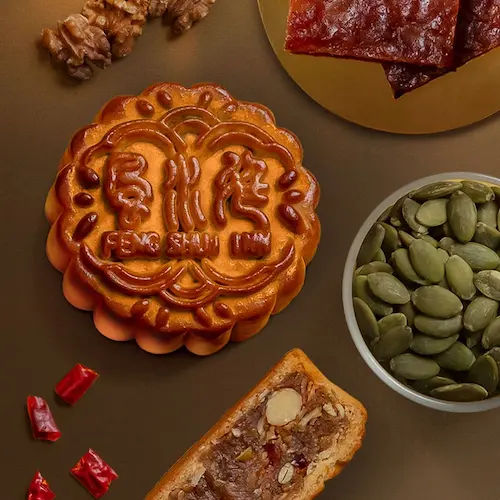 Feng Shui Inn's mooncakes are a testament to Cantonese culinary artistry. Each handcrafted delicacy is filled with carefully selected ingredients, creating flavors that tantalize and evoke harmony. Experience tradition and gastronomic excellence in every bite.
Key Differentiators
Cantonese authenticity
Classic techniques
Elevated ingredients
Client Testimonial
Friendly and accommodating staff. Superb food quality . 10/10 will definitely visit again!

Wen Qiao
11. Crystal Jade
Indulge in Crystal Jade's exquisite mooncakes and experience a culinary journey that celebrates tradition. Crafted with meticulous care, these delightful treats offer a harmonious symphony of flavors, transporting you to a world of authentic gastronomic bliss. Celebrate the essence of the Mid-Autumn Festival with every perfectly balanced bite.
Key Differentiators
Culinary heritage
Cantonese flair
Versatile options
Client Testimonial
The restaurant is spacious with very nice decorations. Food was really amazing. Their service was prompt and attentive. Had a wonderful dining experience there. Certainly worth to try.

Stanley
12. 5 ON 25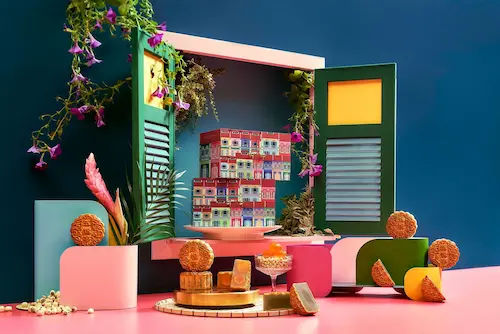 5 ON 25's mooncakes blend tradition and contemporary flair. These exquisite treats showcase a harmonious fusion of flavors, embodying the perfect balance between modern tastes and cultural heritage. Indulge in the rich, velvety texture and savor the intricate craftsmanship that goes into creating these delectable mooncakes. It's an unforgettable experience that celebrates the past while embracing the present, making them a truly exceptional culinary delight.
Key Differentiators
Modern nostalgia
Artisanal approach
Customization options
Client Testimonial
The view here is fantastic, the food is very good and the service staff are attentive and friendly. Ambience is lovely but not noisy

Adrian Tan
13. Hai Tien Lo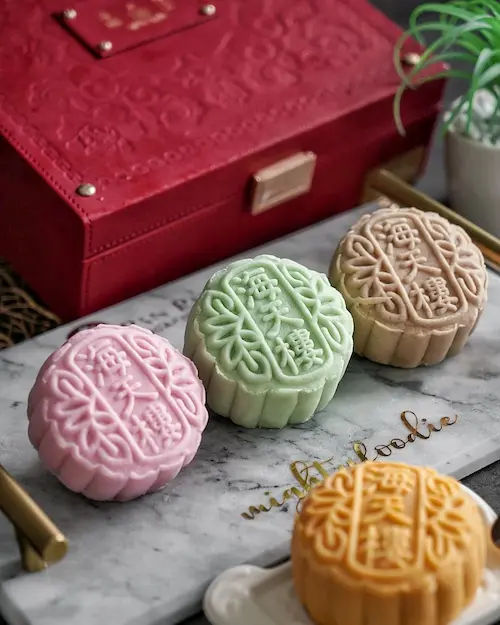 Hai Tien Lo's mooncakes are a culinary masterpiece, embodying refined Cantonese cuisine. Meticulously crafted with attention to detail, each mooncake is a work of art. From the flaky crust to the flavorful fillings, every bite offers a delightful journey for the palate. These mooncakes symbolize gastronomic excellence, delighting connoisseurs and food enthusiasts with their exquisite taste and presentation.
Client Testimonial
I would consider HTL to be one of the best Cantonese styled restaurants in Singapore. The food served is always different at every season. The staffs are friendly and attentive to our needs. Samuel, our server for today 8/12/22, was courteous and sharp. Good job! Finally, the seats are comfortable and the ambience is great.
Damage: A lot, but worthy.
I will definitely visit again.

Calvin Chua
14. Janice Wong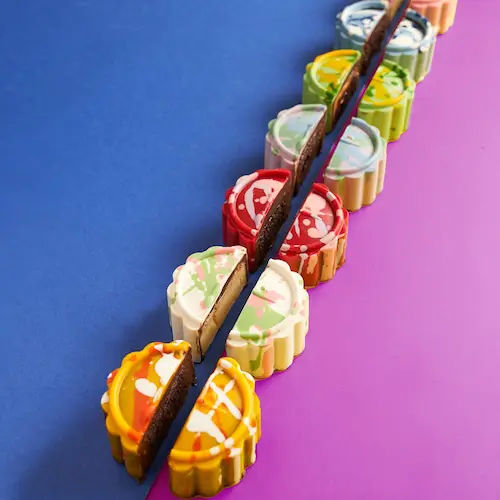 Janice Wong's mooncakes are a masterpiece of creativity and innovation. Each intricately crafted treat showcases her artistic touch and offers a delightful blend of flavors and textures. From their visually captivating appearance to the exquisite taste sensations they deliver, these mooncakes elevate the Mid-Autumn Festival experience to new heights.
Key Differentiators
Culinary creativity
Artistic presentations
Unique flavors
Client Testimonial
Interesting selection of chocolates and cakes. The popular ones need one day before your event to order. The staff is very courteous to my parents even explaining what is inside the chocolate. Overall experience is great.

Andrew Chwee
15. The Peninsula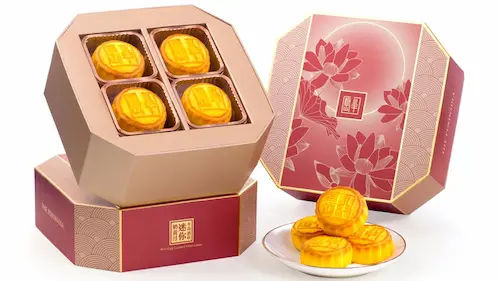 The Peninsula's mooncakes are famous for their elegance, refinement, and culinary artistry. Each one embodies tradition while embracing innovation. From the handcrafted exterior to the indulgent fillings, every detail showcases a profound appreciation for quality. Savor the harmonious blend of flavors and celebrate the Mid-Autumn Festival with an edible masterpiece.
Key Differentiators
Timeless Tradition & Innovation
Unmatched Craftsmanship
Exquisite Packaging
16. Hilton Singapore Orchard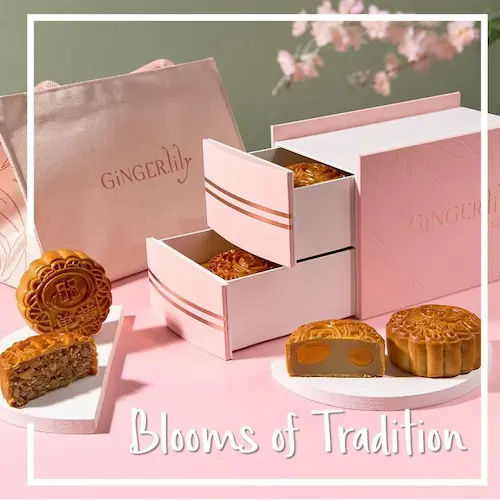 Experience the elegance and grandeur of Hilton Singapore Orchard's exquisite mooncakes. Indulge in a delightful array of meticulously crafted flavors, showcasing culinary excellence. Elevate your Mid-Autumn Festival celebrations with these luxurious treats.
Key Differentiators
Culinary excellence
Flavor diversity
Elegant packaging
17. Shisen Hanten by Chen Kentaro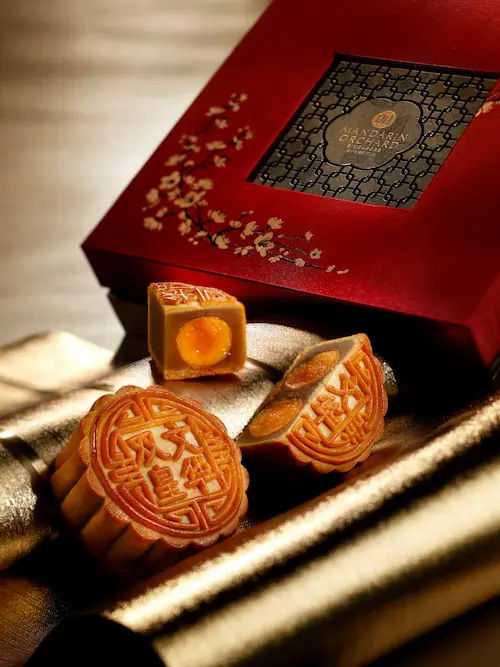 Experience the exceptional culinary artistry of Chef Chen Kentaro with Shisen Hanten's mooncakes. Blending Sichuan and Cantonese influences, these meticulously crafted treats offer a bold and distinctive flavor profile. From aromatic spices to the perfect balance of sweet and savory, indulge in a culinary adventure through Chinese cuisine's rich traditions.
Key Differentiators
Bold culinary fusion
Distinctive tastes
Chef expertise
Client Testimonial
Good food and good service! We were served by Penny and Katherine and they are very active and friendly! Would definitely come back with my friends and family to enjoy the food and service 👍🏻 price is also very affordable and value for money for Michelin standard.

S Q
18. Yàn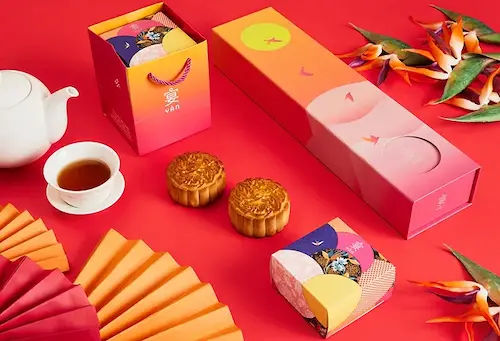 Yàn's exquisite mooncakes capture the essence of authentic Cantonese cuisine, evoking nostalgia and happiness. As the Mid-Autumn Festival nears, these treats symbolize togetherness and celebrate the rich heritage of Cantonese gastronomy. Indulge and immerse yourself in the flavors of tradition.
Key Differentiators
Authentic Cantonese cuisine
Classic flavors
Artisanal mastery
Client Testimonial
Had the lunch set course during my visit. A popular choice for business lunches/meetings. Speed of serving is pretty fast. Food is of good quality. Recommended for family meals over decent Canto cuisine.

Sara Tan
19. Mr. Bucket Chocolaterie
Experience pure bliss with Mr. Bucket Chocolaterie's exquisite mooncakes. Indulge in the tantalizing fusion of rich chocolate and classic mooncake elements, handcrafted with utmost care. Each bite is a symphony of flavors and textures that will transport you to a world of culinary delight. Don't miss the ultimate dream for chocolate lovers.
Key Differentiators
Chocolatier craftsmanship
Premium chocolate
Gourmet pairings
Client Testimonial
The staff is very nice. When we come there are not a lot of people. So we have more time to talk and try some free samples. We're also very lucky that she gave us a broken bon bon because it was not pretty enough 🙂
If you come here, you must try the earl grey chocolate

Gede Bagus Bayu Pentium
20. Raffles Hotel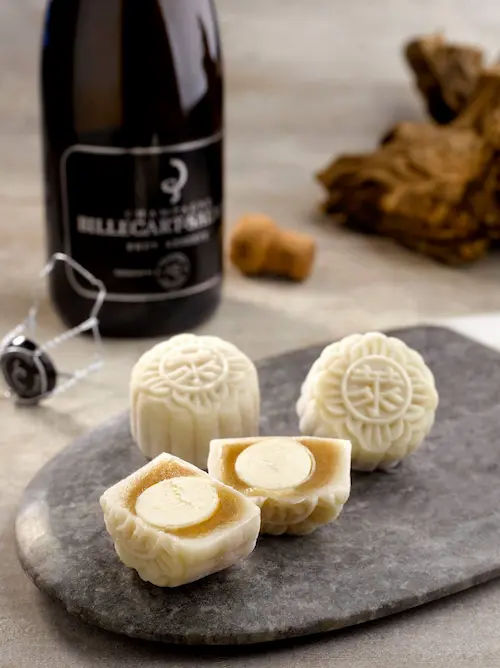 Raffles Hotel's exquisitely crafted mooncakes embody the grandeur and heritage of a historic institution. Each delicate bite takes you on a journey through time, with flavors that elegantly echo the opulence of the past. Indulge in these luxurious treats and let the moon's gentle glow illuminate your Mid-Autumn Festival celebration.
Key Differentiators
Timeless elegance
Culinary craftsmanship
Artful presentation
Tips for Storing and Enjoying Mooncakes
To make the most of your mooncake experience, here are some tips:
Storage: Store mooncakes in an airtight container to preserve freshness. Keep them in a cool, dry place away from direct sunlight.
Pairing: Enhance the flavors by pairing mooncakes with a fragrant cup of tea, such as jasmine or oolong.
Serving: Cut the mooncakes into smaller slices to savor the flavors without overwhelming your palate.
Mooncake Singapore
Mooncakes in Singapore offer a remarkable blend of tradition, craftsmanship, and culinary innovation. As you embark on your gastronomic journey, remember that each bite is steeped in history and reflects the rich cultural heritage of the Mid-Autumn Festival.
Whether you prefer classic flavors or adventurous fusions, there is a mooncake for everyone. So, celebrate this festive season by indulging in these exquisite creations, making your Mid-Autumn Festival truly unforgettable.
Frequently Asked Questions (FAQ)
If you have any questions about mooncakes in Singapore, you can refer to the frequently asked questions (FAQ) about the best Mooncakes in Singapore below:
Additional Useful Articles
If you are looking for other useful guides and articles about Mooncakes in Singapore, check them out below: