Korean BBQ Singapore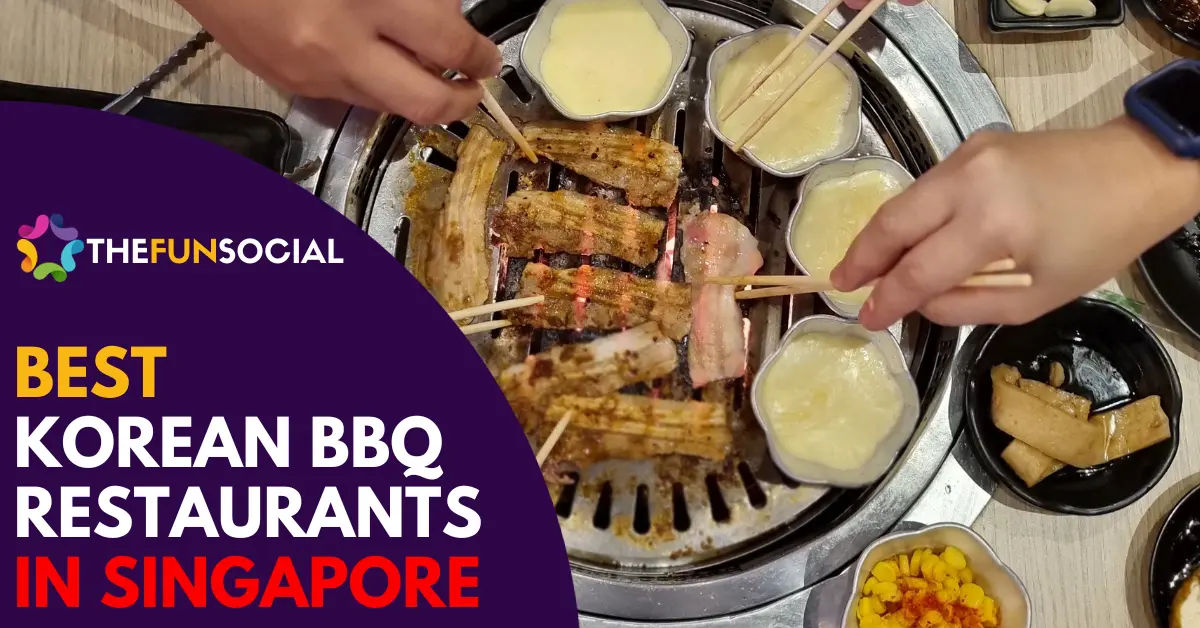 This bustling city-state is known for its thriving food scene, and when it comes to Korean BBQ, Singapore is a destination that won't disappoint.
The best Korean BBQ restaurants in Singapore are Wang Dae Bak Korean BBQ, Chowon Garden, Jun BBQ & Beer, and Hyang Yeon Korean Restaurant.
When selecting a Korean BBQ eatery in Singapore, take into account elements like customer service, variety of side dishes, ambiance, marinades, sauces, and meat quality.
Korean barbecue provides a distinct dining experience, allowing diners to grill premium meats directly at their table. It is often served with a wide selection of delicious side dishes, including kimchi, vegetables, and seafood, offering a variety of textures and flavors that make every meal a true Korean bbq feast.
Whether you're a local foodie or a tourist on the hunt for your next culinary adventure, this guide will help you navigate the vibrant landscape of Korean BBQ in Singapore.
Best Korean BBQ Singapore
1) Wang Dae Bak Korean BBQ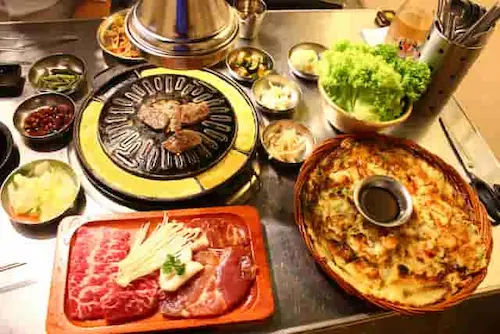 Wang Dae Bak, a renowned Korean barbecue restaurant in Singapore, has been serving customers since 2011. It is highly regarded for its authentic charcoal grill experience, delectable seafood, flavorful kimchi pancake, and delicious bibimbap. With its vibrant and relaxing atmosphere, this restaurant is an ideal choice for gatherings with friends.
2) Bornga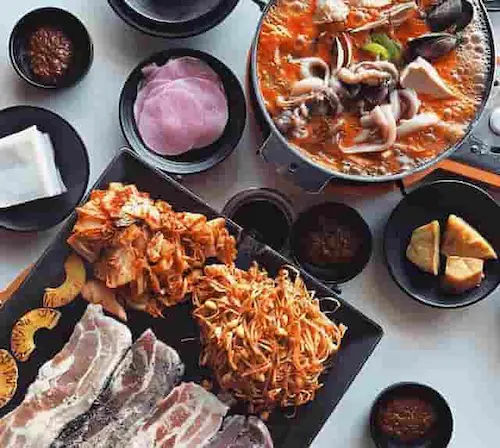 BORNGA has a simple and spacious ambiance, providing both indoor and outdoor seating options. The interior area is odor-free, thanks to effective ventilation. However, the outdoor seating can get hot and lacks ventilation, so expect to leave with a greasy smell.
While their menu may not be extensive, BORNGA offers top-quality meat. For an additional $22, you can enjoy their specialty dish of prawns.
3) Jun BBQ & Beer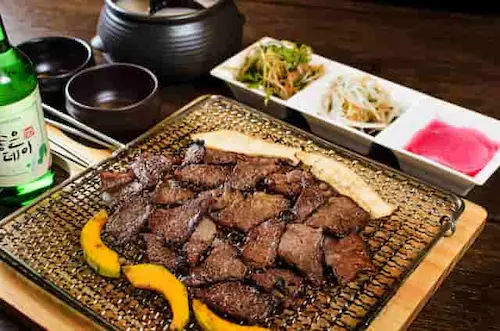 If you're looking for the ultimate Korean barbecue experience in Singapore, make your way to Jun BBQ & Beer. Since 2018, this casual korean bbq restaurant has been delighting diners with its authentic Korean cuisine. Their menu offers a wide selection of dishes to cater to every taste. Don't miss their mouthwatering grilled meats, expertly prepared in the kitchen by their skilled chefs.
4) Chowon Garden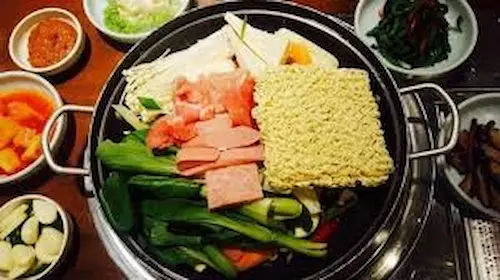 Singapore boasts a vibrant cultural heritage and a wide array of culinary delights. In recent times, Korean cuisine has gained significant popularity in the country. An exemplary establishment that serves genuine Korean barbecue dishes in Singapore is Chowon Garden Restaurant.
5) Captain Kim Korean BBQ & Hotpot (HALAL)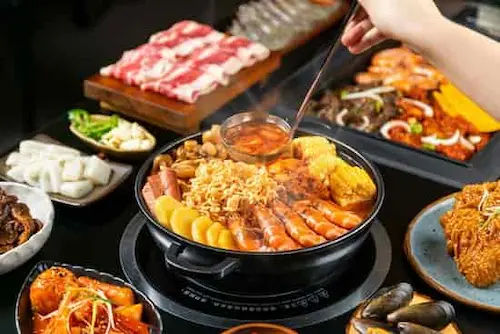 Captain Kim's, a Halal Korean barbecue eatery, is a hidden gem in Singapore. Managed by the same team behind I'm Kim Korean barbecue and Gorogoro Steamboat Restaurant, this place offers over 60 top-notch BBQ buffet options. Additionally, they have an extensive hotpot menu for those who fancy a hotpot experience alongside their meal.
6) Supulae Korean Restaurant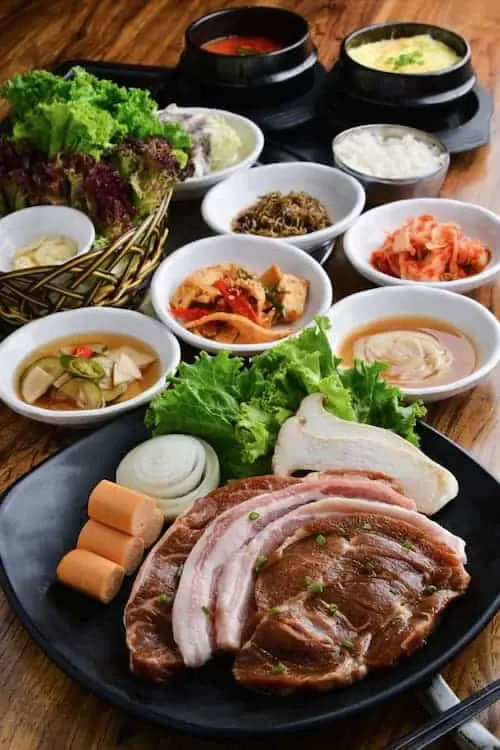 Supulae Korean Restaurant is conveniently located and frequently bustling with customers and also serves Korean style raw beef, kimchi pancake, and beef brisket. The relaxed ambiance and cozy interiors create a homely atmosphere. However, due to the close proximity of tables, some may feel hesitant to discuss certain topics with friends or family, fearing that others might overhear. Nonetheless, this is what contributes to the lively vibe of the place.
7) Nanta Korean BBQ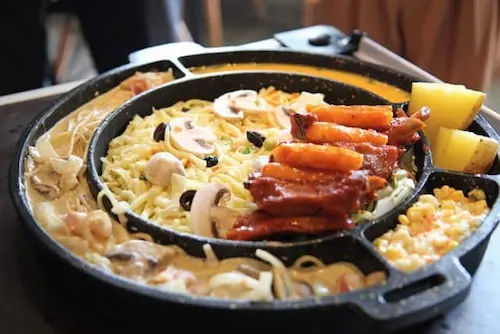 Nanta Korean BBQ presents itself as a contemporary restaurant that offers Korean culinary experiences while still embracing the traditional elements of a Korean meat barbecue. Unlike other establishments, Nanta Korean BBQ attracts a considerable number of Korean patrons, contributing to an authentic dining experience.
8) 2D1N SOJU BANG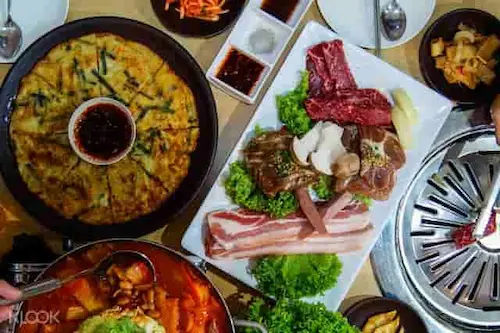 2D1N Soju Bang is a renowned and highly popular Korean barbecue restaurant, offering two levels of dining experience, each with its own unique style of Korean barbecue cuisine. On the first floor, you can enjoy more traditional a-la-carte style dishes, while the second floor offers a buffet service for those who prefer a wider selection.
9) Kkongdon Barbeque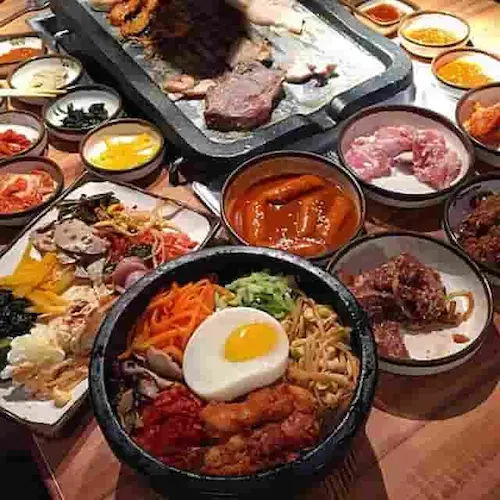 Situated in a newer mall, KKONG DON BARBEQUE is a Korean BBQ restaurant with a contemporary ambiance. The vibrant decor, lively music, and Korean song-filled television screens make it an ideal spot for the younger crowd.
Despite its limited space, this eatery can accommodate groups of friends and families seeking quality time together.
It's a great place to relax and enjoy, although the service might slow down during busy periods.
10) Charim Korean BBQ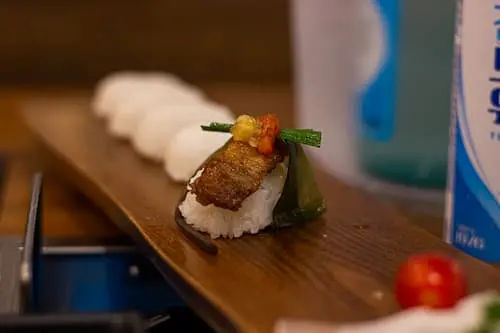 The Korean barbecue restaurant gets its name from "charim," which translates to "the table is set" and represents the elegant presentation of its cuisine. Every detail, including the ban chan (side dishes) and condiments, is meticulously crafted to enhance the flavors of the grilled meats. The set menus also include a choice of soup (kimchi, soybean, or sundubu) and a delightful addition of steamed egg.
11) Han Kook Gwan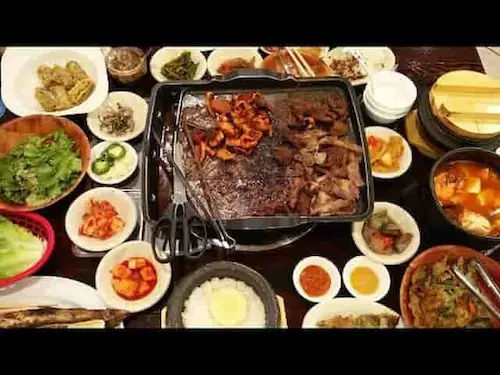 Singapore boasts a plethora of delectable Korean barbecue establishments, and this one is no exception. It is a popular spot among local Koreans, which speaks volumes about the authenticity and traditional flavors of their cuisine.
As you step into Han Kook Gwan restaurant, you'll notice that the majority of customers are middle-aged Koreans, engaging in lively conversations in their native language.
12) Jangsu Korean BBQ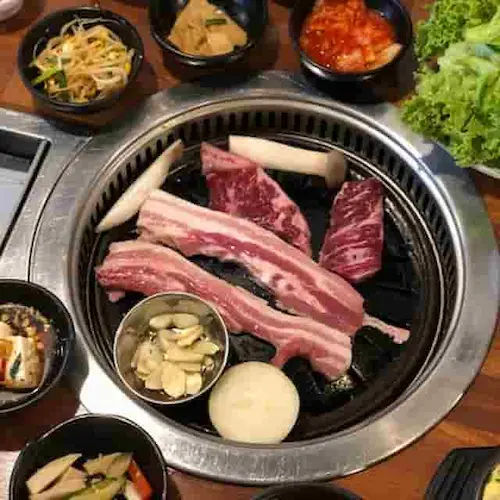 Tanjong Pagar doesn't have a monopoly on top-quality Korean barbecue restaurants. Jangsu Korean barbecue, located at Teck Chye Terrace in Serangoon, stands out among the row of shophouses. Run by a Korean couple and Chef Park, this casual korean bbq restaurant takes pride in using 100% aged meat, resulting in incredibly tender and juicy slices.
13) Hello Korean BBQ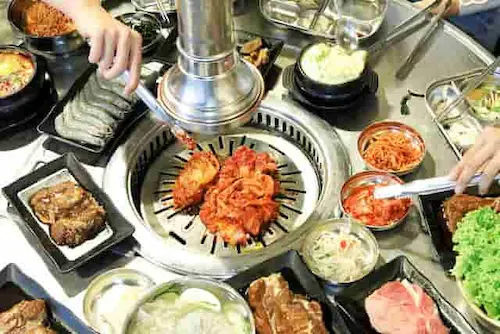 Hello Korean BBQ is a casual korean bbq restaurant that focuses on serving authentic Korean cuisine. With two locations in Singapore at Boat Quay and Tanjung Pagar, they provide attentive service and prompt Korean BBQ delivery service for your order. The Tanjong Pagar branch features a beautifully designed interior with a modern touch.
14) I'm KIM Korean BBQ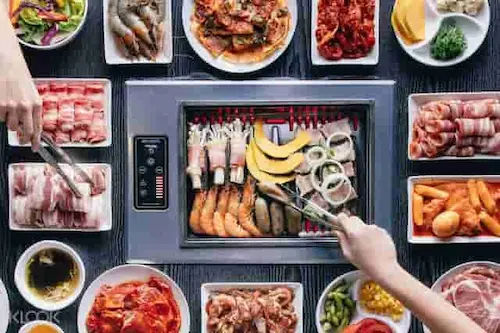 I'm KIM Korean barbecue, one of the top KBBQ brands in Singapore, offers an extensive menu of dishes priced at $14.90 or lower. They take pride in their signature volcano chicken, known for its fiery heat, as well as their flavorful spicy pork collar and unique Korean fried chicken wings that are hard to find elsewhere.
15) MIMI Korean BBQ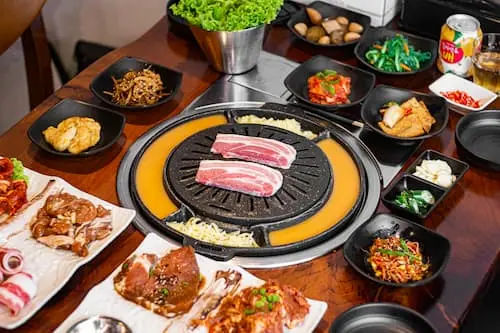 Mimi Korean barbecue Restaurant sets itself apart by offering its exclusive Steamed Beef & Vegetables with Cypress Steamer (starting from $59) and Steamed Seafood with Cypress Steamer (starting from $99)! Indulge in this distinctive Singaporean beef, vegetables, and dumplings combination—the first of its kind.
16) Go! K-BBQ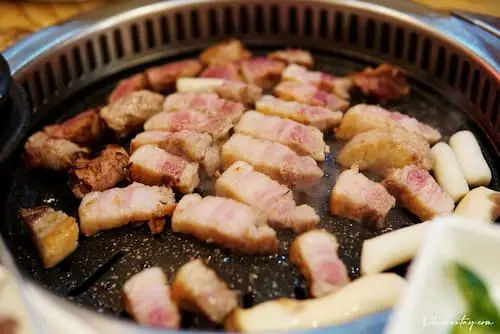 Go! K-BBQ is a humble restaurant that specializes in top-notch aged meats. It has built a reputation as a reliable establishment for delectable grilled meat cuts. Go K-BBQ takes pride in serving only natural foods, with a strong emphasis on Korean barbecue and meat aged for up to 15 days. Although they offer a range of other dishes like the black pork belly, the star of the show is their grilled meats.
17) Seorae Korean Charcoal BBQ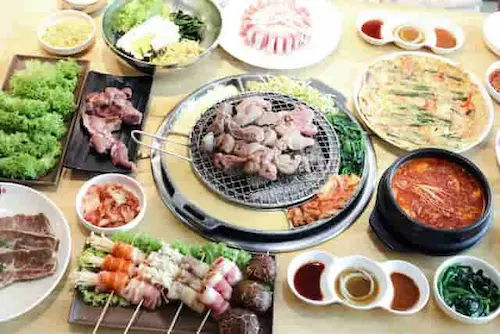 Seorae Korean Charcoal Barbecue made its debut in South Korea in April 2007, establishing itself as the top choice for pork skirt meat. By December 2015, they expanded their presence with a dedicated barbecue outlet in Plaza Singapura. One of their standout dishes is the La Galbi (S$29.90), featuring US prime beef short ribs expertly cut across the bones.
18) Daessiksin Korean Grill Barbecue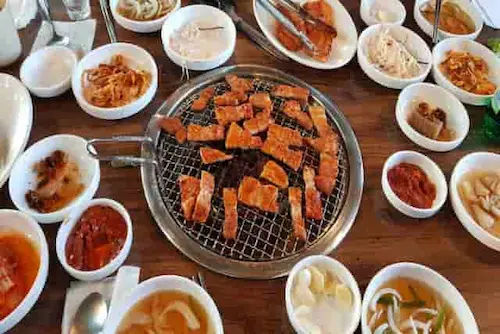 Daesskilsin Korean Grill Barbecue restaurant is a Korean grill that boasts a menu suitable for all diners. The owners themselves run this delightful eatery, offering up to 12 different kinds of marinated meat, alongside fresh ingredients and traditional Korean dishes.
With top-quality Korean barbecue meat and a touch of fusion flavors, their duroc pork belly marinade has a delightful sweetness that makes it a pleasure to savor.
19) Guiga Korean BBQ Restaurant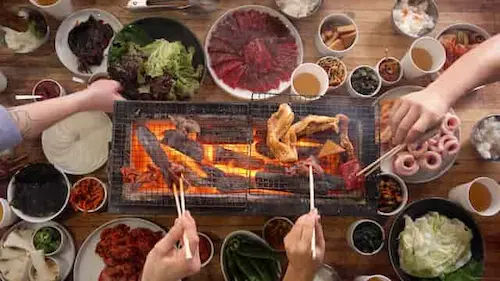 Situated on a corner of Tanjong Pagar Road, Guiga Korean barbecue restaurant attracts a larger customer base compared to its competitors, despite being relatively new. One possible reason for this is their eye-catching and vibrant signboard that grabs people's attention. The restaurant boasts a bright interior and a serene ambiance.
20) Danji Korean BBQ Buffet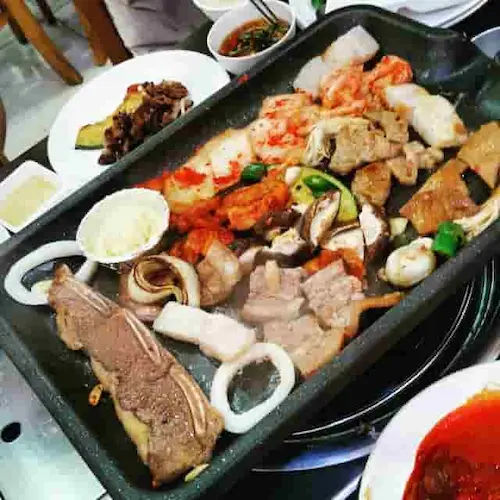 While not as widely recognized as others on this list, Danji Korean Barbecue Buffet stands as one of the finest Korean restaurants in Singapore. Despite its popularity during dinner hours, this establishment offers delectable and authentic Korean cuisine that is simply irresistible.
21) I'm KIM Junior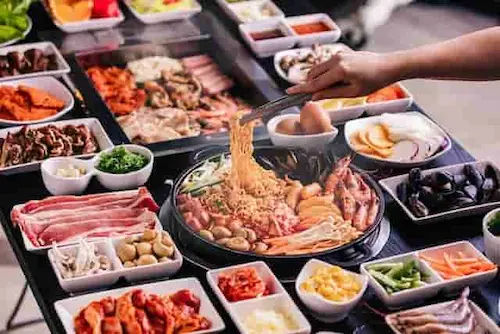 I'm KIM Junior is similar to I'm KIM Korean barbecue, but it's actually a distinct establishment. For just $14.90, you can enjoy two dishes that competitors charge much more for: army stew and DIY galbi (marinated beef ribs). Additionally, the restaurant offers DIY samgyeopsal (pork belly) for $18, slightly higher than the $14.90 price.
22) Hyang Yeon Korean Restaurant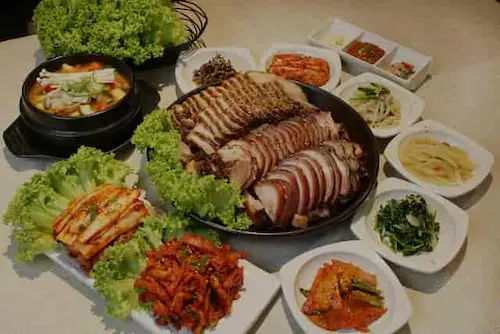 For several years now, Hyang Yeon Korean Restaurant has been delighting diners in Singapore with their exceptional Korean barbecue. Their menu boasts a wide range of mouthwatering dishes, including sirloin and marinated boneless prime ribs, catering to diverse taste preferences.
23) Singkoba Korean Charcoal BBQ Restaurant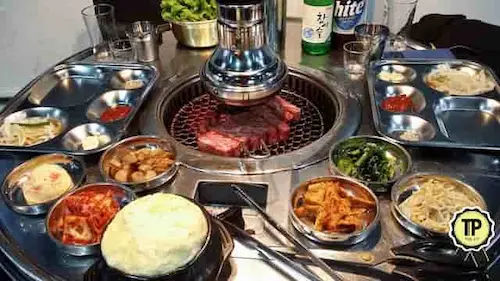 Singkoba Korean barbecue is the ultimate destination for meat lovers. Indulge in their Homemade Dak Galbi, Pork Japchae, and Nag Seon Bulgogi. Alongside the main dishes, you'll be treated to delightful side dishes like kimchi and beansprouts, enhancing your dining experience.
24) Hansik Korean BBQ (HALAL)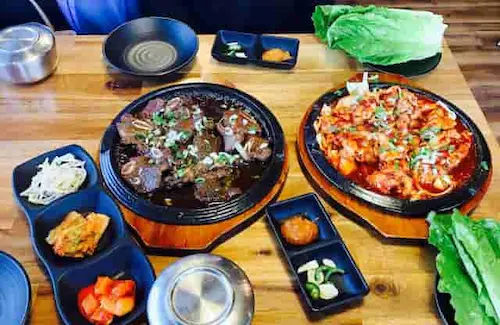 For those who enjoy Halal Korean barbecue, Hanssik is the place to be for a night out. Their standout dish, the kimchi fried rice, combines spicy, sour, and umami flavors in each bite. The kimchi flavor is bold and perfectly complements the dish. In addition to their signature Korean barbecue Singapore dishes, Hanssik also offers other delicious options such as pancakes, chicken wings, rye rice, and pork belly.
25) Maru Korean BBQ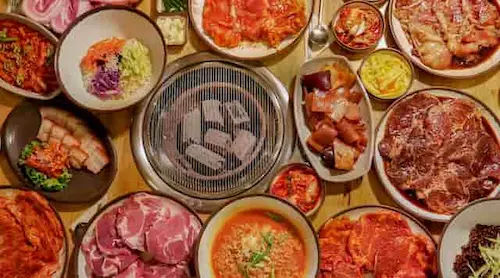 For those seeking affordable Korean barbecue, a visit to Maru Korean barbecue is a must. They offer unlimited food refills and have a wide range of options for vegetarians at their buffet. This restaurant is perfect for families, as they are very accommodating to kids and seniors.
If you prefer not to have the buffet experience, there is a great alternative. Maru Korean BBQ buffet also offers BBQ cooked right in front of you, allowing you to choose your desired meat.
26) BBQ World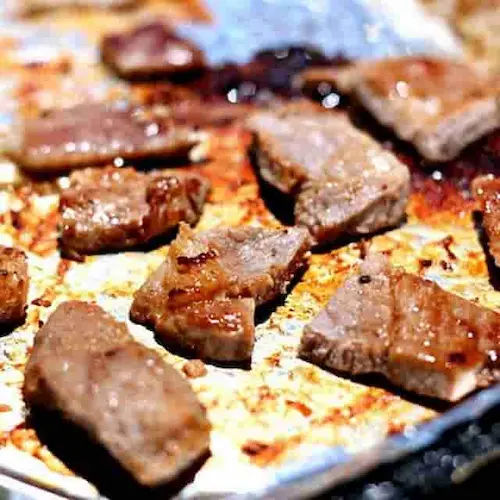 BBQ World offers a buffet like other Korean restaurants, but they have a unique setup. They have separate plates for side dishes, meats, and ginseng chicken soup, allowing customers to choose what they want. At BBQ World, customers cook their own meats at their table, while the staff only approaches you when you need to place an order, refill your water, or change the grill plates.
27) Jang Won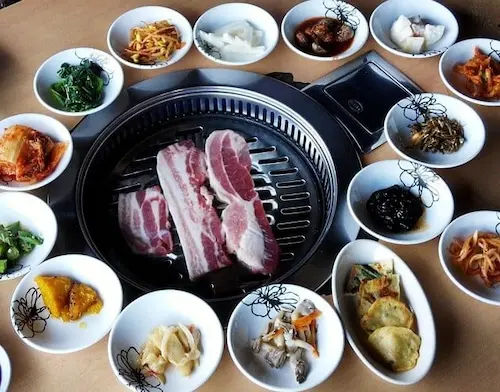 Jang Won Korean barbecue restaurant offers a pleasant ambiance and a comfortable environment for the whole family. They have a VIP room available for small business meetings while enjoying a meal.
With a selection of only three types of USDA prime beef and pork, Jang Won is renowned for their popular dishes such as Samgyeopsal, grilled pork belly ($19), Galbitsal (prime beef ribs meat), and Jumulleok (beef with soy sauce).
28) Oh Neul Han Jeom Korean Restaurant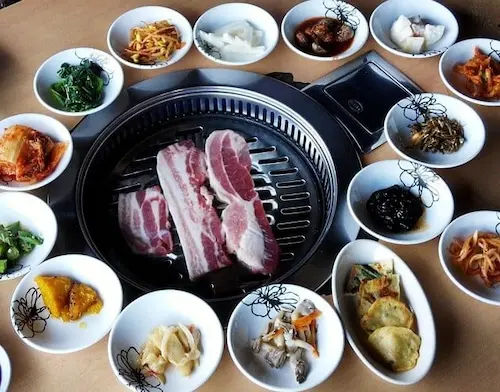 Oh Neul Han Jeom Korean Restaurant stands out among the many Korean barbecue joints in Singapore. The food here is top-notch, and the ambiance is unbeatable, giving it an authentic feel that sets it apart from its competitors. Stepping inside, you'll feel like you've been transported to Korea.
The service is exceptional, surpassing that of both the waitstaff and the Korean chef. The menu offers a wide selection of popular authentic Korean dishes, including pork shoulder, beef brisket, and tofu soup.
29) Eight Korean BBQ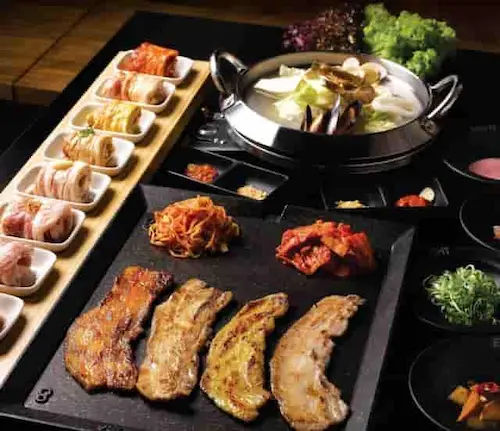 Eight Korean BBQ is renowned as one of the top Korean barbecue restaurants in Singapore, and it's easy to see why. With its tantalizing array of premium meats, it offers an unforgettable dining experience.
The restaurant even takes its name from its famous 8 Colors set. Indulge in their barbecue menu featuring high-quality meats like Argentinian Beef, USDA prime beef, Ohmi wagyu beef, and Short Ribs.
30) K.Cook Korean BBQ Restaurant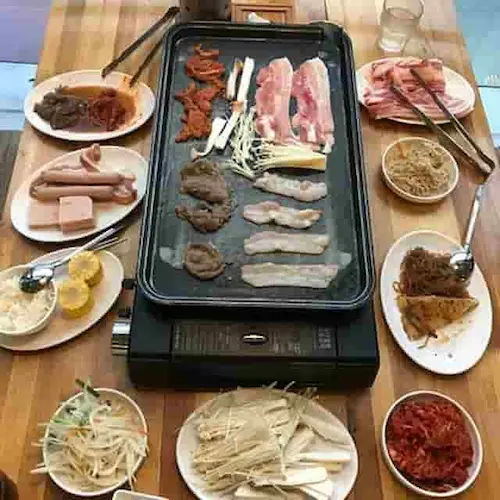 K.Cook, a wallet-friendly Korean barbecue restaurant, can be found on the 7th floor of Orchard Central. With prices starting from around $16.90++ (depending on the day), it's a great spot for an affordable weekday lunch for adults.
This eatery offers both indoor and outdoor dining options. You have the choice to relax in the air-conditioned seating area or savor your grilled meat on the rooftop while enjoying a view of Orchard Road.
Korean BBQ Singapore
In conclusion, Singapore offers a wealth of options for Korean barbecue enthusiasts, each with its unique offerings and flavors. Whether you're seeking traditional Korean BBQ styles, fusion cuisines, or innovative techniques like water-aged meats, Singapore's Korean BBQ scene caters to all taste preferences.
With an array of both affordable and premium options available, every dining experience becomes an unforgettable culinary journey.
So why not treat yourself to the best Korean BBQ Singapore has to offer? You won't regret it!
Frequently Asked Questions (FAQ)
If you have any questions about Korean BBQ in Singapore, you can refer to the frequently asked questions (FAQ) about the best Korean BBQ in Singapore below:
Additional Useful Articles
If you are looking for other useful guides and articles about Korean BBQ in Singapore, check them out below: