Indoor Activities Singapore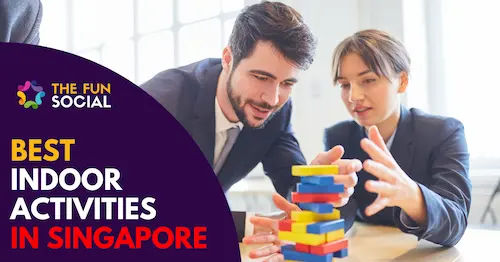 Singapore, a stunning tropical paradise, offers both outdoor exploration and indoor fun, catering to all preferences and weather conditions.
The best indoor activities in Singapore are Bubble Soccer, Poolball, Escape Rooms, Amazing Race, Archery Tag, Laser Tag, Art Jamming Workshops, Giant Board Games, Candle Making Workshops.
When making reservations for indoor activities, take into account various factors such as the age group of participants, the length of the activity, the cost involved, and the location where it will be held.
FunEmpire is a top team building company in Singapore, with a remarkable track record of over 50,000 successful events and rave reviews from 8,000 satisfied clients.
We've compiled the best indoor activities in Singapore that are perfect for all ages and interests!
Indoor Activities in Singapore Overview
As compared to activities under the hot sun in the great outdoors, indoor activities in Singapore offer a wealth of fun and excitement, guaranteeing an enjoyable time regardless of weather conditions. These activities span a broad range of interests and are meticulously designed to provide memorable experiences for participants of all ages.
From the exhilarating Bubble Soccer and Poolball games to the mind-boggling challenges of Escape Rooms, there is something for everyone. The Amazing Race and Archery Tag promise a thrill of competition, while Laser Tag lets you experience high-tech combat in a safe environment.
For those inclined towards creativity and craftsmanship, Art Jamming Workshops and Candle Making Workshops provide the perfect avenue to learn new skills and express oneself artistically. Enjoy the timeless fun of Giant Board Games, bringing back sweet memories of childhood. These indoor activities, organized and conducted by top-notch companies like FunEmpire, promise an unforgettable experience in the vibrant city-state of Singapore.
Alternatively, there are also other indoor activity choices in Singapore on a rainy day, especially for children. These include obstacle courses in indoor playgrounds.
Consideration Factors When Selecting An Indoor Activity In Singapore
When choosing an indoor activity in Singapore, several factors should be taken into account to ensure a satisfying and memorable experience:
Interest: Consider what piques your curiosity or passion. Singapore's indoor activities span a broad spectrum, from art and culture to sports and extreme adventures. Aligning the activity with your interests will enhance your enjoyment and engagement.
Age Appropriateness: Some activities may be more suitable for specific age groups. For instance, certain museums or galleries may be more appealing to adults, while indoor playgrounds and interactive exhibits might be perfect for kids.
Budget: Indoor activities in Singapore can range from free public installations to more premium experiences. Keep in mind your budget when making your choice.
Time Availability: Certain activities may require more time than others. Be sure to consider the duration of the activity when planning your fun filled day.
Location: The proximity of the activity to your accommodation or other planned activities can be a crucial factor, especially in a city as bustling as Singapore.
Accessibility: Consider if the activity is accessible to all members of your group, including those with mobility issues, young children, or elderly individuals.
Crowd Levels: Some popular attractions can get quite crowded, particularly during peak hours or holidays. If you prefer a more relaxed experience, consider visiting during off-peak times or choosing less crowded venues.
Remember that the best indoor activity for you depends on your personal preferences and circumstances. Singapore boasts an extraordinary selection of indoor activities, ensuring that everyone can find something to love.
Benefits Of Indoor Activities In Singapore
Indoor activities in Singapore offer a number of advantages, from health benefits to enhanced creativity. Below are some of the most notable perks that come with engaging in indoor activities:
Physical Exercise: While outdoor activities often involve physical exercise, such as running or cycling, indoor activities can provide an equally beneficial workout. Many attractions, such as ice-skating rinks or trampoline parks, offer an exciting way to stay in shape.
Mental Stimulation: Activities like art galleries and museums can be great for mental stimulation, providing a chance to contemplate the creative works on display and gain insight into different cultures. This type of learning experience can also spark creativity and enhance problem-solving skills.
Social Interactions: Indoor activities, such as escape rooms and interactive games, are a great way to get together with friends for bonding and team-building. Such activities require strong communication and collaboration, making them perfect for strengthening social relationships.
Stress Relief: Participating in indoor activities can be an excellent form of stress relief. Enjoying art or engaging in physical activities can help calm the mind and body, allowing individuals to take a break from their worries and focus on the present.
Educational Value: Indoor activities in Singapore often have a strong educational component. Visiting places such as the Science Centre or the National Museum can help participants learn about various scientific concepts and historical events in an engaging and interactive manner.
Weather Independence: Regardless of the weather, indoor activities can be enjoyed at any time. Whether it's rainy weather or extremely hot outside, you can always have a good time indoors without worrying about the weather conditions.
Variety: There is a wide variety of indoor activities in Singapore, ranging from sports and physical activities to cultural and artistic experiences. This diversity means there's something for everyone, no matter what their interests are.
Safety: Indoor activities often provide a safer environment for participants, especially for children. There are fewer potential hazards compared to outdoor activities, and all equipment and facilities are regularly inspected for safety.
Convenience: Indoor activities often have amenities such as restaurants, restrooms, and lockers nearby, making them a convenient choice for families or groups.
Unique Experiences: Some indoor activities in Singapore offer unique experiences that can't be found elsewhere. For instance, the Virtual Room Singapore provides a virtual reality team adventure game that combines the concepts of escape rooms and cinema.
Best Indoor Activities
Adventure Activities
1) Combat Archery Tag
Get ready for a thrilling experience team building in Singapore like no other – the electrifying game of Archery Tag! By fusing together both dodgeball and archery, this unique activity ensures that everyone will be captivated all throughout. As groups compete against each other in an exhilarating setting, they must aim their foam-tipped arrows at their opponents while also wearing face masks to guarantee safety as they battle it out towards victory. Level up your fun night with Archery Tag – brace yourself for the rush of adrenaline that is sure to come!
2) Poolball
Feel the thrill of engaging in exciting pool-based games, like Poolball Classic and Poolball Sabotage, on the world's biggest pool table! Not only is this game perfect for strategizing among participants from any age range or corporate event size – it also provides an amazing opportunity to foster strong camaraderie with others. Perfectly designed for both intimate gatherings and large-scale parties alike – don't miss out on your chance to dominate our enormous pool table now!
3) Laser Tag
Laser tag is an ideal way to foster connection and teamwork – no matter how old or young! Whether you choose to enjoy the outdoors, find shelter indoors, or host a large group, this flexible activity for team building in Singapore accommodates it all. Incorporating laser tag into your next team building gathering will create unforgettable moments for everyone involved in thrilling missions. Make sure not to miss out on such an invigorating experience that includes participants of any age!
4) Saber Tag
Unleash your inner hero and arm yourself with a combat saber to do battle against other players. Engage in thrilling missions such as Saber Wars and Defenders of the Galaxy while sharpening your squad's coordination skills! This is your chance – join this epic adventure today!
If you're in search of an exhilarating way to get your corporate team bonding or birthday party celebrations off with a spark, then Saber Tag is just what you need! This engaging game will bring your coworkers together and cultivate unforgettable memories. Plus, it's one of the trendiest activities buzzing around Singapore right now – so don't miss out on all the fun! Get ready for an adrenaline-filled adventure – join us at Saber Tag today and have a blast!
5) Ninja Tag
Are you ready to test your ninja skills? Ninja Tag is here with an action-packed team building experience! With foam Ninjas Daggers, vests for scoring and different missions available, it's the perfect opportunity to go head-to-head in a close combat battle. Don't wait any longer – come join us now and unleash that internal warrior within you as we provide endless fun games tailored just for you!
6) SaberFit
Unlock the potential of a unique saber fitness workout that combines enthralling combat techniques and stimulating pair-work duelling! Our meticulously created group exercise, coupled with team building elements, is ideal for your Singaporean team bonding event. This energizing experience not only provides an invigorating challenge but also fosters unity amongst colleagues while being loads of fun simultaneously! Get set to break a sweat and savor this one-of-a-kind activity – it will be an unforgettable journey!
7) Bullet Ball
Looking for adrenaline-pumping, budget-friendly indoor team building activities in Singapore? Look no further than Bullet Ball – the latest thrilling concept by FunEmpire! Experience an entirely new kind of Dodgeball and be amazed at how much fun you'll have. So gather your teammates and get ready to play some Bullet Ball!
Searching for an enthralling and inclusive team building game? Then Bullet Ball – available in Singapore! – is the perfect choice! From testing your group's coordination skills to having a one-of-a-kind good time, there's something here for everyone. And you don't even need to step outside of your office conference room as we bring the action directly to wherever you are. Revel in this stimulating adventure with friends or coworkers today!
8) Giant Whack-A-Mole
Are you in search of an electrifying and enjoyable experience? Then don't miss the remarkable Giant Whack-A-Mole, a custom team building game from Singapore. Your opponents will battle with full force to seize colorful balls! This exclusive activity is something that you wouldn't want to lose out on – hurry now before it's too late!
9) Bullet Strike
Laser tag is renewed with an exhilarating Nerf Gun experience. Players must use high-powered Nerf blasters, equipped with soft foam pellets, to attack their opponents and fulfill objectives during this pulse-pounding group activity. Safety always comes first as participants don protective masks while they clash in these dynamic team building games.
Creative Workshops
10) Terrarium Workshop
If you're in search of a refreshing team-building experience, look no further than our terrarium workshop! This indoor activity is an excellent way to foster meaningful relationships among your colleagues while allowing them to take home their gorgeous handmade creations. Our terrarium workshops are the perfect solution for teams looking for an unforgettable bonding opportunity and it's always been one of Singapore's most popular activities – so don't miss out on this amazing chance!
11) Non-Stitched Leather Workshop
Are you in search of a fun and creative way to bond with your team? Look no further than Leather Workshop in Singapore! Here, you have the opportunity to discover all there is to know about leather and craft beautiful products such as coin pouches, key FOBs or even luggage tags that can be kept for yourselves or gifted. So don't wait – join us at Leather Workshop today and make something extraordinary together with your colleagues!
12) Canvas Art Jamming
Embrace your creative side with FunEmpire! Gather your friends, entire family or coworkers for an exciting Art Jamming session. Not only are our materials top-notch but we provide guidance from experienced instructors for you to create your very own masterpiece – no experience needed! Come explore the joys of painting without any pressure and leave feeling refreshed and fulfilled. Unlock a new level of relaxation through this effortless journey into creativity!
13) Tote Bag Art Jamming
Are you ready to embark on an incomparable Art Jamming adventure? Join FunEmpire's art jamming excursion with our exclusive and creative totes! Express your inner artist and design a unique tote for yourself or someone special. Our Art Jamming has all the materials necessary for an enjoyable session without any prior painting knowledge – all that is needed is YOU!
14) Soy Candle Making Workshop
For both novice soy candle makers and experienced artisans looking to embellish their work, we have a package that is ideally suited for bringing your wax dreams into reality. With beautiful sands, figurines and other decorations included in the bundle, you can make sure your candles are exactly as you pictured them.
15) Perfume Workshop
As they say, your scent is a reflection of yourself. Come to our perfume workshop and develop an aroma that's just as one-of-a-kind as you are! With select scents from around the world, we'll help you craft something truly remarkable; a signature fragrance perfect for expressing who you are.
Bond with your colleagues and expand upon what you know about each other through this fun team-building exercise! Experimenting with scents will be the highlight of the day, and at its conclusion everyone gets to take home a personal bottle containing their own unique aroma. Don't miss out on creating an unforgettable experience that both yourself and co-workers can cherish for years to come!
16) Clay Making Workshop
Have some fun and unleash your creative flair with FunEmpire! Our workshops are snug, small, and an enjoyable way to cultivate a new skill. All of the materials you need are provided for each attendee so that they can create unique mini clay figurines!
17) Stitched Leather Workshop
Are you passionate about the craft of leather stitching? Our Stitched Leather Workshop is here to give you a comprehensive guide on how to create your own cardholder. With limited seating, participants will be able to enjoy an intimate learning experience filled with useful information and supplies. Don't miss out – join us now and master skills that will last forever!
18) Gel Candle Making Workshop
Forge meaningful connections with your team in Singapore during a Candle Making Workshop! Not only will this activity allow for learning and bonding, but each person can take home their own personal masterpiece – an aromatic reminder of the enjoyable experience. Team building doesn't have to be dull; through creativity comes closer relationships!
19) Balloon Sculpting Workshop
Unlock your inner artistry and discover how to fashion captivating balloon figures, including a pirate sword, butterfly, rainbow or flower—all from the solace of your home!
20) Cooking Class
Let the mouth-watering flavors of Singapore's food culture be part of your team building event with our cooking classes! Your colleagues will have a blast as they explore different tastes and craft dishes like professional chefs. Not only are you guaranteed to leave everyone satisfied after their meals, but even wanting for more! Join us on this extraordinary culinary journey today and experience local treats in an entirely new way.
Quest Activity
21) Escape Room
For an unparalleled team-building experience, Escape Rooms are the perfect choice! Your squad will be pushed to collaborate and quickly solve puzzles in themed rooms against a ticking clock. With tons of thrilling mysteries in Singapore, you'll have so much fun connecting with your colleagues. Unlock your inner detective and prepare for a one-of-a-kind journey that won't soon be forgotten!
Leisure Activity
22) Giant Board Games
Are you prepared to have the most exhilarating time of your life? Our colossal Giant Jenga, Pick Up Sticks, Connect Four and Snakes & Ladders are here for all the entertainment. Let these interactive board games bring out hidden emotions with an essence of nostalgia! The perfect remedy for any gathering – invite friends over and experience a fun-filled challenge like never before!
Virtual Games
23) Virtual Squid Escape
Get ready for the ultimate challenge with your friends! The Squid Game Escape Room will have everyone on their toes as they work to unravel this mystery. Solve perplexing puzzles, uncover hidden clues, and reveal cryptic secrets that may be the key to finding a way out of captivity! Can you come together in time before it's too late? It'll take a combined effort of wit and team spirit to beat this game!
24) Virtual Amazing Race
Ready for an extraordinary international excursion? Challenge yourself to explore new and exciting places with your peers, all while collaborating towards a shared aim of unlocking amazing rewards! Don't hesitate – come join us now for a thrilling experience that will have you and everyone around invigorated.
25) Virtual Escape Room
Tap into your hidden brilliance and cultivate relationships with those closest to you or coworkers when joining FunEmpire's award-winning virtual event! With its interactive setup, this game can accommodate anywhere from two people up to a large group of hundreds. Challenge yourself, friends, family and colleagues in the comfort of home – making it excellent for corporate team building activities. Don't miss out on this opportunity – start stimulating your minds today!
26) Virtual Food Quest
If you are an expert in all things food, put your skills to the ultimate test with Singapore's unique Virtual Food Quest from FunEmpire! Let us stimulate your palate as you embark on a culinary journey like no other. This quest will be filled with excitement – join now and don't miss out on this epic experience!
Nourish your connections with friends, family and/or colleagues while enjoying a unique and flavourful puzzle experience exploring different cuisines! Not only is it an amazing way to spend quality time together but it's also the perfect opportunity for you to assess your team's communication skills whilst discovering new dishes. Celebrate in the jubilation of this savoury game that Singapore has to offer – who knows, maybe some snacks will be hankering after your attention soon afterwards!
27) Virtual Super Planet
Don your superhero cape, for the time has come to demonstrate what a real hero looks like! Embark on an unparalleled journey through our Escape Room for Kids and aid us in thwarting malevolent forces hellbent on annihilating Earth's destiny. You and youthful adventurers will have the opportunity to join forces while simultaneously acquiring essential sustainable knowledge. Rise up now; this planet needs you!
28) Virtual Time Travel
Brace yourself for an unimaginable journey in the realm of virtual time travel! Are you intrigued by the possibility of traversing through history? Then look no further, because this is your chance to explore puzzles from various eras and space-time. Gather a group of friends or colleagues and challenge one another in this fun meeting as you all compete against the clock – can you complete your mission before it's too late? Experience past events like never before with this remarkable expedition throughout time!
29) Virtual Time's Ticking
Let's join forces and embark on an extraordinary mission! Unite your team to uncover the thrilling mystery and protect the city. Gather all available resources, come together as one, and put a stop to any malevolent threat before it is too late. Ready? Get set – go!
30) Virtual Nightfall
Are you eager to test the limits of your team's ingenuity and artistry? Murderer is here once again with a thrilling experience that demands unity, acute attention to details, and persuasive aptitude. Test yourself as detective or killer – even don a cape! In conclusion, justice will be served. Who among you can emerge triumphant in this exciting game of crime-solving?
31) Virtual Jack's Hangover
It's time to rally your team – Jack, your friend and comrade, had a bit too much fun last night and is now suffering from an unbearable hangover. He has no recollection of what happened; you must be the hero in this situation! Race over there as quickly as possible; rummage through his hotel room for clues, investigate the casino he was at; uncover evidence with haste- because Jack needs to board his flight soon! Can you assist him before it's too late?
32) Virtual Party Mania
Gather your team and experience the most amusing virtual team-building activities! Designed to stimulate collaboration, deepen connections, and keep you laughing. All that's needed is for your group to start having a wonderful time with these lively events!
Virtual Workshops
33) Virtual Terrarium Workshop
Are you and your colleagues or friends on the lookout for an exciting, creative activity to do in the coziness of home? Then FunEmpire's acclaimed digital workshops are just what you need! Plus we'll send everyone a one-of-a-kind Terrarium Home Kit at no extra cost. So why not get imaginative while snuggled up in your living room?
34) Virtual Non-Stitched Leather Workshop
Ready to embark on a brand new journey? Join us for our Virtual Leather Making Workshop and learn the fundamentals of leather crafting! Our experienced tutors will show you how to make stunning custom items right in your own home – no prior knowledge required. This unique opportunity is perfect for amateur makers or pros keen on trying something different. Don't miss out, take the plunge today!
35) Virtual Tote Bag Art Jamming
Unleash your creativity and join us for an exclusive Virtual Art Jamming session – design a one-of-a-kind tote bag! FunEmpire will lead you through the entire process, worry free. Absolutely no artistic background is necessary; just bring along an open imagination and let your ideas take flight! Fabricate something extra special – it may be for someone else or even as a present to yourself.
36) Virtual Canvas Art Jamming
Unleash your inner artist with FunEmpire! Our Virtual Art Jamming session makes it easy for you to collaborate and create artworks alongside friends, family members, or coworkers – no prior knowledge of painting needed! Revel in the fun-filled environment while enjoying a relaxed atmosphere. Let your creative spark ignite; join us at FunEmpire now and discover an amazing experience that will take your artwork skills to the next level!
37) Virtual Balloon Sculpting Workshop
Unleash your creativity and discover how to produce stunning balloon sculptures from the comfort of home! We guide you through each step as you make a pirate sword, butterfly, rainbow or flower. Let your imagination take flight with these simple tutorials!
38) Virtual Clay Making Workshop
Are you looking for a fun and imaginative team-building activity that'll leave lasting memories? Then why not consider creating your own custom clay figures or charms! Our toxin-free, lightweight air dry clay is perfect for everyone — even the little ones can join in on the fun. Not only will this experience be enjoyable, but it's also an opportunity to craft something unique which they can give away as gifts to friends and family afterwards.
39) Virtual Soy Candle Making Workshop
Ignite your team's creative spirit with FunEmpire's Virtual Candle Making Workshop! Gather around and craft beautiful soy candles adorned with elegant figurines from the comforts of home. Strengthen relationships while having one of Singapore's most rewarding activities all in one place – don't miss out on this unique opportunity to come together today!
40) Virtual Stitched Leather Workshop
Unleash your creativity and join our professional live facilitation to craft a unique, one-of-a-kind stitched leather card holder! Our Virtual Stitched Leather Making workshop not only provides you with the knowledge and techniques needed to get started but also offers freedom of saddle stitching right at home. Thanks to the guidance from experienced facilitators, create something entirely yours – all in just one session!
Tips for a Successful Indoor Experience
Whatever the activity – be it an Escape Room, Art Jamming or a Leather Making session, here are some tips to make sure your indoor experience goes smoothly:
Start by having everyone introduce themselves and give each other time to get comfortable.
Set expectations; discuss the rules of engagement and what type of collaboration is expected from each member.
Make time for some fun after the activity is complete. This allows everyone to unwind and reflect on the things they've learned throughout the session.
Lastly, take pictures – these memories will last forever!
Indoor Activities Singapore
With a plethora of thrilling indoor activities in Singapore, it's time to put your sunscreen on and get ready for an unforgettable journey! From laser tag or combat archery tag for the adrenaline junkies, canvas art jamming and soy candle making workshops to unleash that creative spirit within you, virtual games and workshops – our list of 40 best indoors activities has something for everyone. So don't wait any longer! It's time to explore these amazing adventures today!
Interested in related articles? Do check out the links below!
Frequently Asked Questions
If you have any questions about Indoor Activities in Singapore, you can refer to the frequently asked questions (FAQ) about the Best Indoor Activities in Singapore below:
Additional Useful Links
If you are looking for other useful guides and articles about Indoor Activities in Singapore, check them out below: