Chalet Singapore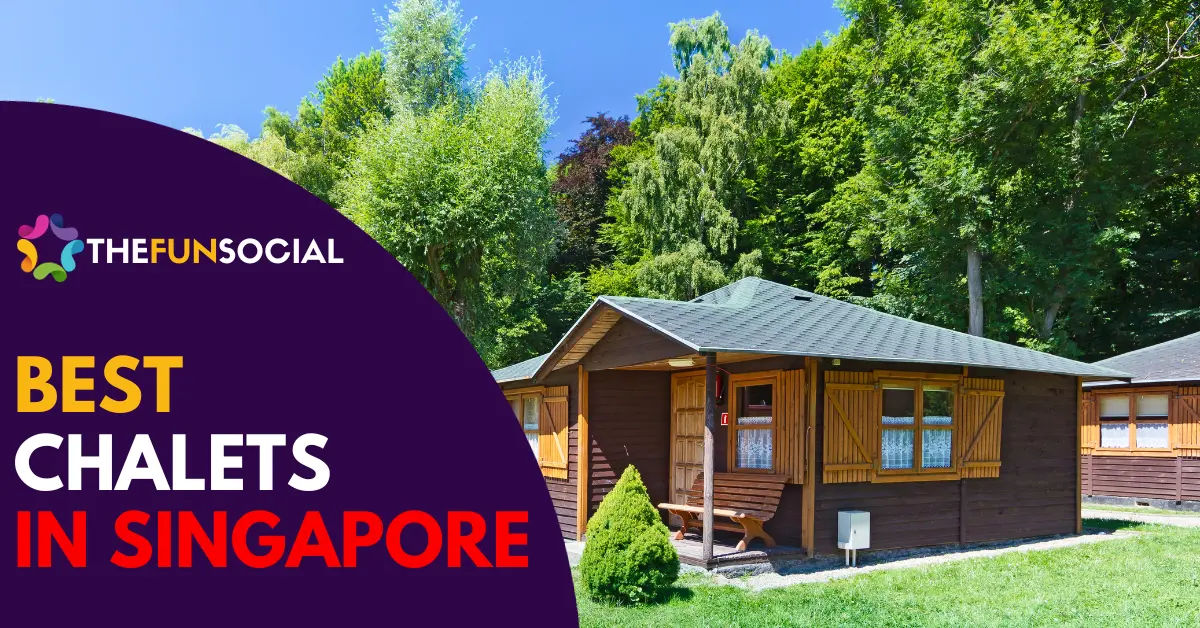 Singapore offers a range of chalets that add a dash of comfort to your getaways, whether you're planning a family vacation, a romantic escapade, or a relaxing solo retreat.
The best chalets in Singapore are Civil Service Club @ Loyang, Aranda Country Club, HomeTeamNS Khatib, and HomeTeamNS Bedok Reservoir.
When selecting a chalet in Singapore, take into account various factors including facilities, amenities, location, and pricing.
Chalets in Singapore provide a one-of-a-kind combination of comfort and cultural immersion, offering tourists a picturesque home-away-from-home experience. With a unique blend of luxury, local charm, and stunning landscapes, they are perfect for those seeking an unforgettable stay.
In this article, we delve into the top chalets in Singapore, each boasting its own unique charm and appeal.
Quick Summary
Best chalets in Singapore are Civil Service Club @ Loyang, Aranda Country Club, HomeTeamNS Khatib, and HomeTeamNS Bedok Reservoir.
When choosing a chalet in Singapore, consider factors such as facilities, amenities, location, and price.
Singapore's chalets offer a unique fusion of comfort and cultural immersion, serving as an idyllic home-away-from-home for tourists seeking a distinctive blend of luxury, local flavor, and breathtaking landscapes.
Key Considerations Factors
But before that, here are some key things to consider when choosing a chalet In Singapore!
Location: Singapore is a small city-state, so it's important to decide where you want to stay and what kind of activities you plan to do nearby.
Facilities & Amenities: Make sure the chalet you choose has all the facilities and amenities that suit your needs.
Budget: Chalets come in a variety of price points, so it's important to determine your budget before you start searching.
Size: Singapore's chalets come in all sizes, from small two-room apartments to bigger villas that can accommodate large groups. Depending on the size of your party, make sure to pick a chalet with enough space for everyone.
Best Chalet Singapore
1) CherryLoft Resorts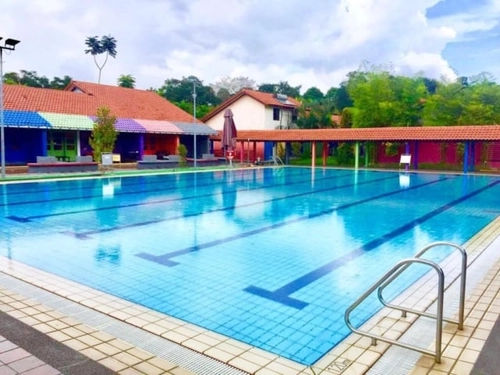 CherryLoft Resorts in Singapore is a popular choice for affordable and spacious chalets. Situated just a 5-minute walk from Downtown East, the rooms here have a simple yet charming kampung vibe, with attractive quirky colors that meet the expectations of an upbeat chalet resort.
At night, the atmosphere becomes lively as the chalet management is not strict on noise. So go ahead and enjoy the wildest party on the block without any reservations.
Conveniently located near the rooms, the pool offers a refreshing experience. Additionally, there is a 24-hour mini-mart near the front of the compound where you can find snacks or extra BBQ supplies to fulfill your needs. It is no wonder that CherryLoft chalet is considered one of the best chalets Singapore has to offer.
With its proximity to Orchard Road (11.1 miles/17.9 km) and the iconic Marina Bay Sands Casino (14.5 miles/23.3 km), as well as its close proximity to Singapore Changi Airport, CherryLoft Resorts Singapore is the perfect choice for families looking to explore all that Singapore has to offer!
2) Aranda Country Club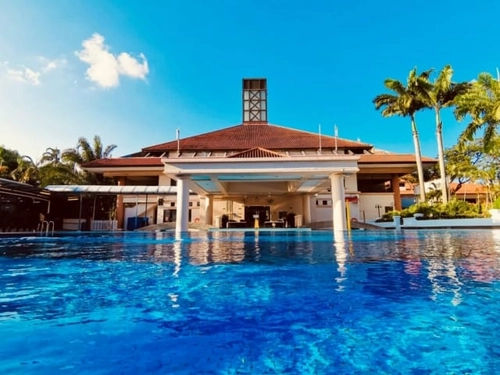 If you're seeking a weekend escape or a change of scenery, look no further than Aranda Country Club in Pasir Ris Road. This chalet, nestled in a lush greenery and spacious setting, offers modern amenities and a variety of fantastic features, including a games room, swimming pool, gym, tennis court, and more.
Whether you're organizing a BBQ or simply taking a dip in the pool, the charming decor will help you relax and get into vacation mode. With 30 stylish suites, you can enjoy a comfortable stay and take a break from the daily hustle and bustle. That's why Aranda Country Club is considered one of the top chalets in Singapore, especially since it only takes a few minutes walk from White Sands shopping mall.
3) The Chevrons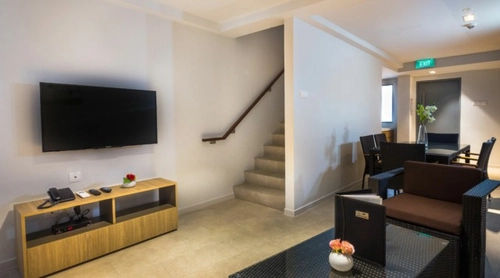 The Chevrons is an alternative option for more affordable chalets in Singapore. However, membership is required to enjoy the discounted rates. Nevertheless, the design of the space is sleek, with minimalist decor and no distracting elements.
Situated in Jurong, on the west side, this location offers a retreat from the hustle and bustle of the city. With the pool facing the chalets, each sleek and modern room on the second floor provides a cozy home-like feeling. Additionally, a sheltered BBQ pit is conveniently connected to the back of each accommodation, allowing for cookouts rain or shine.
The modern finished bungalows offer ample space for at least 7 adults to sleep comfortably. Outdoor dining is also available with provided picnic tables and benches. Furthermore, IMM and Jem malls are just a stone's throw away. This is why The Chevrons is considered one of the best chalets Singapore has to offer.
4) National Service Resort & Country Club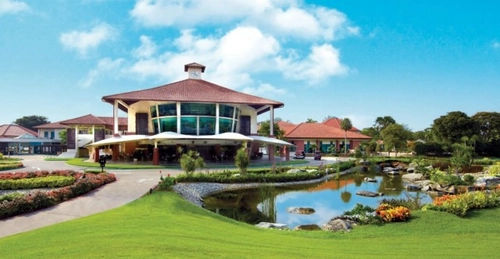 | | |
| --- | --- |
| Key Service | Contemporary chalet Singapore |
| Website | https://www.nsrcc.com.sg/ |
| Address | 10 Changi Coast Walk, Singapore 499739 |
| Contact Details | 6542 8288 |
| Rates | From $115/night (Members) or from $212/night (Public) |
With its elegant interior designed for the comforts of home, NSRCC (National Service Resort & Country Club) Chalet is a place you'll never want to leave. There are ample rooms to accommodate your whole group, and even if there aren't enough beds, everyone can find their own space in the well-appointed bungalow.
Privacy is guaranteed, and you won't be bothered by neighbors. Plus, Changi Beach is just steps away, although this can make the location feel a bit secluded.
As an added bonus, each room includes two complimentary bowling games per day. Bowling is a fantastic way to bond with your loved ones. The enticing modern decor and tranquil setting will surely tempt you to come back.
National Service Resort is the ultimate getaway, perfect for anyone and everyone, and undoubtedly one of the finest chalets in Singapore.
5) Civil Service Club @ Changi II

The Civil Service Club at Changi II offers a delightful staycation experience for families and friends seeking a break from the busy city life. With its contemporary design, luxurious amenities, and a tranquil sea view, this sophisticated chalet is an ideal choice for spending quality time with loved ones.
The three-story cottage (Changi Cottage) features four bedrooms, each equipped with comfortable beds and air conditioning. To add to the entertainment, an Xbox gaming console is available in every room, along with a selection of board games suitable for both adults and children.
After a day of fun activities, unwind at the barbecue area located outside Orijmes Hallateau De Sable.
6) HomeTeamNS Bedok Reservoir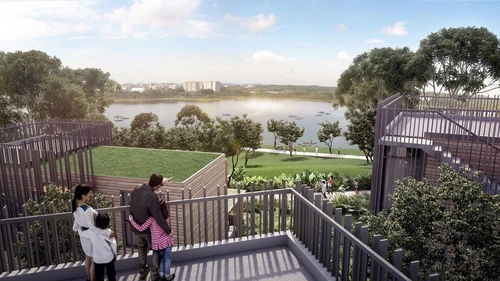 HomeTeamNS Bedok Reservoir provides an ideal getaway from the hustle and bustle of city life. Nestled near the picturesque East Changi Coast Beach, this charming chalet offers a range of amenities to ensure a memorable stay.
Immerse yourself in the refreshing swimming pools, indulge in sizzling BBQ delights at the well-equipped pits, or simply unwind in the cozy lounges.
Moreover, the cosy chalet boasts an outdoor playground where children can frolic and a bowling alley for some friendly competition, making it an excellent choice for wholesome family bonding activities.
With its exceptional offerings and tranquil surroundings, it comes as no surprise that HomeTeamNS Bedok Reservoir is renowned as one of the top chalets in Singapore.
7) Civil Service Club @ Changi I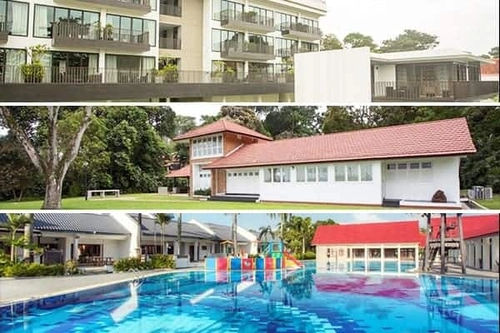 Located in a quiet corner of the East, the Civil Service Club (CSC) at Changi provides a luxurious venue for large-scale gatherings. Offering affordable rates, this hidden gem boasts a variety of accommodations to choose from, including 1-storey chalets, classic colonial bungalows, and charming cottage-style bungalows.
If the beds are too small, you can always drape a sleeping bag over the clean floors that the management takes great care of. And if you wake up early enough, you'll be treated to a stunning seaside sunrise. CSC at Changi is renowned as one of the best chalets in Singapore for catching a glimpse of this natural beauty.
While the area may seem secluded, there are plenty of outdoor activities to enjoy beyond the chalet's gates, such as treasure hunts, cycling, and fishing. Just a short 5-minute walk to the CSC clubhouse will reward you with two free games of bowling or the chance to savor a rooftop BBQ while overlooking the yachts at sea. It's no wonder that CSC at Changi is considered one of the finest chalets Singapore has to offer.
8) HomeTeamNS at Bukit Batok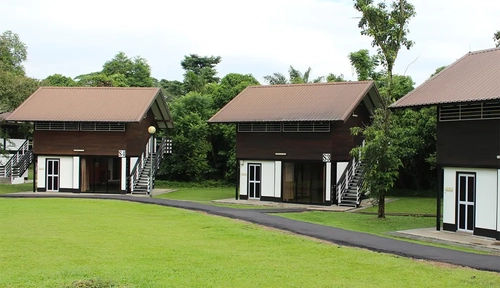 HomeTeamNS @ Bukit Batok is a highly affordable chalet destination that can be easily reached by public transportation. It is conveniently situated beside a clubhouse with various amenities. Within the premises, you'll find restaurants like The Co-op and KFC. This country club also provides bowling and Laser Quest facilities.
There are three types of villas to choose from: deluxe, premier deluxe, and superior. The two-story villas exude a charming rustic appeal that is both delightful and captivating. Each villa features a spacious living room that opens up to a private BBQ area in the backyard. The bedrooms are located on the upper floors, while the bathroom is on the ground floor, ensuring easy access for guests during gatherings.
If you prefer a leisurely day indoors, you can enjoy friendly competitions with the complimentary Xbox games provided in the room, or even rent some classic board games from the Villa Concierge, such as Twister and UNO stacko. These are just a few reasons why they are considered one of the top chalet destinations in Singapore.
Book now for off-peak periods and enjoy a 30% discount when you stay for two nights or more!
9) HomeTeamNS Khatib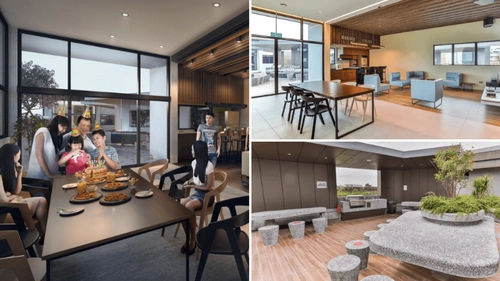 HomeTeamNS Khatib is an excellent option for those seeking proximity to the city. Situated near Yishun MRT, this chalet offers a variety of amenities to ensure a memorable stay. Guests can enjoy a refreshing jog along the scenic jogging track, or work up a sweat at the fully-equipped gym and tennis court. The outdoor swimming pool provides a perfect spot to relax and unwind under the sun.
The expansive grounds of HomeTeamNS Khatib make it an ideal venue for team building activities or gatherings with loved ones. Whether you're looking to bond with colleagues or spend quality time with family and friends, there are ample spaces to create lasting memories.
With a range of room options from deluxe suites and executive suites to standard rooms, you can select the perfect accommodation that suits your vacation needs. Each room is thoughtfully designed and furnished to ensure utmost comfort and convenience during your stay.
Experience the best of Singapore's chalet offerings at HomeTeamNS Khatib, where exceptional facilities, convenient location, and warm hospitality come together to create an unforgettable getaway. That's why they are considered one of the top chalets in Singapore.
10) Civil Service Club @ Loyang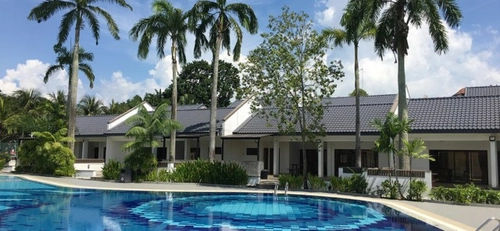 | | |
| --- | --- |
| Key Service | Well-kept chalet Singapore |
| Website | www.cscloyang.sg |
| Address | 159W Jalan Loyang Besar, Singapore 507020 |
| Phone | 6581 9033 |
| Email | loyang@csc.sg |
| Rates | From $170/night |
At CSC Loyang, you can choose between a serene zen terrace or a spacious bungalow to comfortably accommodate a large group of people, both indoors and outdoors. Each room is well-maintained and comes with an attached bathroom, ensuring convenience and privacy. With ample distance between each bungalow, you can enjoy a sense of seclusion.
Forget about competing for closet space – that's one less thing to worry about. Plus, the fully equipped kitchens feature cutlery, an induction cooker, and a microwave oven. Outside your room, you'll find a BBQ pit for your enjoyment.
What's more, CSC Loyang offers sea view bungalows that are pet-friendly, so you can bring your furry friends along. Experience one of the finest chalets Singapore has to offer.
Chalet Singapore
As we wrap up our exploration of Singapore's finest chalets, it's clear that there is an abundant variety of options catering to diverse preferences and budgets. Whether you're searching for an affordable destination with basic amenities, or seeking a luxurious experience with top-tier facilities, Singapore's chalet offerings have something to meet your needs.
From serene seaside views to bustling city proximities, each chalet provides unique features that ensure a memorable stay.
So go ahead, plan your escape, and immerse yourself in the tranquil beauty of these exquisite chalets.
Frequently Asked Questions (FAQ)
If you have any questions about chalets in Singapore, you can refer to the frequently asked questions (FAQ) about the best chalets in Singapore below:
What are the best Chalets in Singapore?
The best chalets in Singapore are Civil Service Club @ Loyang, Aranda Country Club, HomeTeamNS Khatib, and HomeTeamNS Bedok Reservoir.
How much does it cost to rent a chalet in Singapore?
It depends on the type of chalet you rent. Budget-friendly options start from $40/night, while more luxurious chalets can cost up to $294/night.
What happened to East Coast Chalet Singapore?
East Coast Chalet Singapore ceased operations in 2021. Guests who had previously booked their stay at the chalet have been offered a full refund.
What time is check in at the Chevrons?
Check in time at the Chevrons is from 4pm onwards.
What is the postal code for CSC Loyang?
The postal code for CSC Loyang (Former Aloha Loyang) is 507020.
What are some of the best chalets in Singapore that offer a private BBQ pit?
Several chalets in Singapore provide a private BBQ pit for guests to enjoy. These include Gallop Kranji Farm Resort, and Temasek Club. You can savor the experience of grilling your favorite dishes in the comfort of your own space, especially for Temasek club members.
Where can I find a heritage chalet with a rooftop BBQ overlooking scenic views?
If you're looking for a heritage chalet with a rooftop bbq pits Gallop Kranji Farm Resort is an excellent choice. Enjoy the panoramic views while grilling delicious food and relishing the cool sea breeze.
Are there chalets in Singapore that offer family suites or family rooms?
Yes, many chalets in Singapore feature a family suite or family rooms to accommodate larger groups. You can find spacious and luxurious options like Garden Terrace at Gallop Kranji Farm Resort and Deluxe Garden Villas.
Which chalets in Singapore provide private BBQ countertops for guests to use?
Gallop Kranji Farm Resort and HomeTeamNS at Bukit Batok offer chalets with private BBQ countertop. The dedicated private barbecue pit allow you to showcase your grilling skills and create a memorable dining experience.
Are there double-storey chalets available in Singapore that can accommodate up to eight people?
Absolutely! For larger groups, double storey bungalows chalets are an excellent option. Chalets like those at Gallop Kranji Farm Resort can comfortably accommodate up to eight people, providing ample space for everyone.
Can I find chalets near Pasir Ris Beach that offer amenities like a sofa bed and cool sea breeze?
Yes, Aloha Loyang is a chalet located near Pasir Ris Beach that offers amenities like sofa beds and the refreshing cool sea breeze. You can enjoy the beachside atmosphere and relax in the luxurious space provided.
Additional Useful Articles
If you are looking for other useful guides and articles about Chalet in Singapore, check them out below: