Camera Shops Singapore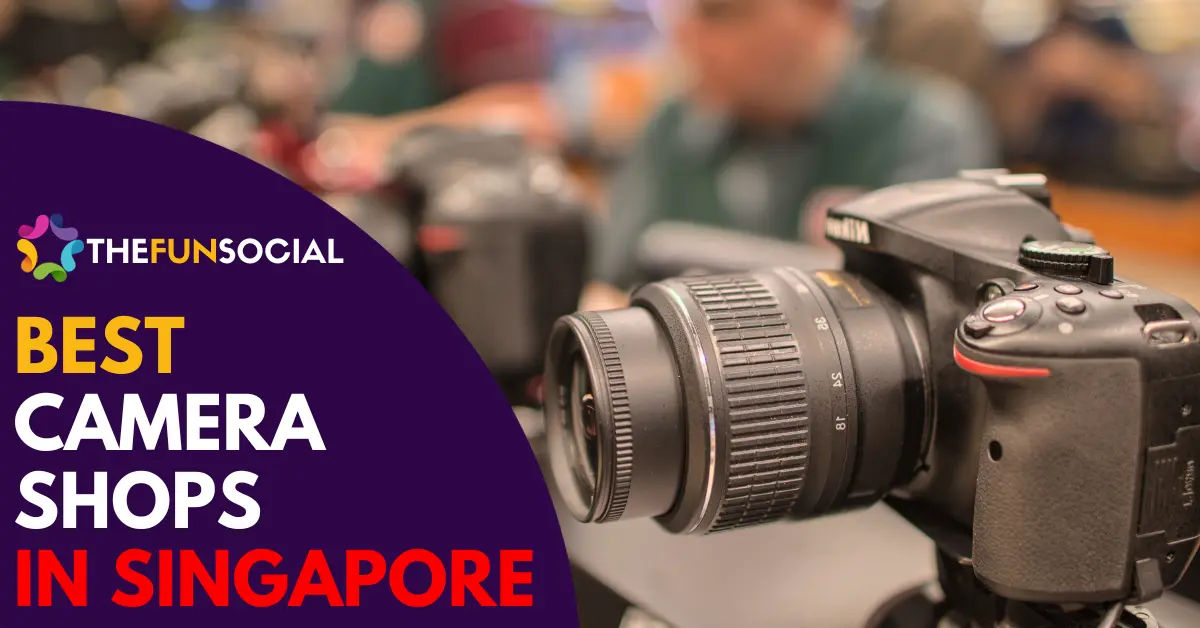 Whether you're a pro photographer seeking high-end gear or a hobbyist looking for the perfect camera to capture moments, Singapore has a variety of camera shops to meet all your photography needs.
The best bakeries for birthday cakes in Singapore include SLR Revolution, Alex Photo, 7DayDeal, Divesea Singapore, and Cathay Photo Store.
When selecting a camera store in Singapore, take into account elements like customer service, variety of products, post-purchase assistance, and pricing.
Camera shops in Singapore offer a wide range of photography equipment, from professional gear to affordable options for hobbyists. They provide exceptional customer service and comprehensive after-sales support.
In this guide, we'll explore the best camera shops in Singapore, providing you with insights to help choose the right match for your photography pursuits.
Quick Summary
Best bakeries for birthday cakes in Singapore include SLR Revolution, Alex Photo, 7DayDeal, Divesea Singapore, and Cathay Photo Store.
When choosing a camera shop in Singapore, consider factors such as customer service, product range, after-sales support, and pricing.
Camera shops in Singapore offer a wide array of photography equipment, from high-end professional gear to affordable options suitable for hobbyists, accompanied by exceptional customer service and comprehensive after-sales support.
Key Consideration Factors
When choosing a camera shop in Singapore, make sure to consider these important factors:
Customer service: Look for shops that prioritize customer satisfaction and provide personalized assistance to help you find the right equipment for your needs.
Product range: A good camera shop should offer a diverse selection of cameras, lenses, accessories, and other photography equipment from different brands.
After-sales support: It's essential to have access to technical support, repairs, and warranty services after making a purchase. Look for shops that offer comprehensive after-sales support.
Pricing: Compare prices across different camera shops to find the best deal without compromising on quality.
Best Camera Shops Singapore
1) SLR Revolution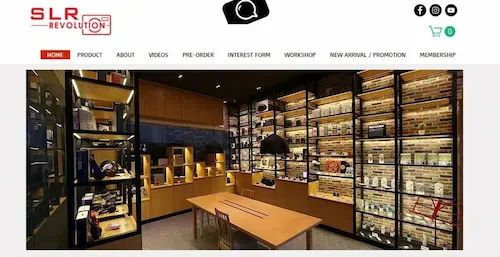 | | |
| --- | --- |
| Key Services | Premium camera brand quality |
| Website | https://www.slrrevolution.com.sg/ |
| Address | No. 5 Coleman Street, #01-02. Excelsior Shopping Centre, Singapore 179805 |
| Phone | 62509412 |
| Email | slr.revo@gmail.com |
| Operating Hours | Weekdays and Saturday: 11am – 9pm , Sun & PH : 11am – 7.30pm |
If you happen to be in search of a product from any of these renowned firms, then let me tell you, this camera store in Singapore might just be the ultimate destination for you!
It boasts an extensive range of options, including point-and-shoot cameras, DSLRs, top-notch studio lighting accessories, and even a selection of headphones and speakers. With such a diverse selection, you are guaranteed to find the perfect fit that caters to your specific needs and preferences.
So why wait? Head on over to this remarkable store and embark on an exciting journey of discovering the finest camera gear in town!
2) Alex Photo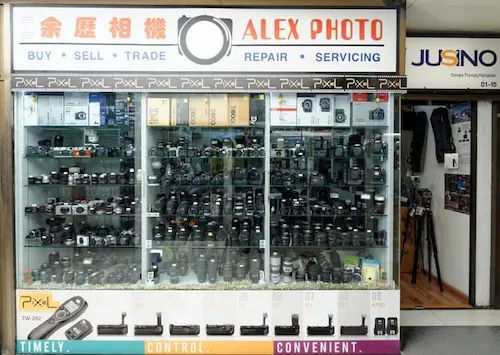 Key Services
Photography equipment
Website
https://www.alexphoto.com.sg/
Address
Shop #01-15,
Peninsula Plaza
111 Northbridge Road
Singapore 179098
Phone
+65 9478 3945
Email
sales@alexphoto.com.sg
Operating Hours
Mon – Sat: 11:49am to 7:13pm
Sunday : 2:13pm to 6:13pm
Closed on Public Holidays
At Alex Photo, they prioritize delivering the utmost shopping experience to all their clients. With a team of knowledgeable and friendly staff, they excel in providing excellent camera equipment at affordable prices.
So, if you come across something you like at another store, consider visiting Alex Photo first. Chances are, they will have exactly what you need at a reasonable price that won't break the bank.
Their commitment to customer satisfaction sets them apart, ensuring you'll have a delightful shopping experience every time you step foot into their store.
3) 7DayDeal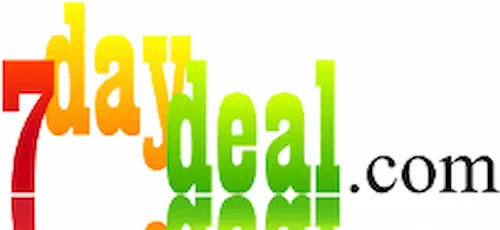 By being actively involved in all production responsibilities, your project will have a unique touch. In today's era, with the immense popularity of videos, videographers are well aware of the amount of work and equipment required for a successful shoot. It's not just about having a good camera, but also ensuring the availability of audio and editing gear. If you're in search of high-quality equipment, I recommend checking out 7DayDeal.
At 7DayDeal, you will find a limited range of brands, including renowned names like Panasonic and Canon camera, which are highly sought after in the market. While it might be a challenge to find accessories that perfectly complement your primary camera equipment, rest assured that all the products at 7DayDeal are handpicked to ensure compatibility with one another.
So, whether you're a seasoned videographer or just starting out, 7DayDeal is your go-to destination for top-notch equipment that will elevate the quality of your video production.
4) Divesea Singapore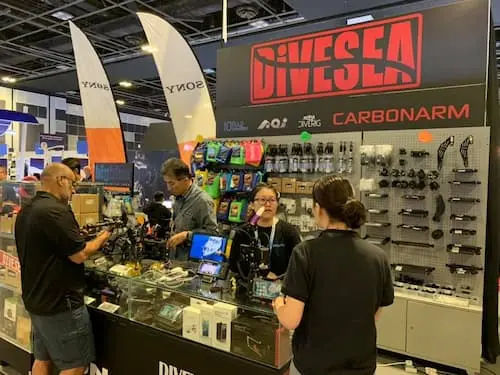 | | |
| --- | --- |
| Key Services | Underwater photography equipment |
| Website | https://divesea.com.sg/ |
| Address | 90 Lorong 23 Geylang #01-03 Agrow Building, Singapore 388393 |
| Phone | +65 6957 1151 |
| Email | info@divesea.com.sg |
| Operating Hours | 12pm-5pm daily |
If you have a passion for underwater photography, look no further than Divesea. Renowned as the ultimate destination for camera enthusiasts, it stands proudly as one of Singapore's top online retailers for underwater photography equipment, catering to both local and international customers. With a wide range of products and accessories, Divesea is committed to fulfilling all the undersea needs of its clients.
At the heart of its business philosophy is the unwavering dedication to provide high-quality underwater photography equipment at affordable prices. Divesea understands the unique demands of its clients and strives to meet them with unparalleled customer service and a vast selection of top-notch gear.
Whether you're a seasoned professional or just starting your underwater photography journey, Divesea has got you covered. Explore their extensive collection and embark on your next aquatic adventure with confidence, knowing that you have the best equipment by your side. Trust Divesea to deliver top-notch products and exceptional service, as they continue to make a splash in the world of underwater photography.
5) Alan Photo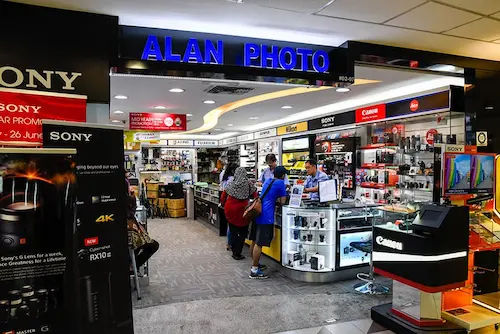 Alan Photo is widely recognized as one of the most reputable camera shops in Singapore, boasting multiple outlets strategically located across the city. With a vast range of camera options and accessories, they cater to photographers and videographers of all skill levels, offering top-notch equipment at affordable prices.
In addition to their comprehensive product offerings, Alan Photo also provides a convenient pre-order service for recently released camera gear, ensuring customers stay up-to-date with the latest advancements in the industry. Moreover, for those who are passionate about improving their photography skills, the company organizes engaging and informative photo workshops led by seasoned professional photographers. These workshops offer a unique opportunity to learn from the best and enhance your knowledge and techniques in the art of photography.
With its commitment to customer satisfaction and dedication to fostering a vibrant photography community, Alan Photo continues to be a trusted destination for camera enthusiasts and industry professionals alike.
6) Click Cameras
Click Cameras, a renowned camera shop in Singapore, has gained widespread recognition for its exceptional reputation spanning over three decades. As a family-owned business, Click Cameras prides itself on upholding values of honesty, integrity, and outstanding customer service, both during the sales process and after-sales support. With a commitment to offering competitive prices, Click Cameras has established itself as a prominent player not only in the camera industry in Singapore but also on a global scale.
What sets Click Cameras apart is its extensive selection of camera models, unrivaled by any other retailer. Whether you're a photography enthusiast or a professional, Click Cameras provides a diverse range of options that are hard to find elsewhere. From state-of-the-art DSLRs to compact mirrorless cameras, they cater to every individual's unique needs and preferences.
With its unwavering dedication to customer satisfaction and an extensive lineup of top-notch camera models, Click Cameras continues to be a go-to destination for photographers and camera enthusiasts, solidifying its position as a trusted name in the industry.
7) Cathay Photo Store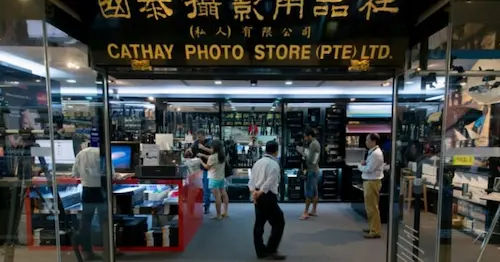 Step into the legendary Cathay Photo Store, a photography haven that has been capturing memories since the early 1980s. Whether you're a casual shutterbug, honing your skills, or a seasoned pro, they've got you covered with a wide range of high-quality products from renowned brands.
Discover a treasure trove of cameras, including cine cameras, instant cameras, VR and 360° video cameras, action cameras, and more. From Sony to DJI Innovations to GoPro, their lineup is truly impressive.
But it doesn't stop there. Cathay Photo Store also offers an array of products like binoculars, night vision equipment, and remote controls for your photographic adventures. And guess what? They even provide convenient delivery services, making your shopping experience a breeze.
Elevate your photography game and explore the world of possibilities at Cathay Photo Store.
8) 8StoreyTree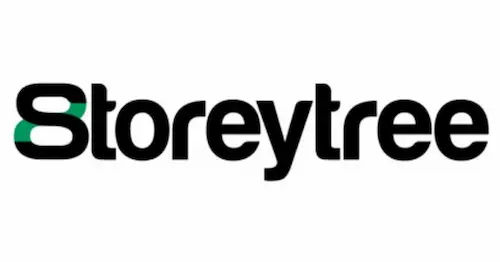 Initially, 8storeytree solely focused on toy cameras and rare films, making them the core priorities of the brand. The store's product line was limited to these unique offerings, catering to enthusiasts of obscure movies and experimental photography. However, after just two years of its online presence, 8storeytree expanded its horizons and established a physical location.
This new space served as a haven for film lovers and experimental photographers, providing an opportunity to rediscover the joy of shooting with analogue cameras and exploring the art of Lomography.
With the expansion, 8storeytree now boasts a diverse range of products that go beyond their specialty. Alongside their extensive collection of analogue cameras, they offer a wide selection of Lomography goods, photography accessories, and an array of films to cater to every creative need.
This expansion has allowed 8storeytree to further nurture the passion for analogue photography and provide a one-stop destination for all photography enthusiasts.
9) TK Foto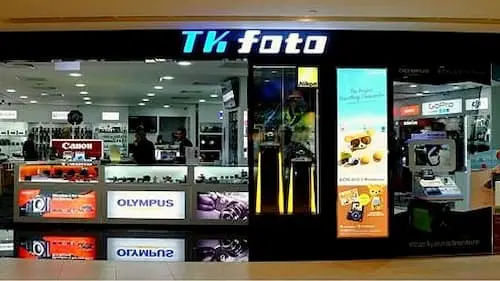 Key Services
Specializing in photography equipment
Website
https://www.tkfoto.com.sg/
Address
107 North Bridge Road
#03-09 Funan
(S)179105
Phone
+65 6904 6610
Email
sales@tkfoto.com.sg
Operating Hours
Mon to Fri 11 AM–8:30 PM
Sat to Sun 11 AM–9 PM
Originally established in 1977, TK Foto started its journey as a retailer specializing in photography equipment. Over the years, it has grown into one of Singapore's prominent stores, boasting two conveniently located shops at Funan Mall and Plaza Singapura.
With a comprehensive range of offerings, TK Foto caters to photography enthusiasts with an extensive selection of dryboxes, tripods, and other camera-related equipment. Moreover, they also provide a wide range of accessories, including digital and instant cameras, designed to safeguard your valuable gear from the humid weather conditions in Singapore.
Furthermore, TK Foto goes beyond photography and extends its offerings to encompass audio equipment and accessories, ensuring that customers can explore and enjoy an extensive range of speakers and Bluetooth earpieces for personal use. With its commitment to quality and customer satisfaction, TK Foto continues to be a go-to destination for photography and audio enthusiasts alike.
10) eDSLRs
| | |
| --- | --- |
| Key Services | Cameras, tools, and equipment needed in photography |
| Website | https://edslrs.com/ |
| Address | Sim Lim Square, 1 Rochor Canal Rd, #06-02, Singapore 188504 |
| Phone | +65 9863 0868 |
| Email | support@edslrs.com |
| Operating Hours | 11am-7pm Monday to Saturday |
eDSLRs is a premier one-stop shop based in the vibrant city of Singapore, catering to the diverse needs of photographers. With a vast array of cutting-edge cameras, top-notch equipment, and essential accessories, eDSLRs offers an extensive selection that is sure to meet the demands of both amateur and professional photographers alike.
At eDSLRs, their team of highly skilled and dedicated professionals are driven by their unwavering passion for photography. They are committed to providing the best-in-class solutions for all your photography, videography, and imaging needs. With their extensive knowledge and expertise in camera equipment, you can trust that their services are unmatched in terms of quality and reliability.
11) P&G Photographic Centre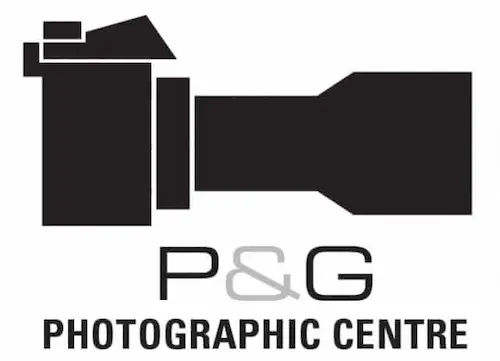 Key Services
One-stop photography store
Website
https://pgcameras.co/
Address
The Adelphi
1 Coleman Street,
B1-04, The Adelphi,
Singapore 179803
Phone
(65)68370696
Email
pgcameras@gmail.com
Operating Hours
Mon to Sat from 11.00 a.m. to 7.30 p.m.
The P&G Photographic Centre is renowned as a premier retail destination, catering to the needs of professional photographers with its extensive and up-to-date range of photography gear. Not only do they offer a diverse selection of cameras and lenses, but they also provide top-notch camera repair and lens repair services, ensuring that your equipment is always in optimal condition.
One of the standout features of the P&G Photographic Centre is their commitment to customer satisfaction. They offer complimentary equipment checks and assessments, allowing you to seek assistance and guidance if you encounter any issues with your gear.
Whether it's a malfunctioning camera or a faulty lens, their skilled technicians will be there to help, ensuring that you can continue capturing stunning images without any hindrances.
12) Filem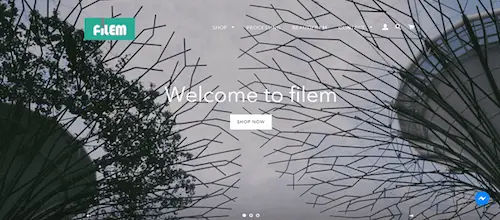 Key Services
Film Cameras
Website
https://filem.sg/
Address
80 Playfair Road, Block B #05-13H Singapore 367998
Phone
+65 8686 0349
Email
info@filem.sg
Operating Hours
Monday – Tuesday: 11:30am to 7:30pm
Wednesday Closed
Thursday – Sunday: 11:30am to 7:30pm
Film enthusiasts will undoubtedly find great delight in the exceptional opportunity to acquire one of these remarkable cameras, which are conveniently available for purchase at Filem.
Situated in the vibrant city of Singapore, this extraordinary camera store offers a gateway to discovering and nurturing your true passion for the timeless art of old film. With utmost dedication to ensuring the highest quality, every single camera undergoes thorough testing, guaranteeing its exceptional performance and reliability.
The presence of distinctive vintage cameras, impeccably preserved and maintained, adds an air of nostalgia and intrigue, making each visit to this esteemed establishment a truly memorable experience.
Camera Shops Singapore
In conclusion, Singapore is home to an abundance of camera shops, each offering a unique selection of equipment and services that cater to a wide range of photography enthusiasts. From the latest digital gear to vintage film cameras, these retailers provide comprehensive solutions for customers of all skill levels.
Whether you're an amateur photographer looking to upgrade your equipment or a professional in need of specialized services, these shops are sure to meet your needs.
So, step into any of these establishments and embark on your creative journey through the lens of a camera.
Frequently Asked Questions (FAQ)
If you have any questions about Camera Shops in Singapore, you can refer to the frequently asked questions (FAQ) about the best Camera Shops in Singapore below:
What are the best camera shops in Singapore?
The best bakeries for birthday cakes in Singapore include Alex Photo, Alan Photo, Cathay Photo Store, 8StoreyTree, and P&G Photographic Centre.
What can I do with old cameras in Singapore?
There are a variety of options for what you can do with old cameras in Singapore. Some camera shops, such as 8StoreyTree, offer trade-in programs where you can exchange your old camera for credit towards a new one. Alternatively, you can also sell your old camera at places like Camera Exchange Asia or online through platforms like Carousell.
Are expensive cameras better?
Expensive cameras often come with advanced features and higher quality components, resulting in better overall performance. However, the best camera for you depends on your individual needs and preferences as a photographer. It's important to research and compare different options before making a purchase.
Which quality of camera is best?
The quality of a camera depends on various factors such as resolution, sensor size, and lens quality. Ultimately, the best camera for you will depend on your specific needs and budget. It is recommended to try out different cameras or read reviews before making a decision.
How do I choose a budget camera?
When choosing a budget camera, it's important to consider the features and capabilities that are most important to you. Research different options, read reviews, and compare prices to find the best fit for your needs and budget. You may also want to consider purchasing second-hand or refurbished cameras from reputable sellers.
Where can I find a wide range of camera accessories in Singapore?
When it comes to camera accessories, there are several reputable camera shops in Singapore that offer a diverse selection. You can find accessories such as camera bags, lighting equipment, video accessories, and more at these stores.
Are there any camera shops in Singapore that specialize in Sony cameras?
Absolutely! Singapore is home to camera shops that specialize in Sony cameras. These shops carry a range of Sony camera models, providing options for enthusiasts and professionals alike.
Can I find compact cameras at the camera shops in Singapore?
Yes, the camera shops in Singapore offer a variety of compact cameras. These compact cameras are perfect for those who want a portable and user-friendly option without compromising on image quality.
Which camera shops in Singapore offer a variety of different camera models?
Many camera shops in Singapore pride themselves on offering a wide range of camera models from well-known brands and reputable manufacturers. You'll find options from Canon, Sony, Nikon, and more at these stores.
Where can I find photographic and videographic equipment in Singapore?
Singapore is a hub for photographic and videographic equipment. Camera shops in popular locations like Sim Lim Square,SG Camera Store, and Excelsior Shopping Centre offer a range of equipment, including cameras, lenses, lighting equipment, and more.
Can I purchase Sigma lenses from camera shops in Singapore?
Yes, you can find Sigma lenses at selected camera shops in Singapore. These high-quality lenses are known for their performance and are compatible with various camera models.
Additional Useful Articles
If you are looking for other useful guides and articles about Camera Shops in Singapore, check them out below: