Cafe Serangoon Singapore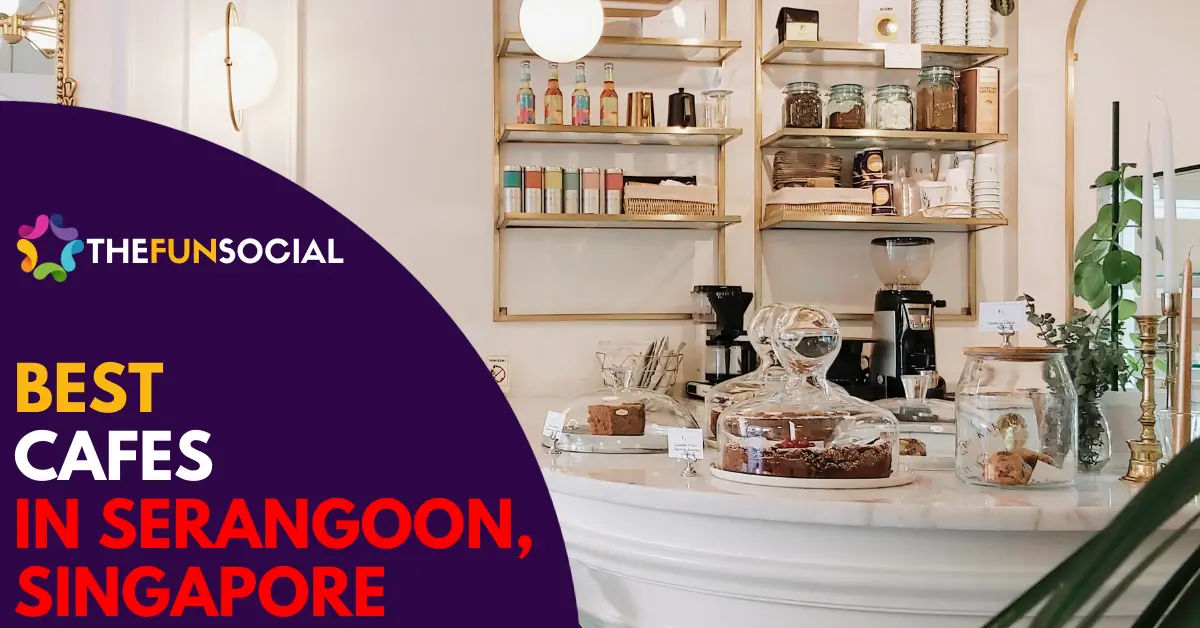 If you're a coffee connoisseur and find yourself in Serangoon, Singapore, you're in for a treat.
The best cafes in Serangoon Singapore are Sun Ray Cafe, Apollo Coffee Bar, The Better Scoop, and Flavour Flings.
When selecting a café, it's important to consider factors such as the price, ambiance, location, menu variety, and reviews.
Serangoon, Singapore is a paradise for cafe enthusiasts, boasting a wide array of cafes, each with its own unique ambiance, diverse menu options, and exceptional customer reviews.
In this guide, we delve into the top cafes in Serangoon that you simply can't miss.
Quick Summary
Best cafes in Serangoon Singapore are Sun Ray Cafe, Apollo Coffee Bar, The Better Scoop, and Flavour Flings.
When choosing a cafe, make sure to check out the price, ambiance, location, menu variety, reviews
Serangoon, Singapore is a haven for cafe lovers, offering a plethora of cafes, each with distinctively alluring ambiances, diverse menus, and highly-regarded customer reviews.
Key Consideration Factors
When looking for a cafe in Serangoon Singapore, make sure to consider these important factors:
Price: Depending on your budget, you may want to opt for a more affordable cafe or treat yourself to a higher-end one.
Ambiance: A cozy and inviting atmosphere is essential for enjoying your coffee. Look for cafes with comfortable seating, warm lighting, and pleasant decor.
Location: Convenience is key when it comes to choosing a cafe. Make sure the location is easily accessible and near other attractions or activities you may want to visit.
Menu Variety: It's always nice to have a variety of options, whether you're looking for coffee, brunch, or dessert. Check out the menu beforehand to see if it offers something that suits your taste.
Reviews: Of course, customer reviews are crucial when selecting a cafe. Look for cafes with high ratings and positive feedback from previous customers.
Best Cafe Serangoon Singapore
1) Ciel Patisserie

| | |
| --- | --- |
| Key Service | Authentic French-based pastries and sweets |
| Address | Blk 124 Hougang Avenue 1, #01-1444, Singapore 530124 |
| Website | http://www.ciel.com.sg/ |
| Phone | 6383 0803 |
| Operating Hours | Daily 11am to 8pm |
Ciel Patisserie has gained renown for its delightful selection of French delicacies, providing both irresistible flavors and great value. Their menu presents a wide variety of choices that are guaranteed to satisfy any sweet tooth.
One of the most beloved treats is the Opera Cake, an exquisite creation made with moist almond sponge layers, indulgent dark chocolate ganache, and a smooth coffee buttercream. Each bite offers a symphony of perfectly balanced flavors and textures.
Experience the irresistible pleasure of Mon Cheri, a visually stunning masterpiece at Ciel Patisserie. This exquisite dessert harmonizes velvety chocolate mousse with a delightful cherry confit, intricately crafted to resemble a stone fruit.
With a meticulous focus on detail and an unwavering commitment to excellence, Ciel Patisserie is a must-visit for pastry enthusiasts seeking an authentic taste of France.
2) Lickers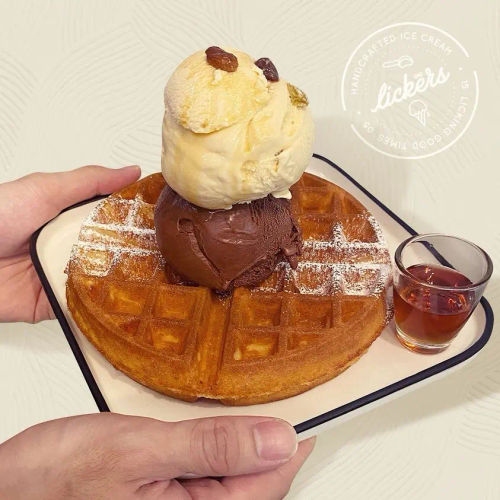 Lickers presents a delightful array of artisanal ice cream flavors that are sure to tantalize your taste buds. From beloved classics like Honeycomb and Speculoos to unique and adventurous options such as Yakult Oreo and Cookie Monster, there's something to please everyone's palate.
Savor the creamy and velvety goodness of their handcrafted ice cream, and for the ultimate experience, crown your preferred flavors atop a warm and fluffy waffle.
With the option to enjoy two generous scoops for just $10, this ice cream cafe is the ultimate destination for ice cream enthusiasts in search of quality and variety.
3) Kooks Creamery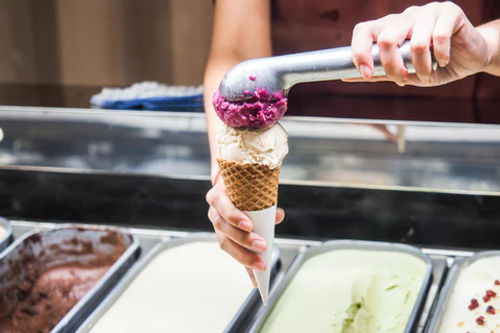 Key Service
Ice cream
Address
211 Serangoon Ave 4 #01-02, Singapore 550211
Website
https://kookscreamery.com/
Phone
Tue – Thu, Sun: 12 – 10pm
Fri & Sat: 12 – 11pm
Operating Hours
Tue – Thu, Sun: 12 – 10pm
Fri & Sat: 12 – 11pm
Kooks Creamery is a heavenly dessert destination famous for its delicious molten lava cookies. With a unique twist on the traditional lava cake, they offer a wide variety of over 18 mouthwatering ice cream flavors to complement your lava cookie.
This guarantees an endless selection of delightful choices and irresistible combinations. One of our favorite options is the Matcha Lava Cookie Set at Kooks Creamery, skillfully combining the subtle bitterness of matcha cream with the rich sweetness of cookie butter ice cream.
This heavenly combination will take your taste buds to dessert paradise, leaving you in a state of pure bliss. Indulge yourself and enjoy the pure pleasure of these divine treats in this delightful dessert cafe.
4) Apollo Coffee Bar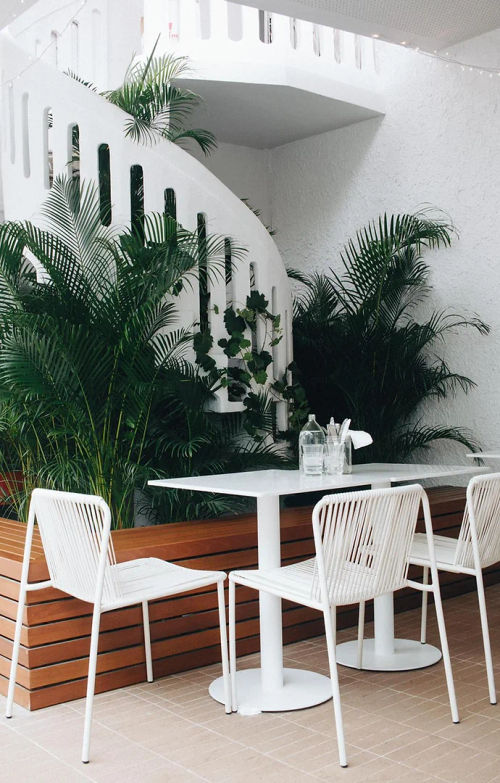 | | |
| --- | --- |
| Key Service | International menu |
| Address | 65 Serangoon Garden Way, Singapore 555961 |
| Website | https://www.apollocoffeebar.com/ |
| Phone | 6246 3875 |
| Operating Hours | Tue-Sat 9am to 10pm, Sun 9am to 7pm |
Serangoon Gardens offers a variety of cafes, but Apollo Coffee Bar stands out as a beloved favorite. Some compare this lovely cafe to the charming spots in Bali, while others find elements of Australian coffee culture.
What's for sure is that you can expect exceptional coffee and a menu that caters to both day and night. Make sure not to miss the opportunity to try their famous Lemon Curd & Hotcakes, where fluffy diner-style hotcakes are topped with a tangy lemon curd.
And if you're joining them for dinner, prepare to be delighted by their fusion mains available from 5pm onwards. Picture mouthwatering Wagyu Cheeseburger or tantalizing Chorizo Squid Risotto. Your taste buds are in for a delightful treat!
5) Flavour Flings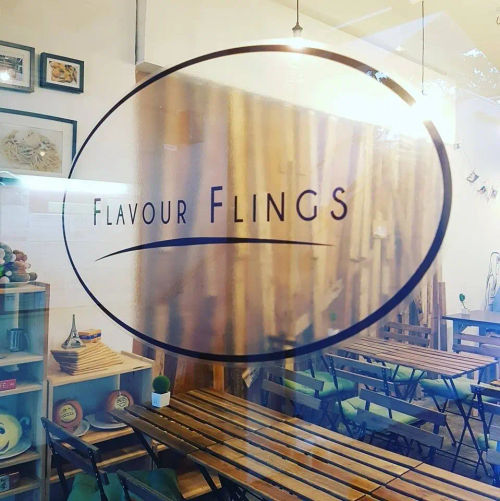 | | |
| --- | --- |
| Key Service | Halal-certified Western cuisine |
| Address | Blk 121 Hougang Avenue 1, #01-1348, Singapore 530121 |
| Website | https://www.facebook.com/flavourflings |
| Phone | +65 6286 0051 |
| Operating Hours | Thurs-Mon 11:30am to 4pm, 5:30pm to 10pm, Wed 5:30pm to 10pm |
Flavour Flings is a must-visit for food lovers in search of a delightful blend of Western cuisine and halal certification.
Renowned for their creative menu, they offer delectable treats such as the irresistible salted egg yolk croissants and indulgent raclette cheese dishes. Indulge in the perfect fusion of flavors with their tantalizing Salted Egg Croissant With Raclette Cheese, where the flaky croissant and creamy cheese come together in perfect harmony.
Experience the heavenly combination of tender beef steak and gooey raclette cheese at Flavour Flings. Embark on a gastronomic journey and explore the art of blending unique flavors with exquisite craftsmanship.
6) The Better Scoop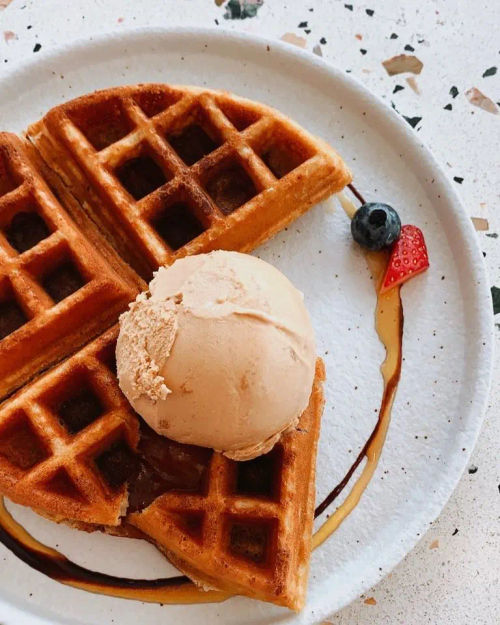 Don't miss out on The Better Scoop if you're yearning for delectable ice cream and waffles. Located conveniently near Serangoon MRT Station, this charming café offers a tempting array of treats to satisfy your cravings.
One of their standout creations is the Nian Gao Waffles, crafted using a buttermilk batter infused with nian gao, resulting in a distinctive and irresistible fusion of flavors. Alongside their delectable waffles, strawberry cheesecake, and gelato, The Better Scoop also offers an assortment of specialty beverages to perfectly complement your sweet indulgence.
Don't forget to give their Pei Pa Koa Latte With Peach Gum a try. It's a delightful beverage that adds a refreshing twist by combining authentic pei pa koa syrup with peach gum. You won't want to miss it!
7) Dutch Colony Coffee Co.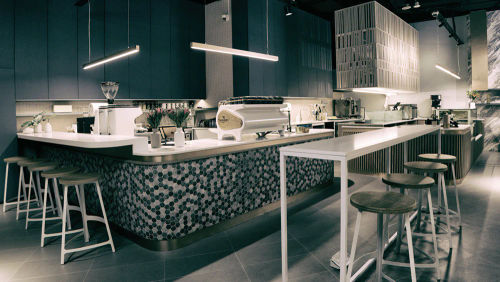 | | |
| --- | --- |
| Key Service | Specialty coffee roaster |
| Address | 113 Frankel Avenue, Singapore 458230 |
| Website | https://www.dutchcolony.sg/ |
| Phone | 6448 5852 |
| Operating Hours | Daily 8am to 6pm |
Dutch Colony Coffee Co., a well-known local coffee roastery, initially established itself in Pasarbella before eventually moving to its own location on Frankel Avenue.
This charming café offers a wide array of coffee choices and also provides the opportunity to purchase their beans for home brewing. Additionally, they have a selection of specialty coffee equipment available for purchase.
If you're craving a delightful breakfast and a fantastic cup of coffee, their menu offers a variety of classic breakfast options like spinach omelette. From the traditional Breakfast Platter to the House Pancakes served with blueberry jam.
8) Amber Ember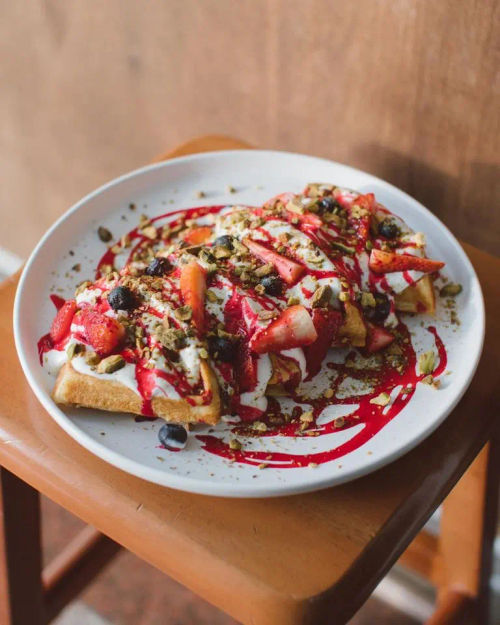 Key Service
Breakfast and brunch menu
Address
30 Upper Serangoon Road, #01-01, Singapore 534613
Website
https://www.amberember.sg/
Phone
+65 6926 3312
Email
hello@amberember.sg
Operating Hours
Monday: 10am – 5pm
Tuesday: 10am – 5pm
Wednesday: Closed
Thursday: 10am – 5pm
Friday: 10am – 10pm
Saturday: 10am – 10pm
Sunday: 10am – 5pm
If you're a fan of cafes with a charming ambiance, then Amber Ember is a must-visit. Located in Serangoon, this delightful café will instantly captivate you with its dusky pink walls, beautifully crafted wooden furniture, and an abundance of vibrant plants on display.
In addition to their delectable brunch options, they also offer a lunch menu starting from 11am, ensuring that there's something to satisfy every craving. One of their standout specialties is the Australian-style grilled cheese sandwiches, known as jaffles, which are sure to leave you wanting more.
Moreover, be sure to indulge in their mouthwatering open-faced sourdough toasts that will tantalize your taste buds with each flavorful bite.
9) Sun Ray Cafe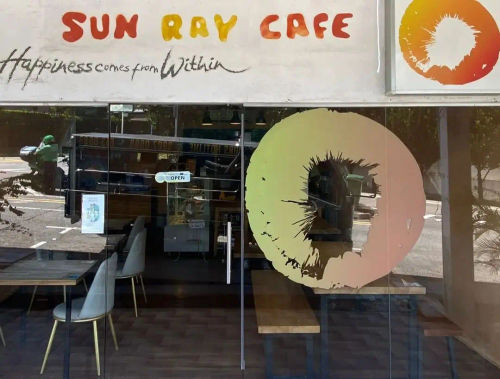 Situated on the outskirts of Serangoon Gardens, this pet-friendly café is a beloved choice for many, thanks to its wallet-friendly prices. The extensive menu boasts an array of delectable dishes, from the savory Beef Shakshuka to the irresistible seafood pastas.
What makes it unique is its dedication to furry companions. Not only do they warmly welcome pets, but they also offer a specially curated menu just for them. Spoil your furry friend with a delightful Puppucino or indulge them with the Happy Paw Bento Set.
Treat your beloved pet to their special set, which includes a variety of wholesome vegetables, fruits, scrambled eggs, eggs benedict, rice, and your choice of protein. It's a well-balanced and satisfying meal all in one!
Whether you're on a budget or simply looking for a place where your furry friend can enjoy a delicious meal, it's the perfect destination. Come and relish the warm and inviting atmosphere while treating yourself and your furry companion to a delightful dining experience.
10) Joji's Diner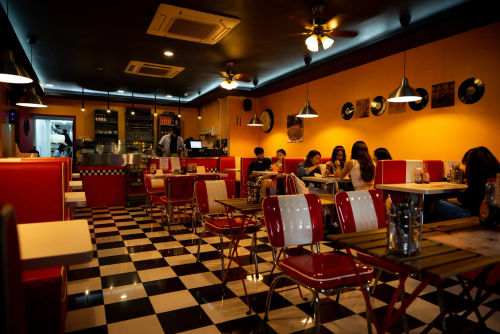 Joji's Diner stands out from the other favourite cafes with its captivating all-American interior and classic diner menu. When you enter, you'll be welcomed by walls adorned with vinyl records, creating a nostalgic atmosphere. The checkered floor and cherry red vinyl seats add a touch of retro charm. And to top it off, there's even a jukebox machine, ready to play your favorite tunes.
At Joji's Diner, you can start your day with delicious breakfast platters, but they also offer an exceptional American bites menu. Treat yourself to the mouthwatering combination of Chicken and Waffles, where crispy fried chicken meets fluffy waffles. And if you're in the mood for comfort food, their Mac & Cheese is a must-try, with its creamy cheese sauce and perfectly cooked pasta.
Joji's Diner is more than just a place to satisfy your hunger; it transports you to the golden age of American diners. Step inside, soak up the lively ambiance, and indulge in the delightful flavors of classic American cuisine.
Cafe Serangoon Singapore
As we wrap up this culinary journey through Serangoon, it's clear that the neighborhood's café scene leaves nothing to be desired.
Whether it's the savory fusion of Western and Halal cuisine at Flavour Flings, the playful dessert innovations of The Better Scoop, the authentic coffee experience at Dutch Colony Coffee Co., the chic ambiance of Amber Ember, the pet-friendly environment at Sun Ray café, or the nostalgic charm of Joji's Diner, there's a unique experience waiting at every corner.
So next time you're in Serangoon, be sure to explore these amazing cafés and treat your taste buds to an array of delightful dishes.
Frequently Asked Questions (FAQ)
If you have any questions about Cafes in Serangoon Singapore, you can refer to the frequently asked questions (FAQ) about the best Cafes in Serangoon Singapore below:
What are the best cafes in Serangoon Singapore?
The best cafes in Serangoon Singapore are Apollo Coffee Bar, The Larder Cafe, Flavour Flings, The Better Scoop, and Sun Ray Cafe.
Which cafes can I find in Upper Serangoon Shopping Centre?
Upper Serangoon Shopping Centre is a hub for delightful cafes in Serangoon, offering a variety of dining options. Visit Joji's Diner or Amber Ember to enjoy a cozy atmosphere and indulge in delicious food and beverages.
Where can I find the best French toast in Serangoon?
Eleven Strands is home to cafes that serve mouthwatering French toast. Savor thick slices of bread soaked in a delectable custard mixture, cooked to perfection, and topped with delightful accompaniments at these cafes.
Which cafe offers a unique twist on royal French toast dish?
For an extra special French toast experience, head to Sun Ray Cafe. Indulge in decadent bread served with luxurious toppings and flavors, elevating your breakfast or brunch experience.
Where can I find freshly baked bread in Serangoon cafes?
Visit Pizza D'France, Eleven Strands, or The Bread Rack to enjoy an irresistible selection of bread, including butter croissant, almond croissant, and more, ensuring a delightful treat for your taste buds.
Which cafes in Serangoon are considered lovely and popular favorites among locals?
All the cafes mentioned offer a charming ambiance, friendly service, and a menu filled with delectable food and good coffee, making them beloved destinations among both residents and visitors.
Where can I find the best breakfast burger in Serangoon?
Visit Apollo Coffee Bar to enjoy juicy patties, flavorful toppings, and a combination of savory ingredients that make for an unforgettable breakfast or brunch meal.
Which cafes in Serangoon offer delicious cheese croissants?
Flavour Flings serves delicious cheese croissant, offering the perfect blend of flaky croissant pastry and gooey melted cheese.
Where can I find cafes in Serangoon that embrace the minimalistic cafe culture?
Urban Table offer sleek designs, clean lines, and a focus on quality food and beverages, providing a modern and refreshing dining experience.
Which cafes in Serangoon serve freshly baked goods and pastries?
Pizza D'France take pride in serving freshly baked goods and pastries. Visit the cafe to indulge in a variety of fresh bakes, including delectable pastries, bread, and other sweet treats, paired perfectly with a cup of good coffee.
Additional Useful Articles
If you are looking for other useful guides and articles about Cafes in Serangoon Singapore, check them out below: