Brunch Singapore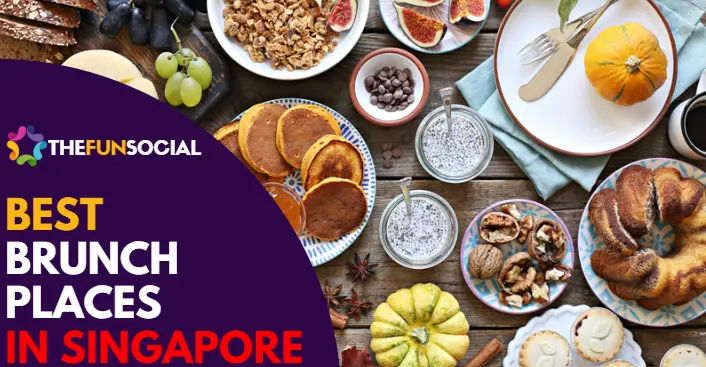 Singapore, the vibrant city-state known for its diverse culture and spectacular food scene, offers an array of delightful brunch spots.
The best places for brunch in Singapore include Andaz Singapore, Xperience So Singapore, Mezza9, Colony – The Ritz-Carlton, and Bread and Hearth.
When selecting a brunch venue in Singapore, take into account factors like service, atmosphere, food quality, menu options, and pricing.
Every brunch spot in Singapore provides a distinct dining experience, guaranteeing a culinary adventure with a blend of traditional delicacies and creative dishes.
Dig into this guide to discover the best places to enjoy a leisurely brunch in Singapore, a perfect blend of local flavors and international cuisine.
Key Consideration Factors
When looking for a place to have brunch in Singapore, make sure to consider these important factors:
Service: Look for restaurants with friendly and efficient staff who can provide a pleasant dining experience.
Ambiance: Choose a spot with a cozy and inviting atmosphere, whether indoors or outdoors, that makes you feel comfortable and relaxed.
Quality of Food: Opt for places that serve freshly prepared dishes made with high-quality ingredients to ensure a satisfying meal.
Menu Variety: Select restaurants that offer a diverse menu with options for all dietary preferences, from vegetarian and vegan to gluten-free.
Price: Keep in mind your budget while selecting a brunch spot. Singapore has options for all budgets, whether you're looking for an extravagant brunch or a more affordable one.
Best Brunch Singapore
1) The Butcher's Wife
The Butcher's Wife, located in Singapore's trendy area, is a charming restaurant that offers a completely gluten-free dining experience. With its delightful ambiance, delectable cuisine, and an extensive wine selection from around the globe, you'll find yourself craving for more.
Indulge in their delectable Blue Pea Flower Naan Sandwich, generously filled with falafel made from fermented black beans, creamy yoghurt, tangy green mango chilli sauce, and a velvety lentil hummus. It's priced at $10.
For brunch enthusiasts, their Gluten-Free Focaccia topped with caramelised onions, juicy tomatoes, and fragrant basil is an absolute crowd pleaser. Also priced at $10.
But if you're craving something truly exquisite, their succulent Wagyu Picanha is a must-try. Served with a luscious burnt cauliflower puree, zesty green papaya salsa, and a touch of banana powder, it's a delightful symphony of flavors priced at $38.
2) SKAI
SKAI, a towering 70-story building in Singapore, offers an incredible brunch experience with breathtaking views. The expansive windows showcase spectacular vistas, while the interior exudes a timeless charm with its warm wood tones.
The ambiance strikes the perfect balance between casual and elegant, where a buffet-style spread of charcuterie, salads, and other delectable dishes awaits, complemented by freshly prepared fare served at your table.
Some standout dishes on the brunch buffet include the Wagyu Beef Tataki with pickled eryngii mushrooms and ponzu, fresh seafood like the Blackened Cod Fish with garlic, potato, and sweet corn, and the mouthwatering Blueberry Muffin French Toast.
Chef Chong Koo Jee, the winner of the Singapore Pastry Cup 2018, has crafted delectable desserts such as the Chocolate Parfait with Earl Grey and chocolate honeycomb.
3) Colony – The Ritz-Carlton
Indulge in another remarkable brunch experience at this exquisite spot in Singapore. Come and savor the finest brunch in town with elegance, just like you did before at the previous location.
The Colony offers a buffet featuring seven open kitchens, serving a variety of local, Chinese, Indian, Indonesian, Malaysian, and Western cuisines. If you're in search of the ultimate brunch experience in Singapore with a wide array of international culinary delights, make your way to the Ritz-Carlton.
The Colony, situated in the heart of Singapore's Orchard Road, is a stunning hotel. With a diverse buffet selection of both Western and Singaporean cuisine, you can indulge in the city's finest culinary traditions.
Whether you're craving brunch food, lunch, or dinner, the Colony has you covered for all your dining needs. So, if you initially searched for 'best brunch near me' but decide to switch to lunch or dinner, look no further than the Colony!
4) Bread and Hearth
Indulge in the delectable pastries from Bread and Hearth, meticulously handcrafted to delight even the most discerning gourmet. If you're in search of a fantastic brunch spot in Singapore that offers high-quality European bread, look no further!
Bread and Hearth takes its name from the bakery where it originated, an oven that used to be a bakery. Today, they craft artisanal loaves with unique flavors and textures. Their dough is meticulously handled, yielding bread of unparalleled quality.
Experience the essence of home in their hearth. Indulge your taste buds with their expertly crafted pastries, made to perfection and baked for your delight.
5) The Glasshouse Specialty Coffee and Toast Bar
If you're seeking an escape from the hustle and bustle of the CBD, The Glasshouse Speciality Coffee and Toast Bar is the perfect place to unwind.
This charming café boasts some of the most Instagrammable spots in town. With floor-to-ceiling glass windows that flood the space with natural light and an abundance of plant pots, it's a feast for the eyes. And let's not forget their must-try dish: the Avocado & Dukkah Artisanal Toast ($13).
6) Habitat Coffee
Habitat Coffee is the go-to brunch spot for coffee enthusiasts who can't start their day without a cup. Located on Upper Thomson Road, this popular and cozy cafe is renowned for its locally roasted and carefully selected coffee beans.
In addition to their delightful breakfast dishes, they also create a welcoming atmosphere that exudes warmth. Habitat Coffee's new catering service is a fantastic opportunity to show support for the company and its mission, while also contributing to a great cause. When it comes to charitable initiatives, Habitat Coffee excels.
Customers who order through the company's website can now enjoy prompt delivery of their preferred food and beverages right at their doorstep.
7) PS.Cafe
Guests can enjoy a delicious brunch featuring Salmon Benedict with poached eggs, gravlax, avocado, and hollandaise on focaccia, PS. Brunch is available from 11:30 am on weekdays and from 9:30 am on weekends.
Indulge in fluffy pancakes topped with homemade banana jam, blueberries, passionfruit curd, and fresh cream. And don't miss the Brunch Burger featuring a mouthwatering wagyu patty. Their brunch menu boasts a variety of local dishes, pasta, pizzas, salads, and an array of 12 delectable desserts.
With such a wide selection, you'll never run out of options!
8) Wildseed Café at The Summerhouse
Located in the picturesque Seletar countryside, Wildseed Café is the brainchild of The Summerhouse, Singapore's renowned farm-to-table restaurant. With its stunning surroundings and awe-inspiring vistas of nature, this charming café offers a tantalizing menu of nutritious and mouthwatering dishes.
Indulge in the rustic ambiance and savor the exquisite cuisine at this establishment. Signature dishes include the Wildseed Garden Arrabiata ($15), a delightful twist on penne pasta featuring locally sourced Cameron Highland cherry tomatoes, homegrown Kranji golden abalone mushrooms, homemade mango pickle, baby corn, and a finishing touch of Parmesan.
Alternatively, you can relish their Grilled Sea Bass fillet with seaweed buerre blanc and grilled potato, broccolini, and curly fries ($26), Pulled Pork Burger ($20), or Sesame Chicken Pita ($16) for a satisfying meal.
9) Alley on 25 by Andaz Singapore
There's no better place to enjoy a delightful weekend or national holiday than Alley on 25 by Andaz Singapore. Indulge in their fantastic Lazy Breakfast, the perfect motivation to get out of bed on weekends. This meal offers a wide breakfast spread and a choice from the à la carte menu.
Indulge in breakfast classics such as eggs Benedict, a breakfast grilled chicken burger, smoked salmon bagel, and lobster mac and cheese while soaking in the beach view from 12:00 p.m. to 2:30 p.m. The buffet also features a continental station with bread, cereals, cold cuts, and a salad bar with superfoods.
Want to add a touch of indulgence? Help yourself to free-flowing breakfast cocktails, including wine, prosecco, or beer.
10) Taste Paradise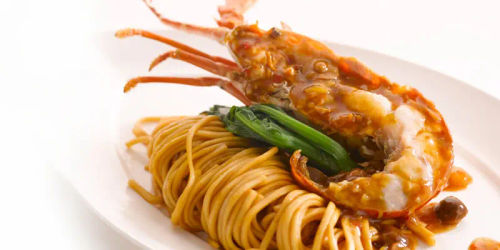 Embark on a captivating voyage through Paradise, beginning with Seafood Paradise in Defu Lane, established in 2002. As one of Orchard's premier brunch destinations, it has now extended to a second venue at the renowned Singapore Flyer, attracting both locals and travelers from around the world.
Get ready to indulge in an extraordinary culinary expedition!
Led by the unwavering commitment of Founder Eldwin Chua, the Paradise brand has achieved remarkable expansion, offering delectable cuisine at affordable prices. Presently, Paradise Group boasts an impressive collection of 11 culinary concepts spanning 9 countries.
With close to 50 restaurants in Singapore and over 60 worldwide, their mission is to craft unforgettable dining experiences for food enthusiasts across the globe. Get ready to embark on an extraordinary gastronomic adventure!
11) Smile Martabak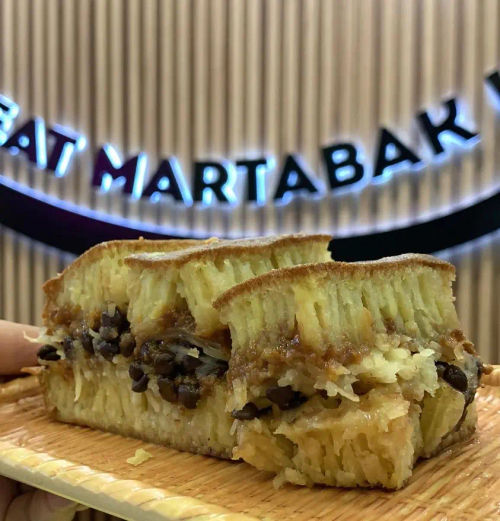 Experience the enchanting culinary paradise of Smile Martabak in Singapore. Transport yourself to the vibrant flavors of Indonesia's beloved martabak and embark on a delightful journey for your taste buds. Each bite is a pure indulgence, immersing you in a world of culinary delight. Prepare for a truly captivating gastronomic experience like no other!
Prepare to be enticed by their menu, offering an exceptional array of mouthwatering martabak choices. Every creation is meticulously crafted, with a unwavering dedication to achieving the perfect combination of flavors and textures.
Whether you crave the sweetness of a dessert or the savory indulgence of a hearty delight, each bite promises to transport your experience on an extraordinary journey.
12) Merci Marcel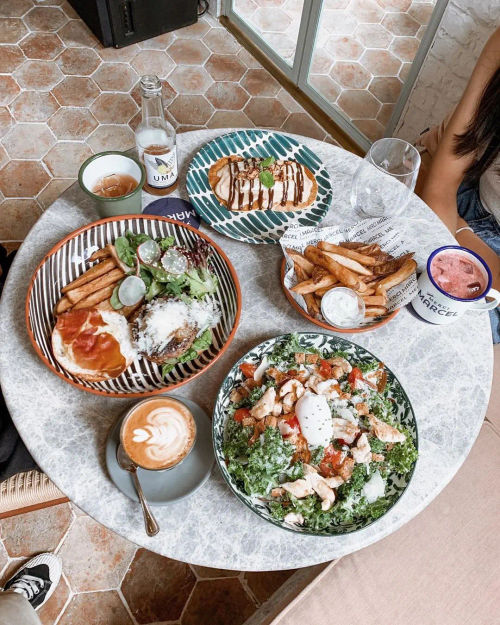 Step into the enchanting ambiance of a bohemian-style café, where French and Balinese influences seamlessly blend. Immerse yourself in a tranquil oasis, greeted by a lush glasshouse garden patio.
Let vibrant citrus hues uplift your spirits, while whimsical mustard mosaic tile flooring adds a playful touch, inviting you to explore every corner.
Experience the hidden gem, a visual delight and Orchard's beloved brunch spot. Prepare for a memorable and indulgent journey that will awaken your senses and tantalize your taste.
Relax and unwind in the serene sanctuary after a long day. The enchanting roadside terrace beckons, inviting guests to savor a leisurely apéro. Immerse yourself in an exquisitely curated dining experience where every detail creates an extraordinary adventure.
13) Indorica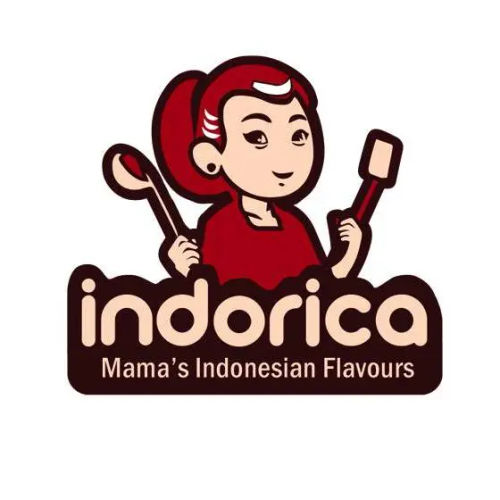 Their remarkable journey began in 2009, starting with a humble Indonesian café nestled in Somerset's Midpoint Mall. While their paths diverged the following year, their unwavering passion continued to shine.
Despite financial challenges during the initial Circuit Breaker/Lockdown in 2019, they fearlessly introduced My Home Cafe in the heart of Yishun. With relentless determination, Pak Bos successfully ran the café on his own for six months. His mouthwatering dishes received rave reviews from 95% of diners, attracting a loyal customer base through word of mouth.
14) Shisen Hanten by Chen Kentaro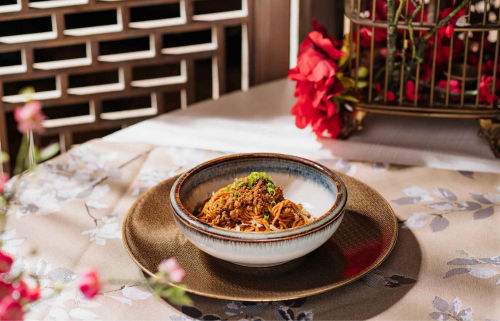 Welcome to Akasaka Szechwan Restaurant, also known as Shisen Hanten in Japan. For over six decades, this culinary gem, founded by the legendary Chen Kenmin, Japan's renowned "Father of Szechwan Cuisine," has been delighting taste sense across generations.
Chen Kenmin's unparalleled expertise and unwavering commitment to capturing the authentic essence of Szechwan cuisine have catapulted the restaurant to unparalleled heights of success.
In carrying on the family legacy, Chen Kenichi's son has elevated the business to new heights, infusing his own distinctive flair into an already extensive brunch menu. Brace yourself for an extraordinary culinary adventure.
15) Arteastiq @ Mandarin Gallery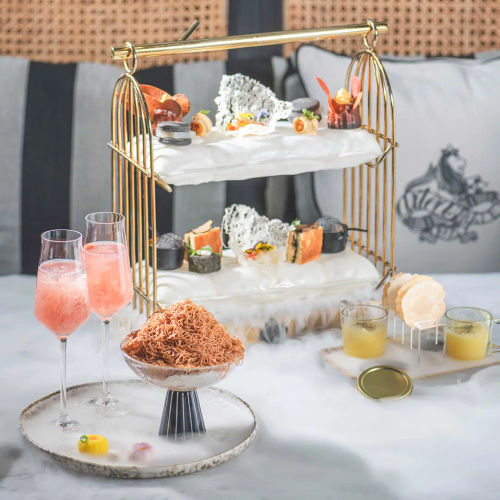 Arteastiq offers a captivating all-day menu that will delight your senses. Executive Chef Yip's creative fusion of continental cuisines takes you on a culinary adventure, showcasing diverse and expertly blended flavors. Get ready for extraordinary gastronomic experiences that surpass the ordinary.
Chef Yip's relentless passion for ingredient exploration and flavor harmony is evident in every exquisite creation. Immerse yourself in a world of culinary delights, where beauty surpasses appearances, and succumb to the enchantment of flavor.
16) Cafe Ma Maison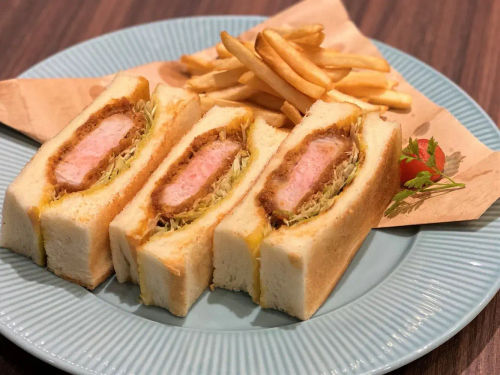 The proprietor harbored a remarkable vision: creating a restaurant that pleases palates with delectable cuisine, skillfully matched with fine wines, and crowned with a luscious demi-glace sauce for a dash of Western culinary enchantment.
Drawing inspiration from the genuine warmth of hospitality experienced during their stay at a charming English inn, they embarked on a mission to craft a welcoming and cozy ambiance that beckons you into their culinary realm. Hence, they christened their restaurant MA MAISON, meaning "my house" in French.
Immerse yourself in the symphony of flavors that evoke the comforting essence of home, where each bite escorts you on a delectable voyage. MA MAISON has established itself as a culinary force, delighting customers with its mouth-watering creations and sincere hospitality in Japan, Singapore, and Malaysia.
17) Song Fa Bak Kut Teh The Centrepoint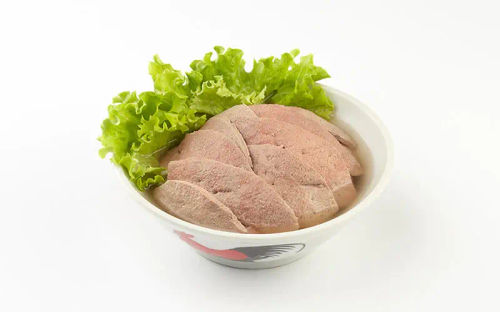 In 1969, on Johor Road in Singapore, a determined man tirelessly dished out piping hot bowls of Bak Kut Teh to a crowd gathered around his modest pushcart. Recognizing the dwindling bak kut supply, he ventured to his friend's neighboring liquor stall to restock the meat.
The humble beginnings of Song Fa Bak Kut Teh signify its inception. Starting as a lone food cart on the street, Song Fa Bak Kut Teh has made significant progress. However, the iconic pushcart serves as a constant reminder of its origins and the dedication to offer an authentic Bak Kut Teh experience.
Experience the irresistible pleasure of succulent and tender pork ribs, effortlessly falling off the bone. Savor the piping hot, flavorful, and tantalizingly spicy-peppery soup that complements them perfectly.
18) Poulet + Brasserie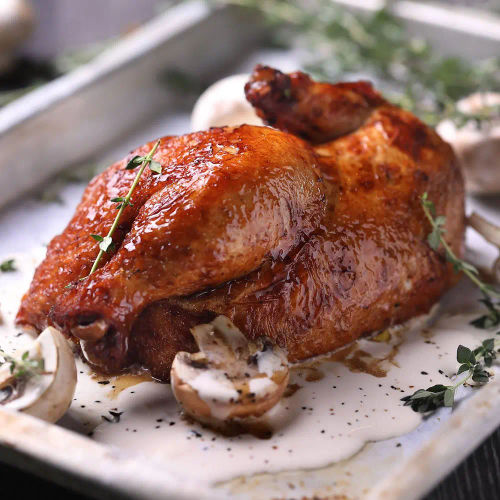 Poulet is a renowned establishment driven by an unwavering commitment to culinary excellence. They skillfully combine fresh ingredients with traditional roasting techniques, resulting in an exceptional dining experience.
Their standout offering is the exquisite French Roast Chicken, meticulously prepared to perfection for a tender and succulent delight. Prepare to be enchanted by flavors that will captivate your taste buds!
Poulet takes the main attraction to new heights with a delightful selection of appetizers, sides, and heavenly desserts. Prepare to tantalize your taste buds and indulge in the exquisite world of French cuisine.
With unwavering dedication to quality and an insatiable quest for impeccable flavors, Poulet is a culinary paradise where every delicious bite is savored with pure delight.
19) Wild Honey
Next on our list is Wild Honey, where you can indulge in exquisite cuisine amidst three breathtaking settings: Sweet Amore. Founded in 2009, Wild Honey brings together the owner's love for travel and breakfast food.
It has since expanded to three locations in Singapore: Mandarin Gallery, Scotts Square, and South Beach. Despite its recent growth, Wild Honey remains true to its core values.
All three restaurants provide delectable and innovative breakfast options across their three locations, each with its own distinctive atmosphere, decor, and overall experience.
It's important to mention that Wild Honey caters to special dietary needs, including vegan, gluten-free, and vegetarian options. Simply inform the staff, and they will gladly recommend suitable choices to customers.
20) Neon Pigeon
Join them for a lively weekend brunch featuring music, drinks, and delectable dishes. Indulge in fresh oysters, followed by delightful options like miso banana French toast or tuna sashimi donburi.
Indulge in the famous pork katsu sando, crafted with wagyu steak and eggs. But if you're in the mood for something truly extravagant, opt for the duck confit ramen, served in a rich foie gras paitan broth, accompanied by mushrooms and napa cabbage.
Don't forget to check with the staff about the daily serving limits as portions are limited.
21) Nassim Hill Bakery Bistro Bar
Nassim Hill offers mouthwatering brunch dishes from Tuesday to Sunday, starting at 3 p.m. until closing time at the original location or until 3 p.m. at the Somerset pop-up spot.
Indulge in favorites like fried egg, buttermilk pancakes, and cheddar cheese bacon waffles, while sipping on your coffee. Don't miss out on the limited brioche donuts filled with chocolate or kaya – they're a must-try!
22) Siri House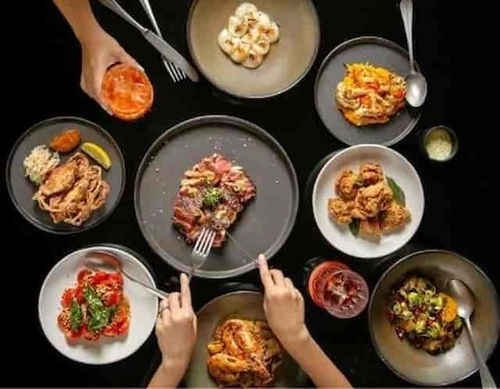 Craving a leisurely Sunday brunch surrounded by Singapore's lush greenery? Head to Dempsey for a delightful indoor dining experience or enjoy the pleasant outdoor terrace. This charming cafe is a must-visit if you're a fan of Italian cuisine. Indulge in a variety of delectable classic dishes, but be prepared for petite portions that will leave you wanting more.
Indulge in two delectable starters: Arancini, featuring dashi-infused Japanese rice with octopus, chorizo, and mozzarella, and Crab Toast with crab mayo and apple citrus salsa.
If you're an egg lover, savor the Lobster Scrambled Eggs made with Boston lobster and za'atar. And don't miss the Beef Ribeye served with kombu butter potatoes, asparagus, and charred vine tomatoes.
23) Adrift by David Myers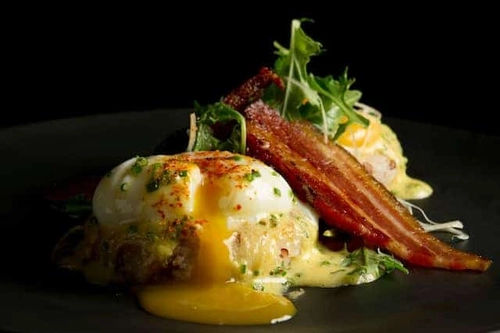 David Myers, the renowned chef behind Adrift, is a prominent figure in the culinary realm. He expertly melds Japanese ingredients with Southeast Asian spices and Californian techniques, resulting in innovative flavor combinations.
This unique approach is reflected in the name of his restaurant. Not only does it offer supper and dinner menus, but it also features a dedicated brunch menu.
Indulge in an unmissable weekend brunch featuring house-made bagels, smoked salmon or salt beef ($18), Broken Ricotta Pancake ($19), lobster frittata ($24), and king crab omelette ($26). Don't miss out!
24) Grub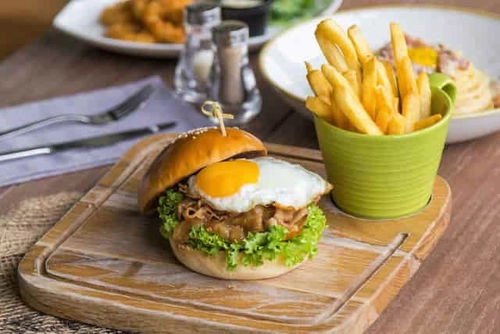 Enjoy a delightful brunch experience on Saturdays and Sundays from 9 a.m. to 5 p.m. Whether you're an early riser or prefer to sleep in, they've got you covered. Indulge in their brunch plate featuring ciabatta bread, scrambled eggs, sautéed mushrooms, and chicken cheese sausage.
For a different option, try their English breakfast with ciabatta, pork patty, baked beans, scrambled eggs, and grilled tomatoes. Rest assured, your taste buds will be thoroughly satisfied either way.
25) Group Therapy Coffee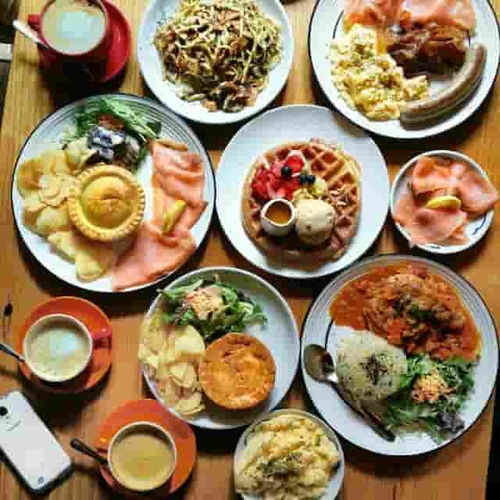 Group Therapy Coffee started as an event venue and has now grown into something more. The brand has expanded to include two cafe locations in Singapore: one in Katong and another in Cross Street Exchange.
No matter which branch you choose, exceptional service and delicious food and beverages await you. The almond latte, in particular, is a local favorite with its delicate nutty flavor, offering a unique alternative to coffee.
At Group Therapy Coffee, customers don't need to look elsewhere for satisfying meals. All of their sweets and main dishes are baked and prepared in-house, using only the freshest and highest-quality ingredients. Don't miss out on the highly recommended Pumpkin Pancake with smoked salmon.
Brunch Singapore
In conclusion, Singapore offers a diverse and exciting brunch scene that caters to a range of tastes and dietary requirements.
From elegantly served French cuisine to comforting homestyle dishes, customers can embark on a culinary journey across the globe without leaving the breakfast table.
With such a wide selection of unique and delicious options available, brunch in Singapore promises a delightful feast for the senses that will leave you eagerly anticipating your next visit.
Frequently Asked Questions (FAQ)
If you have any questions about Brunch in Singapore, you can refer to the frequently asked questions (FAQ) about the best Brunches in Singapore below:
Additional Useful Articles
If you are looking for other useful guides and articles about Brunch in Singapore, check them out below: