Birthday Deals Singapore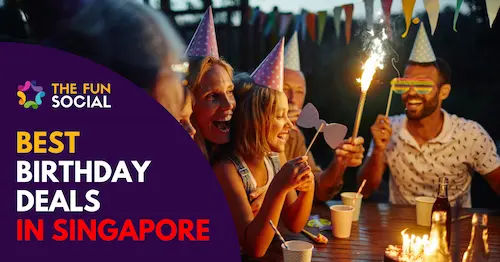 Celebrating your birthday has never been easier with amazing deals in Singapore.
The best birthday deals in Singapore include COCA Steamboat, Mr. Coconut, Boost, Ikkousha Hakata Ramen, McDonald's, and Starbucks.
When choosing a birthday offer in Singapore, consider factors such as validity, promotion guidelines, birthday verification, and location.
FunEmpire, the premier event company in Singapore, has an outstanding track record of over 50,000 successful events and more than 8,000 5-star client reviews.
Whether you're looking for something special or just want to save some money, these deals are sure to make your next birthday celebration in Singapore unforgettable!
Quick Summary
Best birthday deals in Singapore include COCA Steamboat, Mr. Coconut, Boost, Ikkousha Hakata Ramen, McDonald's, and Starbucks.
When selecting a birthday deal in Singapore, take into account factors like validity, promotion guidelines, verification of birthday, and location.
FunEmpire is the leading event company in Singapore, boasting an impressive track record of over 50,000 successful events and 8,000+ 5-Star client reviews.
Key Consideration Factors
Here are some things to remember when looking out for birthday deals in Singapore:
Validity: Check the validity dates of promotions, as some promotions may only be valid on a specific day or for a limited time period.
Promotion rules: Many promotions require you to make reservations in advance, so be sure to plan ahead and book early to avoid disappointment.
Proof of Birthday: Don't forget to bring your proof of birthday (e.g. ID, passport or birth certificate) with you to take advantage of the deals.
Location: Some promotions may only be available at certain outlets, so check the outlet information carefully before you make your purchase.
Best Birthday Deals Singapore
1) COCA Steamboat
Take advantage of this incredible exclusive offer from COCA Steamboat: when you dine with three paying adults and are enrolled in their membership program, a regular buffet is yours for free! Enjoy an unforgettable culinary experience today by adding COCA Steamboat to your ever-growing list of hot pot restaurants. Don't miss out on this great deal!
2) Boost
Joining the Boost family is absolutely free and comes with a delightful birthday bonus – an original-sized juice from any of our delectable flavours, including Immunity or Wild Berry. And you don't have to redeem it on your exact special day! This amazing gift can be used two days before or after your big celebration – so what are you waiting for? There's no better reason to join than that!
3) Mr. Coconut
In Singapore's sultry weather, nothing refreshes better than an invigorating coconut shake – plus you get a complimentary Mr. Coconut beverage or ice cream on your special day! The signature coconut shake is always popular with the masses, yet there are also other one-of-a-kind drinks such as gula melaka coconut latte and strawberry flavored shakes for those seeking something more distinctive to satiate their thirsts.
4) McDonald's
Start your birthday month off with a bang and download the McDonald's app now! Spend at least $10 through the app to receive an exclusive 20 McNuggets absolutely free. Don't wait – take advantage of this one-of-a-kind promotion before it disappears, because you know how quickly good things pass by in life.
5) Ikkousha Hakata Ramen
If you're in search of an unforgettable birthday feast, Ikkousha Hakata Ramen has the perfect solution! Stop by either their Chijmes or Tanjong Pagar location to receive free gyoza dumplings–an amount equal to your current age. Plus, indulge in their incomparable tonkotsu ramen while dining inside or take it away with ease. No matter what option you choose, these fresh and frozen dumplings will surely hit the spot!
6) Sephora
Every beauty enthusiast should take advantage of a Sephora membership – not only does it grant you access to exclusive rewards and discounts, but during your birthday month, you'll also get complimentary gifts such as an Ouai haircare set or Glow Recipe skincare bundle. Talk about the perfect way to top off all that shopping!
7) Starbucks
Treat yourself to a special birthday surprise at Starbucks! Buy one of their signature handcrafted drinks and get access to free slices of scrumptious cakes like cookie crumble cheesecake or red velvet cake – perfect for caffeine-lovers looking for that extra boost. Make your daily coffee run into something even more enjoyable with this exclusive offer!
8) Shin Minori
Make your birthday month one to remember with a complimentary Omizu A La Carte Lunch Buffet (worth $74) at Shin Minori! Indulge in the best of Japanese delicacies – from scrumptious hand rolls, aburi sushi and nigiri sushi to unique tacos. Then wash it all down with an ice cold pint of Asahi Super Dry. End off with a special sushi cake adorned by candlelight as you make your wishes come true!
9) Cajun on Wheels
Indulge in the extraordinary flavors of Louisiana seafood with Cajun on Wheels' Olympian Bucket, feeding five to six people! You will relish Sri Lankan crab, Boston lobster, prawns and white clams – all topped off by complimentary lobsters. The mouthwatering taste that you'll experience when dining at Cajun on Wheels is unlike any other; it truly takes deliciousness to a whole new level!
10) Koi
Koi's bubble tea is renown in Singapore, and it lives up to its reputation. And if you join the membership plan with a top-up of $10, then you will get two free medium drinks during your birthday month! It would be a waste not to experience this delicious treat from Koi – what are you waiting for?
11) Lawry's The Prime Rib
Treat yourself to an unforgettable birthday celebration at Lawry's The Prime Rib! Savour a complimentary dessert, grab a photo print for extra memories, and if you order one entrée – get 50% off the second. If that wasn't enough; invite more friends along so your third main is completely free of charge!
12) Tanuki Raw
Dare to fantasize grandiosely on your birthday at Tanuki Raw! Get a free salmon sashimi platter with each slice equaling one year of your age – the maximum number is 40. Stop by either the Jewel Changi Airport or Cross Street branches and treat yourself to an exquisite bottle of wine or sake while you indulge in this scrumptious feast!
13) Wild Wild Wet
If you love the rush of adrenaline, then a birthday celebration spent at a table won't quite do it for you. To make your special day truly memorable and unforgettable, why not invite some friends to join in on an electrifying Wild Wild Wet adventure? With 16 rides and attractions that will give you heart-pumping thrills and plenty of splashes along the way, there's no better way to celebrate!
14) Brotzeit
Celebrate your special day with free, unlimited beer at Brotzeit – and a complimentary stein to keep the party going all night long! Gather four or more of your friends for this birthday promotion that you won't want to miss. Remember: it appears like this offer is only valid on actual birthdays so make plans now before the opportunity passes!
15) Suki-Ya
Make your birthday even more special with a free regular buffet from any Suki-Ya outlet (except KIN) without having to sign up for a membership! Enjoy all the deliciousness of their already reasonably priced all-you-can shabu shabu and make it an event. Please note that no tops ups or additions are allowed, along with the minimum requirement of four diners.
16) The Boiler
The Boiler Seafood Bar & Beer is an award-winning restaurant that doesn't compromise on flavor. Carefully crafted with local and western spices, the seafood boil dishes are sure to tantalize your taste buds! Whether you're looking for a light snack or something more filling, The Boiler's mouthwatering boils will certainly hit the spot.
17) RockU Yakiniku
Are all-you-can eat buffets your passion? Well, now you have the chance to savour a free Japanese Charcoal Grill buffet at Rocku Yakiniku! Gather your family and friends for an unforgettable birthday feast – you'll get to enjoy scrumptious food on the house as long as there are three other adults that pay. This is one offer too good to miss!
18) Beauty in the Pot
Make your birthday celebration even more delectable with Beauty in the Pot! For every celebrant, they provide a complimentary slice of cake that can be shared amongst friends and family. The flavor may vary from outlet to outlet or day-to-day, yet you might expect to find rainbow cakes, fruit cakes – and many other delightful options. Be sure to savor each mouthful as this special treat is only available on your big day!
19) ORBIS
Japan is famous for its abundance of pharmacies and drugstores, where you can find ORBIS — a well-known Japanese beauty brand that offers affordable, practical products. If you're an ORBIS member, then your birthday month just got even better! With the exclusive one-time 20% off coupon on regular price items available throughout your special month; it's truly the gift that keeps on giving!
20) Lancome
Celebrate your birthday, and indulge in French luxury with Lancome's exquisite skincare line – tailored to suit every skin type. Pamper yourself with brightening serums and youth-activating concentrates for a healthy complexion. Platinum or VIP members can unlock even more upscale Deluxe and Premium Gift sets! With Singapore's temperamental weather, why not use this as an opportunity to revitalize dulled skin? Experience the best of what Lancome has to offer today!
21) Innisfree
Innisfree is an ideal spot for those seeking quality makeup basics at a reasonable price. But did you know that long-time customers have access to an exclusive birthday gift? To get your complimentary present, simply download the app and show the Birthday Kit coupon in store – then witness your special surprise from Innisfree on your big day!
22) Swensen's
Celebrate your birthday with a complimentary Firehouse Happy Birthday Sundae from Swensen's! As one of the longest-running birthday deals in Singapore, it's effortless for Cool Rewards members to partake. All you have to do is dine at any Swensen's on your actual day and enjoy!
23) Sulwhasoo
Sulwhasoo offers members an exciting journey of ginseng exploration and Eastern wisdom, which explains the origin of its name. On your birthday, get exclusive presents like 10% off regular-priced items at boutiques plus a complimentary facial when you spend over S$500! Who can pass up such a spectacular deal?
24) Clinique
Clinique is a special brand, as their products are developed by dermatologists and therefore penetrate deep the skin more effectively than store-bought items. To show customers how much they about them, Clinique offers birthday gifts with each purchase!
25) Genki Sushi
It's your birthday and we want to help you celebrate! Flash your NRIC or Birthday Card at any Genki Sushi outlet for 20% off select dishes. Enjoy sushi, sashimi, tempura, and other Japanese favorites – all while saving money. This promotion is available on the day of your birth only so don't forget to bring along proof of identification when celebrating with us!
26) Hai Di Lao
At Hai Di Lao, revel in the beauty of artfully presented fruit plates and cakes. Your server may even surprise you with complimentary personalized Pulut Hitam (black glutinous rice in sweet soup with coconut milk), a delightful ice cream selection or gifts! As an added bonus, seniors will be offered special longevity buns.
27) Seoul Garden
Treat yourself to a remarkable experience at Seoul Garden this special day and receive an unexpected gift plus a complimentary brownie cake! All you need to do is dine with three other paying adult, student or senior guests in the Marina Square outlet. A never-ending buffet of delicious treats awaits – come indulge and be spoiled for choice!
28) Spizza
Make Spizza your go-to spot for a delectable, wood-fired thin crust pizza that's baked to perfection. Celebrate the moment with us, and if you're part of our loyalty program – we'll give you an additional S$20 birthday voucher as a thank you!
29) Bari-uma Ramen
If your special day falls between Monday and Thursday, you'll be in for a real treat! Bari-uma Ramen will give you an incredible amount of complimentary gyoza with the purchase of fried rice or ramen – that's equal to your exact age! Don't miss out on this amazing offer from July–September – it won't come around again soon.
30) kikki.K
Girls are often enamored with charming stationery and planners, but don't have to break the bank for them. kikki.K has some truly special items that will fit any personality – from diaries, personal journals, and bespoke presents! This birthday season make sure you reward yourself too; why not treat yourself to something meaningful from kikki.K? Instead of buying someone else a gift this time around, show some love for your own self by gifting yourself something wonderful!
Birthday Deals Singapore
Celebrating your birthday in Singapore is now easier than ever, with all the amazing deals and offers available. From discounts at Genki Sushi to complimentary cakes from Beauty in the Pot, you can find something that fits perfectly into your budget and preferences.
Whether you're looking for a unique gift or just want to treat yourself on this special day, these best birthday deals are sure to make it extra memorable!
So don't wait any longer – start planning ahead for your next birthday party in Singapore and take advantage of these great promotions today!
Looking for more articles? Check out our recommendations below:
Frequently Asked Questions
If you have any questions about birthday deals in Singapore, you can refer to the frequently asked questions (FAQ) about the birthday deals in Singapore below:
What are the best birthday deals in Singapore?
The best birthday deals in Singapore include COCA Steamboat, Mr. Coconut, Boost, Ikkousha Hakata Ramen, McDonald's, and Starbucks.
Where can I get a free birthday dessert in Singapore?
Many restaurants and cafes in Singapore offer a free birthday dessert as part of their birthday treats. This could be anything from a slice of birthday cake to a decadent chocolate mousse.
Which places offer a free drink on my birthday in Singapore?
Several bars and eateries in Singapore provide a free drink, such as a free pint of beer or a cocktail, as part of their birthday perks. You might need to dine in and it could be necessary to show proof that it's your actual birthday.
Are there any birthday deals in Singapore that offer free membership?
Yes, some gyms, clubs, and online platforms in Singapore offer free membership as a birthday treat. It's a great way to try new experiences on your special day.
Can I get an instant photo print as a birthday treat in Singapore?
Indeed, some photography studios and event companies offer an instant photo print as a birthday perk. This is a memorable way to capture the joy of your special day.
Where can I watch free listed movie titles on my birthday in Singapore?
Certain cinema chains in Singapore provide free listed movie titles as a birthday gift. You may need to sign up for their loyalty program to avail this benefit.
Can I enjoy a free lobster on my birthday in Singapore?
Yes, some restaurants in Singapore offer a free lobster to individuals celebrating their actual birthday. Be sure to check their terms and conditions or make a reservation to confirm.
What are some unique birthday treats I can expect in Singapore?
Singapore offers a variety of birthday treats, from free drinks and desserts to instant photo prints and free movie tickets. Some places even offer a free birthday gift, like a bottle of wine or a small piece of jewellery.
Can I get a free entry to any attractions or events in Singapore on my birthday?
Absolutely, some attractions and events in Singapore offer free entry to individuals celebrating their actual birthdays. This could be a great way to spend your special day exploring the city.
Where can I get a free slice of birthday cake in Singapore?
Many restaurants and cafes in Singapore offer a complimentary slice of birthday cake as part of their birthday deals. Some may require you to dine in, while others might offer it with a takeaway order.
Additional Useful Links
If you are looking for other useful guides and articles about birthday deals in Singapore, check them out below: