Go Kart Johor Bahru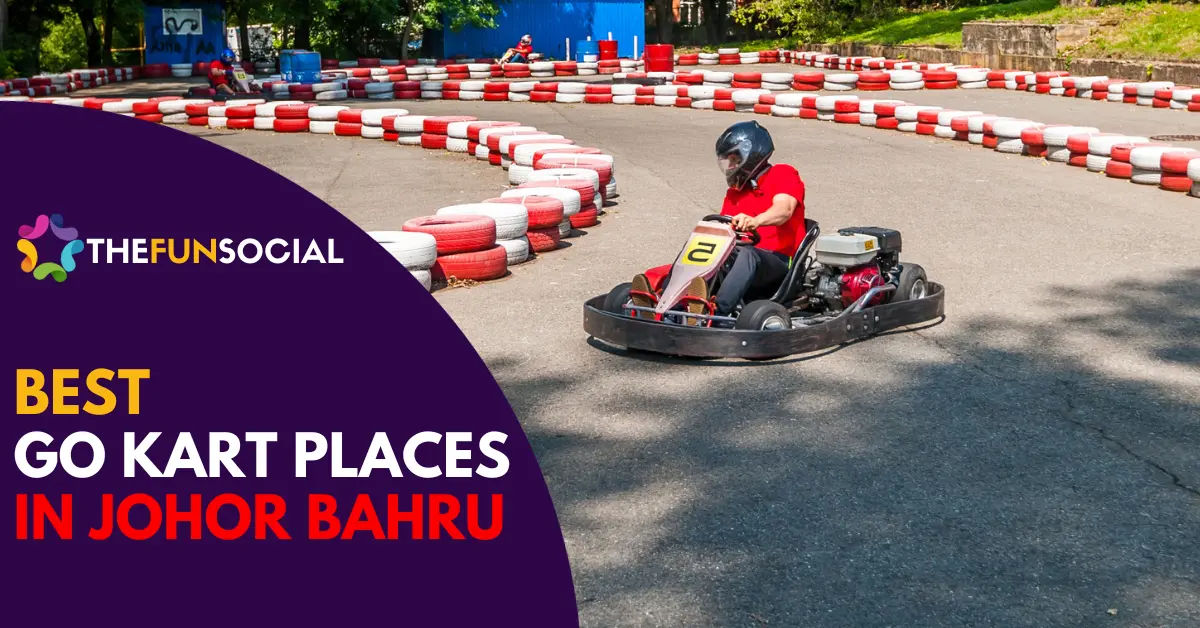 If you're an adrenaline junkie seeking thrilling adventure, look no further than Johor Bahru, Malaysia.
The best Go Kart places in Johor Bahru are RUD Karting, Plentong Karting, and EnergX Park Sunway Iskandar.
When deciding where to go for go karting, it's important to consider factors such as the location, amenities, pricing, services, and customer reviews.
The Go-Kart venues in Johor Bahru combine heart-pounding high-speed excitement with top-notch safety measures, creating an irresistible destination for racing enthusiasts that shouldn't be missed.
Johor Bahru's circuits offer thrilling racing experiences for all skill levels. Whether you're a seasoned pro or a beginner seeking some excitement, these top Go Kart places in Johor Bahru are sure to provide an unforgettable time.
Quick Summary
Best Go Kart places in Johor Bahru are RUD Karting, Plentong Karting, and EnergX Park Sunway Iskandar.
When choosing which go kart place to go, make sure to check on the location, amenities, pricing, services, and customer reviews.
The Go-Kart spots in Johor Bahru offer an enticing blend of exhilarating high-speed thrills and top-tier safety standards, making them a must-visit destination for all racing enthusiasts.
Key Consideration Factors
Before trying a go-kart place, make sure to consider the important factors such as:
Location: It's important to take into account the location of the track and make sure it is close enough for you to access easily. Some tracks may be located a bit further away, so factor in time spent travelling when making your choice.
Amenities: Various tracks offer different amenities such as clubhouses, spectator stands, and snack bars. Make sure to check what amenities are available and decide which one best suits your needs.
Pricing: It is important to compare the prices offered by different tracks before making a choice. Price should be considered in relation to the quality of services provided.
Services: Check the type of services available such as equipment availability, repair service, coaching programs, and customer support.
Customer reviews: Check online reviews of the track to get a better picture of its quality and services. This will help you make an informed decision about which place is best for you.
Best Go Kart Johor Bahru
1) Plentong Karting

Key Service
Best for beginners
Website
http://www.plentongkarting.com/
Address
Lot 1195, Jalan Bunga Matahari, Taman Plentong Baru, 81750 JB
Phone
+60 197111733 | +60 183944733
Operating Hours
Monday to Friday (10am to 6.30 pm)
Saturday and Sunday (8am to 6.30pm)
For beginners, there is an option to rent services and receive professional supervision to jumpstart their exhilarating racing journey. The facility is located in a scenic 10-acre plantation area in Plentong, just around 20 km from the bustling city center of JB.
The meticulously designed track spans over 1.433 km, featuring 14 thrilling turns and 2 straightaways that allow racers to reach speeds of over 160 km/h, giving an adrenaline-pumping experience.
With strategically placed opportunities for overtaking, the track ensures not just an exciting race experience, but also a chance to embrace the thrill and unleash your inner speed demon!
2) X-Park Sunway Iskandar – Johor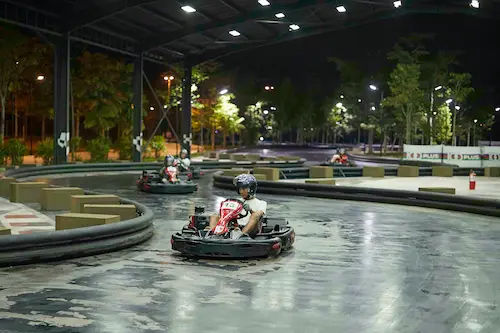 Key Service
GoKarts, motocross, mountain biking, rock climbing, archery, paintball
Website
https://www.xparkmalaysia.com/SunwayIskandar.aspx
Address
Jalan Medini Selatan 2, Medini Zone F, Bandar Medini Iskandar, 79250 Iskandar Puteri, Johor.
Phone
+6012-426 6913
Operating Hours
Operation Hour: Mon – Thu : 2 PM – 12 AM
Fri – Sun & PH : 10 AM – 12 AM
Golf: 8 AM – 1 AM
Situated in Johor, it emerges as one of Malaysia's most exhilarating and daring parks. Encompassing 32 acres of pristine land, this exceptional park offers a wide array of heart-pounding activities for thrill-seekers.
Whether you're into Go-Kart racing, Motocross, Mountain Biking, Rock Climbing, Archery, or Paintball, there are numerous exciting options to choose from.
With its diverse range of attractions, it is a sanctuary for those in search of extreme outdoor adventures in Malaysia.
3) RUD Karting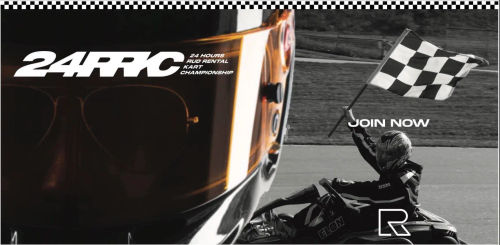 | | |
| --- | --- |
| Key Service | Best for professional use |
| Website | https://racingunderdog.com/ |
| Address | PTD 200284, Persiaran Medini Sentral 6, Bandar Medini Iskandar, 79250 Iskandar Puteri Johor |
| Phone | 011-5880 7719 / 016-7471119 |
| Email | contact@autoplaygroup.asia |
| Operating Hours | Monday – Sunday 11:00am – 02:00am |
RUD Karting offers exhilarating rides starting from RM55 per person, making it one of the top destinations for outdoor enthusiasts seeking the ultimate experience in Johor with an in-house cafe.
Located just 20 minutes from JB, this track boasts an impressive length of 840m, with a track width ranging from 5m to 8m.
With 16 turns and a 130m straight, it guarantees an exciting ride for everyone looking for outdoor adventure activities in Johor.
4) EnergX Park Sunway Iskandar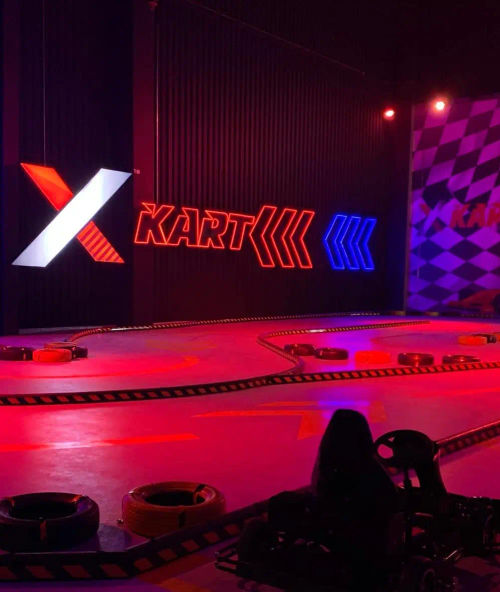 | | |
| --- | --- |
| Key Service | Electric gokarts for leisure |
| Website | https://www.energx.my/team/electric-go-kart/ |
| Address | Sunway Big Box Retail Park, Jalan Medini Selatan 1, 81550 Nusajaya, Johor |
| Phone | +6011-1500-0055 |
| Operating Hours | Monday – Sunday, 10.00 am – 10.00 pm |
Ensuring an exciting atmosphere and crafting unforgettable moments, this place offers an ideal indoor venue for visitors to experience endless enjoyment for a 10 minute session, regardless of the weather.
With over 15 thrilling activities to choose from, guests of all ages can explore a wide range of options to stay entertained and captivated throughout their visit.
5) Angsana Go-Kart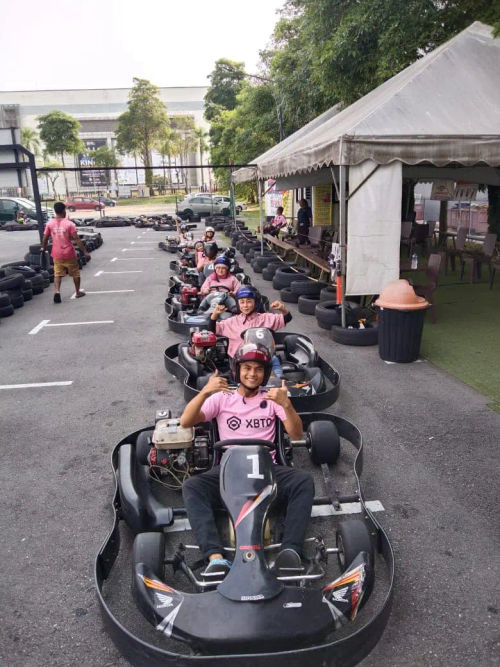 Angsana Gokart JB, located in car park C of Angsana Malls, is the perfect destination for an exciting adventure with your whole family.
Get ready to experience the thrill of racing as you navigate through the twists and turns of the track, feeling the rush of adrenaline in your veins.
With a range of options available, including single and double-seater karts, both novice and experienced drivers can join in on the excitement. Create lasting memories as you compete against your loved ones, feeling the wind in your hair and the excitement in the air.
Go Kart Johor Bahru
In conclusion, Johor Bahru is a thrilling haven for enthusiasts, offering a plethora of choices to satisfy various preferences.
Whether you're a seasoned racer or a beginner, these places in Johor Bahru deliver adrenaline-pumping experiences coupled with top-tier safety standards. They range from tracks nestled in scenic plantations to state-of-the-art parks with various amenities.
As you plan your next adventure, keep in mind the key considerations such as location, amenities, pricing, services, and customer reviews to ensure the most memorable and satisfactory racing experience.
Frequently Asked Questions
If you have any questions about Go Kart in Singapore, you can refer to the frequently asked questions (FAQ) about the best Go Kart places in Singapore below:
What are the best places for Go Kart in Johor Bahru?
The best Go Kart places in JB are X-Park Sunway, RUD Karting Track, Angsana Go-Kart, and Plentong Karting.
How much is go-karting in Malaysia?
In Malaysia, the cost starts at just RM55 per person for a single race. The prices may differ based on the specific venue's location and the services they offer.
Do you need a license for this kind of sport in Malaysia?
In Malaysia, having a license is not mandatory for this sport. Nevertheless, if you plan to participate in races or advanced classes, you may need to acquire a valid driver's license.
How much is the per session in Angsana?
At Angsana, sessions begin at RM20 per race, with prices subject to variation based on the type of basic kart and racing packages available.
Why is this sport so expensive?
The expenses related to it can be significant, encompassing maintenance and operation costs, provision of safety equipment and training. Additionally, race costs may incorporate facility rental, insurance, taxes, staff wages, and various administrative fees.
Is it safe for children to participate in this sport?
Yes, it is safe for children to participate in this activity. Most venues offer kid-friendly karts and tracks, along with comprehensive safety instructions and gear. However, it is advisable to check the age and height requirements of the specific venue.
What should I wear for go-karting?
It's recommended to wear comfortable, fitted clothing that does not limit your movement. Avoid loose clothing or scarves that could get caught in the kart. Closed-toe shoes are mandatory, and long hair should be tied back.
How long does a typical session last?
A standard session typically lasts for a 10 minute session. However, the duration may vary based on the venue and the type of racing package you choose.
Can I go karting in bad weather?
Some tracks are indoor and hence, unaffected by weather conditions. However, for outdoor tracks, sessions may be postponed or cancelled in case of heavy rain or adverse weather conditions, for safety reasons.
Can I take my own helmet?
Yes, most venues allow you to bring your own helmet. However, it has to meet specific safety standards. It's always better to check with the specific venue about their rules and standards.
What are some adventurous parks in Johor Bahru that offer go karting?
There are several adventurous parks in Johor Bahru that feature exciting go karts. One of the most popular is the Plentong Karting Circuit, which offers a challenging track for both beginners and experienced drivers. Another option is the Austin Heights Adventure Park, which not only has a thrilling go kart track but also other fun activities like a water park for pool parties.
How does the track length at these go kart places in Johor Bahru compare?
The track length at various go kart places in Johor Bahru can vary significantly, affecting the overall racing experience. For instance, the Plentong Karting Circuit boasts a 1.3km track, one of the longest in Malaysia, offering a more extended and thrilling ride. On the other hand, the track at Austin Heights is shorter but provides a more intense and fast-paced experience, making it perfect for thrill-seekers.
Additional Useful Articles
If you are looking for other useful guides and articles about Thrift Stores in Singapore, check them out below: