Theme Cafe Singapore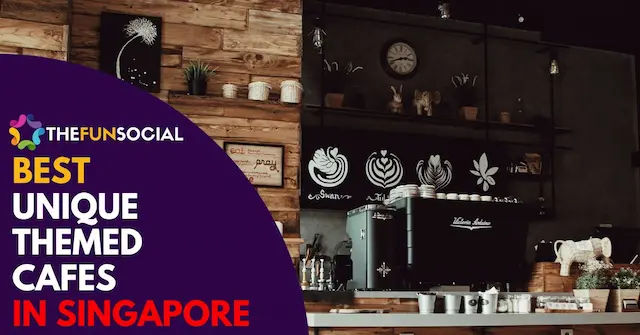 Beyond the traditional coffee and pastries, theme cafes have taken the Singapore by storm.
The best themed cafes in Singapore include Cafe Kreams, Joji's Diner, Old Habits, Under der Linden, and Brunches Cafe.
When selecting a themed cafe in Singapore, take into account factors such as the theme and atmosphere, location, menu offerings, pricing, and quality of customer service.
In Singapore, themed cafes provide a wide variety of popular themes, including retro vintage aesthetics, pop culture motifs, whimsical fairy-tale decors, and tranquil botanical designs.
Let's explore unique theme cafes in Singapore that offer great coffee and an extraordinary experience as we journey through the city.
Quick Summary
Best themed cafes in Singapore include Cafe Kreams, Joji's Diner, Old Habits, Under der Linden, and Brunches Cafe.
When choosing a themed cafe in Singapore, consider factors such as them and ambiance, location, menu, price range, and customer service.
Themed cafes in Singapore offer a diverse range of popular themes, from retro vintage aesthetics and pop culture motifs to whimsical fairy-tale decors and tranquil botanical designs.
Understanding Theme Cafes in Singapore
What are Theme Cafes?
Theme cafes are dining establishments that go beyond serving food and beverages; they create an entire world around your meal. Each cafe is designed around a specific theme, ranging from anime and movies to nature and fantasy. These themes are reflected in the cafe's decor, menu offerings, and even the attire of the staff, providing visitors with a fully immersive experience.
The Popularity of Theme Cafes in Singapore
Singaporeans have embraced theme cafes with open arms, and it's no surprise why. The city's diverse population has led to an array of unique tastes and interests, making it the perfect playground for innovative cafe concepts. Whether you're a fan of whimsical fairy tales or a die-hard enthusiast of a particular fandom, there's a theme cafe in Singapore that will transport you to your desired world.
Key Consideration Factors
Theme and Ambience: The theme of the cafe is the primary attraction for many customers. It should be unique and different from the mainstream cafes, offering an immersive experience.
Location: The cafe should be conveniently located and easily accessible via public transportation or have ample parking space for those who drive.
Menu: The food and drink options should match the theme of the cafe and cater to a variety of dietary preferences.
Price Range: Affordability matters. A good themed cafe in Singapore should offer a balance between the quality of service and food, and the price charged to customers.
Customer Service: Friendly and efficient staff can greatly enhance the dining experience, making it more enjoyable and memorable.
Best Theme Cafe Singapore
1. Cafe Kreams
Cafe Kreams is a delightful haven for dessert enthusiasts and coffee lovers alike. Step into a whimsical wonderland of sweet treats and aromatic brews. Their menu features an array of decadent desserts, from indulgent cakes to artisanal ice cream, all served in a charming, Instagram-worthy setting.
2. Joji's Diner
Joji's Diner is a retro-themed cafe that takes you back in time to the 1950s. With its nostalgic decor, vintage jukebox, and classic diner menu, it's a trip down memory lane. Enjoy hearty burgers, milkshakes, and all-day breakfast options while surrounded by the ambiance of a bygone era.
3. Old Habits
Old Habits is a cafe that celebrates Singapore's history and culture. Its rustic charm and vintage decor create a cozy atmosphere. The menu features local favorites with a modern twist, making it a perfect place to savor traditional flavors with a contemporary twist.
4. Under der Linden
Under der Linden offers a taste of Germany in the heart of Singapore. This Bavarian-themed place is known for its hearty German sausages, pretzels, and a wide selection of beers. The authentic decor and lively ambiance make it an excellent spot for those seeking an Oktoberfest experience year-round.
5. Brunches Cafe
Brunches Cafe is a haven for brunch aficionados. Nestled in the vibrant Tiong Bahru neighborhood, it offers an extensive brunch menu with options ranging from classic eggs Benedict to creative pancake stacks. The cozy and inviting atmosphere makes it a top choice for a leisurely weekend brunch.
6. Tiong Bahru Bakery Safari
Tiong Bahru Bakery Safari takes the concept of a bakery to a whole new level. It's not just about fresh bread; it's about an immersive safari-themed experience. Indulge in delectable pastries, sandwiches, and artisanal coffee while surrounded by lush greenery and safari-inspired decor.
7. USD Cafe
USD Cafe, short for "Upside Down Cafe," is a cafe with a unique twist. Everything in the cafe is upside down, from the furniture to the menu items. It's a whimsical and playful setting where you can enjoy coffee and light bites in an environment that challenges your sense of gravity.
8. Central Perk
Central Perk is a dream come true for fans of the hit TV series "Friends." This cafe faithfully recreates the iconic Central Perk coffeehouse from the show, complete with the famous orange couch. Enjoy a cup of coffee while immersing yourself in the world of Ross, Rachel, and the gang.
9. Platform 1094
Platform 1094 is a magical haven for Harry Potter enthusiasts. Step into a world of wizardry with its Hogwarts-inspired decor and magical-themed menu items. Try their famous "Goblet of Fire" drink and other enchanting treats that bring the world of Harry Potter to life.
10. Cafe Monochrome
Cafe Monochrome is a minimalist's paradise. This black-and-white themed place offers a serene and stylish environment. Enjoy a range of monochrome-inspired dishes and drinks, all while experiencing the elegance of simplicity in design.
11. Soul Coffee
Soul Coffee is more than just a cafe; it's a community hub for art and culture. The cafe hosts regular art exhibitions, live music performances, and poetry readings. Sip on a cup of artisanal coffee and immerse yourself in the creative energy of the space.
12. Mosanco Enchanted Cafe The Fairytale Garden
Mosanco Enchanted Cafe The Fairytale Garden is a cafe that brings beloved fairy tales to life. Wander through a garden filled with enchanting decor inspired by classic stories. Enjoy a menu of whimsical desserts and drinks while feeling like you've stepped into a storybook.
13. Hangar66 Cafe
Hangar66 Cafe caters to aviation enthusiasts. The cafe is designed like an aircraft hangar, complete with aircraft memorabilia and an aviation-themed menu. It's the perfect place to enjoy a cup of coffee while surrounded by the spirit of flight.
14. Kumoya Cafe
Kumoya Cafe is a haven for fans of Japanese pop culture. The cafe collaborates with various anime and character franchises to create themed dining experiences. From Hello Kitty to My Little Pony, you can immerse yourself in your favorite characters while enjoying Japanese-inspired treats.
15. Handlebar
Handlebar is a biker-themed cafe and bar, perfect for motorcycle enthusiasts and those who appreciate a laid-back atmosphere. The decor features vintage motorcycles and memorabilia, and the menu includes hearty burgers, ribs, and a variety of craft beers.
Theme Cafe Singapore
Whether you're a foodie in search of unique culinary experiences, a pop culture fanatic looking to immerse yourself in your favorite themes, or simply someone seeking a distinctive café ambiance, Singapore's themed coffee shops offer something to suit every preference.
These establishments not only provide an array of delicious food and drink options but also transport you to different worlds through their carefully crafted themes. Ranging from historical nostalgia to imaginative whimsy, these theme cafés in Singapore promise a dining experience that is truly one of a kind.
Frequently Asked Questions (FAQ)
If you have any questions about themed cafes in Singapore, you can refer to the frequently asked questions (FAQ) about the best Themed Cafes in Singapore below:
What are the top themed cafes in Singapore?
The top themed cafes in Singapore include Cafe Kreams, Joya Onsen Cafe, Joji's Diner, Old Habits, Mr Lich's Flaming Brew, Under der Linden, Alkaff Mansion, and Brunches Cafe.
What is the Harry Potter inspired cafe in Singapore?
The Platform 1094 is a Harry Potter inspired cafe in Singapore. It's not just about the good food here, but also the magical experience. The interior is reminiscent of the Great Hall in the Harry Potter series. You can even don a wizard robe and cast spells with hand-drawn wands!
Are there any aviation-themed cafes in Singapore?
Yes, there are. One such example is the DC Super Heroes Cafe at Orchard Central. This retail space is transformed into an aviation-themed cafe where you can dine on themed dishes while surrounded by decor inspired by your favorite superheroes.
What unique themed cafes can I find at Orchard Central?
Orchard Central is home to a number of unique themed coffee shops. One of them is the DC Super Heroes Cafe, which is an aviation-themed café. Another one is the Mon Bijou cafe, known for its hand-drawn interior designs and good food.
What is the Wonderland Savour?
Wonderland Savour is a fairytale-themed cafe in Singapore. Inspired by Alice in Wonderland, this cafe offers a whimsical dining experience. From hand-drawn wall murals to themed dishes, every detail is designed to transport you into the world of Alice.
What can I expect from the Great Hall in the Harry Potter inspired cafe?
In the Harry Potter inspired cafe, the Great Hall is a sight to behold. It's designed in the same style as the Great Hall in the Harry Potter series, complete with floating candles and long dining tables. It's a hit among fans who want to experience dining in the Great Hall.
Can I expect good food at these unique themed cafes in Singapore?
Absolutely! These unique themed cafes in Singapore don't just focus on the theme, they also serve good food. Whether it's the Harry Potter inspired cafe or the aviation-themed café, you can expect a range of delicious dishes to choose from.
What does 'hand-drawn' mean in the context of these themed cafes?
In the context of these themed cafes, 'hand-drawn' usually refers to the interior design and decor. For example, Wonderland Savour features hand-drawn wall murals that bring the story of Alice in Wonderland to life.
What does 'hit enter' mean in relation to these themed cafes?
'Hit enter' may refer to the action of searching for these themed cafes online. For instance, you can hit enter after typing "Harry Potter inspired cafe Singapore" into a search engine to find more information about it.
Are all these unique themed cafes also considered restaurants?
Yes, they are. While these establishments are often referred to as cafes due to their casual and cozy atmosphere, they also serve a variety of meals, making them restaurants as well. So whether you're looking to grab a coffee or dine on a full meal, these themed cafes have got you covered.