Team Building Workshops Singapore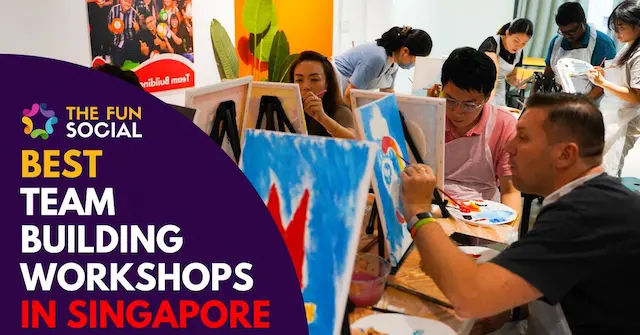 Team building in Singapore offers a great way to bring people together and foster collaboration.
The best Team Building Workshops in Singapore include Candle Making, Cooking Classes, Leather Making, Clay Making, Art Jamming, Balloon Sculpting, and Terrarium Making.
When booking team building workshops, take into account various factors including budget, team size, location, objectives, timing, and desired outcomes.
FunEmpire, the top team building company in Singapore, has organized over 50,000 successful events and received a whopping 8,000 5-Star reviews from satisfied clients.
From creative challenges to problem-solving tasks and even adventure sports, here is our list of top-rated team building workshops Singapore that you should consider for your next event!
Key Consideration Factors
Here are some things to remember when choosing the best team building workshops in Singapore:
Type of Workshop: Depending on the type of event you are looking for, there are various workshops that can cater to your needs. From outdoor activities and survival challenges to problem-solving exercises and strategic planning initiatives, consider what kind of corporate team building activities would work best for your group.
Cost: Different workshops come with varying prices so it's important to research and compare different packages to get the best value for your money.
Location: Consider the proximity of the workshop venue to your office or home as this can make a big difference in how convenient it is for everyone involved.
Duration: Short, medium and long team building workshops are available, so think about how much time you want to dedicate to the activity.
Benefits of Team Building
Team building activities have various benefits for everyone involved. It can help to:
Strengthen relationships between colleagues and build a sense of team spirit within the workplace.
Improve communication skills, collaboration, problem-solving and critical thinking.
Foster creativity and innovation among employees, allowing them to think outside the box when it comes to work-related tasks.
Develop trust and respect among coworkers, which can lead to better performance.
Increase morale and motivation within the team as well as pride in their workplace.
Encourage healthy competition, which can drive productivity and efficiency in the workplace.
Provide a platform for employees to learn more about each other's strengths, weaknesses, and interests, promoting mutual understanding and cooperation.
Aid in identifying leadership qualities and potential among employees, which can be crucial for succession planning.
Help break down barriers between different departments or teams, promoting cross-functional collaboration and unity.
Serve as a stress reliever, offering a fun, non-work-related environment for employees to unwind and rejuvenate.
Best Team Building Workshops Singapore
Creative Workshops
1) Cooking Class
Learn about unique ingredients, then work as a team to make delicious dishes that you can share together. In this team building workshop in Singapore, you'll experience new flavors while bonding over shared experiences.
2) Balloon Sculpting Workshop
Participants are taught how to create intricate sculptures out of balloons, with guidance from professional instructors. It's a great way to enhance creativity and collaboration among participants as they work together to complete their balloons. This workshop will also give participants the opportunity to learn a new skill, spend spend quality time, and express their ideas through the stunning sculptures they create. Team building skills such as communication, problem-solving and patience are essential for completing each sculpture in this workshop.
3) Canvas Art Jamming
With vibrant colours, art jamming at Canvas aims to help other teams bond together while discovering their inner artist. Each package includes an experienced facilitator who will guide the team through an interactive session of painting and design. This great team bonding activity can be tailored accordingly to the size or needs of a group, making it a highly flexible option for a corporate team building Singapore.
4) Non-Stitched Leather Workshop
If you're looking to add a unique, hands-on, and fun experience to your team building event, the Non-Stitched Leather Workshop is perfect. Participants will get to make their own leather accessory, such as a notebook cover or phone case, using traditional tools and techniques. With experienced instructors guiding the whole team through every step of the process and materials provided, participants will be able to create something that they are proud of. Not only is it a great way for the team to bond and work together towards a common goal, but it's also an opportunity for them to learn more about leather craftsmanship.
5) Terrarium Workshop
A terrarium is a great way to introduce plants into the workplace while providing a creative outlet for team building. This Terrarium Workshop by Greenology Studio provides an engaging and interactive platform for corporate teams to learn about making your own mini garden, while also offering opportunities to explore the elements of design required in creating their own miniature garden.
6) Tote Bag Art Jamming
Tote Bag Art Jamming is a unique team building workshop that offers participants the opportunity to design and create their own tote bags. This great team building activity encourages creativity, collaboration and communication among the participants, making it ideal for small- or medium-sized teams looking to strengthen their bonds.
7) Stitched Leather Workshop
Are you looking for a unique team bonding activity that teaches your team the concepts of resilience, creativity and commitment? Look no further than Adem Leathercraft's Stitched Leather Workshop! This 3-hour workshop covers the basics of leather crafting techniques, from cutting and stitching to finishing.
8) Soy Candle Making Workshop
This fun and engaging activity allows participants to learn the basics of making your own soy candles, while also fostering collaboration and communication among teams as they work together to create beautiful candles. Participants will customize their own scents, select vessels for their creations, and learn the art of candle making from trained professionals. This team bonding event offers a unique experience to bond with team members in a creative setting, allowing for lots of positive energy to flow among teams.
9) Clay Making Workshop
The experienced instructors will guide participants through this creative process and help them create unique pieces they can take home as souvenirs. Using a mini potter's wheel, participants will learn the basics of working with clay and explore its unique form through a series of favourite team building activities. This workshop is great for team building, as it encourages collaboration and creativity. The studio's experienced instructors will help participants create beautiful pieces that capture the uniqueness of their team spirit.
10) Perfume Workshop
Such a unique and memorable team bonding activity, yet so affordable! At the Perfume Workshop, everyone will get to mix their own fragrances with ingredients such as essential oils and base notes. After that, your group will get to test out the fragrances they have created by comparing them against professional perfumes.
11) Gel Candle Making Workshop
Unleash your team's creative side with the Gel Candle Making Workshop! This two-hour workshop teaches teams how to create beautiful gel candles. The Fun Empire provides all the necessary materials, including coloured gel wax and scents, allowing team members to customize their creations. After this workshop, teams will have a better appreciation of the importance of collaboration and communication in achieving a successful outcome. They will also take home their finished gel candles, perfect for displaying at home or gifting to family and friends!
Virtual Workshops
12) Virtual Terrarium Workshop
Participants will be taken through an interactive step-by-step guide to create their own mini gardens under the guidance of one of their experienced facilitators. Teams can also learn about different types of plants, how to care for them and how to create a unique display. With the help of this virtual terrarium workshop, teams will be able to take their newfound knowledge back to the office or home and have a lasting reminder of their team building experience. This is definitely one of the best team building workshops in Singapore, especially for a remote team!
13) Virtual Canvas Art Jamming
Gather your team remotely and enjoy a Virtual Canvas Art Jamming session! This creative workshop is the perfect way to get your team to bond while learning some art fundamentals. Participants will be able to use their creativity to create a beautiful canvas artwork during the session. The instructor will provide guidance on basic colour theory, line drawing techniques and painting techniques. At the end of the session, everyone will have a unique work of art to take home – and it's sure to spark some fond memories whenever they look back at it!
14) Virtual Clay Making Workshop
FunEmpire's virtual clay making is a great way to your team in creative activities Learn the basics of clay-making and masterpieces together with this interactive experience. During the workshop, you will get to work as a team and explore types of clay, tools, shapes, and more. Participants will get to learn about the diverse types of clay available and how to use them for various projects. This experience is suitable for any age group and provides a great opportunity for corporate team building event!
15) Virtual Tote Bag Art Jamming
Virtual Tote Bag Art Jamming is a fun and creative team building workshop that encourages collaboration, problem-solving, and communication skills. This virtual team bonding activity transports the classic 'paint by numbers' concept into a modern spin on art jamming. Participants will first be allocated to their own teams before being given a set of materials and a tote bag. They will then need to work together to create a masterpiece, discussing ideas on colour combinations, making artistic decisions, and problem-solving any issues that arise along the way.
16) Virtual Non-Stitched Leather Workshop
This Virtual Non-Stitched Leather Workshop is an interesting and unique team bonding activity. It can be done with the help of a facilitator who will guide your team through the entire process. In this workshop, participants will learn to create their own leather products such as wallets, phone covers or other items using basic tools and materials provided.
17) Virtual Balloon Sculpting Workshop
Virtual balloon sculpting workshops can be a great way to break the ice, build camaraderie and have some fun. This team bonding activity is conducted virtually – with the help of technology! Participants will learn how to create their own amazing edible sculptures using balloons, which require teamwork and collaboration for success. The workshop also involves a healthy dose of problem-solving skills, as participants will have to work together in order to create their masterpiece.
18) Virtual Stitched Leather Workshop
This innovative and interactive workshop is ideal for team-building within a virtual environment. Participants will learn the basics of leathercraft, such as cutting and stitching, to create their own unique leather pouches or wallets. The workshop also includes a guided discussion session at the end to promote better understanding and collaboration among team members.
19) Virtual Candle Making Workshop
Virtual Candle Making Workshop, a perfect team bonding activity for groups of all sizes. The workshop will provide teams with the opportunity to create unique scented air-dry candles in their own homes or workstations. With a choice of over 30 different fragrances, each team can design and craft their own customised candle creations. This team bonding activity encourages participants to build problem-solving and communication skills while having fun creating something special from scratch.
Other Workshops
20) Charcuterie Board Workshop
Nothing quite brings a team together like building something, and the Charcuterie Board Workshop gives teams the chance to do just that. Teams will be given all the ingredients they need to assemble their own custom charcuterie board, as well as detailed instructions on how to arrange it. With plenty of tasty snacks and an enviable platter at the end of the workshop, this is sure to be a fun and memorable experience for everyone.
21) Coaster Making Workshop
The Coaster Making Workshop is a fun, creative, and a perfect team building activity that encourages collaboration, communication and problem-solving skills amongst participants. In this workshop, your team will be guided step-by-step through the intricate art of coaster making using traditional tools and techniques.
22) Rainbow Macramé Workshop
Every guest will be provided with pre-cut rainbow coloured cotton cords and taught basic macramé knots. They will be challenged to use their creativity and problem solving skills to create unique macramé pieces as a group, with results that are both rewarding and beautiful.
23) Graffiti Session
Turn your team into a creation of art with this graffiti session. Your group will work together to create a unique piece of art that they can be proud of, learning valuable lessons in teamwork and collaboration along the way. With experienced artists guiding them through each step of the process, they'll have an unforgettable experience that will stay with them long after the workshop has ended. This is one of the best team building workshops in Singapore to get your team building and creating something together.
24) Yotsumei Toji (Japanese Book Binding) Workshop
For a unique team building experience in Singapore, Yotsumei Toji (Japanese Book Binding) Workshop is the perfect choice. This one-of-a-kind workshop allows participants to learn and practice traditional Japanese book binding techniques while also working together as a team. All materials are provided, and experienced instructors will guide the group through the process of creating their own beautifully-bound books.
25) Paint & Play a Ukulele
This team building workshop from Paint & Play Singapore is perfect for those looking to cultivate creativity and strengthen interpersonal bonds. Participants are encouraged to design unique ukuleles together, then learn how to play them as a team. Through this activity, the entire team will be able to sharpen their problem-solving skills, collaborate more effectively, and foster better relationships with each other. It's a great way to reward teams for their hard work and inspire them to reach higher levels of productivity.
26) Tattoo Art Jam
This team building workshop is perfect for highly energetic teams of all sizes and ages. Participants will learn to create their own artworks inspired by the theme of tattoos, either individually or as a group. Tattoo Art Jam facilitators will be on hand to guide participants in creating beautiful works of art that are unique to each person's vision and style.
27) Ikigai (Wooden Jewellery) Workshop
This team building workshop by Ikigai is a great way to cultivate creativity and collaboration among your team. Participants will learn the basics of wooden jewellery making, followed by creating their own pieces as an individual project or a group endeavor. The instructors are highly experienced professionals who create a friendly and encouraging atmosphere for learning.
28) Rose Soap Making
Let your team bond over the creative process of soap making with Rose Soap Making Workshop provided by Passion Cooks. With this 2-hour team building session, your colleagues will learn to make soaps in various shapes and sizes that come in lovely scents. They'll work together to mix, pour and craft their own handmade soaps and have a great time. This fun team building event will help to promote creative thinking and communication within your team, while having fun in the process.
29) Claw to Paint Workshop
Claw to Paint Workshop is an innovative team bonding activity that encourages creativity, collaboration and communication for every team member. Participants use robotic claws to collect various objects – such as balls, rings, and bottle caps – scattered throughout the room. They then compete against each other to complete a painting using the objects they have collected. The workshop aims to foster strong interpersonal bonds between team members, boost morale and inspire creative problem-solving.
30) Clean Beauty Workshop
At the Clean Beauty Workshop, you and your team can learn more about clean beauty products and how to create them with natural ingredients. With a selection of workshops that cover everything from formulation basics, to making skin care products, this is a great way for your team to bond over their new found knowledge. Get creative with your team and make your own natural products for a unique team building experience. Make sure you don't forget to take home your creations!
Tips for Team Building Activities
Team building activities don't have to be complicated or expensive. All it takes is a little bit of planning and creativity! Here are some tips to consider when hosting team building activities:
Choose an activity that fits everyone's comfort level – something that won't be too difficult, but will still challenge the group and foster collaboration.
Set clear outcomes and goals for the activity – this will ensure that everyone is on the same page when it comes to expectations.
Make sure there are opportunities for each team member to contribute their ideas and be heard, as well as time for reflection after the activity to review what was learned.
Don't forget to have fun! Team building activities should be enjoyable for everyone involved.
Encourage your team to take risks and try something new – the more creative and innovative, the better!
Allow plenty of time for discussion and feedback – this will help ensure that everyone's voice is heard and that the group's ideas are fully explored.
Make sure to celebrate successes and recognize each team member's contribution – this will help foster a sense of trust and camaraderie amongst the group.
Team building activities can be a great way to get your team working together towards a common goal, while strengthening their bonds along the way. With these tips in mind, you'll find that planning and executing a successful team bonding activity is easy!
Team Building Workshops Singapore
With these amazing team building workshops available in Singapore, you're sure to find something that will work perfectly for your team building needs. So don't wait any longer – book a workshop today and start creating some awesome memories with your team and enhance the team development!
Interested in related articles? Do check out the links below!
Frequently Asked Questions (FAQs)
If you have any questions about Team Building Workshops In Singapore, you can refer to the frequently asked questions (FAQ) about the Best Team Building Workshops In Singapore below:
Additional Useful Articles
If you are looking for other useful guides and articles about Team Building Workshops In Singapore, check them out below: