Team Building Events Singapore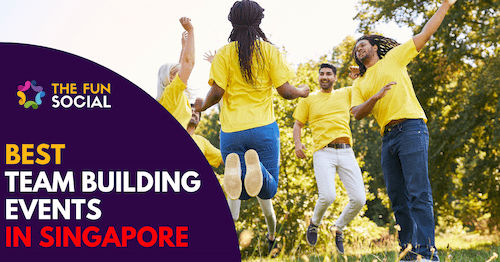 Singapore has some of the top team building events in the world, with a diverse range of thrilling and a truly great team building experience designed to bring out the best in everyone.
The best team building events in Singapore are Bubble Soccer, Escape Rooms, Laser Tag, Ninja Tag, Cosmic Bowling, Combat Archery Tag, Giant Board Games, Poolball, Art Jamming Workshops, and Terrarium Making Workshops.
To foster effective collaboration and communication among colleagues, take into account the group size, activity costs, location, and the nature of activities when organizing team building events.
As a leading team building company in Singapore, FunEmpire has an outstanding reputation with over 50,000 successful events and more than 8,000 glowing 5-star reviews from satisfied clients.
So gather your colleagues and prepare to have a good quality time as we take you through some of the most memorable and exciting team building events in Singapore!
Quick Summary
Best team building events in Singapore are Bubble Soccer, Escape Rooms, Laser Tag, Ninja Tag, Cosmic Bowling, Combat Archery Tag, Giant Board Games, Poolball, Art Jamming Workshops, and Terrarium Making Workshops.
When planning team building events, consider group size, activity costs, location, and the type of activities to promote effective collaboration and communication among colleagues.
FunEmpire stands out as a premier team building company in Singapore, boasting an impressive track record of over 50,000 successful events and 8,000+ glowing 5-star client reviews.
Benefits of Team Building Events In Singapore
Better Communication: Team-building exercises may promote better team members' understanding and cooperation by fostering better communication.
Improved Decision-Making and Problem-Solving Skill: By participating in different challenges, people are able to improve their ability to make decisions and solve problems, which will be helpful in the long term for their particular teams and companies.
Increased Morale: Team morale is raised as a result of team-building exercises because they give workers a chance to interact with one another in an enjoyable setting while taking a break from their regular tasks.
Enhanced Collaboration Through Effective Teamwork Activities: Collaboration is strengthened through effective teamwork activities that promote productivity levels for everyone engaged. As communication increases, so does overall performance within a company.
Stronger Relationships Between Coworkers: Working together on activities that involve collaboration and trust makes highly energetic teams more linked. Over time, teams that work better together and take advantage of each other's strengths and weaknesses are able to produce better results.
Key Consideration Factors
Plan Strategically: When coordinating a team-building exercise, be sure to take into consideration all aspects, such as reserving locations, acquiring supplies, special equipment required for activities, and arranging breaks/meals during sessions.
Set Specific Standards: Clearly communicate details such as event timelines and dress codes to participants so they know what to expect in advance, which may increase their confidence and motivation prior to the event day.
Group Involvement Before the Event: Prior to the commencement of the event, strengthen engagement with participants through emails or other platforms.
Determine Your Objectives: Prior to beginning the planning process for the team-building event, determine your desired outcomes, such as improved communication, increased productivity, enhanced collaboration, and foster strong relationships among colleagues.
Determine Your Group: Understanding your team's assets and weaknesses facilitates the selection of an fun team bonding activity or series of fun activities that will work best for them while ensuring that everyone enjoys themselves.
Select an Appropriate Activity: After deciding on objectives, identify activities that can aid in achieving them, such as outdoor challenges, domestic treasure searches, and adrenaline rush excursions that are suitable for groups of any size.
Now that you know what to look for, here are the Best Team Building Activities Singapore.
Best Team Building Events Singapore
Creative Activities
1. Cooking Class
The cooking class on FunEmpire is designed to bring the kitchen into the workplace. This course teaches students how to prepare a wide variety of dishes, from starters to desserts. Teams will learn about different cooking techniques and be able to put their skills into practice by creating dishes as a group.
Not only does this exercise create a unique environment for the ideal team building activity, but it also helps develop valuable culinary skills. This cooking activity is a great way to foster teamwork and camaraderie in the workplace. After the perfect team building activity is complete, teams can enjoy their delicious creations!
2. Clay Making Workshop
The clay-making workshop on FunEmpire facilitates team bonding and creative expression. Because it enables participants to create digital clay sculptures, this workshop is one of the most popular online team-building exercises.
Teams may either take their completed sculptures home with them or have them shipped directly to their destinations. This eliminates the need to transport items between the home and office. A collaborative online clay class is a wonderful method for groups to integrate and develop their skills, as well as experience a healthy competition.
Leisure Activities
3. Giant Board Games
Giant Board Game is the ultimate solution for those seeking to relive the cherished memories of their childhood games, but in a larger and more extravagant format.
Imagine the thrill of playing your all-time favorite board games like Jenga, Pick Up Sticks, Connect Four, and Snakes & Ladders, but on a grand scale that brings a whole new level of excitement and interactivity. Our meticulously crafted life-size reproductions guarantee hours of fun and laughter with your friends and coworkers.
You'll never have to worry about finding engaging activities for gatherings or team-building events again! Whether it's a lively game night at home or a corporate event aiming to foster teamwork and camaraderie, our collection of unique board games promises an unforgettable experience that will leave everyone wanting more.
Get ready to embark on a journey of nostalgic joy and create lasting memories with Giant Board Game!
Adventure Activities
4. Bubble Soccer
The Singapore-based company FunEmpire offers Bubble Soccer, an exciting and innovative game that combines fun with skill-building opportunities. This unique game is perfect for individuals looking to enhance their communication and problem-solving abilities while having a blast.
In Bubble Soccer, players are required to inflate a bubble and use it as their means of transportation to navigate the field and score goals. It's a physically challenging and interactive game that promotes teamwork and cooperation among players.
The humorous exploits and friendly competition that arise during Bubble Soccer make it an unforgettable experience for participants. Whether you're hosting an online event or gathering with friends, Bubble Soccer is sure to create lasting memories and bring laughter and excitement to the occasion.
5. Laser Tag
Laser tag, offered by FunEmpire, is not only a great team bonding activity but also a unique experience that brings cohesive team members closer. With the latest laser weapons, vests, and other cutting-edge equipment, participants are fully equipped for an exhilarating game.
As they navigate through the provided area, they must not only avoid hostile attacks but also strategically plan their moves to outwit other teams. The atmosphere created by laser tag is perfect for both adults and children, fostering not only strategic thinking but also the formation of lasting friendships.
It's an immersive adventure that combines excitement, teamwork, and pure enjoyment, making it an ideal choice for any group looking to bond and have a memorable time together.
Quest Activities
6. Amazing Race
Are you in search of an enjoyable team development activity that will leave lasting memories? Look no further! Join us on an exciting journey throughout the vibrant and diverse city of Singapore, where you and your colleagues will embark on a thrilling adventure like no other.
At each checkpoint, you will encounter unique and engaging obstacles that will test your resourcefulness and teamwork. Only by successfully completing each challenge of the amazing race will you earn the right to proceed to the next checkpoint, adding an extra layer of excitement and anticipation to the experience.
This carefully crafted event is designed to foster camaraderie and create unforgettable moments for your group. It's not just about team-building; it's about having an incredible time together, forging stronger bonds, and creating a shared sense of accomplishment. So, gather your team and get ready for an unforgettable adventure in the heart of Singapore!
Virtual Workshops
7. Virtual Canvas Art Jamming
Virtual Canvas Art Jamming on FunEmpire is a truly captivating and one-of-a-kind online crazy fun activity that brings people together in a collaborative artistic endeavor. In this engaging workshop, individuals join forces to create awe-inspiring masterpieces on sprawling canvases.
This comprehensive course goes beyond the basics, delving into the intricacies of color theory, brushwork techniques, and composition principles, among other essential topics. Participants will have the opportunity to explore a wide range of artistic materials and techniques, empowering them to unleash their creativity and craft their very own unique and original works of art.
Get ready to embark on a creative journey like no other and let your imagination run wild!
8. Virtual Stitched Leather Workshop
The Virtual Stitched Leather Workshop on FunEmpire is an excellent collaborative tool for groups working on a project. This course teaches students how to work with leather, from managing it to developing creative ideas.
The course will educate students on the various types of leather and give them hands-on experience creating leather goods such as purses and harnesses. Needles, fasteners, and waxed linen thread will be among the specialized tools available to them. At the conclusion of the program, team members will have the great opportunity to refine their leatherworking skills while creating beautiful items to take home.
Virtual Games
9. Virtual Super Planet
FunEmpire, a renowned provider of virtual activities in Singapore, presents Virtual Super Planet – an immersive game where teams unite to unravel clues and conquer puzzles. As the storyline unfolds, the planet's tragic destruction shrouds its former state in mystery.
However, amidst the chaos, an intriguing revelation emerges – multiple universes harboring diverse inhabitants. In a twist of fate, a mysterious figure appears in your dream, unveiling your untapped abilities. Driven by a newfound purpose, your mission transcends beyond personal growth as you embark on a quest to assemble an extraordinary league of heroes.
Together, you shall navigate uncharted territories and seek counsel from these newfound allies. With their collective wisdom and your unique talents, the arduous task of rebuilding a shattered world awaits, promising an epic adventure of resilience and triumph.
10. Virtual Time Travel
In the Virtual Time Travel Virtual Escape Room, everybody can have fun and learn something new. Using this virtual game, you learn about various historical periods as you travel through time. Going back in time to solve challenging puzzles and uncover mysteries will prepare you and your whole team for an exciting adventure. You will need problem-solving skills, along with creativity, coordination, and communication, to navigate the game's many rooms and levels.
As you progress through each level, you will encounter strange creatures, challenging riddles, interactive locks, mind-boggling mysteries, and much more. You can now form a team and embark on a time-traveling adventure in the Virtual Time Travel Virtual Escape Room.
Tips for Organizing a Team Building Event
When organizing a corporate team building event, it is important to have realistic expectations and objectives. It's not always easy to get everyone on board with the idea of Team Building Activities Singapore but it can be done! Here are some tips:
Set clear goals and objectives before the session starts
Introduce activities that will make the team bond and get to know each other
Use different types of activities such as indoor, outdoor, virtual, creative, and physical activities
Assign roles to individuals to encourage collaboration and problem solving
Design a post-event review session to provide feedback about the event
Encourage participation by creating a fun and inclusive atmosphere
Celebrate successes and milestones with the team to boost morale
Offer incentives for participation such as recognition, awards, or prizes
Make sure that safety is a priority during any physical activities
Monitor the event to ensure it stays on track and ends with desired results.
By following these tips, you can be sure to have an enjoyable and successful team bonding event! This will help your team to work together more efficiently while also having fun. Team Building Activities Singapore are a great way to promote the growth of any organization or business.
Team Building Events Singapore
Singapore is home to some of the world's most effective team development exercises. FunEmpire has something that will suit your needs and bring your team closer together, whether you're looking for a virtual escape room game, an archery tag battle, or a clay-making workshop.
FunEmpire provides teams with an unforgettable experience that has long-lasting effects on individual and team performance and group dynamics. They accomplish this by providing a vast array of activities designed to enhance communication skills, foster collaboration, and inspire creativity!
If you're looking for more recommendations, you can check out our other posts below:
Frequently Asked Questions (FAQ)
If you have any questions about Team Building Events in Singapore, you can refer to the frequently asked questions (FAQ) about the best Team Building Events in Singapore below:
What are some of the best team building activities in Singapore?
Some of the best corporate team building activities in Singapore range from thrilling team building events like escape room challenges where teams solve puzzles, to cooking team building activity that foster collaboration and creativity among members.
Can you suggest some cool team building activities for our entire team in Singapore?
Absolutely! For your team, you could consider activities such as dragon boat racing, laser tag, art jam, or even a culinary competition. These are not only cool team building activities, but they also encourage teamwork and cooperation.
How can we make our next team building event more fun in Singapore?
To make your next fun team building event more fun in Singapore, consider incorporating team building games that encourage friendly competition. Also, think about including surprises or rewards that can enhance the excitement and engagement levels of your team.
What exciting team building activity would you recommend for corporate teams in Singapore?
For corporate teams, I'd recommend activities that require strategic thinking and problem-solving, such as escape room or treasure hunts. These activities are not only exciting but also help to enhance communication and collaboration skills.
What makes a team building activity excellent in Singapore?
An excellent team building activity in Singapore is one that encourages collaboration, improves communication, and strengthens relationships among team members. It should be engaging, inclusive, and most importantly, fun.
What are some fun team building activities that involve solving puzzles in Singapore?
Escape room are a popular choice when it comes to solving puzzles. They require teams to work together to crack codes and solve mysteries. Another fun option could be a scavenger hunt around the city, where teams need to solve riddles to find specific locations or items.
Can you recommend any favourite team building activities in Singapore?
Some favourite team bonding activities in Singapore include cooking competitions, charity runs, and sporting events. These activities are popular because they combine fun with valuable lessons in teamwork and cooperation.
What are some thrilling team building activities in Singapore?
Thrilling team building events in Singapore could include adventure sports like rock climbing or zip-lining, high-energy games like paintball or laser tag, or intellectual challenges like escape room or quiz competitions.
How can we ensure every team member benefits from our team building game in Singapore?
To ensure every team member benefits, it's important to choose a game that caters to different strengths and interests. Ensure everyone has an equal opportunity to contribute and that the game promotes open communication and cooperation.
What makes a great team building activity in Singapore?
A fun team building activity in Singapore is one that encourages collaboration, enhances communication, and boosts team spirit. It should be enjoyable, engaging, and inclusive, ensuring every participant feels valued and part of the team.
Additional Useful Articles
If you are looking for other useful guides and articles about Team Building Events in Singapore, check them out below: