Pottery Class Singapore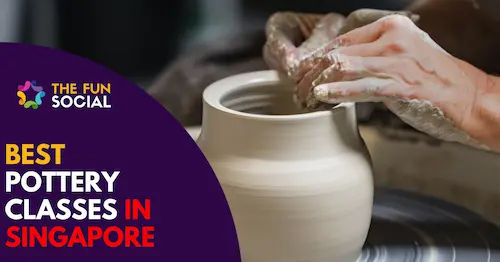 Pottery is an art form that allows creativity to meld with functionality.
The best pottery class providers in Singapore include The 8TH FLOOR Creative Space, Padme Hum Studio, Boon's Pottery, The Potters' Guilt, Thow Kwang Pottery Jungle, and Mud Rock Ceramics.
When you're looking to book a pottery class in Singapore, take into account various factors like the different types of pottery available, class sizes, and the experience level of the instructors.
There are numerous pottery techniques to discover, including hand-building methods like pinch pots and coiling, as well as wheel throwing.
This guide provides a list of the best pottery classes in Singapore, each offering unique benefits and experiences.
Quick Summary
Best pottery class providers in Singapore include The 8TH FLOOR Creative Space, Padme Hum Studio, Boon's Pottery, The Potters' Guilt, Thow Kwang Pottery Jungle, and Mud Rock Ceramics.
When booking a pottery class in Singapore, consider factors such as the types of pottery, class size, and instructor experience.
There are many different types of pottery to explore, such as hand-building techniques like pinch pots and coiling, or wheel throwing.
Consideration Factors When Choosing A Singapore Pottery Class
Types Of Pottery Classes: Singapore offers a plethora of pottery classes to choose from. Among these, the most sought-after courses are pottery wheel classes, where you can learn to use a pottery wheel to craft basic shapes to advanced forms. You may also consider joining pottery painting classes to acquire the skills required to paint your handcrafted pottery. Additionally, several pottery studios in Singapore cater to both novice and expert potters, each offering a unique learning experience.
What You Will Learn: Every good Pottery class provides a comprehensive learning experience where you can explore various clay types, learn to prepare the clay for pottery, and acquire knowledge of the different pottery techniques. Additionally, you'll learn about the firing process, glazing, and finishing of pottery. Some classes include clay wedging, centering clay on your wheel, pulling a cylinder, scoring joints, and basic hand-building techniques, giving you a more comprehensive experience. The duration of Pottery classes is typically 2-3 hours, allowing ample time to learn and enjoy the process.
What Kind Of Equipment You Will Need: Typically, in Pottery classes, you are required to bring your wheel and clay. However, some private studio may provide these for you. It's always better to double-check with the art studio beforehand to avoid any confusion. Additionally, you'll need a few pottery tools such as a pottery brush, pottery sponge, and wheel bat.
Tips On Choosing The Right Class: Picking a good Pottery class that caters to your skill level plays a vital role in your learning experience. If you're a beginner, choosing a beginner friendly pottery workshops specifically designed for those without any prior wheel experience could be the best choice. In such classes, you'll have the opportunity to learn about slab making, slab building, and coils. If you're an experienced potter, opting for an advanced Pottery class might appeal to you more. These classes offer more freedom on the wheel, giving you an opportunity to learn the skills required to create containers such as cups, bowls, tea set, and vases.
Now that you know what to look out for, here are The Best Pottery Classes in Singapore!
Best Pottery Class Singapore
1. The 8TH FLOOR Creative Space – Wheel Throwing
| | |
| --- | --- |
| Key Services | Personalised pottery course, Wheel throwing to create household ceramics |
| Website | https://the8thflr.com/ |
| Address | 37 Lorong 23 Geylang, #08-03 Yu Li Industrial Building, Singapore 388371 |
| Email | contact@the8thflr.com |
| Operating Hours | Contact for more information |
The 8TH FLOOR Creative Space is Singapore's sole art studio with a highly personalized pottery program. The specialists at 8th FLOOR keep a close eye on each phase of student assimilation and tailor it to align with their learning pace. The course is structured to allow students to follow each detail and complexity of the process so that they can learn, enjoy and enhance their skills simultaneously. Their wheel throwing class provides an opportunity to learn to create decorative items like planters, bowls, and plates. For those interested in producing their own pottery, their pottery classes offer an ideal learning foundation.
Key Differentiators
In this course, attendees will learn the fundamentals of wheel throwing to craft beautiful ceramic pieces for their home
Pottery course personalised to your individual needs
Able to discover how to craft exquisite ceramic masterpieces for your home with your pals
Client Testimonial
I have been doing pottery classes here for over 6 months now. It has by far been the best experience of learning a new creative talent in a space that is airy and friendly. Alvin has been the best teacher and more than that. he is patient, goes over technical points over, gets you to continuously improve your skills and encouraging. I love coming here. The equipment is good, and the class progresses on to various skill improvement decorative objects. Come here if you are serious to learn, have fun and growing in learning a new skill.
Shilpa Thakker
2. Padme Hum Studio
| | |
| --- | --- |
| Key Services | Pottery Class, Team-building Workshops for Corporates, Workshops for Special Needs Children, Customized Orders for Customers |
| Website | www.padmehumstudio.com |
| Address | 1090 Lower Delta Road, #04-15, Singapore 169201 |
| Phone | (+65) 8611 4613 |
| Email | admin@padmehumstudio.com |
| Operating Hours | Monday & Tuesday: Closed / Wednesday-Friday: 9am-3pm / Saturday: 8am-3.30pm / Sunday: 2.30pm-5.30pm |
Padme Hum Studio encourages creativity and imagination by helping students create their own unique ceramic art pieces in a spacious pottery studio. Their aim is to create and share magic through the creation of ceramic art, as there is something enchanting about transforming clay into a beautiful object. Pottery, as an art form, serves as an avenue for self-introspection and discovering one's strengths. As an artist's support system, they have a young community that serves as an educational branch for all visitors to their Ceramic Studio.
Key Differentiators
Their classes offer a relaxed and unstructured environment with small class sizes to allow you to create your own unique artwork in a way that suits you
Their team crafts unique, one-of-a-kind pieces for different clients
They strive to ensure that all of their products and classes are created with eco-friendly materials
3. Boon's Pottery
Boon's Pottery was established by Master Potter Chuan Siang Boon in 1998 as an art gallery and pottery workshop in Singapore. They offer two techniques of pottery- handbuilding or wheel throwing lessons, from Tuesday to Friday between 2 p.m. to 5 p.m. in Singapore's Chinatown Eastend area. Visitors are recommended to schedule an appointment before visiting to book a lesson or to arrange a tour.
Key Differentiators
The workshop provides a unique opportunity to explore both hand-building and wheel throwing with clay
Offers both art gallery and a variety of different affordable workshops
Client Testimonial
I had a very calming experience at the trial pottery class. I'm very happy that I've made 2 bowls in the trial classes and I learnt something new. The female instructor was very detailed and patient.
Natasha Angeline
4. The Potters' Guilt
Potters' Guilt provides a cozy and well-equipped ceramics workshop where professionally trained ceramic artist assist you in enhancing your skills and imaginations. It's an ideal place to host a team building event or to drop by after work. The workshop provides packages for lessons ranging from $55 per hour or higher, based on the type of package opted. For alumni, the Own Time Own Target program offers flexibility, allowing them to use the studio space whenever they want. The pottery studio offers a range of stunning glazes to add finishing touches to your pottery creations, including AMACO Potter's Choice, AMACO Celadon, AMACO Satin Matte, and AMACO Shino.
Key Differentiators
Established by a group of like-minded professionally trained ceramic artist who enjoy sharing the joy of making handcrafted objects
People of all ages are suitable for the fulfilling pottery classes
The OTOT program allows alumni to further enhance their skills
Client Testimonial
Very patient, helpful and knowledgeable instructors. Quaint pretty pottery studio. Enjoyed the session and experience!
Michelle Cheung
5. Mud Rock Ceramics
Mud Rock Ceramics is a well-known ceramics business founded by two professional ceramic artists who cater to design firms, restaurants, government bodies, individuals, and architecture businesses. Thanks to the founders' previous experience, they can handle various ceramic projects. The pottery studio has a fully equipped kiln, complete with its own set of glazes and lab equipment, where both children and adults can take pottery classes. Additionally, the pottery studio offers introductory sessions for $83 per person and customisable private group classes for groups of at least ten people. The company devotes time to volunteer and collaborate with non-governmental organisations and homes yearly.
Key Differentiators
Managed by renowned professional ceramic artists in the field
Having expertise in working with a diverse range of clients and providing consultations
There are classes catered to both children and adults, and trial classes are available
Client Testimonial
Lovely ceramics, classes, atmosphere, people & pup! Well organized classes.
Yvonne Heng
6. Urth&Phire
Urth & Phire, a ceramics studio, specializes in ceramic tile murals and sculptures, and was founded by a professional and empowering artists. Participants are encouraged to experiment with the ancient craft in order to try new things. The studio's goal is to provide a peaceful and inspiring environment for people to unleash their creativity. Experienced potters can participate in the studio practice package, which allows them to pursue pottery as a hobby after finishing courses. Users can have a flexible booking system that fits their schedule.
Key Differentiators
Inspires participants to take a trial-and-error approach when creating pottery
Take their free trial lesson to determine if you're ready to make a commitment
Take control of your classes with a convenient and customizable booking system
Teaching is tailored to each student's needs in a class size of no more than 8
Client Testimonial
Attended a trial class on a weekend by Alvin. He was really patient in guiding through the steps of moulding the clay.
Studio was very bright and clean, nice fresh smell too. Location quite near the MRT. Would go again soon! Recommended for dates or groups of friends!
Ashley L
7. Goodman Ceramic Studio
Goodman Ceramic Studio, managed by experienced ceramics lecturers or artists, teaches various programs such as wheel throwing with Tom Lim or mural painting with Hazel Wong. The private studio is located within the Goodman Arts Center, a green-filled, formerly an old school building. The center offers top-notch facilities and bright and luxurious spaces that make it feel like a home away from home.
Key Differentiators
Their multi-user studio provides a creative space for any budding student or empowering artists to thrive in
Unlock unlimited possibilities with their extensive selection of studio access schemes
Their facility offers 8 kilns, with cubic capacities ranging from 1.5–12 feet for rent, in addition to other essential tools and clay supplies
Client Testimonial
Great instructors and facility at Goodman Arts Centre! Recommend to try out the trial classes for yourself!
Jairus Lim
8. Common Touch Craft
Common Touch Craft offers pottery workshops and classes for people of all ages, including beginners. The beginner friendly pottery workshops provide a joyful and therapeutic experience of creating 3D artwork from clay. Their well-known pottery sessions offer a vibrant and diverse range of techniques, from throwing on the potter's wheel to hand-building and wheel throwing your own pottery and decorative objects. Classes typically last 2-3 hours and materials and tools are provided. All are welcome to join and discover the fun of making your pottery.
Key Differentiators
Pottery classes for everyone, regardless of age and skill
Ignite Your Inner Artist – Experience a World of Colorful Creation
Unleash your creativity with a selection of pottery-making classes – from wheel throwing to ceramic hand building and everything in between
Client Testimonial
Good ceramics lecturer, very friendly and approachable. Family friendly. Enjoyed our session!
Mervyn Augustine
9. Sam Mui Kuang Pottery
Sam Mui Kuang Pottery offers pottery classes and workshops for individuals of all ages and skill levels. Located near Singapore's CBD, the studio is run by three Master Potters with over thirty years of experience. Participants can learn wheel throwing, hand building and glazing, as well as attend weekend pottery workshops. Additionally, they host weekly events such as learning how to paint pottery or practicing Japanese Raku, a traditional clay working technique similar to a Japanese tea set ceremony.
Key Differentiators
Nestled in close proximity to the bustling downtown area
New week, new events
From novice to proficient, a pottery class is available to everyone and anyone of any age
Client Testimonial
Signed up for a course there and I must say I've learned a lot. The Instructors were very welcoming and willing to answer my repeated questions during my pottery journey.
Cassandra Tan
10. The Clay People Ceramics Studio
At The Clay People Ceramics Studio, Teo Boon Gim, a veteran in wheel throwing and experienced ceramist, invites ceramic enthusiasts from all backgrounds to bring their imagination to life through pottery. The studio is a space that fosters connection and growth of the local Singaporean ceramic art community, with an emphasis on good craftsmanship. Everyone is welcome to join them in their journey.
Key Differentiators
Opened by a professional potter
An ideal way to begin your pottery journey, this experience is a must-have for all aspiring ceramicists
Committed to the local Singaporean aesthetic, they prioritise quality craftsmanship
Client Testimonial
Mr Teo is very patient in teaching my son and I the techniques and guiding my son in his work. It was a good 1st time for my son. Thank you, Mr Teo.
Sidney Soh
Pottery Class Singapore
Pottery classes in Singapore offer a great way to cultivate creativity and master a new skill. Whether you're starting from the basics of wheel-throwing or want to build on your experience with hand-building techniques, there are lots of helpful resources available for all levels. Take this opportunity to unwind and unlock your inner artist through pottery classes in Singapore! Making it an excellent option for team building in Singapore as well!
Pottery classes in Singapore are the perfect way to unwind, express yourself, and learn something new while team building in Singapore. With a vast range of options from seasoned instructors, you can find the ideal course for your needs – and discover all the creative possibilities within yourself. Make pottery classes in Singapore part of your journey today!
Want more interesting topics to read? Check out some of our other interesting and useful articles below:
Frequently Asked Questions (FAQ)
If you have any questions about pottery classes in Singapore, you can refer to the frequently asked questions (FAQ) about the best pottery classes in Singapore below:
What are the best pottery class providers in Singapore?
The best pottery class providers in Singapore include The 8TH FLOOR Creative Space, Padme Hum Studio, Studio Asobi, Taoz Ceramics Studio, Boon's Pottery, The Potters' Guilt, Thow Kwang Pottery Jungle, and Mud Rock Ceramics.
Can I create vessels in pottery classes in Singapore?
Absolutely! Most pottery classes in Singapore enable students to create their own vessels, such as bowls, mugs, and vases. This hands-on experience not only allows you to get your hands dirty but also helps you understand the nuances of pottery.
Can I make my own cup in a pottery class in Singapore?
Yes, many pottery courses in Singapore will teach you how to create your own cup. It's a rewarding experience to sip coffee or tea from a mug that you've crafted yourself. You may even find yourself getting addicted to the process!
Are there any pottery classes in Singapore where I can learn to etch Chinese characters onto my creations?
Some pottery classes in Singapore do offer lessons on how to incorporate designs like Chinese character into your pottery pieces. It's best to check with the specific studio or instructor to confirm.
Where can I find pottery classes near Orchard Central or Orchard Gateway in Singapore?
There are several pottery studios located near Orchard Central and Orchard Gateway. You can usually find information about these classes on Facebook or by visiting the studio's website.
What should I expect when I attend a pottery class in Singapore?
When you attend a pottery class, you can expect to get your hands dirty, literally! You'll learn to shape clay into various forms, such as bowls and mugs. The instructor will teach you the basics of pottery, including molding, glazing, and firing.
Can I collect the pottery I make during the class?
Yes, in most cases, you can collect the pottery items you create during the class. However, keep in mind that your pieces will need to be fired in a kiln, which can take a few weeks.
How can I find out more about pottery classes in Singapore?
You can find information about pottery classes in Singapore on various platforms such as Facebook, where studios often post about their upcoming classes and workshops. You can also visit the studios' websites or contact them directly for more information.
What types of pottery can I learn to make in a class in Singapore?
In a pottery class in Singapore, you can learn to create a variety of items, including bowls, mugs, plates, vases, and more. Some classes may even allow you to create your own unique designs.
Can I become addicted to pottery classes in Singapore?
Pottery is a creative and therapeutic activity that many people find enjoyable and rewarding. So yes, it's quite possible you may find yourself becoming addicted to pottery classes once you get started!
What are some good pottery classes in Singapore where I can learn clay arts?
There are several reputable ceramics studios in Singapore that offer good pottery classes. These studios provide a range of courses, from beginner to advanced levels, where you can learn various clay arts techniques. Some notable ones include Thow Kwang Pottery Jungle, Mud Rock Ceramics, and Goodman Ceramic Studio. They offer hands-on experience in moulding clay, using an electric pottery wheel, and other essential pottery skills.
Can I learn to use an electric pottery wheel in these classes?
Yes, most ceramics studios in Singapore offer classes that teach the use of an electric pottery wheel. This tool is essential for moulding clay into various shapes and forms. The classes typically start with basic hand-building techniques before moving on to the wheel. It's a great skill to learn if you're interested in creating pottery items like bowls, plates, or vases.
What is wet clay, and do these classes use it? Also, do they use house glazes?
Wet clay is the raw, malleable form of clay that potters use to shape their creations. All good pottery classes will certainly use wet clay as it's the basic material for pottery making. As for house glazes, these are unique mixtures of silicates, colorants, and fluxes that studios create to give pottery pieces their distinct, glossy finish. Many ceramics studios in Singapore, including those mentioned above, use their own house glazes to offer a unique finish to the pottery pieces made in their classes.
Additional Useful Articles
If you are looking for other useful guides and articles about pottery classes in Singapore, check them out below: