Escape Rooms Singapore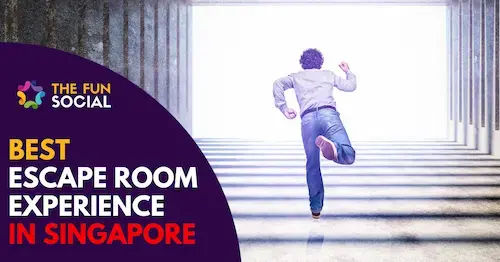 Escape room in Singapore has gained immense popularity, offering thrilling adventures such as Curse Of The Werewolf Escape Room, Virtual Squid Escape, Virtual Super Planet, Virtual Return Of The Queen, and Virtual Super Planet.

But before you dive into the thrilling world of escape room activities, there are a few important factors to keep in mind. Consider your group size, budget, challenge level, and cost to ensure you have the most memorable experience.
When it comes to the best escape room Singapore provider, FunEmpire takes the lead. With numerous excellent client reviews and an impressive track record of successful events, they have solidified their position in the industry.
So, gear up for an unparalleled adventure in Singapore's escape rooms!
Key Consideration Factors For Escape Games
Group Size: Escape room game is usually a team bonding activity where you work together to unlock seemingly abstract puzzles and escape. It's best to get a group together of 4-6 people to play.
Age Limits: Some escape room games can have escape room themes that may not be suitable for kids or have a minimum age restrictions. It's important to check the age restrictions before booking.
Difficulty Level: Escape rooms can vary greatly in terms of difficulty level. It's important to do some research about the difficulty level, theme and storyline of the escape room.
Time commitment: Escape rooms usually last between 60-90 minutes. Make sure you factor in enough time for the experience. Consider the vendor's opening hours as well so you don't make a wasted trip down.
Physical restrictions: Some escape rooms can involve physical activity, confined spaces, and low light. If you have any physical restrictions or claustrophobia, make sure you check the restrictions before booking.
Budget: Escape rooms can vary in terms of price start. Be sure to check out the pricing before booking.
Online Reviews: Before booking an virtual reality escape room experience, take the time to check online reviews to better understand the quality of the experience.
Benefits of Escape Room for Team Building
Enhances Teamwork: Escape rooms are great for team building as they require players to work together and communicate effectively in order to solve the seemingly abstract puzzles.
Develops Problem Solving Skills: The puzzles and riddles found in escape rooms help to hone critical thinking skills, encouraging creative thinking and critical analysis.
Improves Communication: As escape room games involve communication between the players, it helps to hone communication skills.
Enhances Leadership Skills: Escape room games require someone to take charge and provide direction in order for the group to succeed. This person must have strong leadership skills in order to be successful.
Promotes Positive Thinking: When faced with difficult puzzles, escape rooms help cultivate a positive attitude among team members as they work together to find solutions.
Fun and Engaging: Escape rooms are a great way to have fun while developing important skills such as teamwork, problem solving, communication, and leadership.
Best Escape Room Game Singapore
In-Person Escape Room
1. Escape Room by FunEmpire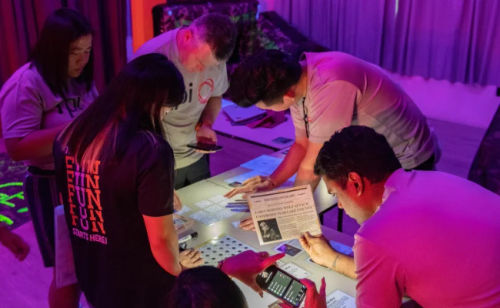 Experience a thrilling adventure with FunEmpire's Escape Room! Work together with your group of friends, family or colleagues to resolve puzzles and find clues in order to break free from the room before the hour is up. This stimulating game will challenge you mentally while enhancing problem solving and communication skills – an fun experienc experience for everyone!
2. Physical Escape Room by Team Building Singapore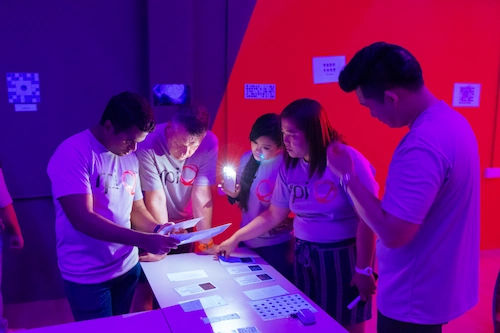 Unleash your creativity and problem-solving skills as you take part in this thrilling escape room game! Work together with your corporate team to complete missions before time runs out. Stimulate your mind by thinking outside the box and collaborating to break free of the room. At Team Building Singapore, we offer a one-of-a-kind experience than other escape rooms for those looking for corporate activities or family fun!
3. Real Life Room Escape by Team Building Games Singapore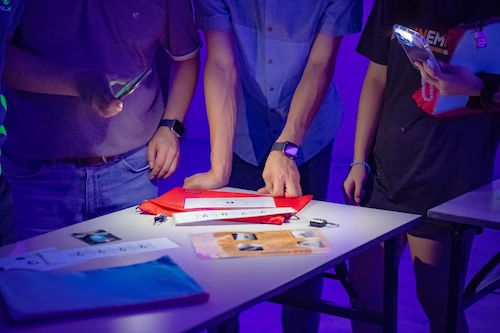 Are you seeking an exhilarating escape room games experience? With Team Building Games Singapore's Real Life Room Escape Game, challenge both yourself and your team to a thrilling 60 minutes of collaboration, find hidden clues, seemingly abstract puzzles and ultimate escape.
This activity will ignite creativity at any age – it's time to unleash the potential in problem-solving! Ditch that dull routine; let everyone have a remarkable journey as they come together for success. Get ready for the excitement now!
4. Curse Of The Werewolf Escape Room by Escape Room Singapore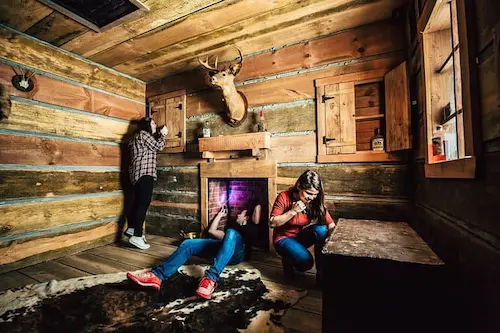 Step inside the Curse Of The Werewolf Escape Room and immerse yourself in an exhilarating journey to protect your village. With one hour on the clock, you'll be tasked with solving a series of puzzles, finding clues, and working together as a team – all while honing your problem-solving skills!
Perfect for people of any age group seeking to create unforgettable memories with friends or colleagues in a stimulating environment that encourages out-of-the-box thinking.
5. In-Person Escape Room by Team Building Activities Singapore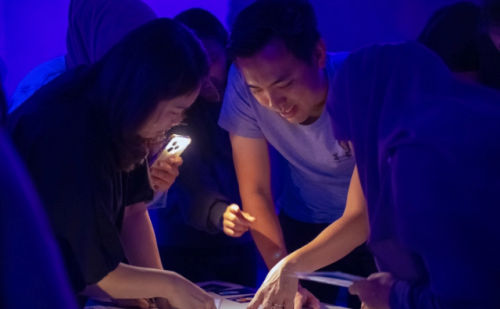 Put your wits to the test and embark on an exhilarating adventure with Team Building Activities Singapore's In-Person Escape Room! Step into a captivating environment where you and your team have sixty minutes to unravel intricate puzzles, meticulously search for hidden clues, and strategize your escape from the room.
The challenge demands seamless collaboration and effective communication among teammates, as success hinges on your collective efforts. Work together, combining your unique skills and perspectives, to overcome obstacles and emerge triumphant in this thrilling experience!
Outdoor Escape Room
6. Merlion's Feast by FunEmpire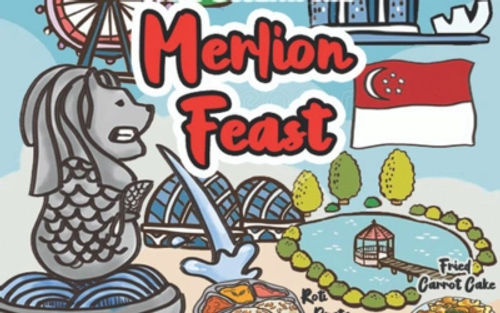 For a truly unique experience, join us for The Merlion's Feast! This hybrid outdoor adventure is like no other – with physical teambuilding elements and stimulating virtual escape room puzzles created exclusively by FunEmpire – professional puzzle designers.
As you journey around Chinatown, be prepared to use your problem-solving skills and work together as a team to uncover clues. Suitable for all ages, it's an ideal way to bond while exploring Singapore's Chinatown. Make sure not miss out on The Merlion's Feast!
7. Amazing Race by FunEmpire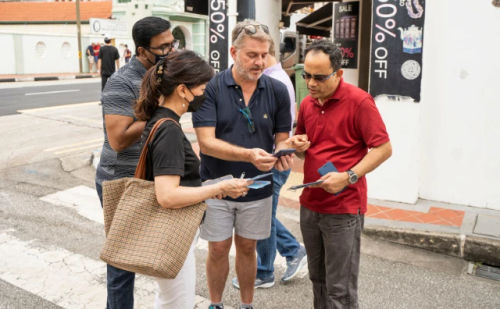 FunEmpire's Amazing Race experience is an exhilarating outdoor journey that fuses racing to the next checkpoint with classic Escape Room puzzles. You and your squad will need to rely on their creativity, problem-solving mindsets, and quickness in order to complete each mission at every station. Sharpen those skills as you race against the clock before it runs out!
Virtual Escape Room
8. Virtual Escape Room by FunEmpire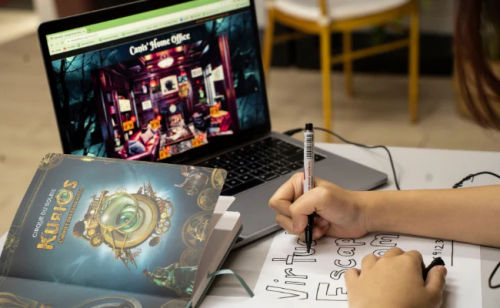 Need a thrilling online escape games experience for your remote team? Look no further than FunEmpire's Virtual Escape Room! With over 10 distinctive themes, you and your group can have the adventure of a lifetime without ever leaving home.
All that is required to join in on the action are an internet connection and webcam – plus, with no geographical limitations, anyone around the globe can partake! Get ready for an unforgettable journey right from your own living room.
9. Virtual Super Planet by Escape Room Singapore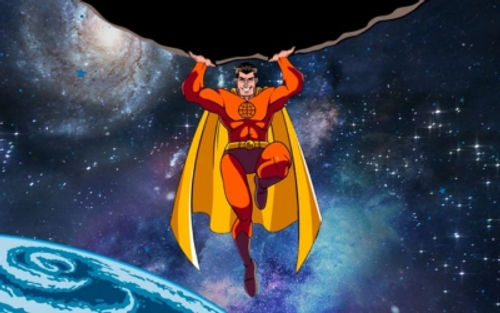 Unleash your inner Superhero and join us as we embark on a mission to save the planet! Our exciting Escape Room for Kids allows you to show off those incredible superpowers. With puzzles ranging from sustainability to other pressing matters, it's time to come together and make a difference in our world. Step up now and be the greatest Superhero around – prove that you can conquer any challenge with grace!
10. Virtual Travel Experience by FunEmpire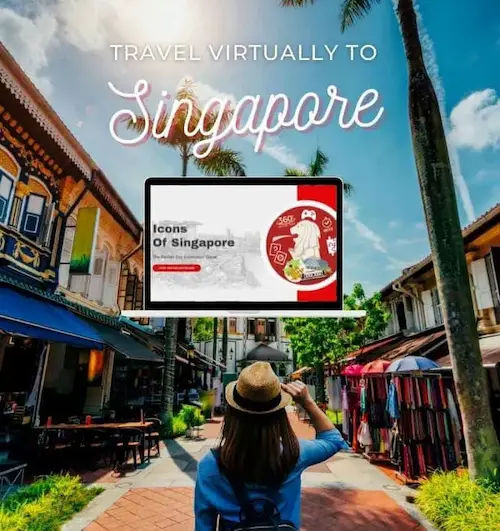 Have you ever fantasized about traveling without having to leave the safety and comfort of your home? Now, FunEmpire's Virtual Travel Experience allows you to explore Singapore with ease! Join a team or embark on this mission alone as you're taken around Singapore while solving puzzles and challenges. Uncover what secrets lie in wait as you attempt to solve an intriguing family mystery!
11. Virtual Curse Of The Werewolf by Virtual Escape Room Singapore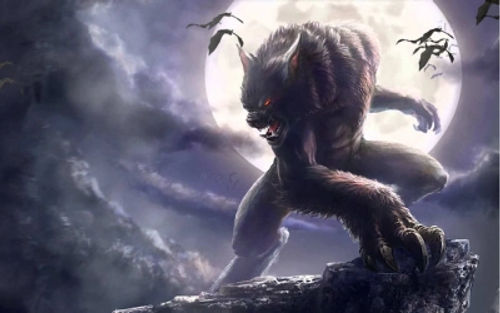 Unite with your team to prevent werewolf attacks and unravel the secret of their curse in this intense virtual escape room. You'll need effective collaboration to message, solve mysteries, and break out before time runs out! As there are no physical barriers in this virtual reality escape game, participants from all over can join you in saving your village – go online now for an unforgettable mission!
12. Virtual Squid Escape by FunEmpire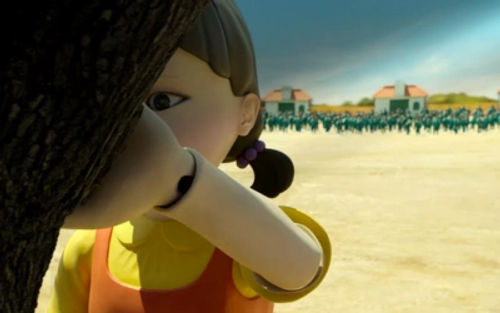 Immerse yourself in the captivating world of the iconic Squid Game with this thrilling Escape Room experience. Step into a meticulously designed room that transports you into a distinct narrative, allowing you to uncover hidden secrets and unravel the mysteries that lie within its universe.
Assemble your team and put your collective problem-solving skills to the test as you navigate through a series of mind-bending puzzles, each one bringing you closer to finding the ultimate escape. Remember, only by working together, pooling your strengths, and honing your wits can you hope to triumph and emerge victorious from this exhilarating challenge!
13. Virtual Jack's Hangover by Virtual Escape Room Singapore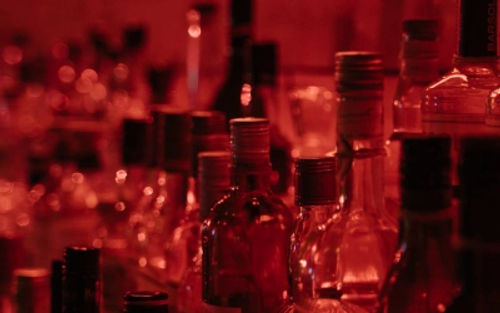 It is time to rally your team, gather them together, and embark on an urgent mission! Jack had an incredibly eventful and mysterious night, waking up with no memory of what transpired. Now, with time ticking away before his departure, you must meticulously search every corner of the hotel room, speedily make your way to the bustling casino, and meticulously collect all the crucial pieces of evidence.
Only by doing so can you assist Jack (and yourself!) in reconstructing the unbelievable events of last night. Brace yourself for an extraordinary journey into the unknown!
14. Virtual Time Travel by Virtual Team Building Singapore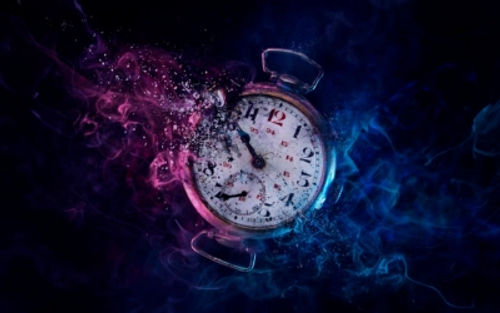 Take an exciting journey through time with the Virtual Time Travel Escape Room! With this one-of-a-kind escape game, you and your friends can experience all of the thrill that comes from traveling back in time without having to leave your house as it will be conducted in a virtual room.
Your team will have to collaborate quickly if they're going to make it out of the room before their allotted time is up. Test both your mental skills and teamwork abilities by trying out this immersive escape challenge today!
15. Virtual Return Of The Queen by Team Building Singapore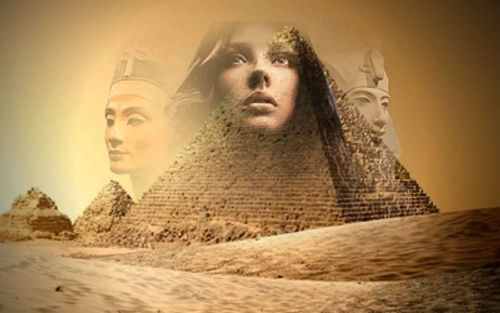 Unravel the enigma of an age-old curse with The Virtual Return Of The Queen! Assemble your trusted comrades and traverse back to Ancient Egypt while solving Egyptian inspired artefacts and perplexing puzzles within this virtual escape room Singapore. Together, you will have to use wits and wisdom before time runs out, saving the kingdom from a disastrous fate in the process – making it an unforgettable fun experience for everyone involved!
Escape Room Singapore
From the ancient Egypt of Virtual Return Of The Queen to virtual team bonding activities such as Jack's Hangover, there is an escape room experience that will appeal to everyone. With so many options available in Singapore, you can find an online Escape Room challenge that suits your needs and interests!
Whether it's for bonding with friends or family members, or just having some fun while learning something new – discover your inner Sherlock Holmes and our list has got you covered.
So don't wait any longer – pick one of these great online escape room games experiences today and get ready for adventure!
If you're looking for more recommendations, you can check out our other posts below:
Frequently Asked Questions (FAQ)
If you have any questions about Escape Rooms in Singapore, you can refer to the frequently asked questions (FAQ) about the best Escape Rooms in Singapore below:
Additional Useful Articles
If you are looking for other useful guides and articles about Escape Rooms in Singapore, check them out below: