Craft Workshop Singapore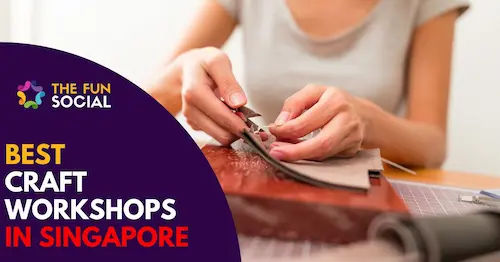 Craft workshops in Singapore are a great way to facilitate team building in Singapore and bring people together.
The best Craft Workshops in Singapore include Candle Making, Art Jamming, Balloon Sculpting, Terrarium Making, and Leather Making.
When planning a craft workshop in Singapore, it is crucial to consider factors such as the number of people in your group, your budget, the venue, the duration, and the design choices that are available.
FunEmpire is renowned as a leading provider of craft workshops in Singapore, boasting an impressive track record of over 8,000 5-star reviews and having successfully hosted more than 50,000 events.
To make your journey smoother, we have put together some of the top-rated craft workshops in Singapore – just for you!
Benefits of Craft Workshop
Improves Mental Health: Crafting activities have a positive impact on stress reduction, anxiety, and even depression. They can also provide a sense of achievement, leading to a more positive mood.
Increases Self-Esteem: Crafting allows you to create something tangible, which can contribute to increased self-esteem and a sense of pride.
Develops Focus and Patience: Craft workshops require focus and patience to complete a project. Participating in these workshops can help develop these important attributes that can be beneficial in many areas of life.
Lets Your Creative Juices Flow: Crafting workshops provide new ideas and techniques that can make your creative juices flowing while improving problem-solving skills.
Socializing and Networking: Craft workshops provide an opportunity to meet new people and foster relationships with individuals who share your interests, leading to networking opportunities and new friendships.
Best Craft Workshop Singapore
Creative Workshops
1. Neon Art Jamming Workshop
Transform your evening with our one-of-a-kind luminous neon paints and tools! Our Art Jamming session is unique – forget about all of the stress you endured throughout the day by crafting a spectacular piece that glows in the dark. We'll provide everything necessary for an amazing work of art, so book now to enjoy an experience like no other.
2. Cooking Class
Stimulate your team-building session with a remarkable excursion into Singaporean cuisine! Our cooking classes will take you and the group on an unparalleled gastronomic journey, permitting everyone to uncover their inner chef. Form local delicacies that are certain to leave all of your colleagues delighted for more! Let the culinary expedition commence!
3. Balloon Sculpting
Release your creative spirit and journey to the enchanting world of FunEmpire's Balloon Sculpting Workshop! From butterflies, flowers or even pirate swords – this fun-filled activity is ideal for everyone. With help from our professional instructors and all the essential materials provided at the workshop, it's a great opportunity for team bonding activities and birthday parties alike. Start now on an amazing adventure as you unlock your imagination – book today!
4. Gel Candle Making Workshop
Tap into your creative side and construct a personalized gel candle with the help of your team – it's an ideal way to create camaraderie! Personalize your design by adding various inserts, enhance the excellence of your candles, and take home a lasting memento that embodies all of the good times you shared while building something timelessly unique.
5. Leather Workshop
Don't miss your opportunity to discover the hidden art of hand-stitching leather! Our Stitched Leather Workshop has limited seating, so secure yours now and be prepared for a lifetime of mastery. We will supply all materials required plus detailed instructions on how to construct a card holder – join us today!
6. Clay Making Workshop
Are you wondering how chefs create those exquisite dishes in high-end restaurants? Unveil your creative potential and explore the art of clay food sculpting with this class! Even if you have no prior experience, it will be easy to follow along as an instructor takes participants step-by-step through the process. This course is perfect for individuals or teams looking for a fun activity that anyone can enjoy – regardless of age. Unleash your inner artist and embark on a journey into culinary expression!
7. Tote Bag Art Jamming Workshop
Are you ready for something extraordinary? Come explore FunEmpire's Art Jamming, where your imagination is the only limit to crafting a unique and memorable gift. Forget about having any prior art experience – we provide all of the supplies so there won't be anything blocking you from joining in on all that creative fun! Take this opportunity to let yourself express freely and embark on an exciting learning journey today.
8. Terrarium Workshop
Are you looking for a creative and eco-friendly activity? Look no further than our Terrarium Singapore workshop! Our experts have crafted an exclusive program geared towards education, amusement and providing participants with tangible experiences. Create your own little forest that can be taken home today as either a unique present or just something special to keep – what better way is there to express your love and appreciation? Join now so you can start building your very own terrarium!
9. Canvas Art Jamming Workshop
Unlock your creative genius with FunEmpire! Our Art Jamming activity is a stress-free and fun way to spend time with family, friends, or colleagues. We provide all the supplies for you in order for an enjoyable painting experience – no artistic talent required! Make this moment meaningful by letting go of inhibitions and create something unforgettable!
10. Perfume Making Workshop
As the saying goes, your fragrance selections can reveal much about your personality. Our workshop offers you a chance to design an original scent by combining different aromas! Through this interactive team-building exercise, everyone in attendance will discover more about each other's olfactory inclinations while having fun at the same time. When it concludes, every participant will have their own custom scent – creating precious memories that'll last for years and beyond!
Virtual Workshops
11. Virtual Art Jamming
Unleash your inner artist and express yourself through our interactive painting workshop! Our facilitators will provide a range of materials, from canvas to acrylic paints and pencils, giving you all the tools necessary for turning ordinary surfaces into creative masterpieces. Plus, they'll guide you as you explore color mixing theory in this virtual session. So join us today – it's time to make something extraordinary!
12. Virtual Clay Making Workshop
If you're looking for a unique and fun team-building experience, why not create your own custom keepsakes or clay figurines? Our all-natural air dry clay ensures that the projects are lightweight, toxin-free, and easy to manipulate into beautiful pieces of art. And it doesn't just have to be about having a good time – when completed, these one-of-a kind masterpieces can make perfect personalized gifts for those special individuals in your life.
13. Virtual Terrarium
Let your creativity take flight with FunEmpire's Terrarium Home Kit – an award-winning workshop sent directly to you! Our kit comes complete with all the essential materials, plus a delightful figurine for crafting your own miniature garden. Not only is it a fun and one-of-a kind activity that can be shared amongst friends or colleagues, but our experienced pros will give both theoretical and practical instruction on terrarium making from the coziness of home. Create something special – a mini garden that will bring joy as well as create lasting memories!
14. Virtual Leather Workshop
Unleash your creativity and journey into the world of leather crafting with our cost-efficient starter package! Before beginning this memorable team bonding activity, each participant will be supplied all essential tools. Our knowledgeable instructor will then guide you through various kinds of leather and upkeep basics. You'll have a chance to show off what you've learned by customizing items such as key chains or coin purses. Revel in the euphoria that accompanies having crafted something one-of-a-kind – only from us!
15. Virtual Candle Making Workshop
Ignite your creativity and embark on FunEmpire's Virtual Candle Making Workshop with your team! Our hand-crafted home kit includes everything you need to craft an exquisite, fragrant soy candle – along with a delicate figurine. By taking part in this unique corporate activity, you provide the perfect opportunity to foster unity and build cohesion among colleagues here in Singapore – join us today!
Craft Workshop Singapore
Boasting an abundance of art, culture and craft workshops, Singapore is the ideal locale to unlock your group's hidden potential. Whether you choose terrarium creation, candle-making, leather crafting or perfumery – FunEmpire has something special for everyone.
Our experienced facilitators guarantee an unforgettable team building in Singapore experience as they provide all essential materials to deliver a unique team bonding event!
If you want to read more interesting articles, follow the links below:
Frequently Asked Questions (FAQ)
If you have any questions about Craft Workshops In Singapore, you can refer to the frequently asked questions (FAQ) about the Best Craft Workshops In Singapore below:
Additional Useful Articles
If you are looking for other useful guides and articles about Craft Workshops In Singapore, check them out below: