Birthday Activities Singapore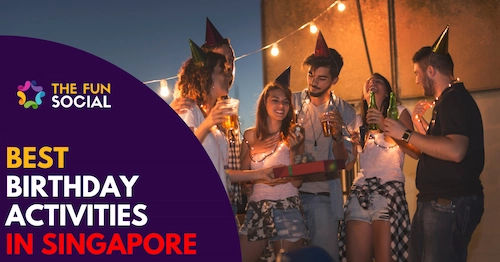 Birthdays in Singapore are the perfect occasion to create lasting memories with your loved ones.
The best Birthday Activities in Singapore include Art Jamming, Escape Room, Amazing Race, Bubble Soccer, Combat Archery Tag, Poolball, and Ninja Tag.
When organizing birthday activities in Singapore, it is crucial to consider important factors such as budget, type of activity, capacity, location, and safety guidelines.
FunEmpire is widely recognized as a top events provider in Singapore, boasting a remarkable history of organizing over 50,000 successful events and receiving more than 8,000 5-star reviews.
In this article, we'll explore some of the best birthday activities in Singapore.
Key Consideration Factors
When looking for Birthday Activities in Singapore, it's important to consider the following factors:
Safety: When it comes to selecting an activity, safety is paramount. Make certain that the proper precautions have been taken and be wary of any risks associated with each task you choose to undertake. Keeping everyone secure should always come first!
Location: When selecting your activity, don't forget to factor in its location. Whether you're searching for something close-by or a more central space – make sure the place is easily reachable and has all of the necessary amenities you need!
Age of Participants: When considering birthday activities in Singapore, it is important to consider the age range of participants. Many ultimate birthday bash may be suitable for certain age ranges, while others may not.
Variety: When it comes to party planning birthday activities in Singapore, you want a good variety of options so that all guests can be engaged and having fun. Consider incorporating board games, virtual games, outdoor adventures, and other activities for people of different ages and interests. This will guarantee an enjoyable day for everyone!
Price: Before making a choice, it is important to assess the expense of birthday activities in Singapore. Hunt for fun and great option that fit within your financial limit.
Benefits of Birthday Activities in Singapore
Birthday activities in Singapore offer a variety of benefits:
Quality Time: Spending quality time with your loved ones is an integral part of life. By organizing birthday activities, you can create lasting memories with your family and friends.
Fun & Entertainment: Organizing birthday activities will guarantee plenty of fun and entertainment for everyone involved.
Engagement: Birthday activities offer an opportunity for people to get engaged in the activity, and interact with each other.
Stress Relief: Participating in birthday activities can help relieve stress and bond with your loved ones.
Skill Development: Many Birthday Activities in Singapore involve problem-solving or team collaboration, which can help improve various skills, such as communication, leadership, and critical thinking.
Health Benefits: Active games and outdoor activities can offer physical benefits by promoting exercise and movement.
Building Relationships: Participating in group activities can strengthen relationships and foster a sense of camaraderie among participants.
Unique Experiences: Birthday Activities in Singapore offer unique experiences that can make your birthday party celebration stand out and be memorable.
Personal Growth: Challenges posed by certain birthday activities can provide opportunities for personal growth and build resilience.
Exploration: Many outdoor birthday activities involve exploring different parts of Singapore, offering a chance to learn more about the city's culture and landscape.
Now let's take a look at some of the best Birthday Activities In Singapore!
Adventure Activities
1. Bubble Soccer
Experience an unforgettable occasion with Bubble Soccer in Singapore! Not only is this activity endlessly enjoyable and engaging, but it also counsels individuals to reduce stress and foster teamwork.
Whether you're celebrating a birthday or simply searching for team building activities in Singapore, let Bubble Soccer be your go-to event for unrivaled fun. Make someone's special day even more amazing with this one-of-a kind form of entertainment – choose Bubble Soccer now!
2. Neon Laser Tag
Create a birthday to remember by hosting the party at FunEmpire's Headquarters with Neon Laser Tag! With its countrywide largest neon lit area, children will be able to have the time of their lives with hide-and-seek activities featuring bunkers and inflatable walls.
Additionally, dress up your guest of honor in white for that extra special touch – they'll light up like stars among their friends! Book now for an unbelievable experience full of excitement and fun courtesy of Neon Laser Tag – which is also a great option for team building in Singapore!
3. Ninja Tag
Are you ready to unleash your inner ninja and embark on an unforgettable adventure? Look no further than Ninja Tag's extraordinary birthday experience!
Gather together your friends and family, and prepare for an adrenaline-fueled event like no other. Arm yourselves with foam daggers and don the scoring vests as you immerse yourselves in a world of thrilling missions and heart-pounding excitement.
With Ninja Tag's wide range of game modes, there is never a dull moment. Engage in epic battles, test your stealth skills in intense hide-and-seek challenges, or team up to conquer daring obstacle courses. Whether you prefer to be a swift and agile ninja or a strategic mastermind, this birthday party celebration offers something for everyone.
Immerse yourself in the world of Ninja Tag and become the ultimate warrior. Make all your ninja dreams come true as you navigate through exhilarating quests and conquer formidable opponents. Don't miss out on this electrifying opportunity to experience the thrill of Ninja Tag's amazing birthday party celebrations!
Join in on the fun now and create memories that will last a lifetime. Get ready to unleash your inner ninja and embark on an unforgettable journey at Ninja Tag's extraordinary birthday experience.
4. Poolball
If you're searching for the ultimate way to celebrate your birthday, look no further than Poolball. This unique experience will elevate your special day to new heights, leaving your guests in awe. Say goodbye to traditional futsal games and get ready to kick soccer balls towards seven-meter-long pockets on an exclusive table – a truly extraordinary adventure awaits!
Imagine the excitement as your friends and family gather around, engaging in friendly competition and creating memories that will last a lifetime. Don't miss out on this incredible opportunity; celebrate your birthday in style with Poolball today!
5. Bullet Strike
Get ready for the most thrilling and exciting birthday party yet with Bullet Strike! Arm yourself with Nerf blasters and compete against your opponents as you blaze through various objectives. Don't worry about safety; each bullet is made of soft foam, so just wear protective masks to have a safe game experience.
With its clever strategies and thoughtful party planning, this ultra-fast paced action adventure will require creative thinking from all players – it's sure to be an unforgettable bonding activity for friends and family, making it a stimulating party extravaganza when you choose Bullet Strike!
6. Combat Archery Tag
Make your child's birthday party a truly remarkable and memorable experience with Fun Empire's exciting Combat Archery session! Engage in the thrill of this action-packed game, specially designed for children 1.2m tall and above. Equipped with foam-padded arrows, they can unleash their archery skills, aiming at opponents and skillfully dodging incoming fire.
Choose from two different styles: classic or Neon Combat archery, each offering a unique and exhilarating experience. Get ready for an unforgettable bonding session, creating precious memories for both you and the birthday celebrant!
Creative Activities
1. Leather Making Workshop
Are you looking for a truly unforgettable and creative experience to celebrate your loved one's birthday in Singapore? Look no further than FunEmpire's Leather Workshop!
Our expert and friendly staff will guide your party through a series of engaging and informative leatherworking lessons, ensuring that everyone has a blast while creating their own one-of-a-kind leather piece. Whether you prefer a stitched or non-stitched design, we have options suitable for all ages and skill levels.
Join us now to embark on a memorable journey of creativity and bonding with your family at our remarkable Leather Workshop! Get ready to make lasting memories and leave with treasured keepsakes that will be cherished for years to come.
2. Clay Making Workshop
Unleash your creative sparks and commemorate an important event with the Clay Making Workshop! Join us for a hands-on experience where you can let your imagination soar. We provide all of the necessary supplies, including high-quality clay and a wide range of tools, to craft unique, handmade clay pieces. Whether you're a beginner or an experienced artist, our expert instructors will guide you through the process, helping you bring your vision to life.
During the workshop, you'll have the opportunity to explore the versatility of clay and experiment with different techniques. From sculpting to molding, you'll learn how to shape and manipulate the clay to create truly extraordinary pieces of art. Our goal is to encourage self-expression and provide a welcoming environment where you can freely explore your creativity.
Not only is the Clay Making Workshop a fun and engaging activity, but it also offers a chance to relax and unwind. As you immerse yourself in the tactile experience of working with clay, you'll find a sense of calm and satisfaction. It's a wonderful way to escape the stresses of daily life and fully immerse yourself in the present moment.
At the end of the workshop, you'll have a collection of unique clay creations that reflect your individual style and personality. Whether you choose to make a decorative vase, a personalized pendant, or a whimsical sculpture, each piece will be a testament to your artistic abilities. And the best part? You'll take home not only your beautiful creations but also the memories of a truly special experience.
Join us for the Clay Making Workshop and discover the joy of working with clay. It's a chance to tap into your creativity, connect with others, and create something truly remarkable. Don't miss out on this opportunity to embark on a unique and memorable artistic journey.
3. Perfume Workshop
Uncover the secret essence of your family and friends with a truly unique and unforgettable birthday party celebration. Imagine a gathering filled with laughter and joy, where each individual is given the opportunity to create their own personalized scent, perfectly matching their unique personality.
As the celebration unfolds, the air will be filled with anticipation and excitement as everyone embarks on a journey of olfactory discovery. With each experimentation, new scents will be explored, and hidden facets of each guest's personality will be revealed.
And what better way to commemorate this extraordinary occasion than with a special keepsake? Each party guest will receive their own beautifully crafted bottle of perfume, a precious reminder of the magical moments shared together.
So, let the secrets be revealed through the power of scent, and create an enchanting event that will be cherished forever. Get ready to embark on a fragrant adventure that will bring your loved ones closer and create memories that will last a lifetime.
4. Candle Workshop
Transform your birthday party or a kid's birthday party celebration into an extraordinary and unforgettable experience with FunEmpire's Candle Workshop! Imagine a whimsical setting, filled with laughter and creativity, as your guests gather around to craft their own unique wax creations.
With a wide array of options to choose from, including Soy and Gel, everyone will have the opportunity to create a personalized candle that reflects their individual style and preferences. As the soothing scents fill the air, participants will not only enjoy the process of candle making but also learn fascinating techniques from our experienced instructors.
The joy of discovery and the sense of accomplishment will be evident on everyone's faces, making this milestone event a cherished memory that will be treasured for years to come. Let FunEmpire help you create an enchanting atmosphere where imagination and craftsmanship intertwine, leaving a lasting impression on your guests and making your celebration truly exceptional.
5. Cooking Class
Let us take you on a culinary adventure for your memorable birthday party and make you into an expert chef! Gather up all of your family and friends to come along with this special session where we'll show you the ropes in creating scrumptious local dishes.
Our cooking classes will tantalize their senses before they even try out savory meals, even your own birthday cakes. Don't miss out on exploring Singapore's flavors from an entirely different perspective as never seen before – join us now!
6. Art Jamming Workshop
Make your children's birthday party an unforgettable experience with the power of Art Jamming! Let them unleash their creativity and imagination by creating art on Tote Bag Art Jamming or canvas art jamming.
For a truly unique event, elevate this timeless tradition to Hyperspace for Neon Art Jamming; they'll remember it forever! Afterward, every child will have tangible tokens from the day as reminders of all the joyous fun that was had.
Quest Activities
1. Amazing Race
Do you want to create a next birthday party celebration for your loved one? The Amazing Race is the perfect way to do so! Your friends and family can explore uncharted lands, collaborate on puzzles, race against time, and build lasting memories – all while strengthening their relationships with each other. What better way could there be to commemorate this special occasion?
2. Escape Room Puzzle
Are you looking to make your birthday party celebration truly stellar? Look no further than Escape Room games! Invite all of your closest friends and family members for a thrilling venture filled with birthday party themes, puzzles, and fun activities in Singapore.
Step outside the box while strengthening relationships; it's an experience that will be remembered long after the event is over. Now's your chance don a detective cap and embark on this exciting journey – hurry before time runs out!
Leisure Activities
1. Cosmic Bowling
Celebrate your birthday with an unforgettable experience – Cosmic Bowling! As you strive to reach a top score, this thrilling game will take excitement levels sky high. With its unique and enjoyable spin on bowling, Cosmic Bowling is sure to create long-lasting memories among everyone playing.
If you're searching for something extra special for that momentous day in the year, look no further than cosmic bowling – it should be at the top of your list!
2. Giant Board Games
Ready to reminisce and share your favorite childhood memories with friends old and new? Let Giant Jenga, Pick Up Sticks, Connect Four, and Snakes & Ladders be the conversation starter at every party. These interactive board games can bring Singaporean events to life!
Time travel back in time while adding a few twists – this is an opportunity like no other. Make your special event even more memorable by bringing these classic recreations into play!
Virtual Games
1. Virtual Food Quest
If you're searching for something extraordinary to satisfy your taste buds, then embark on the Virtual Food Quest experience offered by FunEmpire – it's an unbeatable birthday party celebration activity! Whether with friends, family or colleagues, solve delectable puzzles as you explore a variety of cuisines.
Enjoy meaningful conversations and endless entertainment while uncovering new dishes; be prepared for a flavourful adventure that is sure to ignite your senses. So if you're in search of something out-of-the-ordinary – get ready to tantalize your tastebuds at Singapore's exciting Virtual Food Quest!
2. Virtual Escape Room
Unleash your inner detective and strengthen relationships through FunEmpire's trailblazing virtual events—perfect for duos or crowds! Celebrate birthdays remotely from the comfort of home with our incomparable birthday event, which is sure to be a remarkable experience that will leave you mentally stimulated and emotionally fulfilled. Take advantage of this excellent opportunity by joining us at FunEmpire today!
Virtual Workshops
1. Virtual Leather Workshop
Make your next birthday an unforgettable experience by joining our exclusive Virtual Leather Making Workshop! Get ready to embark on a journey of creativity and craftsmanship as our skilled instructors guide you through the intricate process of creating exquisite leather products.
From the comfort of your own home, you'll learn the art of leather crafting and discover the joy of making beautiful, personalized items with your own hands. Whether you're a novice eager to explore a new hobby or an experienced crafter seeking a fresh challenge, this workshop is perfect for anyone looking to unleash their creativity and create something truly unique.
Don't miss out on this opportunity to elevate your birthday party celebration and acquire a new skill that will last a lifetime!
2. Virtual Art Jamming Workshop
Step up your birthday game this year with FunEmpire's extraordinary Virtual Art Jamming Workshop! Our professional facilitators will assist you and even younger kids in an exciting voyage of discovery, allowing you to bring out the inner artist within.
With our Virtual Art Jamming Workshop, there are no restrictions on creativity – regardless of experience level! Whether a veteran painter or a beginner looking for something new to try; our experienced facilitators will teach and guide everyone through unleashing their creative side while also introducing innovative techniques.
Tips for a Successful Birthday Celebration
Choose activities that suit all ages and personalities.
Start planning early and make sure to book the appropriate activities in advance.
Make unique decorations, food, and cakes that reflect the theme of your birthday party celebration.
Include plenty of fun games and activities that everyone can enjoy throughout the day.
Create a memorable photo album or video to share with your friends and family afterwards.
Make sure to thank all of the participants at the conclusion of the event, as it will make the celebration that much more special for everyone involved!
Lastly, don't forget to have fun – after all, that's what birthdays are all about!
Planning a successful birthday party celebration doesn't have to be a daunting task! Take the stress out of planning and let FunEmpire handle your special day with our top tier activities and virtual events. Whether it's for a small gathering in Singapore or an international audience, FunEmpire has you covered. Celebrate that special someone's birthday in style this year – book with FunEmpire today!
Birthday Activities Singapore
If you're searching for the best birthday activities in Singapore to create unforgettable memories, look no further! With great option available, there's no shortage of thrilling experiences to choose from.
Whether you opt for a creative workshop like Canvas Art Jamming or Tote Bag Art Jamming or a more exhilarating activity like Laser Tag or Combat Archery Tag, you're sure to make cherished memories with your loved ones.
Celebrate in style and plan the ultimate birthday party in Singapore with fun activities now. Don't forget to check related articles for more inspiration on how to make your day even more special.
Plus, the birthday activities featured above also make for fantastic ideas for team building in Singapore.
If you're looking for more recommendations, you can check out our other posts below:
Frequently Asked Questions (FAQ)
If you have any questions about Birthday Activities In Singapore, you can refer to the frequently asked questions (FAQ) about the Best Birthday Activities In Singapore below:
Additional Useful Articles
If you are looking for other useful guides and articles about Birthday Activities In Singapore, check them out below: