Affordable Birthday Cake Singapore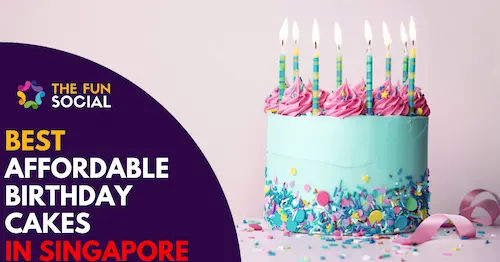 A birthday celebration in Singapore is incomplete without a delicious cake.
The best bakeries for affordable birthday cakes in Singapore include Ugly Cake Shop, Cake Spade, Temptations Cakes Shop, Sooperlicious, and Cakes & Cupcakes.
When choosing an affordable cake in Singapore, consider factors such as flavor, presentation, size, delivery options, and your budget.
Affordable birthday cake flavors in Singapore include chocolate fudge, red velvet, vanilla buttercream, and cookies & cream.
So get ready to indulge in some sweet treats and celebrate your special day with one of these amazing options!
Key Consideration Factors
Here are some things to remember when buying affordable birthday cakes in Singapore:
Cost: The cost should be reasonable and fit your budget.
Size: Depending on the size of your gathering, make sure to get a cake that's big enough for everyone.
Taste: Quality is essential when it comes to cakes! Make sure you sample some of the flavours before making a purchase.
Flavour Options: Variety is key – check to see if the cake shop offers different flavour options.
Delivery: You can either pick up your order or have it delivered to your birthday party in Singapore – make sure to factor in delivery time and cost when making a purchase.
Best Affordable Birthday Cake Singapore
1) Ugly Cake Shop
Ugly Cake Shop is a bakery café and online cake shop proudly baking artful, delicious cakes in Singapore. With no artificial colouring, fondant or marzipan used in any of our desserts, we are dedicated to providing customers with the highest quality experience possible. We source only premium ingredients like french cocoa and pure butter for all our treats so you can savor each bite!
2) Cake Spade
Cake Spade offers a unique selection of delicious designer cakes and cupcakes. From sweet treats like Red Velvet to classic Chocolate Fudge, their creations are sure to make any birthday celebration extra special. They also offer customised cakes for all occasions – just tell them what you'd like and they'll whip up something perfect for your special day!
3) Temptations Cakes Shop
For over three decades, Temptations Cakes Shop has been tantalizing taste buds with scrumptious cakes and pastries. It's no wonder that this homegrown Singaporean bakery has won several awards from established publishers such as "Best Cake Shop in Singapore" and "Best Durian Cakes". Step into the world of sweetness today at Temptations Cakes Shop!
4) Sooperlicious
At Sooperlicious, you can create the ultimate custom cake! From flavor and sweetness to size and design – they'll make sure that your requests are taken into account in every detail. Plus, you have the option of sending them a photo for decoration – giving you an extra special personalized masterpiece. With Sooperlicious, there is no limit to what type of deliciousness your taste buds will experience!
5) Cakes & Cupcakes
Cakes & Cupcakes boasts a wide variety of delectable cakes, from their immensely popular Gluten-Free Dark Chocolate Cake, to the indulgent Fromage Blanc Cheesecake and Basque Burnt Musang King Cheesecake. But that's not all – they offer a range of other treats too, including Macarons and Cream Puffs made to perfection as well as an array of decadent cupcakes!
6) Monice Bakes
For the best customized cakes in Singapore, look no further than Monice Bakes! Its online bakery offers custom-made cupcakes and layered cakes perfect for birthday parties, baby showers, weddings, corporate events – you name it. With a vast selection of themes ranging from cartoon designs to sports motifs and floral patterns all the way through to whimsical creations – our talented team will craft your cake according to your preference!
7) The Durian Bakery
The Durian Bakery is known for its extraordinary cakes made from the freshest and finest durian fruits. Their signature Mao Shan Wang, Red Prawn and D24 Durian Cakes are perfect for any special occasion! In addition to their delicious food, The Durian Bakery also offers customised cakes with edible photo prints – a great way to personalise your celebration cake.
8) Cat & the fiddle
Enjoy a hassle-free indulgence with Cat & the Fiddle, an online bakery headed by award-winning chef Daniel Tay. Not only do they have a multitude of Halal-certified cheesecakes named after whimsical characters, but you can also enjoy same day delivery for your cake!
9) The Patissier
Want to wow your guests? Look no further than their iconic Passion Fruit Meringue cake, a favorite of devoted customers, although it's nearly always sold out! But don't worry if meringue isn't for you – there are many other scrumptious options available in their expansive menu. Indulge yourself with some chocolate cakes, cheese cakes or tarts, or go big and get the breathtaking Croquembouche celebration cake.
10) Zee & Elle
From lush botanicals to colorful confections, Zee & Elle bakery specializes in crafting exquisite cakes and desserts for any occasion. Their seasonal flavor combination options are sure to make your special event even more memorable – best of all, each cake is handcrafted with care by their passionate team! Whether you're celebrating a birthday or just need an indulgent treat, let them take care of the dessert table.
11) Yours Sincerely Bakery
Yours Sincerely Bakery has been making Singapore's best birthday cakes for over a decade. Their famous and award-winning Waffles Cake and Rainbow Lava Cake are popular favorites that are sure to brighten up your special day! They also offer custom-made cakes tailored to your exact specifications, so you can be sure that your cake will be made just the way you want it. Plus, their creations are Halal-certified – perfect for Muslim families.
12) Le Petit Empire
Feeling lucky? Look no further than Le Petit Empire's signature Money Pulling Cake Collection, where you can pull real cash from your cakes! Located at Cavan Road, the bakery offers a wide variety of designer cakes to suit any occasion – from simple animal-themed ones to 3D and even over-the-top casino creations. So indulge in some sweet surprises today with this decadent collection!
13) Four Leaves
Four Leaves is a premier chain bakery in Singapore with delicious yet fairly priced cakes. They don't provide the most intricate designs, but they do have 2D cartoon cakes starting at SG$41 for a 21 cm size or 3D cake options available from SG$69 and up. Plus, you can select different sizes of regular cakes that make them an ideal choice for small celebrations!
14) Jo Takes The Cake
For those seeking a talented cake maker, Jo can fulfill all of your needs. As the proud mother of three children, she is an expert at creating celebration cakes with exquisite and feminine designs that are both artful and visually stunning. From her signature 3D-shaped creations to cream cakes made with imaginative beauty in mind, there's something for everyone. She also offers remarkable cupcakes!
15) Paisley & Cream
Driven by her ardent passion for crafting flavorful and delicious food, Puja Pawa—an experienced Le Grand Diplome apprentice from the renowned Cordon Bleu culinary school—creates intricate cakes and cupcakes each day customized to meet individual taste preferences. Not stopping there, she also provides baking classes to those who want to pursue their own cooking adventures!
Affordable Birthday Cake Singapore
Birthdays are a special time to celebrate, and the best way to do that is with an amazing cake. Whether you're looking for something classic or creative, there's no shortage of affordable cakes in Singapore!
From artisanal bakers crafting custom-made creations to award-winning chefs offering Halal certified treats – whatever your budget or occasion may be, these birthday cake shops will make sure you have the perfect dessert for your celebration. So go ahead and get ready to indulge in some sweet surprises this year!
Looking for more articles? Check out our recommendations below:
Frequently Asked Questions (FAQ)
If you have any questions about affordable birthday cakes in Singapore, you can refer to the frequently asked questions (FAQ) about the best affordable birthday cakes in Singapore below:
Additional Useful Links
If you are looking for other useful guides and articles about affordable birthday cakes in Singapore, check them out below: